Overview
---
Trish
 is forced into having a quinceanera for
Austin
to perform and
Ally
tries to learn how to dance for her secret crush at Trish's party. When everything seems good, the party goes completely down.
Watch Online
*Note - this link leads to a third-party site that holds the selected video. Pop-up ads may be displayed inappropriately. Parental supervision is strongly recommended.
---
The show starts off with Austin taking a basketball shot off a piano into a tuba hole. He scores. Ally comes in and takes the ball away. She then takes a shot but fails miserably. She then reminds them "no playing ball in in the store". Trish comes in saying she is having a quinceanera, but feels bummed about it because her mom is making her have the 
q
uinceanera
. Trish talks about guests coming, and Austin is excited to say that he wants to meet the club owner to get a national tour. It ends off with Trish excited for her 
q
uinceanera
 because of the presents.
It starts with Dez showing Trish entrances to her quinceanera. After his presentation, Austin comes in and profound's Dez's idea to fly on a rope entrance into her 
q
uinceanera
.
Trish and Ally walk through the mall, and they are handing out invitations to her quincinera. JJ (Trish's brother) tries to prove to his sister that he is a magician, but fails. Then Ally notices Dallas, and tries to act cool 
around him, but also fails. Trish then invites Dallas to her 
q
uinceanera
 so that Ally could dance with him. Dallas comes back for his drink, and Ally still fails to talk to Dallas properly. Ally then proposes that she is going 
to learn to dance.
Ally tries to practise her dancing with Austin. Austin steadily shows Ally into the mood of a slow song, and how to dance in it. As they do it, Ally crashes Austin into the 
music box and Austin hurts his foot; damaging his chance to dance at Trish's 
q
uinceanera in front of Amelio.
Dez comes in and places the ice pack on Austin, which ovbiously doesn't work. Ally comes in and apoligizes, and Austin arranges Dez to be Dallas and Ally to practise dance with him. They both practice, and when it comes to a spin, Dez spins himself out of the store.
Ally and Austin both enter the 
q
uinceanera
, Austin forgetting a present for Trish. Dez also comes in with his puffy clothes. Trish's mother announces the 
q
uinceanera
 to begin, 
and she comes on stage with a whole new dress. Her mom talks about her jobs, then Trish and her dad start their traditional dance. Dallas is just standing on the dance floor, 
and Ally freaks out about asking him to dance. She says she'll wait for the next slow song. It's been 2 hours, but still no song. Dez then decides to get the jungle rope ready. Finally Ally goes to 
ask Dallas to dance. However, after some weird stunts from Ally, Dallas denies Ally's request to dance. Dez comes flying on a rope, crashing all of Trish's presents and the DJ Table. Ally then leaves in the rush because of her embarrassment.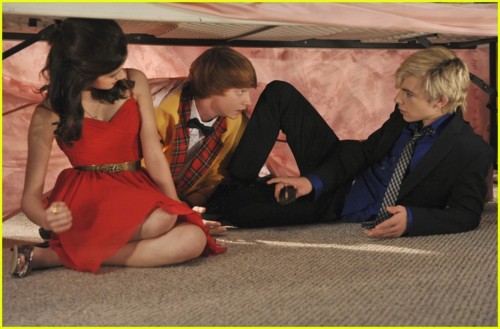 Austin goes to talk to Ally. Meanwhile, JJ does his magic tricks on stage to stall for time. He does a trick that cuts Trish in half. He succeeds, but forgets how to put 
her back to normal. Austin then tracks down Ally, who happens to be under a table. Austin tries to comfort Ally and helps her get over Dallas. Dez comes in and reminds Austin that 
Amelio is about to come. He also reminds them that the quincineta is being cleaned up. Austin tries to sing A Billion Hits infront of Amelio, but sees Ally is down and decides to 
dance a slow song with Ally. Then the
q
uinceanera
 is over. In the end, they find out Amelio owns country clubs, not night clubs. They try to piece together Trish.
Dallas comes in and says to Ally that he doesn't know how to dance either, which was the reason he couldn't dance with her. Ally showed him that she couldn't dance either, which 
proves they have something in common. Trish flips because all her presents are ruined, and Dez completes the disaster with the break of a glass cup.
Memorable Quotes
---
Ally:
I can't believe they haven't played another slow song. It's been two hours, the party's almost over.
Austin:
 I can't believe Amelio hasn't shown up yet.
Dez:
I can't believe how many shrimp I can fit in my puffy pants.
Cast
---
Trivia
---
Ally and Dallas both have something in common: both are bad at dancing
There's no explaining how Trish got out of her magic box