THE DEVIL MADE ME DO IT
This is for all you gals who love being BAD!!! You know who you are dont make me name you all ;-)
Tube I used and inspired this design is Scott Blair and is used with a license if you wish to use the same tube you can purchase from MPT please DO NOT use this image/ tube if you have not purchased the rights to do so.
The bottom variation of my tag uses the wonderful art of Cane Hoyer with license same again please DO NOT use the same image unless you have visited MPT  and purchased the rights to use it
This tutorial is VERY simple as long as you follow step by step for those learning. I have made the template it is supplied
ALL YOU NEED IS MY TEMPLATE SUPPLIED AND A TUBE OF CHOICE
The font i used for the names is called BANDY
Open the blank that TDMMDI template in psp DO NOT unhide layers as of yet

First delete the top copyright layer

Select your magic wand tool , select the circle layer of the template and click inside the grey area

Fill the centre of the circle with a colour from your tube

I have included a blank layer called the brush layer if you wish to add any brushes or anything you can use this layer to do so if not then just delete it.

Select your colour change to target tool and colour your mask layer to suit yourself.... to change the colour of these just use your change to target tool and select the colour in your materials pallette to suit the tube you have chosen
Paste your tube on the layer I have called(i know this is stating the obvious but....) tube layer

Add any drop shadow to the tube and wordart layers you like

Add all copyrights now and name

Okay open animation shop.

unhide FIRE layer 1 copy merged and paste into animation shop..... go back to psp hide FIRE layer 1 and unhide FIRE layer 2 keep doing this until all FOUR FIRE layers have been pasted into AS save as....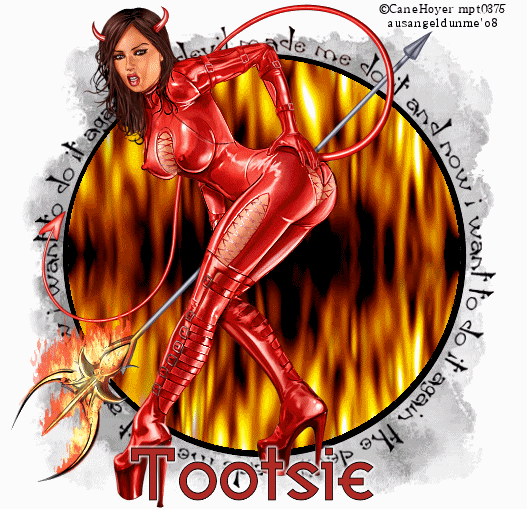 I hope you enjoyed this tutorial If you would like to share your results visit me at Partyhouse.
We would love to meet you !!!!