THAT VOODOO YOU DO
A present for a wonderful member of my community ShadowLady aka Jen . For some reason this tag just reminds me of you !!
Tube I used and inspired this design is Elias Chatzoudis and is used with a license if you wish to use the same tube you can purchase from MPT please DO NOT use this image/ tube if you have not purchased the rights to do so.
The bottom variation of my tag uses the wonderful art of Jessica Dougherty with license same again please DO NOT use the same image unless you have visited CILM and purchased the rights to use it
This tutorial is VERY simple as long as you follow step by step for those learning. I have made the template it is supplied
Open the blank that voodoo you do template in psp DO NOT unhide layers as of yet

First delete the top copyright layer

Click on the white background layer

Select your presets shape tool / eclipse...black background foreground white line width 3 solid line. Hold down your shift key and draw out a circle see my pic for sizing and placement..... to check your placement unhide ONE (layer 1 to 7) of the layers to see if it is where you want it remember to hide the layer again to save later confusion
This is the visibility toggle click on the red circle or eye shape oin your layers pallette with the cross through it...
This will hide and unhide layers
Paste your tube on the layer I have called raster 2

Unhide your wordart layer assuming you want to use my wordart... otherwise just delete the wordart layer ;)

Unhide your two ink spot layers ... to change the colour of these just use your change to target tool and select the colour in your materials pallette to suit the tube you have chosen
Add all copyrights now and name

Okay open animation shop.

unhide layer 1 copy merged and paste into animation shop..... go back to psp hide layer 1 and unhide layer 2 keep doing this until all seven layers have been pasted into AS save as....
I made the original tag for this two years ago and kept promising myself one day I would get to writing it. I hope you like your tag as much as I love mine .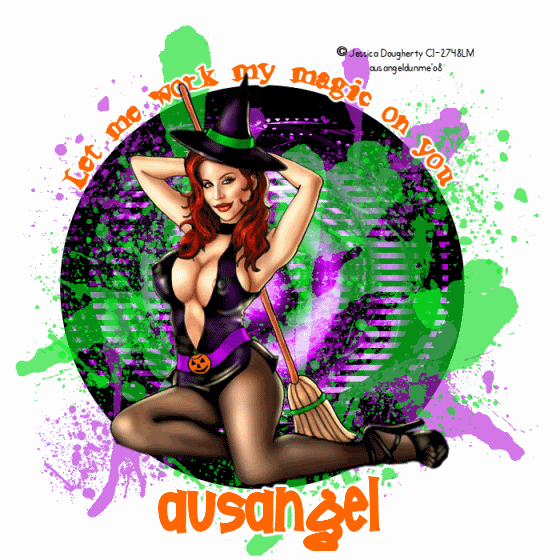 I hope you enjoyed this tutorial If you would like to share your results visit me at Partyhouse.
We would love to meet you !!!!