SIMPLY BEAUTIFUL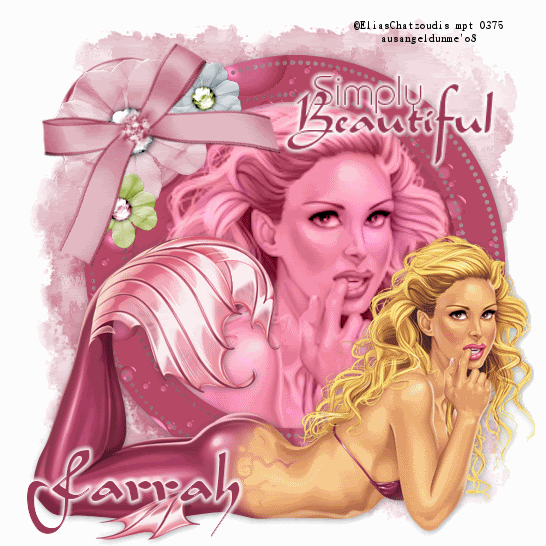 SUPPLIES NEEDED
Scrap Kit Summertime by Farrah, you can download it from her blog site HERE Thankyou Farrah
Tube of choice I used the wonderful art of Elias Chatzoudis and is used with a license if you wish to use the same tube you can purchase from MPT please DO NOT use this image/ tube if you have not purchased the rights to do so.
PLEASE KEEP IN MIND NOT ALL ARTISTS ALLOW ANIMATION OF THEIR WORK SO CHECK THEIR TOU'S BEFORE ANIMATING!!!! ELIAS ALLOWS FULL ANIMATION
Xero plugins set 1 filter porcelain HERE unzip into your plugins folder
This tutorial is written assuming you have a basic to intermediate working knowledge of psp. It is not hard! So fingers crossed I will explain it simply enough for you.
Open a blank 600 x 600 new image

Floodfill white

Copy and Paste as a new layer my masked bg from my supplies

Copy and paste a paper from Farrahs kit and then a frame resize the frame to suit the image you will be using

selecting your magic wand click inside the frame

SELECTIONS /' MODIFY/ EXPAND 4 / SELECTIONS INVERT

SELECT THE PAPER LAYER AND HIT DELETE this will erase everything outside of the circle

do not deselect

Paste your tube as a new layer then hit delete Deselect now (i made my tube larger for this part of the tutorial)

Change your tube layer properties to luminance and apply the xero filters porcelain filter on default settings

Add a drop shadow to your frame and add any elements (flowers etc) from the kit you desire

Add your main tube as the top layer and add the same drop shadow you used on the frame

add your wordart copyright/credits and name

IF you DO NOT want to animate now is where you crop and resize your tag save as a png .

IF you DO want to animate keep reading

Have animation shop open and ready
selecting the twirl right and using these settings or play around with your own
apply once to the mermaids tail

Right click copy merged and paste into AS

Back in psp apply the twirl brush again same again paste into AS keep doing this until you have 4 frames you dont want too much movement just a little

In animation shop EDIT / SELECT ALL ANIMATION TAB / FRAME PROPERTIES  slow to about 45

FILE / SAVE AS
Any problems please feel free to email me I will try help as best I can...
I hope you enjoyed this tutorial If you would like to share your results visit me at Partyhouse.
We would love to meet you !!!!