PRINCESS KAREN
I wrote this tut for a wonderful friend Karen aka Snowmaiden she has done nothing but encourage me since I opened my blog and is a ray of sunshine to everyone who knows her! I wanted to make her smile like she does us everytime she is around.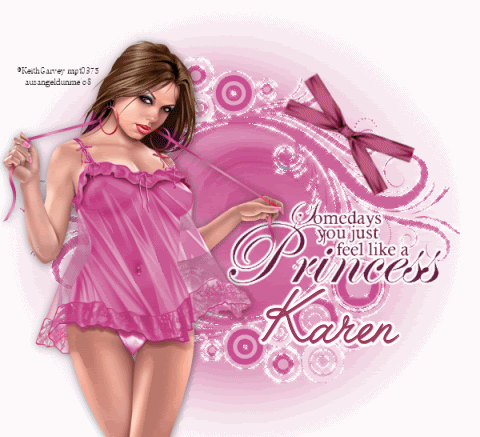 Thankyou honey looking forward to years of friendship .
Huge Hugs and Loads of love Your Aussie friend Renie
Tube I used is Keith Garvey and is used with a license if you wish to use the same tube you can purchase from MPT please DO NOT use this image/ tube if you have not purchased the rights to do so.
The bottom example uses the artwork of Lon Ryden www.erosarts.net
Scrap kit I used the frame from is by Clareys Designs and you can download it free from Clareys site thankyou Clarey GORGEOUS KIT
DOWNLOAD THE KIT FROM CLAREYS BLOG HERE 
please leave a little note thanking her this is an awesome share!
READY ? This is a very easy tut VERY basic even the animation for those who have never tried animation before if you have the alien skin xenofex this is VERY SIMPLE and you will love the effect
Open a new 600 x 600 transparent canvas

Floodfill white

Grab the frame of choice from the kit you have chosen you will have to resize to fit your tag!! I resized the frame i chose by 80%...

Paste as a new layer and then duplicate this frame layer twice more so you have three layers of frame (only duplicate if you wish to animate)

Select your magic wand click in section of part of the frame /frames selection modify expand by 10. Copy and paste a paper of your choice as new layer selections invert and hit delete on the key board.

Invert again ADJUST / BLUR / RADIAL BLUR making sure twirl and eliptical are selected strength 70 twirl degrees 63 ( you can just use blur if you have an earlier version of psp it works the same if you want a twist effect BLUR /GAUSSIAN BLUR 33 THEN EFFECTS DISTORTION/ TWIRL 180 DEGREES and duplicate that layer then merge down onto one another )

 DUPLICATE this layer once more and ADJUST / BLUR / GAUSSIAN BLUR 25 DRAG THIS LAYER DOWN SO IT SITS JUST ABOVE THE WHITE BACKGROUND

Add your tube , elements and wordart all above the top frame

Add your copyrights and Name now and if you are not animating FILE SAVE AS PNG
Animation instructions
Click on the first layer of the frame and apply these alien skin settings
ALIEN SKIN CONSTELLATION SETTINGS USED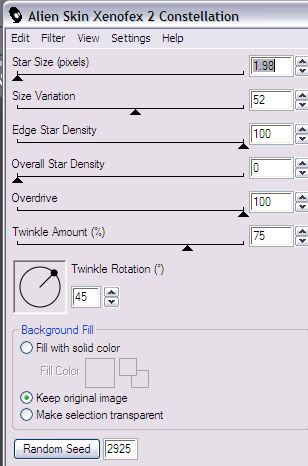 for the following two frame layers just hit the random seed button each time when applying the plugin

NOW close off the bottom two frame layers

Right click COPY MERGED and paste into AS as a new animation

Back in PSP close off the top frame layer and unhide the second frame layer

Right click COPY MERGED and paste into AS after the first frame

REPEAT THIS STEP WITH THE THIRD FRAME

FILE / SAVE AS

I hope you enjoyed this tutorial If you would like to share your results visit me at Partyhouse.

We would love to meet you !!!!