PIRATE PLEASURE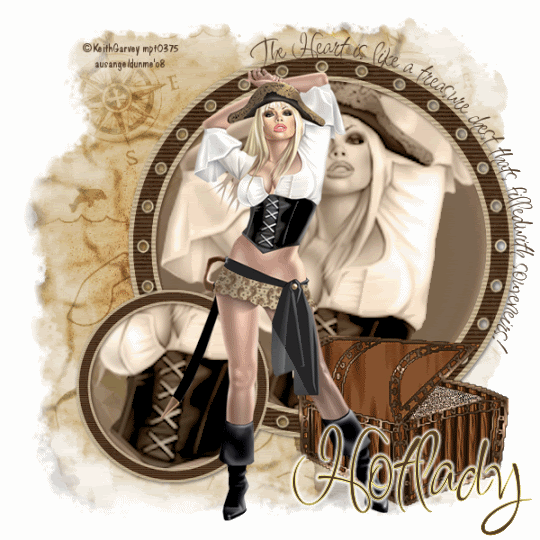 This tut is written for a good friend of mine Sue aka Hotlady
and assumes you have a working knowledge of psp
Tube I used is Keith Garvey and is used with a license if you wish to use the same tube you can purchase from MPT please DO NOT use this image/ tube if you have not purchased the rights to do so.
Scrap kit is my own it is called Pleasure Chest and the link so it can be downloaded from my blog HERE under scrap kits there are lots of other pirate kits on the www if you do not wish to use mine
Xero plugins set 1 filter porcelain HERE unzip into your plugins folder
these supplies were made by me from my own kit please DO NOT share or use in another tutorial
Open a new image and 700 x 700 and flood fill with white.

Copy and paste the template I haved provided

Copy and paste the frame from the kit resize as necessary

Select your magic wand click in section of part of the frame /frames selection modify expand by 10. Copy and paste a paper of your choice as new layer selections invert and hit delete on the key board.

Invert again ADJUST / BLUR / RADIAL BLUR making sure twirl and eliptical are selected strength 70 twirl degrees 63 ( you can just use blur if you have an earlier version of psp it works the same if you want a twist effect BLUR /GAUSSIAN BLUR 33 THEN EFFECTS DISTORTION/ TWIRL 180 DEGREES and duplicate that layer then merge down onto one another )

Copy and paste your tube over the above layer invert again and hit delete on the key board deselect, add the same drop shadow.

Do the same again for the other section of the frame with the paper layer and then the tube

On your tube layers change your blend mode to luminance and apply the default settings of the xero porcelain plugin

Add your main tube and apply a drop shadow of your liking

Add any embelishments you want ..... ie. the pirate chest , my wordart is provided in the supplies zip etc adding the same drop shadow. Dont forget to add your credits
IF you DO NOT want to animate now is where you crop and resize your tag save as a png .
IF you DO want to animate keep reading
Selecting your freehand selection tool (this looks like a lasso) selection type point to point feather 0 smoothing 0 trace around the jewel section of the treasure chest You can do this freehand and not point to point if you wish.
Adjust / add remove noise / add noise... ticking the gaussian and the monochrome boxes noise level 33% hit apply
copy merged and paste into animation shop
back in psp Adjust / add remove noise / add noise and just apply DO NOT CHANGE ANYTHING  copy and paste after your first frame in AS repeat this twice more
In Animation Shop edit / select all then back on the top tool bar Animation / frame porperties change the display time to 16
FILE / SAVE AS and Tadaaaaaaaaaa you have your animated pirate taggie.
I hope you enjoyed this tutorial If you would like to share your results visit me at Partyhouse.
We would love to meet you !!!!