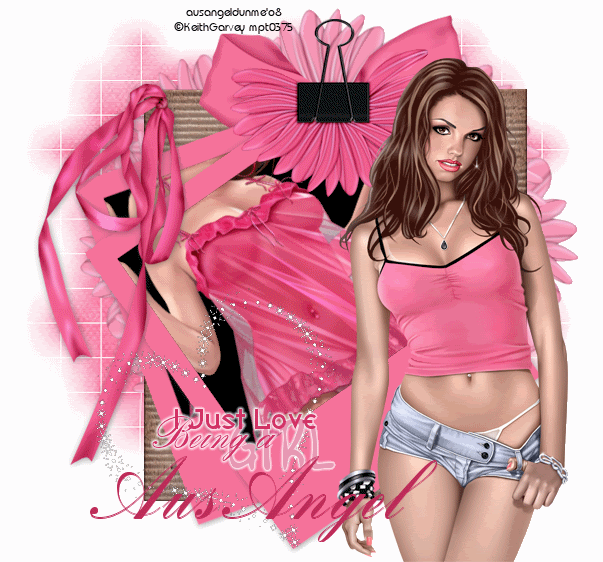 SUPPLIES NEEDED
Tube or tubes of choice I used the wonderful art of Keith Garvey and is used with a license if you wish to use the same tube you can purchase from MPT please DO NOT use this image/ tube if you have not purchased the rights to do so.
Scrap Kit Pink Lady by Bluey, you can download it from her blog site HERE on the second page of freebies....Thankyou Bluey!!!
The background I have made is also made using this awesome kit so please DO NOT share outside of this tutorial the rights belong to the artist
included in the supplies is a twink made by Twinky please DO NOT change file names
This tutorial is written assuming you have a basic to intermediate working knowledge of psp. It is not hard! So fingers crossed I will explain it simply enough for you.
Open a blank 700 x 700 new image (it seems huge but we can resize later on)
Floodfill white
Copy and Paste as a new layer my love being a girl bg from my supplies
Copy the pink polaroid frame from the kit
Select your magic wand and click on the black section of the frame
Paste your tube
SELECTIONS INVERT and hit delete.
DESELECT
MERGE whats left of the tube DOWN onto the frame
DUPLICATE THIS LAYER
On the bottom copy IMAGE / FREE ROTATE / Left 40 degrees
On the top copy IMAGE / FREE ROTATE / Left 30 degrees
Play with these to suit yourself remember a tutorial is ONLY a guide not an order
Now add your elements I added a bow then a binder clip plus the ribbon on the side ... resize to suit your tag

Add your main tube adding drop shadow of your choice

Now add your wordart / Copyright information and your name

FILE/SAVE AS/PNG
 TO ANIMATE
Open animation Shop paste your finished tag into animation
Holding down the ctrl + shift keys hit the letter L  NINE more times this should give you ten frames in total.
CTRL + A will select all frames.
Open the twink I have supplied
CTRL + A (or edit select all)
CTRL + C ( or edit copy)
Then on your tag frames
CTRL + E ( or edit paste into selection) do not click the twink into place until it is in the correct position
FILE SAVE AS....
Any problems please feel free to email me I will try help as best I can...
I hope you enjoyed this tutorial If you would like to share your results visit me at Partyhouse.
We would love to meet you !!!!