FUN IN THE SUN
This ones for you Jenny Thankyou for being so active and fun to be around and for all your awesome gifts!! Huggles n Love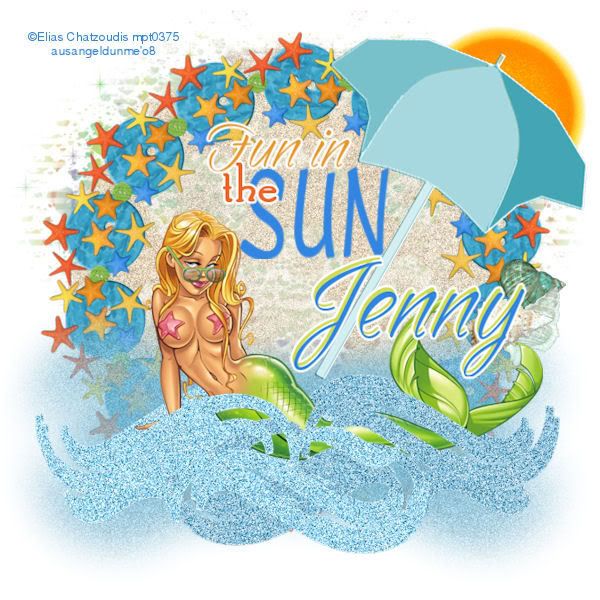 Tube I used and inspired this design is Elias Chatzoudis and is used with a license if you wish to use the same tube you can purchase from MPT please DO NOT use this image/ tube if you have not purchased the rights to do so.
SUPPLIES NEEDED
and tube and font of your choice
the font i used for the name on this is called
This tut is VERY basic !!
Open ausangelfuninthesun supplies in psp... Just about everything you need for the tag is right there!!!!

Click on the sand background layer and paste a frame from the beach baby add on kit resize if necessary so that the frame fits under the starfish border

Move the sun etc out of the way for now

Add the blue swirls duplicate and mirror now merge down on themselves

Duplicate the merged swirls layer

On the bottom merged swirls layer ADJUST / BLUR / GAUSSIAN BLUR 30 THEN duplicate this layer again if it isnt dark enough merge down onto itself again

Paste your tube I paste mine under the top layer of swirls but this isnt necessary ( just being a mermaid I wanted to keep her tail wet !!!lmao)

Move all your elements around see above tag for guide
I added the umbrella and protected her eyes from the sun with some sunnies!
add credits for artists work you used and your name

IF you DO NOT want to animate now is where you crop and resize your tag save as a png .

IF you DO want to animate keep reading
Selecting the TOP swirl layer
Adjust / add remove noise / add noise... ticking the gaussian and the monochrome boxes noise level 33% hit apply
copy merged and paste into animation shop
back in psp Adjust / add remove noise / add noise and just apply DO NOT CHANGE ANYTHING  copy and paste after your first frame in AS repeat this twice more
In Animation Shop edit / select all then back on the top tool bar Animation / frame porperties change the display time to 16
FILE / SAVE AS
TOLD YOU IT WAS EASY!!!!
I hope you enjoyed this tutorial If you would like to share your results visit me at Partyhouse.
We would love to meet you !!!!