BREATH EASY
quick easy tutorial this is not a tag tut simply a breathing tut
 WANT TO LEARN HOW TO BREATH EASY?
LMAO SO DO I !!!
 Okay kidding
Grab an image PLEASE REMEMBER A LOT OF PTU ARTISTS DO NOT ALLOW BREATHING ETC !!!!!!
Tube I used and inspired this design is Elias Chatzoudis and is used with a license if you wish to use the same tube you can purchase from MPT please DO NOT use this image/ tube if you have not purchased the rights to do so.
 I
DO KNOW ELIAS CHATZOUDIS AND BARB JENSEN ALLOW BREATHING AND THAT GARV ALLOWS BREATHING BUT ONLY ON HIS TOON IMAGES NOT HIS PINUPS  as for the rest you will have to look into it
READY? this is quick and very easy so dont blink lmao dont want you to miss it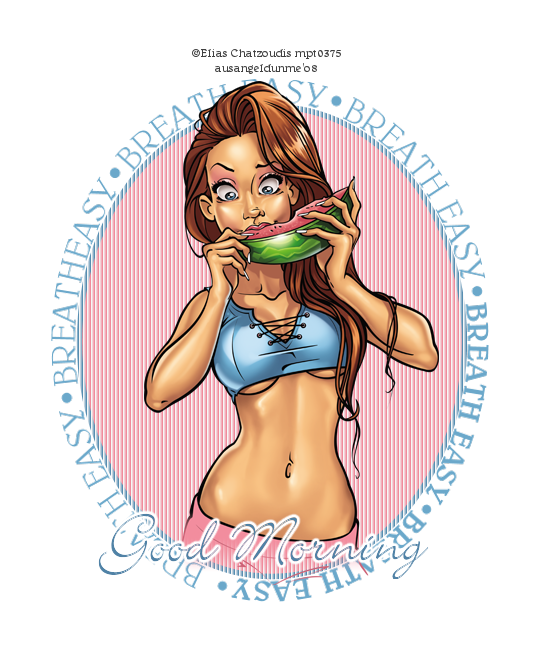 please do not use my image ptu artists dont allow this its against ptu tou's
open your image

Have animation shop open and ready

In paint shop pro select your warp tool
copy and paste the first one into animation shop

grab your WARP TOOL  EXPAND selection size according to the size of the image i am sizing mine about 141 hardness 0 strength 32 step 25 edge mode fixed quality high
to make it realistic take notice of the area on your own body that rises and falls when you breath its generally the rib cage and breast area
click once on the stomach area only for less than a second the longer you click the more it expands each time

copy image paste after other image in animation shop

back in psp click stomach again with warp brush
same again I done this four times total
now
EDIT / SELECT ALL / ANIMATION FRAME PROPERTIES

SLOW TO ABOUT 25 WORKS FOR ME BUT YOU CAN MAKE IT SLOWER IF YOU LIKE
FILE / SAVE AS
NOW I WANT TO SEE IT!!!!!!
♥♥♥♥♥♥♥♥♥♥♥♥♥♥♥♥♥♥♥♥♥♥♥♥♥♥♥
I hope you enjoyed this tutorial If you would like to share your results visit me at Partyhouse.
We would love to meet you !!!!