BOTTOMS UP
I wrote this for a great friend JUDY ! Girl you Rock I love you to bits I couldn't even imagine PH without you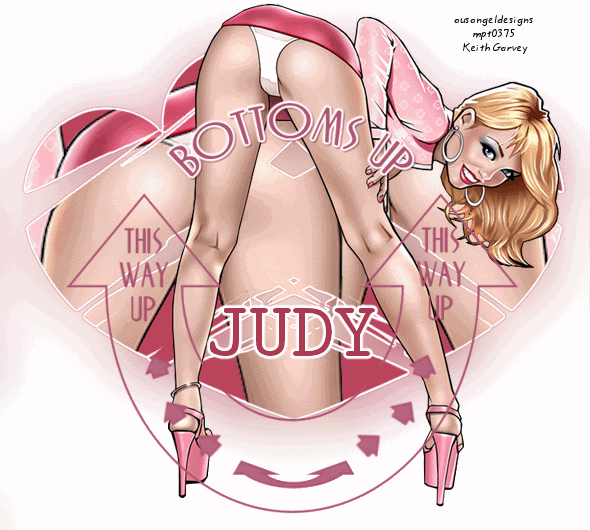 Tube I used is Keith Garvey and is used with a license if you wish to use the same tube you can purchase from MPT please DO NOT use this image/ tube if you have not purchased the rights to do so.
This tutorial is VERY simple as long as you follow step by step for those learning. I have made the template it is supplied
ausangeldesigns.blogspot.combottomsu.zip
The supplies were made by me for this tut please do not claim as your own or use in another tutorial
Open a 600 x 600 blank image fill the background white using your flood fill tool

Open my template and paste as new layer on the canvas.

Selecting your magic wand click inside the grey areas

Paste your tube on the template a few times merge the tube layers down onto one another

Selections invert and hit delete
Using your change to target tool click on your grey template layer dont forget to change the colour on your materials palette to match your tube change the grey area to the preferred colour with the target brush tool
merge the tube layer down onto the template layer

duplicate this layer on the bottom duplicated layer ADJUST/BLUR/GAUSSIAN BLUR 30

select your top layer and paste your tube on top of this as a new layer..

Add your copyrights and name
COPY MERGED and paste into animation shop hold down your shift key plus the ctrl at the same time and hit the letter l nine more times this should give you ten frames

open your bottoms up mng file this was supplied in your supplies it will not show up in PSP just animation shop

EDIT/ SELECT ALL/COPY

Now on the tag that you have pasted in from psp click on the first frame

EDIT / SELECT ALL/ RIGHT CLICK PASTE INTO SELECTED FRAME

POSITION WHERE YOU WANT IT ..............BEFORE  you LEFT click it into position

on the top tab ..... ANIMATION /  FRAME PROPERTIES AND SLOW IT TO 15 you do not have to do this step it is optional.
FILE /SAVE AS you are done
I am new to tutorial writing if you want help please email me aussie69er6@hotmail.com I try explain my tuts as simple as possible.
I hope you enjoyed this tutorial If you would like to share your results visit me at Partyhouse.
We would love to meet you !!!!