American Radio Relay League
The National Association for Amateur Radio
American Radio Relay League is a 501(c)3 non profit organization.
Sacramento Valley Section
Serving Alpine, Amador, Butte, Colusa, El Dorado, Glenn, Lassen, Modoc, Nevada, Placer, Plumas, Sacramento, Shasta, Sierra, Siskiyou, Sutter, Tehama, Trinity, Yolo & Yuba Counties in Northern California
Sacramento Valley Section is located in the ARRL Pacific Division.
Sacramento Valley Section Web Resources
ARRL National Page: www.arrl.org/Groups/view/sacramento-valley
Organization, Clubs, Calendar, Nets
Sacramento Valley ARES: www.sacvalleyares.org SV ARES Brochure
Facebook: www.facebook.com/ARRLSacramentoValley
Twitter: www.twitter.com/ARRL_SV
Thanks to Greg Kruckewitt KG6SJT for maintaining our Section ARES web page and for assisting with our Facebook page and Twitter feed.
Thanks to Les Cobb W6TEE for maintaining the Section Net list.
Submit Section News updates to kp4md(at)arrl.org
---
ARRL Conventions/Hamfests & other Regional Events
May 31-June 2

-

ARRL SEA-PAC Convention

, Seaside, OR

June 1 - Northern Nevada Radio Swap - Minden, NV
June 22-23 - ARRL Field Day 
July 19-20 - ARRL Nevada State Convention, Reno, NV
September 21 - Western Placer ARC Hamfest, Lincoln, CA
October 12 - ARRL Booth & Special Event Station N6M at Rocklin Maker Faire, Rocklin, CA
October 18-20 - ARRL Pacificon Division Convention, San Ramon, CA
---
Past Section News Archive
---
Amateur Radio License Classes and Volunteer Exam (VE) Information and Schedules
Class and VE Session Calendar
---
Getting Your Amateur Radio License
Before you go on air, you need to be licensed and know the rules. In the United States the Federal Communications Commission (FCC) grants Amateur Radio licenses to individuals who successfully pass a multiple choice written exam at a Volunteer Exam (VE) session.  
The FCC currently issues three levels of amateur radio license: Technician, General and Amateur Extra.
The license exam contains multiple choice questions selected from lists that are published online at http://www.arrl.org/question-pools. Many individuals prepare for an exam session using self-study license manuals and online practice exams. From time to time, license preparation courses are offered that cover the exam material over several weeks. "Ham-Cram" sessions are also popular, where a several hours' review class of exam questions and answers is immediately followed by a license exam session.
Visit http://www.arrl.org/find-an-amateur-radio-license-class to find a license class.
Visit http://www.arrl.org/find-an-amateur-radio-license-exam-session to find a license exam session.
For more information on testing, preparation and study materials, see:
---
License Courses
---
Citrus Heights 2019 Ham-Cram Sessions - New Location
Posted January 7, 2019
Section member Joe Cardoza, KA6ROM, announces that his Citrus Heights VE Team will conduct their amateur radio Ham-Cram Technician License training and examinations on the fourth Saturday every other month at starting at 8:45 am at the Metro Fire Station #32, 8890 Roediger Ln, Fair Oaks, CA 95628.
The Ham-Cram and Exam dates for 2019 are:

January 26, 
March 23, 
May 25, 
July 27, 
September 28, and 
November 16.
Contact Joe Cardoza, KA6ROM, 916-725-6443 or cardozas@comcast.net to pre-register.
---
California Emergency Volunteers Ham-Cram Sessions
Posted December 4, 2017
The California Emergency Volunteers, Inc. offers 6 hour long "Get Your License in One Day" Ham-Cram sessions followed by a Technician Class license exam session. These sessions are held on monthly on a Saturday alternating between Stockton and Manteca, CA. Visit http://www.hamcram.org/ for more information and to register.
---
Samuel F Morse ARC to offer Morse Code Instructional Course April 10-June 12
Posted February 5, 2019
The Samuel F Morse ARC will once again be running our 10-week CW for beginner's course. This course will be held once a week for 2 hours (7 PM until 9 PM) each Wednesday evening in Carmichael. If you or someone you know are interested in learning Morse Code we encourage you to sign up NOW. You do NOT need to be a licensed operator to join our class. We will begin Wednesday evening April 10th (ending June 12th).

Everyone can benefit from this course! For those with no Morse Code knowledge this is an excellent course where you or your friends will be taught the complete International Morse Code alphabet, numbers, pro-signs, how to adjust and send on a Morse Code straight. Please contact Mike, N6MQL for more information: admin@w6sfm.com
---
Folsom ARRL Volunteer Exam 2019 Schedule - New Location
Updated January 5, 2019
Folsom ARRL VEC exams are held at 6 pm the third Thursday of each month except July and December.
Here is our updated exam scheduled for 2018:
January 17

February 21

March 21

April 18

May 16

June 20

July NO EXAM

August 15
September 19
October 17
November 21
December NO EXAM
All exams start at 6:00 pm.

Round Table Pizza, 9500 Greenback Ave, Suite 1, Folsom, CA 95630.  We meet in the large meeting room.
For information click here or contact Steve Porten, KN6OX at steve@kn6ox.net.

---
Redding ARRL VE Schedule 2019
Posted February 2, 2019
The Redding ARRL VE Team will be hosting exams on the following Saturdays in 2019:
January 19 (7:00 pm this date only)
March 16
May 18
July 20
September 21
November 16
Our exam sessions are now being held at the City of Redding Parks Building, 20055 Viking Way, Bldg #4, Redding. Exams start at 10:00 AM and candidates are encouraged to pre-register.

More information can be found at: www.reddingve.com or by contacting Steve K6KS at sjmosconi@gmail.com
---
SHINGLETOWN ARRL VE 2019 Schedule
Test Location:
Open Door Community Church, 33883 HWY 44, SHINGLETOWN, CA. 96088
Testing begins at 10:00 AM.
Candidates should arrive 15 to 30 minutes early. We accept walk ins.
Contact:
Dar Walker W6IO, Shingletown ARRL VE Liaison, w6iodar@gmail.com, 530-474-3087
TEST SCHEDULE:
2019: Feb 16, Apr 20, Jun 15, Aug 17, Oct 19, Dec 14
Dar Walker W6IO
---
Other VE Sessions - Schedule List (ARRL national site)

---
50 W PEP Maximum Power Limit Area on 70 cm
A little recognized portion of FCC Part 97 regulations applies to 420-450 MHz operations in most counties in our Sacramento Valley section:
47 CFR §97.313 (f) No station may transmit with a transmitter power exceeding 50 W PEP on the UHF 70 cm band from an area specified in footnote US270 to §2.106 of part 2. The indicated affected areas are specified in http://www.arrl.org/us270, in the State of California within a 240-kilometer (150 mile) radius around locations at Beale Air Force Base, California (latitude 39°08' North, longitude 121°21' West).
More information on the additional impact on 70 cm repeater stations is at http://www.narcc.org/NARCC-ARRL-PAVE-PAWS-Update-2014a.pdf
The Amateur Radio Service shares the 70 cm band on a secondary basis with the US Government which has priority. The US Department of Defense routinely monitors and locates signal sources on these frequencies.  Our voluntary cooperation is mandatory to avoid interference with the Pave PAWS (Phased Array Warning System) radar at Beale AFB and thus to assure our continued access to these frequencies.
June 2019 News
From the Section Manager
Here are the latest news and happening from clubs and members around our section.
ARRL Field Day is June 22-23!
ARRL Field Day is an annual exercise and public demonstration of our emergency communications response capabilities. Radio amateurs throughout North America participate in this exercise during the last weekend of each June. Anyone with or without an FCC license is welcome to visit and participate in Amateur Radio at a Field Day site.  Click to find a public ARRL Field Day site in your area. Field Day operation commences at 11:00 AM on Saturday, June 22 and wraps up at 11:00 AM on Sunday, June 23.
Clubs: Be sure to add your public Field Day site to the ARRL Field Day Station Locator. Log onto http://www.arrl.org/field-day and click on the Field Day Site Locator link. Promote your Field Day event in your community, online, and use hashtag #ARRLFD on social media.
Mark Thursday evening June 20 on your calendar to check in to our pre-Field Day Sacramento Valley Section-wide HF and VHF nets. See the details below.
Carmichael Ham Swap Meet. Thanks to John Dyer, KJ6JD, of the Carmichael Elks Lodge ARC and to those who stopped by the ARRL Booth at the May 26 swap meet in Carmichael.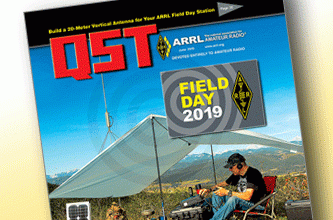 Section Manager Nomination
Thanks to our section members who have endorsed and submitted the nomination for my re-election as Section Manager. I appreciate your confidence and support and will gladly continue serving as your Section Manager if you so desire.
From arrl.org: "Whenever more than one member is nominated in a single section, ballots will be mailed from Headquarters on or before July 1 to full members of record as of June 10 which is the closing date for nominations. Returns will be counted August 22. Section Managers elected as a result of the above procedure will take office October 1."
"If only one valid petition is received from a section, that nominee shall be declared elected without opposition for a two-year term beginning October 1."
You can still send June news to kp4md@arrl.org. This website is visited most during the first week of each month, but do check back as it is often updated with late breaking news.
Our Section website, Facebook and Twitter pages are a work in progress, and your suggestions and submissions are always welcome.
73, Dr. Carol Milazzo, KP4MD
American Radio Relay League Sacramento Valley Section Manager
kp4md(at)arrl.org
You can always send compliments, suggestions and submissions for inclusion in our Section News to kp4md(at)arrl.org
---
ARRL Section-Wide Net Thursday, June 20
On Thursday June 20, ARRL Sacramento Valley Section will hold an ARRL SECTION-WIDE NET, first on the WD6AXM repeater on 146.085 MHz IMMEDIATELY after the 7 pm Yuba-Sutter ARES net closes, then followed immediately by an HF net on 3880 kHz LSB +/- 3 kHz. All radio amateurs are encouraged to participate. We will issue an Official Bulletin reminder earlier that week.
All Sacramento Valley Section radio amateurs are welcome to check into our Section Nets. The nets carry announcements of interest to our section and test our section-wide station communication capabilities.
ARRL Sacramento Valley Section Nets are conducted only on months announced, on the third Thursday of that month following the 7 pm Pacific Time Yuba-Sutter ARES net on the WD6AXM 146.085 MHz FM repeater, followed by the HF Section Net on 3880 kHz LSB +/- 3 kHz. During spring and summer months the HF net may be conducted on 5330.5 kHz USB as propagation permits.
Don't have an antenna or HF radio?  Click a link
and Listen to our HF net on a web receiver.
Hourly Northern California NVIS Observations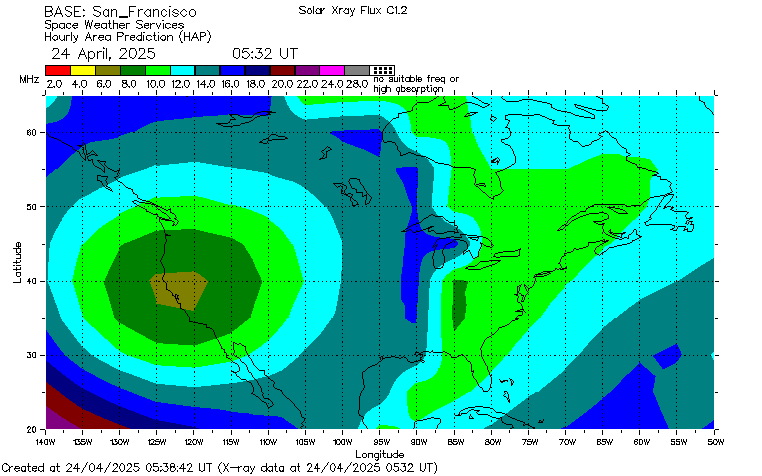 This chart shows colors that represent the recommended HF frequencies for contacting stations for a particular hour. Both stations should use the SAME frequency denoted by the color at the location of the target station. The chart is in Universal Time (UTC). More information at http://www.sws.bom.gov.au/HF_Systems/6/6
---
ARRL Exhibit and Special Event Station at October 12 Rocklin Mini Maker Faire
Posted June 1, 2019
Call for Homebrewers and Radio Amateurs!
The ARRL Sacramento Valley Section will sponsor an exhibit promoting Amateur Radio and our local clubs at the Mini Maker Faire at Sierra College in Rocklin on Saturday October 12 from 9 am - 4 pm. Admission is free!  We plan a display of homebrew amateur radio equipment and antenna projects, Morse Code practice stations, and offering hands-on experiences for attendees to learn about amateur radio wireless technology and to communicate on the air with amateur radio operators via our on-site Special Event Station N6M. We will offer literature and information on licensing, local clubs, the ARRL and amateur radio's role in community service and promoting careers in Science, Technology, Engineering and Math.
If you are interested in participating in this fun promotional event, please contact ARRL Section Youth Coordinator Orion Endres at ai6jb@arrl.net.
---
Special Event Station Chain to Mark 75th Anniversary of D-Day

from ARRL News, May 28
June 6 will mark the 75th anniversary of Operation Overlord during World War II and the D-Day landings in Normandy. To commemorate those who took part, a small team from the Torbay Amateur Radio Society (TARS) in England is organizing a chain of five special event stations along the UK's southern coastline. Each will be based in the geographical area of a beach-landing force point of departure and will use a relevant call sign.
TARS will activate a site above Brixham Harbour in Devon — a departure point for many US soldiers who later landed on Utah Beach and will use the call sign GB75UF.
Read the full story at http://www.arrl.org/news/special-event-station-chain-to-mark-75th-anniversary-of-d-day
---
Update from Bob Wortman, WB6VYH, Section Technical Coordinator

Posted June 1, 2019
Here comes summer, maybe
Minden Nevada Annual Radio Swap meet is on June 1, 2019
http://www.w6thw.com/n7rca/main_page.html
July 19-21, 2019 is the Nevada State Amateur Radio Convention and the swap is on Saturday the 20th
http://nvcon.org/vendors/ham-swap
Pacificon is Oct. 18 to the 20th.
http://www.pacificon.org/
I will be all over Northern California, Northern Nevada, Idaho (still thinking about moving to Idaho and looking for a place) and Oregon this summer. If you have cards to check for DXCC, VUCC or WAS and can't get out or find someone in your area let me know. I will need advance notice so that I can advise the ARRL Awards Desk especially for the out of state ones.
73, Bob Wortman, WB6VYH, wb6vyh@arrl.net, wb6vyh@comcast.net
ARRL Pacific Division DXCC Awards Manager, Sacramento Valley Section Technical Coordinator, WAS Award Manager, VUCC Awards Manager
---
 EmComm=Emergency Communications 
---
June 8, 2019 - Sacramento County ARES Training

Posted June 1, 2019
The next Sacramento County ARES training and meeting is scheduled for Saturday June 8, 2019 from 9:00 am to 12:00 noon at the Sacramento Sheriff's Central Division, 7000 65th Street, Sacramento, CA 95823.
Vince Cracchiolo KI6NHP is the Sacramento County EC.
For more information, visit the Sacramento County ARES web site at www.saccountyares.org
---
Update from Jim Piper, N6MED, Red Cross Liaison to Amateur Radio

Posted June 1, 2019
Changes are afoot in the American Red Cross Gold Country Region.
The ink will be dry on the changes this coming January 1. Nationally, the Red Cross is aligning its previously uncorrelated disaster response and blood services regions.
The Gold Country Region will be giving up San Joaquin and Stanislaus counties which will be absorbed by the Central Cal Region. We will be gaining the north coast Del Norte, Humboldt, and Mendocino counties and Lake county to increase our regional response area by two counties to 26. Along with these counties comes additional disaster potentials, not the least of which are more wild land fire and tsunami risk.
Homogeneous training for voice and digital disaster comm skills between ARES districts becomes ever more important.
Thanks to ARES for all that you do and best regards, Jim / N6MED
---
Pot grow lights interfere with Ham Radio

Submitted by Rene Smythe, WB6PSY, posted March 4, 2017
I have experienced this interference for the past few years. I found the interference by swinging my 10m Yagi monobander around until the noise became over S9. I then went outside to see where the beam was physically pointed and discovered a garage where indoor pot is being grown. The lights are on a time cycle so the interference comes and goes. 40º degrees in either direction takes the noise out.
Now that marijuana is being legalized in more states, more hams are going to experience this noise.
WB6PSY
http://bigstory.ap.org/article/c1b607bfbbab459ba9e21d4c282996e4/growing-problem-pot-lights-give-ham-radio-operators-buzz
---
Radio Frequency Interference

posted February 3, 2018
ARRL and the FCC have a cooperative agreement in radio frequency interference matters. You may submit interference reports together with your supporting documentation to ARRL EMC Engineer Mike Gruber W1MG who then files the report with the FCC Gettysburg office.
You may also contact our Section Technical Coordinator Bob Wortman, WB6VYH, or our Section Official Observer Coordinator Bob Hess, W1RH, for assistance. More information is posted under the "From the Section Manager" notes in the November 2016 Section News - Carol KP4MD
Our Official Observer Coordinator Bob Hess, W1RH, shares this helpful web page by NK7Z for identifying sources of Radio Frequency Interference http://www.nk7z.net/rfi-snapshots
---
Club and Member News - June 2019

---
Our Club meetings are the first Thursday of every month at 7PM at the Volcano Telephone Tech Center in Pine Grove. We also have a club breakfast on the third Sunday of every month, at 8:30AM at the Waffle House in Jackson. Thanks for stopping by and we hope to meet you sometime.
Club Repeaters
On VHF, you can find us at 146.835 MHz, minus offset, 100 Hz PL. On UHF, you can find us at 441.525 MHz, plus offset, 100 Hz PL. Both repeaters transmit 100 Hz PL, so you may use PL decode on your receiver, if you like. Our weekly net is on Tuesday evenings, 7:30PM on both repeaters. We also have a simplex net on 146.55 MHz simplex on the second Tuesday of each month immediately after our net on the repeater. In either case, visitors are always welcome.
---
WEEKLY NET: The Mount Shasta Amateur Radio Club conducts a weekly net on Wednesday evenings on the Grey Butte repeater. Early check-ins start at 6:35 PM Pacific Time and the Net starts at 7:00 PM. The Grey Butte (W6YOP) repeater operates on a frequency of 440.275 MHz with a +5.0 MHz offset and a tone of 118.8.
MONTHLY SOCIAL MEETINGS: The members of the club gather for social and radio operating time at the clubhouse on the second Saturday of each month at 10 AM.
License Testing – Second Saturday of Odd numbered months. Please see the licensing/testing page for details.
Science Festival: May 18, 2019 Sign-up here to help the club introduce the art and science of radio to the young and the old at the Mt. Shasta Science Festival.
---
Update from Paradise ARS

Posted May 2019
June 3 Meeting 7:00 pm at the POA Library 14211 Wycliff Way in Magalia. Presentations: Introduction to Contesting – Grant Hunsicker – KK6FKW, Field Day Presentation – Stephen McDermott – W6AKF, Repeater Etiquette – Grant Hunsicker KK6FKW (Time Permitting)
PARS Net - The Paradise Amateur Radio Society net meets weekly on Thursday nights at 1900 on the Butte County Search and Rescue Repeater. Radio Settings: 145.290, Minus Offset and PL of 110.9.
PARS Breakfast - The Paradise Amateur Radio Society is holding monthly breakfasts at 9:00 am on the 2nd Saturday of each month. Location to be determined.
---
Our club is made up of a great group of new and experienced anateur radio operators who live in and around Shingletown, California. Shingletown is located approximately 27 miles east of Redding, CA. in Shasta County, just a few short miles from beautiful Mt. Lassen Volcanic National Park. Our club callsign, WO6P, is in memory of Richard Cloyd (SK). Richard was very active in the Amateur Radio Emergency Service (ARES) and was the Emergency Coordinator for Shasta-Tehama ARES for many years.
The club meets on the first Tuesday of each month, at Open Door Community Church, at 33883 State Highway 44, Shingletown, CA. Meeting time is 7:00 PM local time. The club holds a weekly 2M net on Tuesdays at 7:00 PM local time on the WO6P repeater (147.165, +600 offset, PL 88.5.) There are no nets on meeting nights. (The WO6P repeater is owned and maintained by STARC.) The club also has a 2nd repeater to increase the communications coverage in the Shingletown area.
We also offer amateur radio licensing exams every other month which are sponsored by the Shingletown ARRL Volunteer Examiner Team. Licensing exams are held at the same location as the monthly meetings. We request that candidates pre-register.
---
Update from River City ARCS

Posted June 1, 2019
The May 7 meeting featured our club building project - the Ed Fong dual band J-pole 2m/440 antenna.
On May 17 & 18 members of the River City ARCS assisted at our Amateur Radio exhibition of HF and VHF operation at the annual Rio Linda Historical Farm & Tractor Days. Bob N6PGQ, Ken KE6RMN and Dave WB6YLK answered questions and helped youngsters learn and send their name in Morse Code. On Saturday Carol KP4MD worked several stations on 20m and 40m CW in the W6SFM Bug Roundup using a Hi-Mound BK-100 semiautomatic key, an Alinco DX-70TH transceiver and a Buddistick antenna. We wrapped up early on Saturday afternoon due to the approaching rain. Photo courtesy of Bob Woodward N6PGQ
Bob Mix, KF6ABC, has started a mentored DIY (Do-It-Yourself) Radio Builders Group for RCARCS members who would like to experience the joy of building and learning about simple electronic circuits.  Full information is posted at www.n6na.org/diy-radio  
Field Day is fast approaching and will be here before you realize it. So it is time to start planning for it. Kevin Hooke KK6DCT has volunteered to be Field day captain so see him to find out what help he needs.
June 22-23 Annual ARRL Field Day Event
The new venue for our Field Day event on June 22-23 will be the VFW Center Township Post, 8990 Kruitof Way, Fair Oaks, CA 95628. Kevin Hooke KK6DCT will be Field Day Captain. All are welcome to participate as they are able in this annual operating and public outreach event. See our Field Day Page for for more details.
Our club meetings are held at 7:30 pm on the first Tuesday of each month at the Sacramento Co. Corp Yard (SMUD) building 5026 Don Julio Blvd, Sacramento, CA 95842 (corner of Elkhorn and Don Julio Blvds). Meetings are open to the general public and visitors are always welcome.
Our on-the-air nets are conducted every Wednesday evening at 8:00 pm on the 145.25 MHz N6NA FM repeater, followed by an 8:30 pm 10 meter net on 28.420 MHz USB and a slow scan television net at 9 pm on the 441.300 MHz N6NA FM repeater.  All club members and visitors are welcome to check in to our nets.  See more information at www.n6na.org/nets
Club member Ioan Negru, AI6UO, invites all interested to check into his Slow Speed (5 wpm) CW Net on 28.055 MHz. Net times are Tues. & Thurs. at 10:00 AM and Wed. at 7:00 PM Pacific Time.
---
Brian AI6US Orion AI6JB will be volunteering to help Western States Endurance Run in June with public safety communications. They also spent this past weekend training on WinLink.
-------------------------------------------------
What does Amateur Radio have in common with: Seasonal Farm Workers and Autonomous Vehicles?
On Monday March 25th, FCC Chairman AJIT PAI toured the California Capital Region Business in Woodland and Clarksburg and Programs including Valley Vision's Ag Tech programs.
There is a movement in the Ag industry to become less dependent on Seasonal and Migrant Farm Workers by automating planting, pest control, weed control harvesting and packaging of sensitive and delicate crops such as grapes, strawberries, squash and melons. Enhancements and increasing RF power for Control Machine Radio's was specifically of interest. A major hurdle to accomplishing these automation goals is the lack of communication in rural areas, specifically internet access, over large portions of low or no human population.
One of the tour guests was overheard saying "Commercial wireless providers like AT&T, Verizon and Sprint have shown less than any interest in providing services to dirt and shrubbery."
Ag business, rural farmers and the Chairman discussed internet access and how to provide coverage to machines working the fields as well as farmers collecting crop and weather date at their rural homes. Modes of deliver discussed included Broadband, Internet Over Power Lines and, of specially interest, low cost - high power WiFi service in the shared 902 MHz ham band.
Off-the shelf and easily modified readily available commercial products that share ham bands were suggested because of their relative low costs and "under-utilization" of ham shared frequencies.
If the ISP would wire the last mile to the farms, Ag business could do the rest if allowed to go beyond Part 15 rules for WiFi.
Ref: 47 CFR Sub. M §90.350 through .365 - Intelligent Transportation Systems Radio Service (in the 902 MHz band)
-------------------------------------------------
MEDIA ADVISORY
Amateur Radio "Field Day" June 22 and 23 Demonstrates Science, Technology, Math Skill and Community Service
WHO/WHAT: Members of the Sierra Foothills Amateur Radio Club will be participating in the national Amateur Radio Field Day exercise, June 22 – 23 at the Blue Canyon Airport in Alta, Placer County. Since 1933, ham radio operators across North America have established temporary ham radio stations in public locations during Field Day to showcase the science and skill of Amateur Radio. This event is open to the public and all are encouraged to attend. Drive-In. Fly-In. Daytime vistas are great and night time stars are bright. Pilots and astronomers are also welcome.
WHEN: Saturday and Sunday, June 22 and 23. On Saturday, June 22, from 11am through Sunday, June 23, until 11am
WHY? Field Day is a showcase for how Amateur Radio works reliably under any conditions from almost any location to create an independent communications network.
Ham radio functions completely independent of the Internet or cell phone infrastructure. Ham radio communications uses many different modes including satellite, Morse code, digital and voice. It can interface with tablets or smartphones, and can be set up almost anywhere in minutes. That's the beauty of Amateur Radio. Where others fail to communicate during a communications outage, ham radio gets through.
The American Radio Relay League, or ARRL, is the national association for Amateur Radio, (www.arrl.org), which represents Amateur (or "ham") Radio operators across the country. The Sierra Foothills Amateur Radio Club (www.w6ek.org) is a special services club of the ARRL.
In today's electronic do-it-yourself (DIY) environment, ham radio remains one of the best ways for people to learn about electronics, physics, meteorology, and numerous other scientific, technological and mathematical (STEM) disciplines. Ham radio operators are a huge asset to any community during special events over large areas, like bike races and marathons, where volunteer ham radio communications aid in enhancing event safety and through Armature Radio Emergency Service (ARES) during disasters when fixed communication infrastructure fails.
Anyone may become a licensed Amateur Radio operator. There are more than 725,000 licensed hams in the United States, as young as 9 and as old as 100. And with clubs such as Sierra Foothills Amateur Radio Club, it's easy for anybody to get involved right here in the Sacramento Valley and Sierra Foothills of Placer County.
For more information about Field Day or Amateur Radio, visit a local club web site, w6ek.org or the American Radio Relay League US web site at arrl.org/what-is-ham-radio.
Scott M Vogelsang - WA6YNE, PO BOX 907, ROSEVILLE CA 95661, Public Information Officer for the Sierra Foothills Amateur Radio Club
Want you "ticket" too? See http://w6ek.org/veexams.html for details!
Field Day 2019 - W6EK is on the ARRL Locator Map (Nyack, CA) and into planning our event for this June.
Meetings - June 14 at 7:30 pm.  See w6ek.org for details!. Nets - Every Thursday night at 7:30 pm is our general net. Everyone is welcome, no membership needed. Also every 1st and 3rd Wednesday is the Elmer Net. Get answers or help on your projects, radios, antennas or anything else ham radio related. 7:30 pm. Held on the W6EK Repeaters: 145.430 pl 162.2; 223.860 pl 110.9; and 440.575 pl 162.2. Come join the fun!
Newsletter at: http://www.w6ek.org/newsletters/SFARC%20June%202019%20newsletter.pdf
VE Exams - Every 1st Saturday each month at Raley's Granite Bay. Starts at 8 am. Walk ins welcome. Contact is Al, NI2U at vechair2015@w6ek.org.
VE Report June 2019
Thanks again for all the VE's that were able to come to the session. We had seven VE's. We had a very successful session again. We administered 17 elements to 13 candidates. 12 earned a new or upgraded license. We have 6 new Technicians, 3 new Generals and 3 new Extras.
Thanks, Al NI2U
---
Update from North Hills RC

Posted June 1, 2019
The next meeting of The North Hills Radio Club will take place on Tuesday evening, June 18. The evening will kick off with the monthly board meeting at just after 6:00 P.M.
All NHRC members are invited to attend. The board meeting will be followed by the general membership meeting at 7:30.
This month we will be talking about ARRL Field Day. Joel, Amatur radio call sign AI6DG, will be discussing the upcoming event, what's planned, and what Field Day is all about.
Remember NHRC meetings are open to the general public. We meet at the former SMUD building which is located at 5026 Don Julio Blvd, at the corner of Elkhorn and Don Julio in Sacramento.
See you all on Tuesday evening June 18. Sincerely, Doug Emerson, Vice President, North Hills Radio Club. Amateur radio call sign N6NFF
Field day starts Saturday June 22, See our field day page!
---
Our next SFM ARC in-person meeting will be held at its normal time and location June 6th (followed by our July 11th meeting). The SFM ARC in-person meeting will be held in the Howard Crowley room upstairs at the Carmichael Presbyterian Church.
Directions, including a Google Map, are available at the bottom of the W6SFM homepage.
At our June meeting, we will be discussing ARRL news and events. We will also have our Preparations meeting on the upcoming Field Day 2019 event. As always, we will have our "show and tell" portion where Members and visitors are welcomed to share their Ham Radio related items they find of interest.
On-Air Net Meeting
Each Tuesday of the week 8:00 PM on 3.545 MHz the SFM ARC enjoys getting on the air with CW for our weekly Nets. You do NOT need to be a member of the SFM ARC to check into our nets and we encourage you to invite a friend to join us as well. Although our nets usually run around 15 wpm code, we are all happy to accommodate those that are slower and need us to oblige. If you are unable to copy Morse Code or need some code practice, please feel free to visit our on-line LIVE streaming broadcast of both the Audio and a CW to Text decoding of the meeting. The "LIVE FEED" link can be found on our home page of our website.
With our YouTube Live streaming system, you can watch the Live Feed on your Apple IOS or Android devices. You do not need to have a YouTube account to access the feed. However, you will need one to subscribe to our channel. Those viewing through YouTube can chat with others watching on-line as well. This of course is not mandatory, but rather just a way of making everyone feel more involved in our on-air nets. If you like, you can "check-in" using the chat window and you will be included with our On-Air Net log. Simply announce your call letters in the chat window.
Tell A Friend
Do you know someone in need of a Ham Club to call home? Perhaps someone that wants to learn Morse Code, are interested in CW or already knows and uses it? The SFM ARC would love to be their new Club home. Our in-person meetings are held each 1st Thursday of the month at 7PM. Please use the rear parking lot and entry for best access to the meeting. A map and directions can also be found on our website. We hope to see you at our next meeting!
Thank You, Chris AI6U Secretary 2019
---
Another Successful Tour de Lincoln is in the books
The annual Tour de Lincoln cycling event on Saturday, May 11 was a success with only a few minor wrinkles. The routes changed in 2019 due to bridge construction. A few riders appeared to be on autopilot, following prior year routes. This year there were only three routes for quarter-century (25km), half-century (50km), and century (100km) tour routes. All shorter routes around town were dropped. 409 riders joined the ride from all over. At net control we met riders from Lompoc, Modesto, Nevada, and Northern California that came to ride in the event. Thank you to all who volunteered as SAG, rest stop, and net control. Your participation in this event helped our local Rotary service chapter to raise $25K for programs in the greater Lincoln area. Mark your calendars for next year, May 2, 2020 and we'll see you there!
Field Day to return to Foskett Ranch Park
We plan to return to Foskett Ranch Park for Field Day again this year. The guys are already considering how to use the soccer field lighting poles to hang dipoles and exotic antennas. Find us at the parking lot off Finney Way round-about, directly behind Foskett Ranch Elementary School (1561 Joiner Pkwy, Lincoln CA) on June 22-23. Map and directions
Linux Journal Antenna Modeling, Mar-2019
I spotted this Linux Journal article on antenna modeling in the March 2019 edition. It uses veteran Numerical Electromagnetics Code (NEC) that has been implemented many times, and in many languages since the 1970's. The package appears to be free and installable to Debian systems (think: Ubuntu). The app can show colorful models of radiation patterns for your antennas. If you're on Linux then this might be very interesting.
Annual Ham Fest Scheduled for Saturday, Sep 21
The date for the annual WPARC Ham Fest will be on Saturday Sep 21, 2019. Plan to join us at McBean Park in Lincoln, CA. Make your list to buy or sell. We're looking forward to seeing you there!
Ham License Testing - Wednesday, June 5, 6 PM
WPARC offers Ham radio license testing on the first Wednesday of each month at Round Table Pizza at 6 PM (see below for map and directions.) For more information please email Chuck KK6DOA
WPARC Board Meeting - Wednesday, June 5, 7:30 PM
WPARC conducts Board Member meetings on the first Wednesday of each month at Round Table Pizza at 7:30 PM (see below for map and directions.) The board welcomes members and guests who wish to observe or bring business before the board.
WPARC Meeting and Testing Location - Tuesday June 18, 7:00 PM
WPARC holds Member Meetings on the third Tuesday of each month at Round Table Pizza at 7 PM, 1020 Pleasant Grove Blvd #170, Roseville. This location faces Roseville Parkway at the northeast corner of the complex, just around the corner from the CVS store. Come out to enjoy some camaraderie, food, beverage, and tales of the radios! Round Table Pizza offers a pizza and salad bar buffet dinner on Tuesday evenings for about $12/person.
The club website, http://wparc.us/index.html, has a new look and new information. Jey KQ6DK is now club web master and is updating the the site on a regular basis. Thanks to Jey for all his work on the website.
Don't forget about our WPARC Facebook page. It is at: https://www.facebook.com/WPARC
Want more? We now have a Twitter account! Just search for @k6pac (the club repeater call sign with the "@" symbol). We are following the ARRL, the ARRL Sacramento Valley Section, Kenwood, and Yaesu and a few others. If you think of someone we should follow, please email me. I know there are a few local clubs with Twitter accounts and I will add them.
73, Michael Buck. K6BUK
WPARC on Facebook and Twitter
Check us out on Facebook and Follow us on Twitter (@k6pac)
WPARC Nets
WPARC Weekly Nets

Members and guests are always welcome to check in. Share a few minutes with us and keep your net skills sharp!


| | | |
| --- | --- | --- |
| Day and Time | Net | Notes |
| Wed 10:00 AM | WPARC Day Net | Members and guests welcome |
| Thu 7:30 PM | WPARC Evening Net | 2M then HF net follows, see below |




WPARC Thursday Evening HF Net Schedule

Following the Thursday evening 2M Net we have an HF Net to keep our HF radio skills sharp. Confirm the scheduled band and frequency during the 2M net.


Day
Band and Frequency




1st Thu
10 meters (28.410 MHz)




2nd Thu
15 meters (21.355 MHz)




3rd Thu
40 meters (7.225 MHz)




4th Thu
75 Meters (3.855 MHz)




5th Thu
10 meters (28.410 MHz)
---
FROM THE PRESIDENT
Hello friends! Summer is only a month away and it feels like Winter doesn't want to let go. At this month's meeting we will enjoy some root beer floats but maybe we should have hot chocolate instead.
I had some fun at the beginning of the month working the 7th Area QSO Party and the New England QSO Party. Band conditions still aren't great, but I did make a few contacts. I also watched a little video from the Hamvention in Ohio. The new Elecraft K4 will probably be on everyone's Christmas list. I saw two Hams from our area that I run into at our local Ham swaps, but I did not see Bob W1RH and son. We will have to get the full report of the Hamvention from Bob.
For the meeting this month we will get the Field Day information from Dave, W6TQ. He will give us a brief overview of the event and then start accepting band sign-ups. If you want to setup your own gear for Field Day weekend you must check-in with Dave. We can only have a specific number of transmitters on the air at one time and we must keep the logging for each band and mode coordinated to eliminate duplicate contacts. We also want to reduce interference to the other stations operating. If it's not possible for you to use your gear, you will be more than welcome to operate at one of the stations already setup.
The rest of the meeting time will be devoted to show and tell and socializing with each other. This will be your time to show off a new project and get caught up with one of your fellow club members that you may not see all the time.
I hope to see you at the meeting on Thursday and remember to bring your sweet tooth and a rain jacket.
Jay, KE6GLA
Newsletter
---
Update from Oroville ARS

Updated June 1, 2019
OARS Monthly Meeting
The OARS regular monthly meeting will take place Friday, 14 June 2019, 7 pm, at St. Paul's Parish Hall, 1430 Pine Street in Oroville. The doors will open at 6 pm for a social hour prior to the meeting. Agenda is expected to include Field Day, the weekend of 22-23 June. Hope everyone can attend. 73, Jim W7XZ
OARS Sunday Night Net meets at 2000 (8 pm) local time Sunday evenings through W6AF/R 146.655 MHz, –, 136.5 Hz CTCSS, or EchoLink Node W6AF-R. After the net session on 2M closes, a short 10M net meets on 28.450 MHz USB.
OARS Monthly Breakfast
This month's OARS Breakfast will take place Saturday, 25 June 2019, 9 am, at Gold Country Casino, 4020 Olive Highway, Oroville, in Acorn Cafe, located on the level above the gaming floor (go to the left at the top of the escalator or to the right leaving the elevator). Hope all can attend. 73, Jim, W7XZ
---
The SOTARS/QCWA meeting is Wednesday, June 12. You may choose lunch or breakfast. Lunch is at eleven and Denny's serves breakfast all day.
The meeting will be called to order at noon in the restaurant's back room.
The meeting as usual is at: Denny's Restaurant on the southwest corner of Howe Ave. and College Town Drive, one block North of Highway 50. 7900 College Town Drive, Sacramento Phone (916) 383-7071
Please plan to attend. 73, Dan WA6VPJ
Bill Easton, W6UYD, Silent Key
I am sad to report the passing of long time SOTARS member, W6UYD Bill Easton on Saturday May 11, 2019. I have known Bill for over 45 years, dating back to when we both worked at the Office of State Printing and we have had almost daily contacts, both on amateur radio and via computer using various digital modes or Skype. Bill had turned 97 on March 25th. Bill was a good friend and I will miss him greatly. RIP old friend. Dan, WA6VPJ :'( Guestbook.
---
Next Meeting: Monday June 10, 2019 7 pm-9 pm.
General Meetings 2nd Monday of Each Month 7:00 p.m. at the Salvation Army Meeting Room, 10725 Alta Street - Grass Valley. Guests are Welcome. Presentation, Coffee, Monthly Raffle. Doors open at 6:30 pm.
Nevada County Amateur Radio Club members hold impromptu meetings at the Omega Rest Area on highway 20. Elevation is around 5000 ft and the views are tremendous. Our activity always draws the interest of motorists coming through the rest stop.
73, Cal McKitrick AI6MC, NCARC President 2019 Newsletter Facebook Group
COFFEE CHAT (Ham n' Coffee)
Thursdays, 8 am at Valentina's Bistro, 841 Sutton Way, Grass Valley
---
Update from Yuba-Sutter ARC

Posted June 1, 2019
NEXT GENERAL MEETING
The next general meeting will be held Tues., June 4th at Marysville First United Methodist Church, 730 D Street, Marysville.  Help prepare for Field Day.
The YSARC Weekly Breakfast is held Wednesday mornings at 8:30 am at the Dancing Tomato in Yuba City.
EDITORS COMMENTS
✓YSARC's new web page is: www.ysarc.net - click on the upper right-hand icon on the homepage to join the club's Facebook page. Past issue's of the VHN are available on our new website.
✓Send your ham related articles and pictures to share in your VHN. Pictures of ham shacks, antenna projects, antenna parties, etc. are appreciated KI6CSN@arrl.net or KF6FVP@arrl.net
---
Elk Grove-Florin ARC—Section News
Members of the Elk Grove Florin ARC will operate the annual ARRL Field Day operating event with the River City ARCS at the VFW Post #6158 in Fair Oaks on June 22-23.  Go to the River City ARCS Field Day page for more information.
The weekly net is held every Wednesday on the N6NA repeater. Repeater Net Start Time: 7 PM (1900) Frequency: 145.250 (-) pl 162.2 Hz
The Elk Grove Florin Amateur Radio Club monthly meeting is on the second Saturday of every month. Everyone is invited to attend the meetings.  You can use the map to view the meeting location and get directions. Meeting Time: 7 PM PST/PDT. Meeting Location: Sacramento County Sheriff (Community Room) 7000 65th Street, Sacramento, CA 95823
Look for the club's new website coming soon at www.w6egf.org
---
Update from Glenn ARS

Posted June 4, 2019
Prez Says for June 2019
Greetings all! Well what a spring it has been. Mostly mild with summer storms (will we see more of these?) that we have not seen in the last few years. Summer is only 21 days away as I write this. What will this summer hold for us? Well one item it this years Field Day. GARS will be holding Field Day action and festivities with GEARS. This will be most fun and educational.
From the GEARS newsletter – It's June and that means Field Day. Sat & Sun June 22-23, come by and setup early if you'd like. We will be back at the Masonic Lodge 1110 W East Ave, Chico. Should be another fun one. GARS will be joining us this year. Invite friends to join us.
Also from the GEARS newsletter – The GEARS auction was a good long one this year. Gross was about $4,200 or about $600 more than last year. We offered a discount to Camp Fire survivors and the proceeds went to the Weir & Post estates, GEARS and GARS.
Phil, KI6SMN, is still out on a 6 week road trip across the US and will not be able to make the membership meeting for the month of June. Therefore it has been decided to not hold the GARS membership meeting for June. After Phil returns we will shall resume meetings on our normal scheduled day of the month.
A side note: On 1 May 2019, I was appointed as District 2 Emergency Coordinator of Sacramento Valley Section ARES.
The GARS and GEARS partnership to rebuild the W6RHC repeater and to build and put up another repeater at a site up on Saint Johns is slowly moving forward. A new Yaesu DR-2X is in transit and expected any day now. Antenna and Duplexer are to be ordered. The plans are to link this new repeater to the current W6RHC repeater that is now located up in Forest Ranch by Internet through Ubiquity Micro Wave. Trip up to repeater site is in planning.
New features of the Yaesu DR-2X repeater that the DR-1X doesn't have are:
VHF or UHF operation (cross-band capable) / Dual Receive / Dual Transmit (DRDT)
MSRL (Multi-site repeater link) Function for Easy Coverage Expansion using optional module
New and improved "News Station" feature for Easy sharing of voice and text messaging.
Enhanced Group Monitor Feature for Easy Grouping Set-up (DG-ID, DP-ID)
Glenn County ARES – monthly meetings are held at the Kanawha Fire Protection District fire house located at 1709 County Road D, Willows. The next Glenn ARES meeting is to be held on the 11th of June. Meetings start at 6:30pm.
We are needing information on the location of the second mail box key (box 212) that belongs to the club. If you know who has it we would like to make contact with them to retrieve the key.
Our normal June meeting has been canceled this month. See you all at Field Day!
Mike Ellithorpe, KF6OBI President, GARS kilofox6obi@yandex.com or kj6hcg@gmail.com Newsletter
---
GEARS monthly meetings are held on the third Friday every month, at 6 PM, at the Butte County Search and Rescue building, 3898 Morrow Lane, in Chico, and usually include an interesting and informative speaker or program. If you are interested in Amateur Radio, you are invited to attend. Doors open at 6 PM for social time ("Eyeball QSO") General meeting starts at 7 PM: Flag Salute & Introductions, Interesting and Informative Programs/Speakers, Committee Reports, Announcements & Adjourn – 8:15 Raffle.
Monthly Breakfast
All GEARS members are invited to meet for breakfast at Farmers Skillet, 690 Rio Lindo Ave, Chico, usually on the second Saturday of every even-numbered month. Other hams are also welcome. All hams who check in on the Thursday night 146.52 Simplex Net are invited to meet for breakfast at the Farmers Skillet on the last Saturday of odd-numbered months. Other hams are also welcome. In other words, the GEARS breakfast and the Simplex Net breakfast are both on the second Saturday of the month, on alternating months, but all hams are invited to every breakfast.
LOCAL NETS
DAILY Sacramento Valley Traffic Net: 9:00 PM, 146.850 MHz (GEARS Repeater)
MONDAY Butte County ARES – Amateur Radio Emergency Services Net: 8:00 PM, 145.290 MHz (BCSCR Repeater)
TUESDAY GEARS Club Net: 7:30 PM, 146.850 MHz (GEARS Repeater)
THURSDAY North Valley Simplex Net: 7:30 PM, 146.520 MHz (National 2-meter Simplex Calling Frequency)
Any licensed ham is welcome to participate in any of the nets listed above. Please feel free to contact the net control for more information about joining the roll call, or tune in to the net and transmit your call-sign when the net controller asks for visitors to check in. GEARS encourages participation in local nets, and we are pleased to provide the GEARS repeater to host local nets as a service to the community.
---
Member Updates and Feedback
---
Please send your feedback to kp4md@arrl.org to be included in this section.
---
Section Member Duane Wyatt, WAØMJD, on Childrens Hospital's "Kaleidoscope Variety Show"

Posted February 3, 2019
The University of California Benioff Childrens Hospital's Kaleidoscope Variety Show recently featured Sacramento Valley Section member Duane Wyatt, WAØMJD, showing his ham radio operation.
In this "Video Postcard" Duane explains and demonstrates his ham radio station in this program for children.
---
Section Member Phil Sittner, KD6RM, on QSO Today Podcast
Phil Sittner, KD6RM, has a ham radio story that goes back over 50 years, from childhood. Still living in Northern California, Phil builds his own radios and test equipment, operates CW on 80 and 40 meters, using his fence mounted 80 meter end-fed Zepp and a pair of phased 40 meter verticals in an HOA neighborhood where antennas are forbidden. We harness Phil's extensive technical expertise and hear his ham radio story in this QSO Today.
Listen to Phil's podcast interview on https://www.qsotoday.com/podcasts/kd6rm
---
Keep Our Digital Transmissions Legal on 60 Meters

Posted January 29, 2017
Our decreasing solar activity and residential antenna restrictions have attracted increasing numbers of radio amateurs to operate CW and weak signal digital modes on our lower HF frequencies including 60 meters. The five frequency channels that US amateur radio operators share on a secondary basis with US federal government users on 60 meters (5 MHz) pose unique requirements for CW and digital operators. As explained on http://www.arrl.org/60m-channel-allocation, US radio amateur emissions on our 60m channels must be precisely centered in the center frequency of each assigned channel, that is, 5332.0, 5348.0, 5358.5, 5373.0 or 5405.0 kHz. Thus, for example, a CW signal on channel 3 (USB Dial frequency 5357.0 kHz) must be precisely on 5358.5 kHz. The same ARRL page explains that all digital emissions must also be centered in the channel center.
This may appear unreasonable to radio amateurs because a 2.8 kHz channel can accommodate many digital and CW transmissions simultaneously, and requiring multiple stations to operate on the same exact frequency would result in mutual interference. The National Telecommunications and Information Administration (NTIA)* explains this requirement in https://ecfsapi.fcc.gov/file/7021871884.pdf which states: "Allowing multiple emissions within the necessary bandwidth of the widest authorized modes (2.8 kHz) increases the possibility of harmful interference from secondary amateur stations to primary federal stations, and would make it more difficult for a federal station to identify an interfering amateur station. In addition, NTIA is concerned about the aggregate equivalent isotropically radiated power from multiple amateur stations transmitting within a single 2.8 kHz channel. Accordingly, NTIA requests that 47 C.F.R. Section 97.303(h) continue to require that amateur stations transmit only on the five center frequencies allocated to the amateur service."  (See http://www.arrl.org/what-the-fcc-rules-say-97-303-h)
Observed Violations of US 60 Meter Frequency Regulations

JT65

This screenshot photo shows JT65 signals received on 60 meter Channel 3 (5357 kHz USB dial frequency) from 0300-0309 UTC on January 29, 2017. In the photo, the 5357 kHz dial frequency is at 0 Hz on the left side of the waterfall and the 5358.5 kHz channel center is at the 1500 Hz mark. Decodes of several US radio amateurs are seen transmitting JT65 emissions simultaneously on various frequencies throughout the channel 3 frequency range 5357-5360 kHz. This is the familiar appearance of a JT65 waterfall display on all other amateur radio bands; however, it violates the NTIA requirement that each US radio amateur transmission be centered on the 1500 Hz mark (the 5358.5 kHz channel center frequency).
ARRL Official Observer Richard Saunders, K6RBS, has posted the proper WSJT-X program settings for legal 60m JT mode operation here.

WSPR

The link http://wsprnet.org/olddb?band=60&sort=callsign&reverse=on&unique=on lists WSPR mode emissions on the 60 meter band. One can scroll down that list and see how many A, K, N and W call signs have been transmitting WSPR mode on 5288 kHz outside the authorized 60 meter center channel frequencies.  
US WSPR transmissions continue to be observed on the WSPR software default 60 meter frequency of 5288 kHz, a completely unauthorized frequency for US radio amateurs.
Each licensee has the final responsibility for the lawful operation of his or her station.  Unfortunately, the increasing automation in our radios has apparently accustomed some to falsely assume that the radio will correct for operator carelessness and ignorance of regulations.  Our cooperation with NTIA requirements is essential for our continued access to the 60m channels and for possible future access to the new ITU worldwide 60 meter allocation at 5351.5 to 5366.5 kHz. (See http://www.arrl.org/news/view/arrl-asks-fcc-to-allocate-new-5-mhz-band-retain-channels-and-current-power-limit and http://www.arrl.org/news/fcc-invites-comments-on-arrl-petition-to-allocate-new-5-mhz-band). Please be aware of these requirements if you intend to or currently operate CW or digital modes on our shared 60m allocations. The Amateur Auxiliary is documenting this matter and hopes to raise its awareness in the wider amateur radio community.
-Carol Milazzo, KP4MD
*The NTIA is the federal authority that coordinates radio spectrum use for the US military and federal government while the FCC serves in this capacity for US civilian radio spectrum users.
---
Free Amateur Radio Club Website Template

Posted January 20, 2019
Section Member Al Canton K6AAI is offering a generic amateur radio club WordPress website template for free. See the sample website posted at https://k6anc.com/wpradio/.  If interested, please contact Al at ac@K6AAI.net