American Radio Relay League
The National Association for Amateur Radio
American Radio Relay League is a 501(c)3 non profit organization.
Sacramento Valley Section
Serving Alpine, Amador, Butte, Colusa, El Dorado, Glenn, Lassen, Modoc, Nevada, Placer, Plumas, Sacramento, Shasta, Sierra, Siskiyou, Sutter, Tehama, Trinity, Yolo & Yuba Counties in Northern California
Sacramento Valley Section is located in the ARRL Pacific Division.
Sacramento Valley Section Web Resources
ARRL National Page: www.arrl.org/Groups/view/sacramento-valley
Organization, Clubs, Calendar, Nets
Sacramento Valley ARES: www.sacvalleyares.org SV ARES Brochure
Facebook: www.facebook.com/ARRLSacramentoValley
Twitter: www.twitter.com/ARRL_SV
Thanks to Greg Kruckewitt KG6SJT for maintaining our Section ARES web page and for assisting with our Facebook page and Twitter feed.
Thanks to Les Cobb W6TEE for maintaining the Section Net list.
Submit Section News updates to kp4md(at)arrl.org
---
ARRL Conventions/Hamfests & other Regional Events
---
Past Section News Archive
---
Amateur Radio License Classes and Volunteer Exam (VE) Information and Schedules
Class and VE Session Calendar
---
Getting Your Amateur Radio License
A license is required to operate an amateur radio station. In the United States the Federal Communications Commission (FCC) grants Amateur Radio licenses to individuals who successfully pass a multiple choice written exam at a Volunteer Exam (VE) session.  
The FCC currently issues three classes of amateur radio license: Technician, General and Amateur Extra.
The license exam contains multiple choice questions selected from lists that are published online at http://www.arrl.org/question-pools. Many individuals prepare for an exam session using self-study license manuals and online practice exams. From time to time, license preparation courses are offered that cover the exam material over several weeks. "Ham-Cram" sessions are also popular, where a several hours' review class of exam questions and answers is immediately followed by a license exam session.
Visit http://www.arrl.org/find-an-amateur-radio-license-class to find a license class.
Visit http://www.arrl.org/find-an-amateur-radio-license-exam-session to find a license exam session.
For more information on testing, preparation and study materials, see:
---
License Courses
---
Sacramento SHARP 2019 Technician and General Class Ham Radio Licensing Courses
Posted December 2, 2018
The Sacramento Sheriff Amateur Radio Project is offering no-cost license courses for the Technician and the General Class Amateur Radio Licenses at the LDS Church, 8580 Florin Rd, Sacramento, CA 95828. The course is offered as class sessions from 6-9 pm on Tuesdays and Thursdays over 3 or 4 weeks, each of which covers one portion of the material with pre and post practice exams. A license exam session for a $15 fee is offered on the Friday following the final class of each course.
DATES FOR TECHNICIAN CLASSES: March 5th, 7th, 12th, 14th, 19th, 21st with the VE Session on the 22nd of March, 2019.  Download Flyer
DATES FOR GENERAL CLASSES: April 2nd, 4th, 9th, 11th, 16th, 18th, 23rd, with the VE session on the 26th of April, 2019.  Download Flyer
A current ARRL License Manual for each corresponding license class is required. For details go to http://www.sacsharp.org/ham-classes
---
Volunteer Teachers Wanted
Posted January 20, 2019
Sacramento SHARP is looking for volunteer teachers to assist with their Technician and General Class Licensing courses. If interested, please contact Steve Hartzell W6WBO with your qualifications.
---
Technician Class License Course in Yuba City
Posted December 2, 2018
Coming in January and February 2019 is the next Yuba-Sutter ARC Technician license class. Classes will be held on Monday and Wednesday evenings from 6:30 to 8:30 P.M. at the American Red Cross Center in Yuba City beginning Jan. 7 through Feb 27, 2019. The Red Cross building is located at 125 E. Onstott Road, Yuba City. We will be meeting in Classroom 2. If you plan to attend this class please contact Curtis KF6VFP. If you do plan on taking the class, you will need to obtain a Technician class book. The books and other needed material are listed below.
"The ARRL Ham Radio License Manual", fourth edition. Manuals can be obtained from the instructor (20% discount), the ARRL, Amazon (Print or Kindle), or buy a used copy from a friend, etc.
Testing
The Yuba Sutter Amateur Radio Club also offers tests for all amateur radio classes. Testing will be held at 715 King Ave, Yuba City, CA 95991 the first Saturday of every odd month at 09:00 AM.
---
Citrus Heights 2019 Ham-Cram Sessions - New Location
Posted January 7, 2019
Section member Joe Cardoza, KA6ROM, announces that his Citrus Heights VE Team will conduct their amateur radio Ham-Cram Technician License training and examinations on the fourth Saturday every other month at starting at 8:45 am at the Metro Fire Station #32, 8890 Roediger Ln, Fair Oaks, CA 95628.
The Ham-Cram and Exam dates for 2019 are:

January 26, 
March 23, 
May 25, 
July 27, 
September 28, and 
November 16.
Contact Joe Cardoza, KA6ROM, 916-725-6443 or cardozas@comcast.net to pre-register.
---
California Emergency Volunteers Ham-Cram Sessions
Posted December 4, 2017
The California Emergency Volunteers, Inc. offers 6 hour long "Get Your License in One Day" Ham-Cram sessions followed by a Technician Class license exam session. These sessions are held on monthly on a Saturday alternating between Stockton and Manteca, CA. Visit http://www.hamcram.org/ for more information and to register.
---
Samuel F Morse ARC to offer Morse Code Instructional Course April 10-June 12
Posted February 5, 2019
The Samuel F Morse ARC will once again be running our 10-week CW for beginner's course. This course will be held once a week for 2 hours (7 PM until 9 PM) each Wednesday evening in Carmichael. If you or someone you know are interested in learning Morse Code we encourage you to sign up NOW. You do NOT need to be a licensed operator to join our class. We will begin Wednesday evening April 10th (ending June 12th).

Everyone can benefit from this course! For those with no Morse Code knowledge this is an excellent course where you or your friends will be taught the complete International Morse Code alphabet, numbers, pro-signs, how to adjust and send on a Morse Code straight. Please contact Mike, N6MQL for more information: admin@w6sfm.com
---
Folsom ARRL Volunteer Exam 2019 Schedule - New Location
Updated January 5, 2019
Folsom ARRL VEC exams are held at 6 pm the third Thursday of each month except July and December.
Here is our updated exam scheduled for 2018:
January 17

February 21

March 21

April 18

May 16

June 20

July NO EXAM

August 15
September 19
October 17
November 21
December NO EXAM
All exams start at 6:00 pm.

Round Table Pizza, 9500 Greenback Ave, Suite 1, Folsom, CA 95630.  We meet in the large meeting room.
For information click here or contact Steve Porten, KN6OX at steve@kn6ox.net.

---
Redding ARRL VE Schedule 2019
Posted February 2, 2019
The Redding ARRL VE Team will be hosting exams on the following Saturdays in 2019:
January 19 (7:00 pm this date only)
March 16
May 18
July 20
September 21
November 16
Our exam sessions are now being held at the City of Redding Parks Building, 20055 Viking Way, Bldg #4, Redding. Exams start at 10:00 AM and candidates are encouraged to pre-register.

More information can be found at: www.reddingve.com or by contacting Steve K6KS at sjmosconi@gmail.com
---
SHINGLETOWN ARRL VE 2019 Schedule
Test Location:
Open Door Community Church, 33883 HWY 44, SHINGLETOWN, CA. 96088
Testing begins at 10:00 AM.
Candidates should arrive 15 to 30 minutes early. We accept walk ins.
Contact:
Dar Walker W6IO, Shingletown ARRL VE Liaison, w6iodar@gmail.com, 530-474-3087
TEST SCHEDULE:
2019: Feb 16, Apr 20, Jun 15, Aug 17, Oct 19, Dec 14
Dar Walker W6IO
---
Other VE Sessions - Schedule List (ARRL national site)

---
50 W PEP Maximum Power Limit Area on 70 cm
A little recognized portion of FCC Part 97 regulations applies to 420-450 MHz operations in most counties in our Sacramento Valley section:
47 CFR §97.313 (f) No station may transmit with a transmitter power exceeding 50 W PEP on the UHF 70 cm band from an area specified in footnote US270 to §2.106 of part 2. The indicated affected areas are specified in http://www.arrl.org/us270, in the State of California within a 240-kilometer (150 mile) radius around locations at Beale Air Force Base, California (latitude 39°08' North, longitude 121°21' West).
More information on the additional impact on 70 cm repeater stations is at http://www.narcc.org/NARCC-ARRL-PAVE-PAWS-Update-2014a.pdf
The Amateur Radio Service shares the 70 cm band on a secondary basis with the US Government which has priority. The US Department of Defense routinely monitors and locates signal sources on these frequencies.  Our voluntary cooperation is mandatory to avoid interference with the Pave PAWS (Phased Array Warning System) radar at Beale AFB and thus to assure our continued access to these frequencies.
February 2019 News
From the Section Manager
Here are the latest news and happening from clubs and members around our section.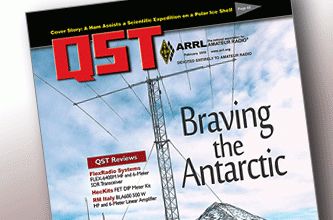 New Section Appointments
We welcome Dale Dennis, KJ6HHY, as new Yolo County ARES Emergency Coordinator, and sincerely thank his predecessor Douglas Hollowell, KK6LDS, who has resigned for health reasons.
Karl Fisher, KJ6OCL, the current Emergency Coordinator for Trinity County is the newly appointed District 1 Emergency Coordinator, replacing Jim Linden, N7JIL, who has resigned due to personal commitments.
Scott Vogelsang, WA6YNE, of the Sierra Foothills ARC is newly appointed Public Information Officer.
Congratulations to these new ARRL Section officials and thanks to all our volunteers for your service to our communities!
An ARRL Sacramento Valley Section-Wide is scheduled for Thursday, February 21. See details below.
Now is a good time for all affiliated clubs to renew the contact information that people see on the ARRL National website. Clubs must update their club record at least once per year even if nothing changes. Should two years pass without an update your club will be listed as inactive. Just go to: http://www.arrl.org/club-update and follow the instructions.  For assistance, please contact our Affiliated Club Coordinator, Max Soucia, N1KGS at n1kgs@arrl.net
Volunteers are welcome for the ARRL Section Amateur Radio Exhibit and Special Event Station N6S at the March 2 Placer County STEM Expo at William Jessup University 2121 University Ave, Rocklin, CA 95765. If you would like to demonstrate amateur radio and introduce inquisitive young people to our fascinating hobby please e-mail Orion Endres, AI6JB our Section Youth Coordinator at ai6jb@arrl.net
Sierra Foothills ARC Hamfest Saturday, March 16.
Mark your calendar and drop by our ARRL Booth from 7 am to 12 noon. This is the fifth year for this Hamfest to be held at the
Loomis Historic Train Depot
, 5775 Horseshoe Bar Rd, Loomis, CA 95650. Enjoy the opportunity to win prizes, meet friends and see, buy or sell new and vintage radio equipment!
Click to Download Flyer
.
You can still send February news to kp4md@arrl.org. This website is visited most during the first week of each month, but do check back as it is often updated with late breaking news.
Our Section website, Facebook and Twitter pages are a work in progress, and your suggestions and submissions are always welcome.
73, Dr. Carol Milazzo, KP4MD
American Radio Relay League Sacramento Valley Section Manager
kp4md(at)arrl.org
You can always send compliments, suggestions and submissions for inclusion in our Section News to kp4md(at)arrl.org
---
February 21 Sacramento Valley Section Net
On Thursday February 21, ARRL Sacramento Valley Section will hold a Section-Wide Net, first on the WD6AXM repeater atop Sutter Buttes near Yuba City on 146.085 MHz (plus 600 kHz offset, tone 127.3 Hz) IMMEDIATELY after the 7 pm Yuba-Sutter ARES net closes. For those who are unable to access the WD6AXM repeater, our HF net will commence on the 75 meter frequency of 3880 kHz LSB +/- 3 kHz IMMEDIATELY after the VHF SV net signs off. Those who check in to the VHF net are also encouraged to join the HF net if they are able.
ARRL Sacramento Valley Section Nets are conducted only on months announced, on the third Thursday of that month following the 7 pm Pacific Time Yuba-Sutter ARES net on the WD6AXM 146.085 MHz FM repeater, followed by the HF Section Net on 3880 kHz LSB +/- 3 kHz. During spring and summer months the HF net may be conducted on 5330.5 kHz USB as propagation permits.
All Sacramento Valley Section radio amateurs are welcome to check into our Section Nets. The nets carry announcements of interest to our section and test our section-wide station communication capabilities.
Don't have an antenna or HF radio?  Click a link
and Listen to our HF net on a web receiver.
Hourly Northern California NVIS Observations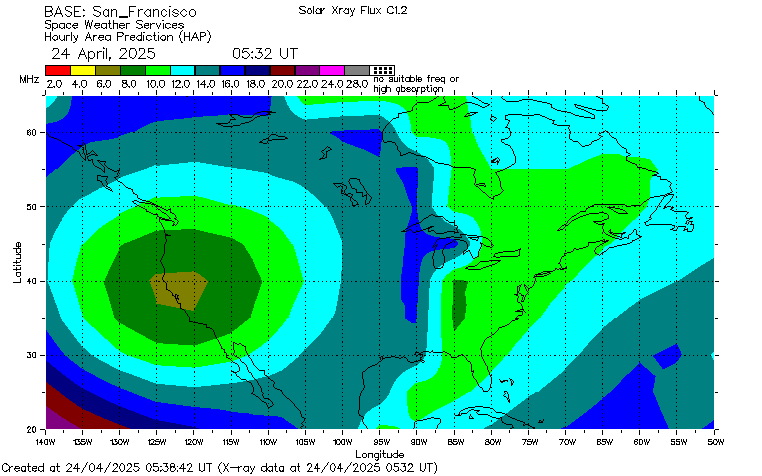 This chart shows colors that represent the recommended HF frequencies for contacting stations for a particular hour. Both stations should use the SAME frequency denoted by the color at the location of the target station. The chart is in Universal Time (UTC). More information at http://www.sws.bom.gov.au/HF_Systems/6/6
---
Amateur Radio Youth Outreach at Saturday
March 2 STEM Expo in Rocklin

Posted December 31
Hundreds of curious youngsters at the Placer County STEM Expo will learn about the fascinating world of communications and electronics at the ARRL Amateur Radio Special Event Station N6S and Exhibit! Kids of all ages love hands-on activities and the opportunity to experience contacts over amateur radio, and you can participate in learning experiences that can lead to a new amateur radio license and to fulfilling careers in STEM (Science, Technology, Engineering and Math).
The American Radio Relay League Sacramento Valley Section will sponsor an amateur radio exhibit and Special Event Station N6S from 9 AM to 3:30 PM at the Saturday March 2
Placer County STEM Expo
at William Jessup University in Rocklin with literature, hands-on activities, Morse Code practice stations and an operational amateur radio station.  Admission is free!
Radio amateurs and clubs who wish to join us at the STEM Expo to answer questions and share the joy of amateur radio should contact our Section Youth Coordinator, Orion Endres, AI6JB ai6jb@arrl.net now for more information!
---
Update from Bob Wortman, WB6VYH, Section Technical Coordinator

Posted February 3, 2019
Here comes spring ready or not.
It will be time to get out and fix all the antennas, be careful and stay away from the power lines.
The SFARC ham swap is coming soon. It is on March 16, 2019 this year at the Loomis Train Station. Minden Nevada Annual Radio Swap meet is on June 1, 2019 and on July 19-21, 2019 is Boom Town NV.
Pacificon 2019 will be 18-20 Oct 2019 at San Ramon Marriott, San Ramon. I plan to be there doing DXCC, VUCC and WAS cards. This year I will not be at the NCDXC table because of a problem last year. I will be at the ARRL table.
I will be all over Northern California, Northern Nevada, Idaho ( still thinking about moving to Idaho and looking for a place) and Oregon this summer. If you have cards to check and can't get out or find someone in your area let me know. I will need advance notice so that I can advise the ARRL Awards Desk especially for the out of state ones. My contact info. is on the ARRL web page.
Ok, spring is coming, get out and plant those antennas…………….
73, Bob Wortman, WB6VYH, wb6vyh@arrl.net
ARRL Pacific Division DXCC Awards Manager, Sacramento Valley Section Technical Coordinator, WAS Award Manager, VUCC Awards Manager
---
Carmichael Elks ARC Ham Swap Sunday May 26

posted February 2, 2019
The KJ6JD Carmichael Elks Second Annual Ham Swap is scheduled for Sunday, May 26 from 7 am to 2 pm at the Carmichael Elks Lodge on the corner of Cypress and Hackberry. That's 5631 Cypress Ave, Carmichael, CA 95608 for you GPS users. Single spaces are only $10 each!! Thanks to the Elks. Sellers may arrive at 7, buyers at 8 and we will have talk in on N6ICW 147.195 + PL 123 for ease of use. The Elks will have water, coffee and doughnuts for sale. More details to come, but if you have questions you can call John Dyer, KJ6JD at (916) 927-4201 or email jd3@johndyer.com.
---
ARRL Board of Directors Issues Statement on Amateur Radio Parity Act

from the ARRL News, January 24, 2019
At its annual meeting January 18 – 19, the ARRL Board of Directors decided that the organization needs to "review, re-examine, and reappraise ARRL's regulatory and legislative policy with regard to private land use restrictions."
In order to effectively undertake such a review, the Board adopted a resolution to withdraw its December 18 Petition for Rule Making to the FCC, which sought to amend the Part 97 Amateur Service rules to incorporate the provisions of the Amateur Radio Parity Act (ARPA), without prejudice to refiling. The resolution also is asking members of Congress who had refiled legislation to enact the Amateur Radio Parity Act (ARPA) to refrain from seeking to advance that legislation pending further input from the ARRL.
Board members noted that the ARRL has been pursuing adoption of the ARPA for the past several years, and that objective has not yet been achieved. While everyone understands that getting Congressional approval on any matter can be a lengthy process, the difficulties getting the ARPA approved have been a source of frustration to the organization and its members. A majority of the Board now believes that there is a need to reassess the organization's approach to this issue.
The Board wants to make clear to its members, and to those whose policies and conduct prevent or impair the right of US Amateur Radio operators to operate from their homes, that this pause is not, and should not be interpreted as an abandonment of its efforts to obtain relief from private land-use restrictions. The Board noted that its intent is "to renew, continue and strengthen the ARRL's effort to achieve relief from such restrictions." This action represents a chance to get the best product possible for all US Amateur Radio operators.
For the complete story go to ARRL News.
---
 Emergency Communications 
---
ARRL Board of Directors Adopts New ARES Plan

from the ARRL News, February 19, 2019
The new ARES Plan adopted by the ARRL Board of Directors at its Annual Meeting in January represents an effort to provide ARES with a clearly defined mission, goals, and objectives; specific training requirements, and a system for consistent reporting and record-keeping. The Board's Public Service Enhancement Working Group (PSEWG) spent more than 3 years crafting the ARES Plan which, ARRL officials believe, provides a much-needed update of the program's role in public service and emergency preparedness in the 21st century. Concerns focused on bringing ARES into alignment with the National Incident Management System (NIMS) and Incident Command System (ICS), and creating more consistent and standardized ARES training requirements. Given dramatic changes and upgrades in national, regional, and local emergency and disaster response organizations, ARRL faced a major challenge, said ARRL Great Lakes Division Director Dale Williams, WA8EFK, who chaired the PSEWG.
"If we didn't address these issues, such as training standards and organizational management, ARES faced the very real possibility that it would no longer be viewed as a valid and valuable partner in emergency and disaster relief situations," Williams said.
For the complete story go to ARRL News.
---
February 16 Emergency Communications Exercise and Demonstration for Glenn County OES
Here are some pictures taken at a February 16 training exercise and demonstration for Glenn County OES in Glenn County HHSA.
Photos by Michael Maddalena, KJ6KIZ, Glenn County EC
---
ARRL Sacramento Valley SEC Greg Kruckewitt, KG6SJT, Reports on the ARES Response to the Camp Fire
In TWiT.tv's Ham Nation episode 376 on November 14, Sacramento Valley Section Emergency Coordinator Greg Kruckewitt, KG6SJT, gave a detailed question and answer report on the role that radio amateurs played in supporting communication needs during the tragic Camp Fire in Butte County.  The interview begins at the 45:50 point in the program. Read more about the amateur radio response to the Camp Fire in the ARRL News and on our Section Facebook and Twitter feeds. 
---
Yuba Sutter ARES EC Andy Boone, KJ6IYM Interviewed on Amateur Radio Newline
In Amateur Radio Newsline Report 2142 for Friday, November 16 2018, Yuba-Sutter Emergency Coordinator Andy Boone described the ARES response to the Red Cross call for support in the aftermath of the devastating Camp Fire.  Click to read the script.
---
February 9, 2019 - Sacramento County ARES Training

Posted February 2, 2019
The next Sacramento County ARES training and meeting is scheduled for Saturday February 9, 2019 from 9:00 am to 12:00 noon at the Sacramento Sheriff's Central Division, 7000 65th Street, Sacramento, CA 95823.  Mike Abernathy NM3S will give an orientation on packet radio.
Vince Cracchiolo KI6NHP is the Sacramento County EC.
For more information, visit the Sacramento County ARES web site at www.saccountyares.org
---
Sacramento Metro Fire FEMA CERT Class in March

Posted February 3, 2019
Sacramento Metro Fire Community Emergency Response Team (CERT) will be offering the FEMA CERT Basic Class over four sessions from March 7-16. The class is a FREE 24 hour course for people who live or work in the area served by Sac Metro Fire. The class trains participants in Disaster Preparedness and Response Skills including Fire Safety, light Search and Rescue, and disaster Medical Operations. Graduates of the course will be better prepared to care for themselves, their family, and their community in the event of a disaster, and will be eligible to volunteer as a member of Sacramento Metro Fire Community Emergency Response Team. The class is only offered twice a year, and will fill up quickly.
See Flyer for more details. To register for the class, or obtain answers to any questions you may have email MFCertBasic@gmail.com  Article by AD6DM on FEMA CERT Basic Training
Aaron Jones, K6ABJ
---
Pot grow lights interfere with Ham Radio

Submitted by Rene Smythe, WB6PSY, posted March 4, 2017
I have experienced this interference for the past few years. I found the interference by swinging my 10m Yagi monobander around until the noise became over S9. I then went outside to see where the beam was physically pointed and discovered a garage where indoor pot is being grown. The lights are on a time cycle so the interference comes and goes. 40º degrees in either direction takes the noise out.
Now that marijuana is being legalized in more states, more hams are going to experience this noise.
WB6PSY
http://bigstory.ap.org/article/c1b607bfbbab459ba9e21d4c282996e4/growing-problem-pot-lights-give-ham-radio-operators-buzz
---
Radio Frequency Interference

posted February 3, 2018
ARRL and the FCC have a cooperative agreement in radio frequency interference matters. You may submit interference reports together with your supporting documentation to ARRL EMC Engineer Mike Gruber W1MG who then files the report with the FCC Gettysburg office.
You may also contact our Section Technical Coordinator Bob Wortman, WB6VYH, or our Section Official Observer Coordinator Bob Hess, W1RH, for assistance. More information is posted under the "From the Section Manager" notes in the November 2016 Section News - Carol KP4MD
Our Official Observer Coordinator Bob Hess, W1RH, shares this helpful web page by NK7Z for identifying sources of Radio Frequency Interference http://www.nk7z.net/rfi-snapshots
---
Club and Member News - February 2019
---
Update from Mount Shasta ARC

Posted February 3, 2019
Hello Hams! Michael here (KX6MMM) here.
I want to start by thanking all the members of the Mount Shasta Amateur Radio Club the confidence you have shown in me by electing me to be your president for 2019. So, let's get started!.
This message is the first I hope to write every month, to go over things we've accomplished this month and our goals for the next.
In the January meeting we had a good group show up with many questions and ideas to share. Ken (KD6MC) chaired the meeting. The incumbent officers, Ken Palmer (KD6MC) Vice President, Kamille Dibelka ( KD2JLY) Secretary were reelected to their offices. Wilma Dibelka (KD6WZC) President and Dennis Freemen (WB6MBF) Treasurer, chose not to run again and Dennis Engdahl (NR6J) and Michael Howell (KX6MMM) are now Treasurer and President, respectively.
Here are some other changes:
• Effective immediately, the Club's Business Meetings will be quarterly, with one special meeting in February. Dates for 2019 are: January 16th (just past); February 20 (Special Meeting to vote on new by-laws; see below); April 17th; July 17th; and November 20th. There will be reminders emailed before the meetings. • Also effective immediately, our monthly technical and social gatherings at the clubhouse will be held on the second Saturday of every month without a regular business meeting from 1000 to 1400; all members should plan to attend as they would to a Third Wednesday evening meeting. Please bring food for an informal potluck if you like, and plan to coordinate the spread with your fellow members. Dates for 2019 are: February 10th; March 10th; April 14th; May 12th; June 9th; July 14th; August 11th; September 8th; October 13th; November 10th; and December 8th. • All Second Saturday dates will be pending event schedules. February 20th is a special meeting, in addition to the Second Saturday February 10th. We will be voting on new bi-laws. Please plan to arrive early. Meeting starts at 1900. I will send everyone an email of the proposed edits to the bi-laws to read, beforehand. If you have any questions or concerns call or email me or any of the others in the bi-laws committee: Michael Howell ca.poppy@gmail.com, Bruce Johnson brewski1950@msn.com or Larry Marks w6vtj@barberry.com. • Members who attended this last meeting, received membership cards with the new door lock code on them. For security purposes, the code was changed. I will be sending out cards to those who did not attend. Remember that if you have not paid dues, and did not work in an event last year, the dues are $20 • There are new LED Lights throughout the clubhouse, so our electricity use should be much less. • There is a photosensor for the light in the front, so it comes on in the evening and shuts off in the morning. • We have a new antenna in the works courtesy of Martin (KI6WJP) and Ken (KD6MC). Installation on the roof of the clubhouse will be scheduled soon. • Martin and Ken have made some improvements and repairs to the FT8 system and it's working. See them for details. And here's what happening in February: • Special meeting for the bi-laws • If you have a need or an issue that is to be discussed at the February meeting, it will not be allowed unless it's placed in the agenda ahead of time. • Contact Kamille Dibelka at kmplocinik@gmail.com with your agenda requests.
Thank you all again for your confidence and support. Please let me hear your concerns and suggestions and let's all work together to make sure MSARC has a great year!
24th January 2019 Michael Howell (KX6MMM) President MSRC
---
Update from River City ARCS

Posted February 3, 2018
Our February 5 meeting will feature a program on Philo Farnsworth and the Invention of Television.  The presenter will be Philo's own grandson, Matthew Farnsworth. All are welcome.
Our meetings are held at the Sacramento Co. Corp Yard (SMUD) building 5026 Don Julio Blvd, Sacramento, CA 95842 (corner of Elkhorn and Don Julio Blvds). Meetings are open to the general public and visitors are always welcome.
Our May 7 meeting will feature the construction of a dual band, VHF-UHF J-Pole antenna—Ed Fong's DBJ-1. You may go to
this link
to review the design. You'll note that Ed's design provides a great beam pattern and broadband SWR performance. Your total cost to build this antenna is $5.00, payable to the club. Ed sells these antennas for about $50 once the freight costs are included. We will use an assembly line approach for constructing these antennas and it's expected we can complete as many as 20 antennas during our normal meeting hours. Since we anticipate a large demand for the antenna, and the fact that we have limited time to complete the construction, we will use a first-come, first-served reservation system. To reserve your spot in the queue, please send a brief note to contact@n6na.org with your name, callsign and note that you wish to reserve a spot in the antenna Build-A-Thon.
The new venue for our Field Day event on June 22-23 will be the VFW Center Township Post, 8990 Kruitof Way, Fair Oaks, CA 95628. Kevin Hooke KK6DCT will be Field Day Captain. All are welcome to participate as they are able in this annual operating and public outreach event. Stand by for more details. See our Field Day Primer for newbies.
Our club holds nets every Wednesday evening at 8:00 pm on the 145.25 MHz N6NA FM repeater, followed by an 8:30 pm 10 meter net on 28.420 MHz USB and a slow scan television net at 9 pm on the 441.300 MHz N6NA FM repeater.  All club members and visitors are welcome to check in to our nets.  See more information at www.n6na.org/nets
---
Winter Field Day was a success as brave SFARCers went up into the mountains, pitched a tent and operated stations to put W6EK on the air. See the video and photos in the news and on the W6EK.org website. Thanks to everyone for representing the club!
STEM Expo Saturday, March 2nd - Come check out the Ham Radio Exhibit, Booth #9. William Jessup University in Rocklin.
Hamfest 2019 - the first Swap of the year will return to the Loomis Historic Train Depot. Mark your calendars for this date: March 16th, 2019.
Field Day 2019 - We are on the ARRL Locator Map and into planning our event for this June.
Social Media - Facebook / Video - Bob, K6UDA presents Three years of Ham Radio in two minutes. See it on our club page at: https://www.facebook.com/groups/sfarc/permalink/584875881936391/
Meetings - January saw our new Officers (and some reelected ones) take charge with our first meeting of the New Year. Everyone is invited to join us. Every 2nd Friday is our Main Meeting Auburn City Hall, 1225 Lincoln Way, in the Rose Room. W6EK Breakfast - come join us every last Saturday at Mel's off Hwy 49. See the website for map and more information.
Nets - Every Thursday night at 7:30 pm is our general net. Everyone is welcome, no membership needed. Also every 1st and 3rd Wednesday is the Elmer Net. Get answers or help on your projects, radios, antennas or anything else ham radio related. 7:30 pm. Held on the W6EK Repeaters: 145.430 pl 162.2; 223.860 pl 110.9; and 440.575 pl 162.2. Come join the fun!
de WF6J
Our Groups.io replaced the Yahoo Group function.
Newsletter at: http://www.w6ek.org/newsletters/SFARC%20February%202019%20newsletter.pdf
VE Exams - Every 1st Saturday each month at Raley's Granite Bay. Starts at 8 am. Walk ins welcome. Contact is Al, NI2U at vechair2015@w6ek.org.
VE Report February 2019
Thanks again for all the VE's that were able to come to the session. We had a very successful session again. We administered 10 elements to 7 candidates. One went all the way from Technician to Extra in one session.  We have 3 new Technicians, 1 General and 3 new Extras.
Thanks, Al NI2U
---
Update from North Hills RC

Posted February 3, 2019
The next meeting for The North Hills Radio Club will take place on Tuesday evening, February 19, 2019.
Our speaker for the evening program will be, Mr. Alan Thompson, W6WN. He will discuss disaster and recovery communications surrounding the recent Camp Fire up in Butte County. Mr. Thompson is on a mission to make sure that what happened in Butte County, never happens again and what each of us can do to prevent such a thing from happening again. It promises to be an interesting topic of discussion.
Remember that the meetings of the NHRC are open to anyone and everyone who wishes to attend. Come one, come all and let's have a big turnout for our speaker. Also, we'll be welcoming our new president, Paul Young, KA6PDY as he takes the gavel for the first time.
Club meetings are always held on the third Tuesday of every month, at the former SMUD building located at 5026 Don Julio Blvd, at the northeast corner of Don Julio and Elkhorn Blvds. The board meeting begins at 6:00 P.M., followed by the general membership meeting at 7:30 P.M.
See you there! From Doug Emerson, Vice-President, North Hills Radio Club. Amateur call sign N6NFF
---
Update from Samuel F Morse ARC

Updated February 2, 2019
Our next SFM ARC inperson meeting will be held at its normal time and location Feb 7th (followed by our March. 5th meeting). The SFM ARC in-person meeting will be held in the Howard Crowley room upstairs at the Carmichael Presbyterian Church. Directions, including a Google Map, are available at the bottom of the W6SFM homepage.
At our February meeting, we will be discussing ARRL news and events. We will be recapping our NAQP event held at member Bob, N6PGQ's QTH. We will also have a presentation on the different aspects of the Buddipole portable antenna system. As always, we will have our Tech (show and tell) portion. Members and visitors are welcomed to share their Ham Radio related items they find of interest.
On-Air Net Meeting
Each Tuesday of the week 8:00 PM on 3.545 MHz the SFM ARC enjoys getting on the air with CW for our weekly Nets. You do NOT need to be a member of the SFM ARC to check into our nets and we encourage you to invite a friend to join us as well. Although our nets usually run around 15 wpm code, we are all happy to accommodate those that are slower and need us to oblige. If you are unable to copy Morse Code or need some code practice, please feel free to visit our on-line LIVE streaming broadcast of both the Audio and a CW to Text decoding of the meeting. The "LIVE FEED" link can be found on our home page of our website. With our YouTube Live streaming system, you can watch the Live Feed on your Apple IOS or Android devices. You do not need to have a YouTube account to access the feed. However, you will need one to subscribe to our channel. Those viewing through Youtube can chat with others watching on-line as well. This of course is not mandatory, but rather just a way of making everyone feel more involved in our on-air nets. If you like, you can "check-in" using the chat window and you will be included with our On-Air Net log. Simply announce your call letters in the chat window.
Tell A Friend
Do you know someone in need of a Ham Club to call home? Perhaps someone that wants to learn Morse Code, are interested in CW or already knows and uses it? The SFM ARC would love to be their new Club home. Our in-person meetings are held each 1st Thursday of the month at 7PM. Please use the rear parking lot and entry for best access to the meeting. A map and directions can also be found on our website.
We hope to see you at our next meeting!
Thank You, Chris AI6U Secretary 2019
---
Update from Western Placer ARC

Posted February 10, 2019
Ham License Testing - Wednesday, March 6, 6 PM
WPARC offers Ham radio license testing on the first Wednesday of each month at Round Table Pizza at 6 PM (see below for map and directions.) For more information please email Chuck KK6DOA
WPARC Board Meeting - Wednesday, March 6, 7:30 PM
WPARC conducts Board Member meetings on the first Wednesday of each month at Round Table Pizza at 7:30 PM (see below for map and directions.) The board welcomes members and guests who wish to observe or bring business before the board.
WPARC Meeting and Testing Location - Tuesday February 19, 7:00 PM
WPARC holds Member Meetings on the third Tuesday of each month at Round Table Pizza at 7 PM, 1020 Pleasant Grove Blvd #170, Roseville. This location faces Roseville Parkway at the northeast corner of the complex, just around the corner from the CVS store. Come out to enjoy some camaraderie, food, beverage, and tales of the radios! Round Table Pizza offers a pizza and salad bar buffet dinner on Tuesday evenings for about $12/person. Scheduled Topic: Michael Buck will demonstrate a miniVNA Antenna Tester
The club website, http://wparc.us/index.html, has a new look and new information. Jey KQ6DK is now club web master and is updating the the site on a regular basis. Thanks to Jey for all his work on the website.
Don't forget about our WPARC Facebook page. It is at: https://www.facebook.com/WPARC
Want more? We now have a Twitter account! Just search for @k6pac (the club repeater call sign with the "@" symbol). We are following the ARRL, the ARRL Sacramento Valley Section, Kenwood, and Yaesu and a few others. If you think of someone we should follow, please email me. I know there are a few local clubs with Twitter accounts and I will add them.
73, Michael Buck. K6BUK
WPARC on Facebook and Twitter
Check us out on Facebook and Follow us on Twitter (@k6pac)
WPARC Nets
WPARC Weekly Nets

Members and guests are always welcome to check in. Share a few minutes with us and keep your net skills sharp!


| | | |
| --- | --- | --- |
| Day and Time | Net | Notes |
| Wed 10:00 AM | WPARC Day Net | Members and guests welcome |
| Thu 7:30 PM | WPARC Evening Net | 2M then HF net follows, see below |




WPARC Thursday Evening HF Net Schedule

Following the Thursday evening 2M Net we have an HF Net to keep our HF radio skills sharp. Confirm the scheduled band and frequency during the 2M net.


Day
Band and Frequency
Feb
Mar
1st Thu
10 meters (28.410 MHz)
7
7
2nd Thu
15 meters (21.355 MHz)
14
14
3rd Thu
40 meters (7.225 MHz)
21
21
4th Thu
75 Meters (3.855 MHz)
28
28
5th Thu
10 meters (28.410 MHz)
---
FROM THE PRESIDENT
Greetings, This will be a short message from me this month.
Time has been flying by for the Harmors and we haven't had much free time; my mother was in a car accident before Christmas, we had to put down our family dog right at the start of the year and we had to get Natalie back off to college just this week.
I hope your new year is off to a better start than ours. We have the club meeting this Thursday, so, it's the perfect time to show off any radio presents that Santa may have brought you. We also have the Coloma special event station this Saturday and Sunday, Jan 26-27.
We should have a few weeks of good weather coming up, to make any antenna repairs that you need to take care of after that last round of storms. The storms did a beautiful job of covering the Sierra's in a fresh blanket of snow. Nancy and I were able to enjoy some of the snow on Tuesday after our trip to Reno to drop of Natalie back at University of Nevada Reno.
Stay warm and hope to see and catch up with many of you on Thursday at the meeting.
73, Jay, KE6GLA Newsletter
---
Update from Oroville ARS

Updated February 3, 2019
OARS Monthly Meeting
The OARS regular monthly meeting will take place Friday, 8 February, 7 pm at St. Paul's Episcopal Church Hall, 1430 Pine St., Oroville, CA 95965.  The doors will open at 6 pm for a social hour prior to the meeting.  73, Jim W7XZ
Net night is every Sunday evening 8:00 pm on the 146.655 MHz W6AF FM repeater.
OARS Monthly Breakfast
This month's OARS Breakfast will take place Saturday, 23 February, 9 am, at the Acorn Cafe (second floor) of the Gold Country Casino and Hotel, 4020 Olive Hwy, Oroville, CA 95966
---
The SOTARS/QCWA meeting is Wednesday, February 13. You may choose lunch or breakfast. Lunch is at eleven and Denny's serves breakfast all day.
The meeting will be called to order at noon in the restaurant's back room.
The meeting as usual is at: Denny's Restaurant on the southwest corner of Howe Ave. and College Town Drive, one block North of Highway 50. 7900 College Town Drive, Sacramento Phone (916) 383-7071
Please plan to attend. 73, Dan WA6VPJ
---
Update from Nevada County ARC

Updated February 3, 2019
Next Meeting: Monday February 11, 2019 7 pm-9 pm.
Our February guest speaker will be: Alan Thompson W6WN, VSAT Field Engineer for El Dorado Networks. Alan was involved with the disaster recovery efforts in Butte County to restore and harden cell phone services that were disabled by the Camp Fire. He has some interesting insights on the communications recovery.
General Meetings 2nd Monday of Each Month 7:00 p.m. at the Salvation Army Meeting Room, 10725 Alta Street - Grass Valley. Guests are Welcome. Presentation, Coffee, Monthly Raffle. Doors open at 6:30 pm.
Nevada County Amateur Radio Club members hold impromptu meetings at the Omega Rest Area on highway 20. Elevation is around 5000 ft and the views are tremendous. Our activity always draws the interest of motorists coming through the rest stop.
73, Cal McKitrick AI6MC, NCARC President 2019 Newsletter Facebook Group
COFFEE CHAT (Ham n' Coffee)
Thursdays, 8 am at Valentina's Bistro, 841 Sutton Way, Grass Valley
---
Update from Yuba-Sutter ARC

Posted February 2, 2019
NEXT GENERAL MEETING
The next general meeting will be held Tues., Feb 5 at Marysville First United Methodist Church, 730 D Street, Marysville. This meeting will include a potluck. Enjoy good food, and good conversation with fellow club members. There will be a drawing.
BOARD MEETINGS
Board meetings are held at the American Red Cross Center. The Red Cross building is located at 125 E. Onstott Road, Yuba City. The next board meeting will be Wed., 20 Feb 2019. Visitors are welcome.
TECHNICIAN CLASS
Coming in January and February 2019 is the next technician class. Do you know of anyone interested in becoming a ham? Encourage them to attend and then become their Elmer. Help your hobby to grow. Classes will be held on Monday and Wednesday evenings from 6:30 to 8:30 P.M. at the American Red Cross Center in Yuba City beginning Jan. 7, 2019. They will run through Feb 27th. The Red Cross building is located at 125 E. Onstott Road, Yuba City. We will be meeting in Classroom 2.
EDITORS COMMENTS
✓YSARC's new web page is: www.ysarc.net - click on the upper right-hand icon on the homepage to join the club's Facebook page. Past issue's of the VHN are available on our new website.
✓Send your ham related articles and pictures to share in your VHN. Pictures of ham shacks, antenna projects, antenna parties, etc. are appreciated KI6CSN@arrl.net or KF6FVP@arrl.net
---
Update from Elk Grove-Florin ARC - pending

Posted July 9, 2018
Elk Grove-Florin ARC—Section News
Remember how much fun the Install-O-Rama was last August? Attached is the announcement for this year's event. Please share it with your radio club and others who may be interested. Thanks... Dave Reingold, KK6MVJ
Christine Lay, KG6JFO, President EGFARC, 916/715-8091  Install-O-Rama Flyer
---
Update from Glenn ARS

Posted February 10, 2019
Prez Says for February 2019
Greetings to all club members and guests form the shack of KF6OBI. Well with the first month of the New Year behind us, I pray that all is well with you and your families.
Last month was rather hard on me. I had more stresses it seems, especially the last week of January. I find my- self stumbling writing this message for various reasons. I do hope that your month of January was more positive than mine. With that we must remember to be safe in all things, in all areas, of our lives.
So this month as we venture forth to repair our antennas that may have been damaged during winter storms, or install that new antenna we got for Christmas, let us dub this month "Antenna Safety Month." To help you make safe choices with your antenna projects I have included a couple of antenna safety tips and procedure documents else where in this months GARS newsletter.
It is with great sadness and heaviness of heart that I report to you the passing of John Post, AG7J. John became a Silent key on the 15th of January. I shall remember John for his steadfast love of Amateur Radio and his genial nature. John was well loved and shall be remembered by many for his support and encouragements. John loved Amateur Radio and loved to teach radio theory classes. He had a special love for mathematics! Our sincere condolences and prayers go toward Dorothy and John's family in their time of loss and sorrow.
Update on Otis Harris, KG6TDR. Otis become a Silent Key, on 3 September 2018. Go to this link to leave your memories in memoriam: The necessary paperwork has been forwarded to the FCC and ARRL to have Otis's call sign canceled.
Otis's donated Amateur Radio assets, for the benefit of the club and its members, are being cataloged and valuated. A list will be presented and discussed at the February club meeting.
The club website – work is ongoing but progress is slow. I need help in maintaining both the club website and Facebook pages which can be found at the following links https://garshamradio.org/ and the club Facebook page at https://www.facebook.com/KJ6HCG/. Please give the these sites a visit, share with friends and family, and tell me what you think. Should you know of anyone that can lend support on these two items please let me know.
Glenn County ARES – monthly meetings are held at the Kanawha Fire Protection District firehouse located at 1709 County Road D, Willows. Facebook page for Glenn County ARES can be found here: https://www.facebook.com/Glenn-County-Amateur-Radio-Emergency-Services-198851130796357/  The next Glenn ARES meeting is to be held on the 12th of February. Meeting will start at 6:30pm.
Our next normal club meeting will be at the Artois Lutheran Fellowship Hall at 6:30pm, on Thursday, the 14th of February. Late arrivals and guests are always welcome. Also remember that one does not have to be a member of the club to participate in our membership meetings. So be safe in all you do and may you all have many blessings in the days ahead!
Mike Ellithorpe, KF6OBI President, GARS kilofox6obi@yandex.com 530-518-3730  Newsletter
---
Update from Golden Empire ARS - pending

Posted July 9, 2018
The Prez' Says:
73 de KI6VOS, Rick +1.415.624.5865
73, Tom Rider W6JS, President GEARS rustyboyrider@aol.com Newsletter
---
Member Updates and Feedback
---
Please send your feedback to kp4md@arrl.org to be included in this section.
---
Section Member Duane Wyatt, WAØMJD, on Childrens Hospital's "Kaleidoscope Variety Show"

Posted February 3, 2018
The University of California Benioff Childrens Hospital's Kaleidoscope Variety Show recently featured Sacramento Valley Section member Duane Wyatt, WAØMJD, showing his ham radio operation.
In this "Video Postcard" Duane explains and demonstrates his ham radio station in this program for children.
---
Section Member Phil Sittner, KD6RM, on QSO Today Podcast
Phil Sittner, KD6RM, has a ham radio story that goes back over 50 years, from childhood. Still living in Northern California, Phil builds his own radios and test equipment, operates CW on 80 and 40 meters, using his fence mounted 80 meter end-fed Zepp and a pair of phased 40 meter verticals in an HOA neighborhood where antennas are forbidden. We harness Phil's extensive technical expertise and hear his ham radio story in this QSO Today.
Listen to Phil's podcast interview on https://www.qsotoday.com/podcasts/kd6rm
---
The 70 cm Pave PAWS Radar at Beale AFB

Posted December 8, 2018
The Sacramento Valley has the distinction of being home to Beale AFB—one of the Pave PAWS (Precision  Acquisition Vehicle Entry Phased Array Warning System) 420-450 MHz radar installations in the continental US. Since 1979, Pave PAWS continues to be a key component of the US Department of Defense missile defense and satellite surveillance mission.
The Beale AFB AN/FPS-132 Pave PAWS radar is housed in a 105 foot high five story triangular building with two 20° tilted faces that each contain a phased array of 2,677 circular polarized crossed dipole antennas with a gain of 38.6 dB and beam width of 2.2°. The radar beam can be steered rapidly within microseconds by computers that electronically control the phase of the antenna elements. The facility can scan from 3° to 85° elevation over a 240° arc of azimuth with a range of 3000 nautical miles for objects of 10 m2 size. Each array face transmits 600 kW peak power output (145 kW average) with a normal 18% duty cycle. Pave PAWS search mode radar signals can be observed as random pulses of about 300 kHz bandwidth that are centered every 1 MHz throughout the 420-450 MHz band.  In tracking mode the pulse bandwidth can increase to 30 MHz.
The US Department of Defense (DoD) is the primary user of the 70 cm band shared with the Amateur Radio Service as the secondary user. FCC Part §97.313 (f) limits our amateur radio transmitter power to 50 watts PEP within a distance of 150 miles radius from the Beale AFB Pave PAWS in Yuba County. Since its 2007 system upgrade, the Beale AFB Pave PAWS radar has required additional power restrictions on some 440 MHz repeaters in this area. Radio amateurs may continue to operate on 70 cm thanks to our voluntary cooperation with limits coordinated among the ARRL, NARCC, the DoD and FCC. A status report is posted at http://www.narcc.org/NARCC-ARRL-PAVE-PAWS-Update-2014a.pdf
Read more about Pave PAWS at Air Force Space Command PAVE PAWS Radar System and Appendix H—Upgraded Early Warning Radar Analysis
---
Keep Our Digital Transmissions Legal on 60 Meters

Posted January 29, 2017
Our decreasing solar activity and residential antenna restrictions have attracted increasing numbers of radio amateurs to operate CW and weak signal digital modes on our lower HF frequencies including 60 meters. The five frequency channels that US amateur radio operators share on a secondary basis with US federal government users on 60 meters (5 MHz) pose unique requirements for CW and digital operators. As explained on http://www.arrl.org/60m-channel-allocation, US radio amateur emissions on our 60m channels must be precisely centered in the center frequency of each assigned channel, that is, 5332.0, 5348.0, 5358.5, 5373.0 or 5405.0 kHz. Thus, for example, a CW signal on channel 3 (USB Dial frequency 5357.0 kHz) must be precisely on 5358.5 kHz. The same ARRL page explains that all digital emissions must also be centered in the channel center.
This may appear unreasonable to radio amateurs because a 2.8 kHz channel can accommodate many digital and CW transmissions simultaneously, and requiring multiple stations to operate on the same exact frequency would result in mutual interference. The National Telecommunications and Information Administration (NTIA)* explains this requirement in https://ecfsapi.fcc.gov/file/7021871884.pdf which states: "Allowing multiple emissions within the necessary bandwidth of the widest authorized modes (2.8 kHz) increases the possibility of harmful interference from secondary amateur stations to primary federal stations, and would make it more difficult for a federal station to identify an interfering amateur station. In addition, NTIA is concerned about the aggregate equivalent isotropically radiated power from multiple amateur stations transmitting within a single 2.8 kHz channel. Accordingly, NTIA requests that 47 C.F.R. Section 97.303(h) continue to require that amateur stations transmit only on the five center frequencies allocated to the amateur service."  (See http://www.arrl.org/what-the-fcc-rules-say-97-303-h)
Observed Violations of US 60 Meter Frequency Regulations

JT65

This screenshot photo shows JT65 signals received on 60 meter Channel 3 (5357 kHz USB dial frequency) from 0300-0309 UTC on January 29, 2017. In the photo, the 5357 kHz dial frequency is at 0 Hz on the left side of the waterfall and the 5358.5 kHz channel center is at the 1500 Hz mark. Decodes of several US radio amateurs are seen transmitting JT65 emissions simultaneously on various frequencies throughout the channel 3 frequency range 5357-5360 kHz. This is the familiar appearance of a JT65 waterfall display on all other amateur radio bands; however, it violates the NTIA requirement that each US radio amateur transmission be centered on the 1500 Hz mark (the 5358.5 kHz channel center frequency).
ARRL Official Observer Richard Saunders, K6RBS, has posted the proper WSJT-X program settings for legal 60m JT mode operation here.

WSPR

The link http://wsprnet.org/olddb?band=60&sort=callsign&reverse=on&unique=on lists WSPR mode emissions on the 60 meter band. One can scroll down that list and see how many A, K, N and W call signs have been transmitting WSPR mode on 5288 kHz outside the authorized 60 meter center channel frequencies.  
US WSPR transmissions continue to be observed on the WSPR software default 60 meter frequency of 5288 kHz, a completely unauthorized frequency for US radio amateurs.
Each licensee has the final responsibility for the lawful operation of his or her station.  Unfortunately, the increasing automation in our radios has apparently accustomed some to falsely assume that the radio will correct for operator carelessness and ignorance of regulations.  Our cooperation with NTIA requirements is essential for our continued access to the 60m channels and for possible future access to the new ITU worldwide 60 meter allocation at 5351.5 to 5366.5 kHz. (See http://www.arrl.org/news/view/arrl-asks-fcc-to-allocate-new-5-mhz-band-retain-channels-and-current-power-limit and http://www.arrl.org/news/fcc-invites-comments-on-arrl-petition-to-allocate-new-5-mhz-band). Please be aware of these requirements if you intend to or currently operate CW or digital modes on our shared 60m allocations. The Amateur Auxiliary is documenting this matter and hopes to raise its awareness in the wider amateur radio community.
-Carol Milazzo, KP4MD
*The NTIA is the federal authority that coordinates radio spectrum use for the US military and federal government while the FCC serves in this capacity for US civilian radio spectrum users.
---
Free Amateur Radio Club Website Template

Posted January 20, 2019
Section Member Al Canton K6AAI is offering a generic amateur radio club WordPress website template for free. See the sample website posted at https://k6anc.com/wpradio/.  If interested, please contact Al at ac@K6AAI.net