American Radio Relay League
The National Association for Amateur Radio
Sacramento Valley Section
Serving Alpine, Amador, Butte, Colusa, El Dorado, Glenn, Lassen, Modoc, Nevada, Placer, Plumas, Sacramento, Shasta, Sierra, Siskiyou, Sutter, Tehama, Trinity, Yolo & Yuba Counties in Northern California
Sacramento Valley Section is located in the ARRL Pacific Division.
Sacramento Valley Section Web Resources
ARRL National Page: www.arrl.org/Groups/view/sacramento-valley
Organization, Clubs, Calendar, Nets
Sacramento Valley ARES: www.sacvalleyares.org SV ARES Brochure
Facebook: www.facebook.com/ARRLSacramentoValley
Twitter: www.twitter.com/ARRL_SV
Thanks to Greg Kruckewitt KG6SJT for maintaining our Section ARES web page and for assisting with our Facebook page and Twitter feed.
Thanks to Les Cobb W6TEE for maintaining the Section Net list.
Submit Section News updates to kp4md(at)arrl.org
---
ARRL Conventions/Hamfests & other Regional Events
December 1 - ARRL Pacific Division Leadership Summit, Livermore, CA
March 16, 2019

 - Sierra Foothills ARC Hamfest, Hiistoric Loomis Train Depot, Loomis
---
Past Section News Archive
---
Amateur Radio License Classes and Volunteer Exam (VE) Information and Schedules
Class and VE Session Calendar
---
Getting Your Amateur Radio License
A license is required to operate an amateur radio station. Amateur Radio Licenses in the United States are granted by the Federal Communications Commission (FCC) after passing an exam at a Volunteer Exam (VE) session.  
The FCC currently issues three classes of amateur radio license: Technician, General and Amateur Extra.
The license exam contains multiple choice questions selected from lists that are published online at http://www.arrl.org/question-pools. Many individuals prepare for an exam session using self-study license manuals and online practice exams. From time to time, license preparation courses are offered that cover the exam material over several weeks. "Ham-Cram" sessions are also popular, where a several hours' review class of exam questions and answers is immediately followed by a license exam session.
Visit http://www.arrl.org/find-an-amateur-radio-license-class to find a license class.
Visit http://www.arrl.org/find-an-amateur-radio-license-exam-session to find a license exam session.
For more information on testing, preparation and study materials, see:
---
License Courses
---
Sacramento SHARP 2019 Technician and General Class Ham Radio Licensing Courses
Posted December 2, 2018
The Sacramento Sheriff Amateur Radio Project is offering no-cost license courses for the Technician and the General Class Amateur Radio Licenses at the LDS Church, 8580 Florin Rd, Sacramento, CA 95828. The course is offered as class sessions from 6-9 pm on Tuesdays and Thursdays over 3 or 4 weeks, each of which covers one portion of the material with pre and post practice exams. A license exam session for a $15 fee is offered on the Friday following the final class of each course.
DATES FOR TECHNICIAN CLASSES: March 5th, 7th, 12th, 14th, 19th, 21st with the VE Session on the 22nd of March, 2019.  Download Flyer
DATES FOR GENERAL CLASSES: April 2nd, 4th, 9th, 11th, 16th, 18th, 23rd, with the VE session on the 26th of April, 2019.  Download Flyer
A current ARRL License Manual for each corresponding license class is required. For details go to http://www.sacsharp.org/ham-classes
---
Technician Class License Course in Yuba City
Posted December 2, 2018
Coming in January and February 2019 is the next Yuba-Sutter ARC Technician license class. Classes will be held on Monday and Wednesday evenings from 6:30 to 8:30 P.M. at the American Red Cross Center in Yuba City beginning Jan. 7 through Feb 27, 2019. The Red Cross building is located at 125 E. Onstott Road, Yuba City. We will be meeting in Classroom 2. If you plan to attend this class please contact Curtis KF6VFP. If you do plan on taking the class, you will need to obtain a Technician class book. The books and other needed material are listed below.
"The ARRL Ham Radio License Manual", fourth edition. Manuals can be obtained from the instructor (20% discount), the ARRL, Amazon (Print or Kindle), or buy a used copy from a friend, etc.
Testing
The Yuba Sutter Amateur Radio Club also offers tests for all amateur radio classes. Testing will be held at 715 King Ave, Yuba City, CA 95991 the first Saturday of every odd month at 09:00 AM.
---
Citrus Heights 2018 Ham-Cram Sessions
Posted December 4, 2017
Section member Joe Cardoza, KA6ROM, announces that his Citrus Heights VE Team will conduct their amateur radio Ham-Cram Technician License training and examinations on the fourth Saturday every other month at starting at 8:45 am at the LDS Church, at 7950 Hazel Ave, Orangevale, CA. This is the intersection of Hazel and Cherry Ave.
The Ham-Cram and Exam dates for 2018 are:

January 27, 
March 24, 
May 26, 
July 28, 
September 22, and 
November 17.
Contact Joe Cardoza, KA6ROM, 916-725-6443 or cardozas@comcast.net to register.
---
California Emergency Volunteers Ham-Cram Sessions
Posted December 4, 2017
The California Emergency Volunteers, Inc. offers 6 hour long "Get Your License in One Day" Ham-Cram sessions followed by a Technician Class license exam session. These sessions are held on monthly on a Saturday alternating between Stockton and Manteca, CA. Visit http://www.hamcram.org/ for more information and to register.
---
Folsom ARRL Volunteer Exam 2018 Schedule - New Location
Updated June 26, 2018
Folsom ARRL VEC exams are held at 6 pm the third Thursday of each month except July and December.
Here is our updated exam scheduled for 2018:
January 18

February 15

March 15

April 19

May 17

June 21

July NO EXAM

August 16
September 20
October 18
November 15
December NO EXAM
All exams start at 6:00 pm.

Round Table Pizza, 9500 Greenback Ave, Suite 1, Folsom, CA 95630.  We meet in the large meeting room.
For information contact Steve Porten, KN6OX at steve@kn6ox.net.

---
Redding ARRL VE Schedule 2018
Posted December 1, 2017
The Redding ARRL VE Team will be hosting exams on the following Saturdays in 2018:
January 20
March 17
May 19
July 21
September 15
November 17
Our exam sessions are now being held at the Shasta County Office of Emergency Services at 2486 Progress Drive in Redding. Exams start at 10:00 AM and candidates are encouraged to pre-register.

More information can be found at: www.reddingve.com or by contacting Steve K6KS at sjmosconi@gmail.com
---
SHINGLETOWN ARRL VE 2019 Schedule
Test Location:
Open Door Community Church, 33883 HWY 44, SHINGLETOWN, CA. 96088
Testing begins at 10:00 AM.
Candidates should arrive 15 to 30 minutes early. We accept walk ins.
Contact:
Dar Walker W6IO, Shingletown ARRL VE Liaison, w6iodar@gmail.com, 530-474-3087
TEST SCHEDULE:
2019: Feb 16, Apr 20, Jun 15, Aug 17, Oct 19, Dec 14
Dar Walker W6IO
---
Other VE Sessions - Schedule List (ARRL national site)

---
50 W PEP Maximum Power Limit Area on 70 cm
A little recognized portion of FCC Part 97 regulations applies to 420-450 MHz operations in most counties in our Sacramento Valley section:
47 CFR §97.313 (f) No station may transmit with a transmitter power exceeding 50 W PEP on the UHF 70 cm band from an area specified in footnote US270 to §2.106 of part 2. The indicated affected areas are specified in http://www.arrl.org/us270, in the State of California within a 240-kilometer (150 mile) radius around locations at Beale Air Force Base, California (latitude 39°08' North, longitude 121°21' West).
More information on the additional impact on 70 cm repeater stations is at http://www.narcc.org/NARCC-ARRL-PAVE-PAWS-Update-2014a.pdf
The Amateur Radio Service shares the 70 cm band on a secondary basis with the US Government which has priority. The US Department of Defense routinely monitors and locates signal sources on these frequencies.  Our voluntary cooperation is mandatory to avoid interference with the Pave PAWS (Phased Array Warning System) radar at Beale AFB and thus to assure our continued access to these frequencies.
December 2018 News
From the Section Manager
Here are the latest news and happening from clubs and members around our section.
This month's news features reports, photos and videos from radio amateurs and clubs around our Section.
December 1 ARRL Pacific Division Leadership Summit
On Saturday December 1, ARRL Pacific Division Director Jim Tiemstra, K6JAT and Vice Director Kristen McIntyre, K6WX convened the annual ARRL Pacific Division Leadership Summit at the Livermore City Council Chambers. Also attending were ARRL Second Vice President Bob Vallio, W6RGG, East Bay Section Manager, Jim Siemons, W6LK, Sacramento Valley Section Manager, Carol Milazzo, KP4MD, Nevada Section Manager John Bigley, N7UR, and various other ARRL Field Organization officials and representatives from ARES and affiliated clubs throughout the ARRL Pacific Division.
At the meeting, Jim Tiemstra, K6JAT appointed Dave Otey, WB6NER, Assistant Pacific Division Director to assist Division members with changes in ARES. Those present also discussed status updates on the Amateur Radio Parity Act,
ARES Connect
, the
ARES Strategic Plan
, the transition of our Official Observer program to an enhanced ARRL-FCC
Volunteer Monitor program
, the
ARRL Technician Enhancement Proposal
 and other matters of concern to radio amateurs in our Sections.
Thanks to ARES Members for Support to Camp Fire Red Cross Shelters
Thanks to all the ARES Members who supported the Camp Fire Red Cross Shelters.
Well Done! Please pass our thanks to all of your operators.
Plumas County ARES: Kathy KF6CCP, Keith AI6OO, Larry Trotter KI6YUK.
Butte County ARES: Dale KK6EVX, Theodore N6TBC, Robert KK6WUG, Stephan KM6RSO, Daniel N6APX, Rick KI6VOS.
Yuba-Sutter ARES: Andy KJ6IYM, Bill WA6OHP, Neil N6CNY, Brandon KM6JID, Ted KN6TED, Michael AG6IP, Brad KM6RIW.
Glenn County ARES: Michael KJ6KIZ , Philip KI6SMN, Hank KM6VFF.
Sacramento County ARES: Michael KK6ZGB, Carl KK6RAS, and James KK6FON
Greg Kruckewitt, KG6SJT, ARRL Sacramento Valley Section Section Emergency Coordinator
& Carol Milazzo, KP4MD, ARRL Sacramento Valley Section Manager
To all operators that assisted The American Red Cross during this trying time! Your hard work and dedication made my job much easier! Thank you again.
Michael Joseph, American Red Cross Amateur Radio Liaison
Section Wide Net Thursday, December 20
Mark Thursday evening, December 20, on your calendar to check in to our ARRL Sacramento Valley Section Wide Nets on 146.085 MHz and 3880 kHz LSB. See the details below.
Our Section website, Facebook and Twitter pages are a work in progress, and your suggestions and submissions are always welcome.
This website is visited most during the first week of each month, but do check back as it is often updated with late breaking news.
73, Dr. Carol Milazzo, KP4MD
American Radio Relay League Sacramento Valley Section Manager
kp4md(at)arrl.org
You can always send compliments, suggestions and submissions for inclusion in our Section News to kp4md(at)arrl.org
---
ARRL VHF & HF Section-Wide Nets Thursday, December 20
On Thursday December 20, ARRL Sacramento Valley Section will hold an ARRL SECTION-WIDE NET, first on the WD6AXM repeater on 146.085 MHz IMMEDIATELY after the 7 pm Yuba-Sutter ARES net closes, then followed immediately by an HF net on 3880 kHz LSB +/- 3 kHz. All radio amateurs are encouraged to participate. We will issue an Official Bulletin reminder during that week.
ARRL Sacramento Valley Section Nets are conducted only on the third Thursday of the month when announced, following the 7 pm Pacific Time Yuba-Sutter ARES net on the WD6AXM 146.085 MHz FM repeater, followed by the HF Section Net on 3880 kHz LSB +/- 3 kHz. During spring and summer months the HF net may be conducted on 5330.5 kHz USB as propagation permits.
All Sacramento Valley Section radio amateurs are welcome to check into our Section Nets. The nets carry announcements of interest to our section and test our section-wide station communication capabilities.
Don't have an antenna or HF radio?  Click a link
and Listen to our HF net on a web receiver.
Hourly Northern California NVIS Observations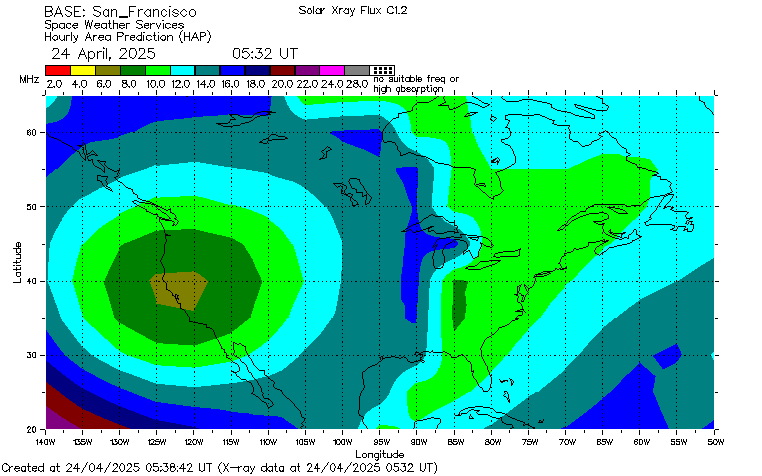 This chart shows colors that represent the recommended HF frequencies for contacting stations for a particular hour. Both stations should use the SAME frequency denoted by the color at the location of the target station. The chart is in Universal Time (UTC). More information at http://www.sws.bom.gov.au/HF_Systems/6/6
---
---
ARRL Sacramento Valley SEC Greg Kruckewitt, KG6SJT, Reports on the ARES Response to the Camp Fire
In TWiT.tv's Ham Nation episode 376 on November 14, Sacramento Valley SEC Greg Kruckewitt, KG6SJT, gave a detailed question and answer report on the role that radio amateurs played in supporting communication needs during the tragic Camp Fire in Butte County.  The interview begins at the 45:50 point in the program. Read more about the amateur radio response to the Camp Fire in the ARRL News and on our Section Facebook and Twitter feeds. 
---
Yuba Sutter ARES EC Andy Boone, KJ6IYM Interviewed on Amateur Radio Newline
In Amateur Radio Newsline Report 2142 for Friday, November 16 2018, Yuba-Sutter EC Andy Boone described the ARES response to the Red Cross call for support in the aftermath of the devastating Camp Fire.  Click to read the script.
---
Dave Otey, WB6NER, Appointed Pacific Division Assistant Director for ARES Connect
During the Saturday December 1, ARRL Pacific Division Leadership Summit in Livermore, Division Director Jim Tiemstra, K6JAT appointed Dave Otey, WB6NER, Assistant Division Director. Dave will be our division resource for ARES Connect registration and maintenance.
---
January 12, 2019 - Sacramento County ARES Training

Posted December 2, 2018
The next Sacramento County ARES training and meeting is scheduled for Saturday January 12, 2019 from 9:00 am to 12:00 noon at the Sacramento Sheriff's Central Division, 7000 65th Street, Sacramento, CA 95823.
Vince Cracchiolo KI6NHP is the Sacramento County EC.
For more information, visit the Sacramento County ARES web site at www.saccountyares.org
---
Pot grow lights interfere with Ham Radio

Submitted by Rene Smythe, WB6PSY, posted March 4, 2017
I have experienced this interference for the past few years. I found the interference by swinging my 10m Yagi monobander around until the noise became over S9. I then went outside to see where the beam was physically pointed and discovered a garage where indoor pot is being grown. The lights are on a time cycle so the interference comes and goes. 40º degrees in either direction takes the noise out.
Now that marijuana is being legalized in more states, more hams are going to experience this noise.
WB6PSY
http://bigstory.ap.org/article/c1b607bfbbab459ba9e21d4c282996e4/growing-problem-pot-lights-give-ham-radio-operators-buzz
---
Radio Frequency Interference

posted February 3, 2018
ARRL and the FCC have a cooperative agreement in radio frequency interference matters. You may submit interference reports together with your supporting documentation to ARRL EMC Engineer Mike Gruber W1MG who then files the report with the FCC Gettysburg office.
You may also contact our Section Technical Coordinator Bob Wortman, WB6VYH, or our Section Official Observer Coordinator Bob Hess, W1RH, for assistance. More information is posted under the "From the Section Manager" notes in the November 2016 Section News - Carol KP4MD
Our Official Observer Coordinator Bob Hess, W1RH, shares this helpful web page by NK7Z for identifying sources of Radio Frequency Interference http://www.nk7z.net/rfi-snapshots
---
Club and Member News - December 2018
---
Update from River City ARCS

Posted December 2, 2018
Our Membership Holiday Dinner will be held on Thursday December 13 @ 6-9 PM at Sam's Hof Brau, 2500 Watt Ave, Sacramento, CA 95821 This is a Family Event!
For current members only! Bring your family or a guest for dinner, the prestigious Lyle Aufranc Award presentation, prize drawings and great company! Optional: Bring an unwrapped toy donation for WEAVE (up to $10 value) for collection at our Holiday Dinner Meeting. Volunteer to help with this event decorating. Please contact Marie Martin at sierracougar@elkgrove.net
This event takes the place of our usual meeting on the 1st Tuesday of December. Our General meetings are the 1st Tuesday of each month at 7:30 pm and are open to the Public. Check into our Wednesday night nets at 8:00 pm on the 145.25 MHz N6NA repeater
Our Regular Meetings are held at Sacramento County Corp. Yard, 5026 Don Julio Blvd (corner of Elkhorn Blvd) Sacramento, California 95842.  Newsletter
---
SFARC Meetings - Monthly Members second Friday Monthly at Auburn City Hall, Rose Room. Everyone is welcome.
On-air Nets - Thursday night at 7:30 on the W6EK repeater system is the weekly club net. Then every 1st and 3rd Wednesday at 7:30pm is the Elmer Net. Please join us. W6EK Repeaters: 145.430 - 162.2Hz, 223.860 - 110.9Hz, 440.575 + 162.2Hz
Our November program was on using and understanding Smith Charts presented by Bob, WE6C.
Orion, AI5JB set-up stations at the Beal AFB JOTA Event. Carl, WF6J demonstrated Ham Radio to Cub Scout Pack in Loomis, CA. Both events stirred up a lot of interest in our young ham hopefuls.
Tyghe, W6TJR has setup a Christmas Gift fund to benefit the Kids of our Friends and Neighbors of Paradise and the Camp Fire area. Please call Tyghe at 530 320-5554 for donating gifts.
Hamfest 2019 -the date is set for March 16th, 2019. Location will be at the Historic Loomis Train Depot in Loomis, CA
Our Groups.io is now at 126 members. This replaced the Yahoo Group function.
Jim, WA8MPA has assembled a Member's Library that allows the membership to check out any of over a hundred ARRL and other publications on Ham Radio.
Club activities for December boil down to our Members Christmas Dinner on the 15th, and the Breakfast at Mel's Auburn on December 29th.
We will be having a Youth Ham Scholarship in 2019. Details will be announced at the January meeting.
As with any SFARC net or meeting, we love visitors, so come on down and join the membership and check out our website at: w6ek.org
VE Exams - Every 1st Saturday each month at Raley's Granite Bay. Starts at 8am. Walk ins welcome. Contact is Al, NI2U at vechair2015@w6ek.org.
Carl, WF6J, PIO Sacramento, CA
Newsletter at: http://www.w6ek.org/newsletters/SFARC%20November%202018%20newsletter.pdf
VE Report December 2018
Thanks again for all the VE's that were able to come to the session. We had a very successful session again. We administered 17 elements to 11 candidates. 3 earned a Technician, 6 earned General and one earned Extra Class license. 
Thanks Al NI2U
---
Update from North Hills RC

Posted December 2, 2018
NO December meeting...It's the holiday season!
The North Hills Radio Club will hold our annual Christmas dinner on Tuesday evening, December 18 at Brookfield's Restaurant, located at 4343 Madison Avenue, near I 80.
The dinner will take place from 6:00 Until 8:00 P.M. on that evening. All who are members in good standing of the NHRC are welcome to attend.
You are also cordially invited to invite a family member or friend to accompany you to the dinner. You will be permitted to order anything you wish from the main menu. You will be responsible for paying your own check.
There will be a drawing for door prizes plus lots of fun and fellowship with our NHRC friends and guests.
The officers and directors of The North Hills Radio Club sincerely hope that many of you will plan to attend this once-a-year event which will bring to a conclusion, another successful year in the on-going history of NHRC.
The NHRC would like to wish everyone in the ham radio community a most joyous holiday season and a Happy and Bright New Year.
From Doug Emerson. Vice-President, North Hills Radio Club. Amateur radio callsign N6NFF
Club meetings are usually held on the third Tuesday of every month, at the former (SMUD) building located at 5026 Don Julio Blvd, at the northeast corner of Don Julio and Elkhorn Blvds. The board meeting begins at 6:00 P.M., followed by the general membership meeting at 7:30 P.M.
---
Update from Samuel F Morse ARC

Updated December 2, 2018
Our next SFM ARC inperson meeting will be held at its normal time and location Dec. 6th (followed by our Jan.3rd meeting). The SFM ARC in-person meeting is held in the Howard Crowley room upstairs at the Carmichael Presbyterian Church. Directions, including a Google Map are available at the bottom of the W6SFM.com homepage.
At our December meeting, we will be discussing the recap of our Bug Roundup Event and participation level. We will also be discussing January's North American QSO party event to be held at a member's home QTH. As always, we will have our Tech (show and tell) portion. Members and visitors are asked to share their Ham Radio related items they find of interest. Visitors are always welcome to join us at our meetings.
On-Air Net Meeting
Each Tuesday of the week 8:00 PM on 3.545 MHz the SFM ARC enjoys getting on the air with CW for our weekly Nets. You do NOT need to be a member of the SFM ARC to check into our nets and we encourage you to invite a friend to join us as well. Although our nets usually run around 15 wpm code, we are all happy to accommodate those that are slower and need us to oblige. If you are unable to copy Morse Code or need some code practice, please feel free to visit our on-line LIVE streaming broadcast of both the Audio and a CW to Text decoding of the meeting. The "LIVE FEED" link can be found on our home page of our website. With our YouTube Live streaming system, you can watch the Live Feed on your Apple IOS or Android devices. You do not need to have a YouTube account to access the feed.. However, you will need one to subscribe to our channel.
Those visiting viewing can chat with others watching on-line as well. This of course is not mandatory, but rather just a way of making everyone feel more involved in our on-air nets.
If you like, you can "checkin" using the chat window and you will be included with our On-Air Net log. Simply announce your call letters in the chat window.
Tell A Friend
Do you know someone in need of a Ham Club to call home? Perhaps someone that wants to learn Morse Code, are interested in CW or already knows and uses it? The SFM ARC would love to be their new Club home. Our in-person meetings are held each 1st Thursday of the month at 7PM. Please use the rear parking lot and entry for best access to the meeting. A map and directions can also be found on our website.
We hope to see you at our next meeting! Thank You, Chris AI6U SFM ARC Secretary 2018
---
Ham License Testing - Wednesday, December 5, 6 PM
WPARC offers Ham radio license testing on the first Wednesday of each month at Round Table Pizza at 6 PM (see below for map and directions.) For more information please email Chuck KK6DOA
WPARC Board Meeting - Wednesday, December 5, 7:30 PM
WPARC conducts Board Member meetings on the first Wednesday of each month at Round Table Pizza at 7:30 PM (see below for map and directions.) The board welcomes members and guests who wish to observe or bring business before the board.
WPARC Members Meeting - Tuesday, December 18, 7 PM
WPARC holds Member Meetings on the third Tuesday of each month at Round Table Pizza at 7 PM (see below for map and directions.) Come out to enjoy some camaraderie, food, beverage, and tales of the radios! Round Table Pizza offers a pizza and salad bar buffet dinner on Tuesday evenings for about $12/person. Scheduled Topic: TBD
WPARC Meeting and Testing Location
Join us at Round Table Pizza, 1020 Pleasant Grove Blvd #170, Roseville. This location faces Roseville Parkway at the northeast corner of the complex, just around the corner from the CVS store. View map and directions
The club website, http://wparc.us/index.html, has a new look and new information. Jey KQ6DK is now club web master and is updating the the site on a regular basis. Thanks to Jey for all his work on the website.
Don't forget about our WPARC Facebook page. It is at: https://www.facebook.com/WPARC
Want more? We now have a Twitter account! Just search for @k6pac (the club repeater call sign with the "@" symbol). We are following the ARRL, the ARRL Sacramento Valley Section, Kenwood, and Yaesu and a few others. If you think of someone we should follow, please email me. I know there are a few local clubs with Twitter accounts and I will add them.
73, Michael Buck. K6BUK
WPARC on Facebook and Twitter
Check us out on Facebook and Follow us on Twitter (@k6pac)
WPARC Nets
WPARC Weekly Nets

Members and guests are always welcome to check in. Share a few minutes with us and keep your net skills sharp!


| | | |
| --- | --- | --- |
| Day and Time | Net | Notes |
| Wed 10:00 AM | WPARC Day Net | Members and guests welcome |
| Thu 7:30 PM | WPARC Evening Net | 2M then HF net follows, see below |




WPARC Thursday Evening HF Net Schedule

Following the Thursday evening 2M Net we have an HF Net to keep our HF radio skills sharp. Confirm the scheduled band and frequency during the 2M net.


| | | | | | |
| --- | --- | --- | --- | --- | --- |
| Day | Band and Frequency | Dec | Jan | Feb | Mar |
| 1st Thu | 10 meters (28.410 MHz) | 6 | 3 | 7 | 7 |
| 2nd Thu | 15 meters (21.355 MHz) | 13 | 10 | 14 | 14 |
| 3rd Thu | 40 meters (7.225 MHz) | 20 | 17 | 21 | 21 |
| 4th Thu | 75 Meters (3.855 MHz) | 27 | 24 | 28 | 28 |
| 5th Thu | 10 meters (28.410 MHz) | | 31 | | |
---
Club Holiday Dinner
Club Holiday Dinner: Fifty Grand Steakhouse, 6401 Pony Express Trail, Pollock Pines, CA 95726. Sunday, December 9th 5pm to 8:00pm
Door prizes for club members and raffle prizes for everyone. Please R.S.V.P via SignUpGenius with head count and menu choices by December 1st
Menu Choices: Herb Crusted Prime Rib $32.00 per person, Chicken Piccata $25.00, Broccoli and cheese stuffed Portobello mushroom $21.00
All meals include artisan bread, mixed garden green salad & herb roasted red potato. Chocolate Mousse peppermint cake w/ganache and coffee for dessert.
Bar will be open for beverage purchase.
Ham Radio Exam
January 12th, 2019 at 9:00am. Held at the American Legion Post 119, 4561 Greenstone Road, Placerville CA 95667. Testing Fees $14.00. Contact Ken Vogele, W6KWV at 530-642-9523
2019 Coloma Special Event
The El Dorado County ARC will be commemorating 171st anniversary of the discovery of gold in Coloma, CA. The special event station will be on the air as AG6AU from the gold discovery site January 26th and 27th. More information to coming soon./p>
Jay, KE6GLA  Newsletter
---
Update from Oroville ARS

Updated December 2, 2018
OARS Christmas Dinner
The OARS Christmas Dinner will take place Saturday, 15 December, 5-8 pm at Oroville First United Methodist Church, 45 Acacia Ave, Oroville, CA 95966.
OARS Monthly Breakfast
This month's OARS Breakfast will take place Saturday, 29 December 2018, 9 am, at the Acorn Cafe (second floor) of the Gold Country Casino and Hotel, 4020 Olive Hwy, Oroville, CA 95966
---
The SOTARS/QCWA meeting is Wednesday, December 12. You may choose lunch or breakfast. Lunch is at eleven and Denny's serves breakfast all day.
Our president is on a cruise, so he will be absent this month.
The meeting will be called to order at noon in the restaurant's back room. The program this month will be the video on soldering connectors to coaxial cables using a very unique method I had never seen anywhere before.
The meeting as usual is at: Denny's Restaurant on the southwest corner of Howe Ave. and College Town Drive, one block North of Highway 50. 7900 College Town Drive, Sacramento Phone (916) 383-7071
Please plan to attend. 73, Dan WA6VPJ
---
Update from Nevada County ARC

Updated December 2, 2018
Next Meeting: Monday December 10, 2018 7pm-9pm. This will be the Holiday Party.
NCARC Holiday Party - Monday December 10th. Same location as our monthly meetings. Turkey and Ham provided by the club. Bring a side dish or a dessert. A signup sheet will be going around or contact a club officer and let them know if you can attend.
Holiday Raffle drawing will be at the Holiday Party. Tickets again will be $5.00 each. The prize this year will be a complete 2 meter mobile installation package. Radio is a Kenwood TM-V71a Dual Band 2m/440. A very nice radio for home or mobile. The more tickets you purchase the better your chances!
Nevada County Amateur Radio Club members hold impromptu meetings at the Omega Rest Area on highway 20. Elevation is around 5000 ft and the views are tremendous. Our activity always draws the interest of motorists coming through the rest stop.
73, Cal McKitrick AI6MC, NCARC President 2018 Newsletter Facebook Group
COFFEE CHAT (Ham n' Coffee)
Thursdays, 8 am at Valentina's Bistro, 841 Sutton Way, Grass Valley
---
Update from Yuba-Sutter ARC

Posted December 2, 2018
UPCOMING EVENTS
04 Dec – 7:00 P.M. Club Christmas Party, Marysville First UMC, 730 D Street, Marysville 18 Dec – 7:00 P.M. Board Meeting, Cancelled
CAMP FIRE HAMS
Larry / KA6GND is one of our ham friends who had to evacuate his house in Forest Ranch due to the fire. He is back home now and gave me some information on some of our fellow hams also affected. Thought you might like to know in case you're acquainted with them:
"The one who lost 2 homes in Old Magalia is Ron, K6RG. The ones who have been staying with us but were able to return home to Magalia last night are John, N6NTM and Scott AD6DX. Others who I have heard lost their places are Doug / KD6LOK, Stephen / W6AKF, Ron / WB6IAG (Winsystem), Bill / K6IWY, Larry / N7MRN. Larry / KE6LAW also lost the house he just moved into this year and I believe Robert / KK6WUG also lost his house. Submitted by Chris, KK6VZD
Jim, KG6UDW and Anna, K6ZOA lost everything too. Submitted by Russ Decker
The majority of PARS members lost their homes. Don't have an exact number at this time but probably at least 90% of 22 members. Submitted by Douglas Poppelreiter. This is a post from Facebook on November 20, 2018.
YSARC ELECTIONS RESULTS
President: Chris McLain KK6VZD, V. Pres.: Daniel Weber KM6RHC, Secretary: Linda Maas KK6SOZ, Treasurer: June McJunkin N6JEY, Board Members: John Rogers KI6UDF, Neil Bossard N6CNY, Mark Peters KA6FFM, Joe Visalli N9BD, Joe Peterson K6JFP. Thanks to all who volunteered.
TECHNICIAN CLASS
Coming in January and February 2019 is the next technician class. Do you know of anyone interested in becoming a ham? Encourage them to attend and then become their Elmer. Help your hobby to grow. Classes will be held on Monday and Wednesday evenings from 6:30 to 8:30 P.M. at the American Red Cross Center in Yuba City beginning Jan. 7, 2019. They will run through Feb 27th. The Red Cross building is located at 125 E. Onstott Road, Yuba City. We will be meeting in Classroom 2.
EDITORS COMMENTS
✓YSARC's new web page is: www.ysarc.net - click on the upper right-hand icon on the homepage to join the club's Facebook page. Past issue's of the VHN are available on our new website.
✓Send your ham related articles and pictures to share in your VHN. Pictures of ham shacks, antenna projects, antenna parties, etc. are appreciated KI6CSN@arrl.net or KF6FVP@arrl.net
---
Update from Elk Grove-Florin ARC - pending

Posted July 9, 2018
Elk Grove-Florin ARC—Section News
Remember how much fun the Install-O-Rama was last August? Attached is the announcement for this year's event. Please share it with your radio club and others who may be interested. Thanks... Dave Reingold, KK6MVJ
Christine Lay, KG6JFO, President EGFARC, 916/715-8091  Install-O-Rama Flyer
---
Update from Glenn ARS - pending

Posted July 9, 2018
Prez Says for July 2018
Greetings to all club members and guests. It's almost Independence Day and I want to thank you for your service this club and to this great country. I hope you find the club newsletters and 'Prez Says" message useful and informative.
Mike Ellithorpe, KF6OBI President, GARS kilofox6obi@yandex.com 530-518-3730  Newsletters
---
Update from Golden Empire ARS - pending

Posted July 9, 2018
The Prez' Says:
73 de KI6VOS, Rick +1.415.624.5865
73, Tom Rider W6JS, President GEARS rustyboyrider@aol.com Newsletter
---
Member Updates and Feedback
---
Please send your feedback to kp4md@arrl.org to be included in this section.
---
The 70 cm Pave PAWS Radar at Beale AFB

Posted December 8, 2018
The Sacramento Valley has the distinction of being home to Beale AFB—one of the Pave PAWS (Precision  Acquisition Vehicle Entry Phased Array Warning System) 420-450 MHz radar installations in the continental US. Since 1979, Pave PAWS has been a key component of the US national missile defense and satellite surveillance mission.
The Beale AFB AN/FPS-132 Pave PAWS radar is housed in a 105 foot high five story triangular building with two 20° tilted faces that each contain a phased array of 2,677 circular polarized crossed dipole antennas with a gain of 38.6 dB and beam width of 2.2°. The radar beam can be steered rapidly within microseconds by computers that electronically control the phase of the antenna elements. The facility can scan from 3° to 85° elevation over a 240° arc of azimuth with a range of 3000 nautical miles for objects of 10 m2 size. Each array face transmits 600 kW peak power output with a normal 18% duty cycle. Pave PAWS radar signals can be observed as random pulses of about 300 kHz bandwidth that are centered every 1 MHz throughout the 420-450 MHz band.
The US Department of Defense (DoD) is the primary user of the 70 cm band shared with the Amateur Radio Service as the secondary user. FCC Part §97.313 (f) limits our amateur radio transmitter power to 50 watts PEP within a distance of 150 miles radius from the Beale AFB Pave PAWS in Yuba County. Since its 2007 system upgrade, the Beale AFB Pave PAWS radar has required additional power restrictions on some 440 MHz repeaters in this areas. Radio amateurs may continue to operate on 70 cm thanks to our voluntary cooperation with limits coordinated among the ARRL, NARCC, the DoD and FCC. A status report is posted at http://www.narcc.org/NARCC-ARRL-PAVE-PAWS-Update-2014a.pdf
Read more about Pave PAWS at https://www.afspc.af.mil/About-Us/Fact-Sheets/Article/249015/pave-paws-radar-system/ and https://www.mda.mil/global/documents/pdf/env_gmd_eis_append_h.pdf
---
Keep Our Digital Transmissions Legal on 60 Meters

Posted January 29, 2017
Our decreasing solar activity and residential antenna restrictions have attracted increasing numbers of radio amateurs to operate CW and weak signal digital modes on our lower HF frequencies including 60 meters. The five frequency channels that US amateur radio operators share on a secondary basis with US federal government users on 60 meters (5 MHz) pose unique requirements for CW and digital operators. As explained on http://www.arrl.org/60m-channel-allocation, US radio amateur emissions on our 60m channels must be precisely centered in the center frequency of each assigned channel, that is, 5332.0, 5348.0, 5358.5, 5373.0 or 5405.0 kHz. Thus, for example, a CW signal on channel 3 (USB Dial frequency 5357.0 kHz) must be precisely on 5358.5 kHz. The same ARRL page explains that all digital emissions must also be centered in the channel center.
This may appear unreasonable to radio amateurs because a 2.8 kHz channel can accommodate many digital and CW transmissions simultaneously, and requiring multiple stations to operate on the same exact frequency would result in mutual interference. The National Telecommunications and Information Administration (NTIA)* explains this requirement in https://ecfsapi.fcc.gov/file/7021871884.pdf which states: "Allowing multiple emissions within the necessary bandwidth of the widest authorized modes (2.8 kHz) increases the possibility of harmful interference from secondary amateur stations to primary federal stations, and would make it more difficult for a federal station to identify an interfering amateur station. In addition, NTIA is concerned about the aggregate equivalent isotropically radiated power from multiple amateur stations transmitting within a single 2.8 kHz channel. Accordingly, NTIA requests that 47 C.F.R. Section 97.303(h) continue to require that amateur stations transmit only on the five center frequencies allocated to the amateur service."  (See http://www.arrl.org/what-the-fcc-rules-say-97-303-h)
Observed Violations of US 60 Meter Frequency Regulations

JT65

This screenshot photo shows JT65 signals received on 60 meter Channel 3 (5357 kHz USB dial frequency) from 0300-0309 UTC on January 29, 2017. In the photo, the 5357 kHz dial frequency is at 0 Hz on the left side of the waterfall and the 5358.5 kHz channel center is at the 1500 Hz mark. Decodes of several US radio amateurs are seen transmitting JT65 emissions simultaneously on various frequencies throughout the channel 3 frequency range 5357-5360 kHz. This is the familiar appearance of a JT65 waterfall display on all other amateur radio bands; however, it violates the NTIA requirement that each US radio amateur transmission be centered on the 1500 Hz mark (the 5358.5 kHz channel center frequency).
ARRL Official Observer Richard Saunders, K6RBS, has posted the proper WSJT-X program settings for legal 60m JT mode operation here.

WSPR

The link http://wsprnet.org/olddb?band=60&sort=callsign&reverse=on&unique=on lists WSPR mode emissions on the 60 meter band. One can scroll down that list and see how many A, K, N and W call signs have been transmitting WSPR mode on 5288 kHz outside the authorized 60 meter center channel frequencies.  
US WSPR transmissions continue to be observed on the WSPR software default 60 meter frequency of 5288 kHz, a completely unauthorized frequency for US radio amateurs.
Each licensee has the final responsibility for the lawful operation of his or her station.  Unfortunately, the increasing automation in our radios has apparently accustomed some to falsely assume that the radio will correct for operator carelessness and ignorance of regulations.  Our cooperation with NTIA requirements is essential for our continued access to the 60m channels and for possible future access to the new ITU worldwide 60 meter allocation at 5351.5 to 5366.5 kHz. (See http://www.arrl.org/news/view/arrl-asks-fcc-to-allocate-new-5-mhz-band-retain-channels-and-current-power-limit and http://www.arrl.org/news/fcc-invites-comments-on-arrl-petition-to-allocate-new-5-mhz-band). Please be aware of these requirements if you intend to or currently operate CW or digital modes on our shared 60m allocations. The Amateur Auxiliary is documenting this matter and hopes to raise its awareness in the wider amateur radio community.
-Carol Milazzo, KP4MD
*The NTIA is the federal authority that coordinates radio spectrum use for the US military and federal government while the FCC serves in this capacity for US civilian radio spectrum users.