American Radio Relay League
The National Association for Amateur Radio
Sacramento Valley Section
Serving Alpine, Amador, Butte, Colusa, El Dorado, Glenn, Lassen, Modoc, Nevada, Placer, Plumas, Sacramento, Shasta, Sierra, Siskiyou, Sutter, Tehama, Trinity, Yolo & Yuba Counties in Northern California
Sacramento Valley Section is located in the ARRL Pacific Division.
Sacramento Valley Section Web Resources
ARRL National Page: www.arrl.org/Groups/view/sacramento-valley
Organization, Clubs, Calendar, Nets
Sacramento Valley ARES: www.sacvalleyares.org SV ARES Brochure
Facebook: www.facebook.com/ARRLSacramentoValley
Twitter: www.twitter.com/ARRL_SV
Thanks to Greg Kruckewitt KG6SJT for maintaining our Section ARES web page and for assisting with our Facebook page and Twitter feed.
Thanks to Les Cobb W6TEE for maintaining the Section Net list.
Submit Section News updates to kp4md(at)arrl.org
---
ARRL Conventions/Hamfests & other Regional Events
---
Past Section News Archive
---
Amateur Radio License Classes and Volunteer Exam (VE) Information and Schedules
Class and VE Session Calendar
---
Getting Your Amateur Radio License
A license is required to operate an amateur radio station. Amateur Radio Licenses in the United States are granted by the Federal Communications Commission (FCC) after passing an exam at a Volunteer Exam (VE) session.  
The FCC currently issues three classes of amateur radio license: Technician, General and Amateur Extra.
The license exam contains multiple choice questions selected from lists that are published online at http://www.arrl.org/question-pools. Many individuals prepare for an exam session using self-study license manuals and online practice exams. From time to time, license preparation courses are offered that cover the exam material over several weeks. "Ham-Cram" sessions are also popular, where a several hours' review class of exam questions and answers is immediately followed by a license exam session.
Visit http://www.arrl.org/find-an-amateur-radio-license-class to find a license class.
Visit http://www.arrl.org/find-an-amateur-radio-license-exam-session to find a license exam session.
For more information on testing, preparation and study materials, see:
---
Technician FastClass Comes to NVCON 2018 in Reno
This class is part of the upcoming Nevada Section Amateur Radio Convention at Boomtown in Reno over the weekend of July 21. NVCON will include forums, a tradeshow, speakers, upgrade testing, and a Hamswap. There will also be a one Day FastClass, an easy way for prospective hams to review the test questions before taking their exam. This is an easy way for people to have a fun weekend in Reno and get their Ham License!
Class cost is $35 + $15 additional test cost.
For full information, go to NVCON.org and go to "One Day Tech Class." There's info on the study material, a website with sample tests, and even a site with free learning material! I use the Gordon West book which I think is much easier than the ARRL material. The new book is available from www.W5YI.org.
Special Note: The question pool changes on July 1 so be sure to study the 2018-2022 material. There's lots of the Old material around that will be outdated on June 30! Be sure to study the 2018-2022 material!
KD7YIM says "You do have to read the book first but I've done 15 or 20 of these classes and almost everybody passes! This is not a Cram or complete class but a FastClass with a last minute Review of all 423 questions in the pool with some explanations, demonstrations, extra info, and actual teaching and learning thrown in! The book and the test are at a Middle School level so think "7th & 8th Grade." I've had students from age 9 to 94 who have passed the test so you can too."
---
Citrus Heights 2018 Ham-Cram Sessions
Posted December 4, 2017
Section member Joe Cardoza, KA6ROM, announces that his Citrus Heights VE Team will conduct their amateur radio Ham-Cram Technician License training and examinations on the fourth Saturday every other month at starting at 8:45 am at the LDS Church, at 7950 Hazel Ave, Orangevale, CA. This is the intersection of Hazel and Cherry Ave.
The Ham-Cram and Exam dates for 2018 are:

January 27, 
March 24, 
May 26, 
July 28, 
September 22, and 
November 17.
Contact Joe Cardoza, KA6ROM, 916-725-6443 or cardozas@comcast.net to register.
---
California Emergency Volunteers Ham-Cram Sessions
Posted December 4, 2017
The California Emergency Volunteers, Inc. offers 6 hour long "Get Your License in One Day" Ham-Cram sessions followed by a Technician Class license exam session. These sessions are held on monthly on a Saturday alternating between Stockton and Manteca, CA. Visit http://www.hamcram.org/ for more information and to register.
---
Folsom ARRL Volunteer Exam 2018 Schedule - New Location
Updated June 26, 2018
Folsom ARRL VEC exams are held at 6 pm the third Thursday of each month except July and December.
Here is our updated exam scheduled for 2018:
January 18

February 15

March 15

April 19

May 17

June 21

July NO EXAM

August 16
September 20
October 18
November 15
December NO EXAM
All exams start at 6:00 pm.

Round Table Pizza, 9500 Greenback Ave, Suite 1, Folsom, CA 95630.  We meet in the large meeting room.
For information contact Steve Porten, KN6OX at steve@kn6ox.net.

---
Redding ARRL VE Schedule 2018
Posted December 1, 2017
The Redding ARRL VE Team will be hosting exams on the following Saturdays in 2018:
January 20
March 17
May 19
July 21
September 15
November 17
Our exam sessions are now being held at the Shasta County Office of Emergency Services at 2486 Progress Drive in Redding. Exams start at 10:00 AM and candidates are encouraged to pre-register.

More information can be found at: www.reddingve.com or by contacting Steve K6KS at sjmosconi@gmail.com
---
SHINGLETOWN ARRL VE 2018 Schedule
Test Location:
Open Door Community Church, 33883 HWY 44, SHINGLETOWN, CA. 96088
Testing begins at 10:00 AM.
Candidates should arrive 15 to 30 minutes early. We accept walk ins.
Contact:
Dar Walker W6IO, Shingletown ARRL VE Liaison, w6iodar@gmail.com, 530-474-3087
TEST SCHEDULE:
2018: Feb 17, Apr 14, Jun 16, Aug 18, Oct 20, Dec 8
Dar Walker W6IO
---
Other VE Sessions - Schedule List (ARRL national site)

---
Samuel F Morse ARC to offer Morse Code Instructional Course Sep 5-Nov 14
Posted June 1, 2018
The Samuel F Morse ARC will once again be running our 10-week CW for beginner's course. This course will be held once a week for 2 hours (7 PM until 9 PM) each Wednesday evening in Carmichael. If you or someone you know are interested in learning Morse Code we encourage you to sign up NOW. You do NOT need to be a licensed operator to join our class. We will begin Wednesday evening September 5th (ending November 14th).

Everyone can benefit from this course! For those with no Morse Code knowledge this is an excellent course where you or your friends will be taught the complete International Morse Code alphabet, numbers, pro-signs, how to adjust and send on a Morse Code straight. Please contact Mike, N6MQL for more information: admin@w6sfm.com
---
Amateur Radio Parity Act of 2017 - HR 555 - S1534
LATEST NEWS: The Amateur Radio Parity Act of 2017 was introduced in the US Senate on July 12, marking another step forward for this landmark legislation. Senators Roger Wicker (R-MS) and Richard Blumenthal (D-CT) are the Senate sponsors. The measure will, for the first time, guarantee all radio amateurs living in deed-restricted communities governed by a homeowner's association (HOA) or subject to any private land use regulations, the right to erect and maintain effective outdoor antennas at their homes. The Senate bill, S. 1534, is identical to H.R. 555, which passed the US House of Representatives in January. Read more here.
The Amateur Radio Parity Act
---
50 W PEP Maximum Power Limit Area on 70 cm
A little recognized portion of FCC Part 97 regulations applies to 420-450 MHz operations in most counties in our Sacramento Valley section:
47 CFR §97.313 (f) No station may transmit with a transmitter power exceeding 50 W PEP on the UHF 70 cm band from an area specified in footnote US270 to §2.106 of part 2. The indicated affected areas are specified in http://www.arrl.org/us270, in the State of California within a 240-kilometer (150 mile) radius around locations at Beale Air Force Base, California (latitude 39°08' North, longitude 121°26' West).
More information on the additional impact on 70 cm repeater stations is at http://www.narcc.org/NARCC-ARRL-PAVE-PAWS-Update-2014a.pdf
The Amateur Radio Service shares the 70 cm band on a secondary basis with the US Government which has priority. The US Department of Defense routinely monitors and locates signal sources on these frequencies.  Our voluntary cooperation is mandatory to avoid interference with the Pave PAWS (Phased Array Warning System) radar at Beale AFB and thus to assure our continued access to these frequencies.
July 2018 News
From the Section Manager
Here are the latest news and happening from clubs and members around our section.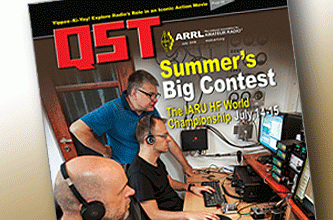 June 24-25 ARRL Field Day Report
This month's news features reports, photos and videos from ARRL Field Day activities. Radio amateurs throughout the Section braved the heat. Les Cobb, W6TEE, Max Soucia, N1KGS, Roger, KI6FYF and I were delighted to visit many of the Field Day sites throughout our section. Be sure to click on the "Field Day Photos" links below. Thanks to the efforts of the many amateur radio operators and clubs who helped this year's ARRL Field Day continue to be an outstanding public exposition and exercise of amateur radio's emergency communication response capabilities.
Thanks to all who participated in our June 21 Section-wide nets on 2m, 60m and 75m.
Our website, Facebook and Twitter pages are a work in progress, and your suggestions and submissions are always welcome.
This website is visited most during the first week of each month, but do check back as it is often updated with late breaking news.
73, Dr. Carol Milazzo, KP4MD
American Radio Relay League Sacramento Valley Section Manager
kp4md(at)arrl.org
You can always send compliments, suggestions and submissions for inclusion in our Section News to kp4md(at)arrl.org
---
ARRL SV Section-Wide Net - None Scheduled for July
ARRL Sacramento Valley Section Nets are conducted only on the third Thursday of the month when announced, following the 7 pm Pacific Time Yuba-Sutter ARES net on the WD6AXM 146.085 MHz FM repeater, followed by the HF Section Net on 3880 kHz LSB +/- 3 kHz. During spring and summer months the HF net may be conducted on 5330.5 kHz USB as propagation permits.
All Sacramento Valley Section radio amateurs are welcome to check into our Section Nets. The nets carry announcements of interest to our section and test our section-wide station communication capabilities.
Don't have an antenna or HF radio?  Click a link
and Listen to our HF net on a web receiver.
Hourly Northern California NVIS Observations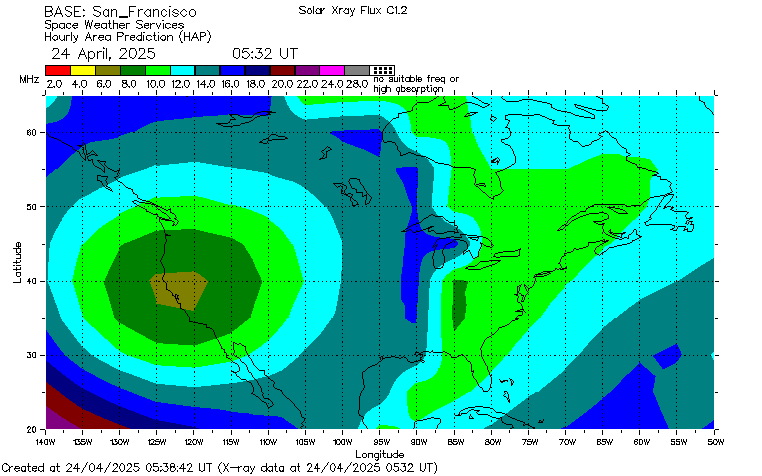 This chart shows colors that represent the recommended HF frequencies for contacting stations for a particular hour. Both stations should use the SAME frequency denoted by the color at the location of the target station. The chart is in Universal Time (UTC). More information at http://www.sws.bom.gov.au/HF_Systems/6/6
---
Update from Bob Wortman, WB6VYH, Section Technical Coordinator

Posted May 31
Pacificon 2018 is right around the corner. I will be there checking WAS, VUCC, and DXCC cards at the NCDXC table. Swap on Sunday.
Field day is coming soon, June 23-24, 2018 . Find your local club and go out and have fun.
I will be out and about this summer in Northern California. If you need cards checked contact me, I may be in your area
73, Bob Wortman, WB6VYH, wb6vyh@arrl.net
ARRL Pacific Division DXCC Awards Manager, Sacramento Valley Section Technical Coordinator, WAS Award Manager, VUCC Awards Manager
---
Update - KE6YUV Berryessa Repeater Restored after County Fire Damage

Posted July 10, 2018
The County Fire converged onto the Berryessa repeater site on June 30 taking down the KE6YUV repeater as well as the packet nodes KBERR, BERRY, and BERR37. The web site http://www.barkradio.org shows more info
On July 4 the Berryessa Amateur Radio Club received Cal OES photos of the County Fire damage to the repeater site showing the melted antennas and coax cables.
By July 8 Thanks to major efforts of Bill, K6KN, and Ken, K6WLS, KBERR/BERRY packet node were back on the air using a temporary antenna & coax, & shifting the functioning solar to KBERR radio, it was ready for use. The repeater was next for repair.
By July 12 the KE6YUV Repeater was back on the air with a temporary setup. K6WLS and K6KN went back up the hill Wednesday and got the repeater running on battery only.
Thursday, K6WLS went back up and connected the solar from the BBS nodes (BERR37/BERR) to the FM repeater (since BERR37 and BERR are down waiting for new coax). He also removed a lot of the burnt-up equipment from the vault roof and tower. Thanks Ken !!!
So the KE6YUV FM repeater is back on the air on temporary coax and solar power. It should run indefinitely. We will need to install new hardline for all antennas.
BERR37 and BERR are awaiting coax to test the serviceability of their Telewave antennas.
---
FCC Dismisses Radio Amateur's Long-Standing License Renewal Application

Posted July 13. 2018
A California man embroiled in a long-running license renewal proceeding has lost the next step in his fight to remain a radio amateur. In a July 9 Order, FCC Administrative Law Judge Richard L. Sippel terminated the decade-old license renewal application of William Crowell, W6WBJ (ex-N6AYJ), of Diamond Springs, California, upon a motion by Enforcement Bureau Chief Rosemary C. Harold. Sippel's Order followed Crowell's refusal to appear in Washington, DC, for a hearing to consider not just his license renewal but related enforcement issues dating back 15 years or more.
Read the full story in the ARRL News.
---
From Section Affiliated Club Coordinator, Max Soucia, N1KGS

Posted March 11
Hi Sac Valley Hams. I'm the newly appointed section Affiliated Club Coordinator. I've been a ham for 28 years or there about. I relocated from northern Maine in 2009 after I retired where I was Section Emergency Coordinator and I helped write and develop the original EC 101 course. I was an online mentor for EmComm for several years. I'm a big cheerleader for Amateur Radio's ability to assist in emergencies when nothing else works. As such I'm a proponent of ARRL affiliation for the support we can give it in return for the technical and particularly legislative support they provide. In the present atmosphere of monetizing all aspects of society we will be feeling more and more pressure to privatize the EM spectrum including our slivers of it. Witness the development and expansion of 5G services. Protection and expansion of our spectrum is where we as individual hams can benefit from League activity as we support them with sheer numbers through membership and club affiliation.
I'll be contacting each ARRL affiliated club in the Sacramento Valley Section over the coming weeks to update your club information and to help bring your League affiliation up to date if needed. I also want to visit each club over the coming months for an eyeball QSO. There is much of Northern California I have not seen and I'm looking forward to the travel. In the meantime, if you want assistance in utilizing the benefits of affiliation such as club insurance, or updating your Special Service Club status or have questions about any of these issues or just want to rag chew my cell number is (916) 607 6524 and my email is N1KGS@arrl.net.
73 de Max Soucia, N1KGS, Affiliated Club Coordinator, Sacramento Valley Section, ARRL
---
---
---
Sacramento Valley ARES Volunteer Activity Report

Posted July 10, 2018
Total volunteer hours for June 2796.18
Section Information for FSD-96
ARRL Section: Sacramento Valley Section
Month: June
Year: 2018
Total number of ARES members: 376 change: 1 +
Number of DECs/ECs reporting this month: 21
Number of ARES nets active: 86
Number of nets with NTS liaison: 13
Calls of DECs/ECs reporting: KJ6IYM, KJ6WYW, N5BMU, KI6YUK, N7JIL, KF6OBI, KI6NHP, KA7AJQ, N6CKV, KB6FMZ, KJ6HNP, K6WLS, KK6EVX, KK6LDS, KJ6OCL, KG6SJT, K6ME, W6RWL, KE6GLA, KI6WAN, N5TEN
Number of drills, tests and training sessions this month: 79
Person hours: 1538.68
Number of public service events this month: 17
Person hours: 1257.5
Number of emergency operations this month: 0
Person Hours 0
Total number of ARES operations this month: 96
Total Person hours: 2796.18
Comments:
KJ6WYW, Daniel L. Edwards: Good Field Day in Walmart parking lot
KI6YUK, DL "Larry" Trotter: The month started out with the SBTS Lost & Found Bike Event, 45, 60 and 100 mile rides, all done on Simplex (we were all pretty surprised). Since May, we have been gearing-up for a 3-County (Plumas, Lassen and Sierra) EmComm Drill with Health Care facilities, a first for the Northern Sierras and Southern Cascade counties: over 8,000 square miles and about 58,000 people now have back-up communications, in the event of a CommDark scenario. Turned out to be a success! More work ahead to develop and fine-tune, but it's a good start. Our VEs gave a Tech Class and with an assist from SNARS, gave a Technician Test to 13 folks on the 30th, 11 of whom passed plus one General to Amateur Extra Class. The youngest Tech was 10 years old! (Start 'em early) Many Thanks to our Instructors and VEs for a great Session. A long and full month on the Plumas!
KF6OBI, Michael A. Ellithorp: Field Day 2018, not much fun because of heat and wind, but lots of education for club members. Club station KJ6HCG operated 2ASV and made 14 solid contacts. See our Facebook page at https://www.facebook.com/KJ6HCG/
KA7AJQ, Sheila Clement: 2018 June Alpine/Douglas Comment Our DCART (Douglas County Amateur Radio Team) members participated with several area events this month: The Viet Nam Moving Wall Memorial, the Pony Express Reride, Field Day, and the Alta Alpina Challenge ride in Alpine County. Also planning is taking place for the annual Tour of the California Alps/Death Ride in Alpine County. The Churchill Amateur Radio Society hosted a Field Day at Lake Tahoe. Jeff Brown, K5BLS, our Douglas County Comm Tech, and President of C.A.R.S, and our 911 Director, Ron Sagen, have planned for our DCART Center to receive all brand new Yaesu Fusion radio equipment including an FT-991A in the coming year. The CARS repeater was an important resource during the early part of the Pony Express ReRide. The Pony Express ReRide from West to East, June 21 to 23, across Nevada, was supported by pony followers, relays and base stations. The hotline was updated as well and texts were sent to participating parties. The SIERA (Sierra Intermountain Emergency Radio Association) has provided communications for the Ride from 1989 to 2018 (29 years). Many DCART members are also SIERA so we have a great interaction. One of our members and SIERA member, Tom, KE7NCJ, coordinated and planned this event's Amateur Radio communications part for this ReRide. John, KD7NHC, put in 58 hours and 1147 miles following the pony to Ibapah, Utah. For Field Day, SIERA members put up stations at the Douglas County Airport. Many members rushed back from their Pony assignments to participate. The SIERA emergency communications trailer was a key feature. A lot goes into the trailer's maintenance and engineering. June 30th, DCART supported the Alta Alpina Challenge Ride cycling event- mostly taking place in Alpine County. DCART members staffed our 911 station all day to facilitate any incidents into the 911 system that might happen in communications dark spots. July 14 brings the "Death Ride" (Tour of the California Alps) cycling event in Alpine County. And the Nevada State Amateur Radio Convention (NVCON) comes to the Boomtown Casino Hotel in Reno, July 20-22 2018. nvcon.org Sheila Clement, KA7AJQ ARES Emergency Coordinator Alpine and Douglas Countyies
N6CKV, Carl First: There was good participation in Field Day and the Western States 100 Mile run
KJ6OCL, KARL FISHER: This month we provided communications for two horse events and one bicycle event.
KG6SJT, Gregory Kruckewitt: Work on Winlink forms, meetings with ARES groups, Western State Endurance Ride NC,
KE6GLA, Jay Harmor: Pony Express Ride support
N5TEN, Scott A. Schlefstein: June 26th: A Tri-County Emergency Radio Comms drill was activated, with Plumas ARS, Sierra County Offices, Sierra County Public Health Emergency Preparedness Coordinator, Loyalton Skilled Nursing Facility, Eastern Plumas Hospital, Lassen ARC and the Sierra County EC (N5TEN) on simplex from Sierra Brooks HF Station/Repeater site. N5TEN was able to communicate with Plumas ARC in Quincy California via 146.550, testing signal with 10 watts to 160 watts off a 20 element yagi at 100% pure communications quality both ways. Sierra Brooks was also in communication with the Loyalton Hospital ham station, operated by John Mitchell W1RK of Calpine (Sierra County). The drill was a success and insurance for when EMS and law enforcement lose all communications, dispatch, and telephones in the area during a severe storm, fire, or other emergency event. I want to thank Plumas ARC and Larry Trotter KI6YUK for coordinating the event.
Greg Kruckewitt, KG6SJT, ARRL Sacramento Valley Section Section Emergency Coordinator www.sacvalleyares.org
---
Modoc ARES June Activity Report

Posted July 5, 2018
We deployed the ARES Comm Trailer at the Modoc Sportsman Expo Sat June 16th in Alturas, CA. We were able to talk to some of the public about the hobby but also gave the tour to several first responders.
Jim/N7JIL talking Modoc County Sheriff Elect "Tex" Dowdy about Winlink.
Photo by Chad/N5BMU
---
Chad/N5BMU was showing "Sammy" Ham Radio by talking to Deanna/W6DWS on the local repeater with an HT at the EXPO. Who knows…. Sam may get his license in a few years!
Photo by Jim/N7JIL
---
On June 18th-20 Jim/N7JIL and Marie/N6REE attended the 2018 Emergency Preparedness Workshop in Sacramento. This event is put on by the CA Public Health Dept. and the CA Emergency Medical Services Authority. There was a lot of good lessons learned and shared with us due to all the fires, hurricanes and mud slides this year. Jim Linden/N7JIL did a 1 hour break out session there about Ham Radio with an emphasis on Winlink. The public agencies represented there really understood the concept of Winlink and will go back to their counties to ask if their local hams are familiar with Winlink. So don't be surprised if you get some new contacts with folks in the Health Care business.
Photo by Marie/N6REE
73, Jim Linden, N7JIL, n7jil@arrl.net
ARES Emergency Coordinator, Sac Valley District 1 (Trinity, Siskiyou, Modoc and Lassen Counties)
---
CalOES Visits Placer County ARES

Posted May 3, 2018
On April 28th Placer County ARES held a face to face meeting, with 21 members and guests. The guest speaker was Ben Green WD8CZP Assistant Chief Tactical Communications CaOES. Ben spoke about the role of CalOES in large disasters and events, and the role of volunteers including HAMS in these activities.
Submission and photos by Carl First, N6CKV, Placer County ARES Emergency Coordinator
| | | |
| --- | --- | --- |
| The Placer County ARES group | Ben Green WD8CZP | Ben Green's work SUV |
---
July 14 - Sacramento County ARES Training

Posted July 9, 2018
The next Sacramento County ARES training and meeting is scheduled for Saturday July 14, 2018 from 9:00 am to 12:00 noon at the Sacramento Sheriff's Central Division, 7000 65th Street, Sacramento, CA 95823.
Vince Cracchiolo KI6NHP is the Sacramento County EC.
For more information, visit the Sacramento County ARES web site at www.saccountyares.org
---
---
From Norm Lucas, WB6RVR (SK),
Section Official Observer Coordinator

Posted January 11, 2016
Do you have what it takes to be an ARRL "Official Observer?"
Update May 4, 2018 - In the light of unanticipated delays in the approval and implementation of revisions to the Official Observer program, ARRL HQ will resume accepting a limited number of Official Observer appointments under the current rules and standards. Any new OO appointments are being made with the understanding that a new program is coming, with new requirements and new standards for OOs.
Reference: ARRL Executive Committee April 21 Meeting Minutes Item 16.
Update April 6, 2017 - The ARRL and the FCC are currently working together to update and to make changes to the Official Observer/Amateur Auxiliary program. Because of these expected upcoming updates and changes, ARRL has placed a temporary hold on applications for new Official Observers and Official Observer Coordinators at this time.  Read more here.
The Official Observer (OO) program has been sponsored by the ARRL for more than 85 years to help Amateur Radio operators assist each other to operate their stations in compliance with Federal Communications Commission (FCC) regulations.
Official Observer appointees have assisted thousands of Amateur Radio operators to maintain their transmitting equipment and comply with operating procedures and regulations. The object of the OO program is to notify amateurs of operating and technical irregularities before they come to the attention of the FCC and to recognize good operating practices.
The OO program serves as the first line of "eyes and ears" for the FCC. It is the backbone of the Amateur Auxiliary. OOs are certified in the Auxiliary by passing a mandatory written examination.
---
Pot grow lights interfere with Ham Radio

Submitted by Rene Smythe, WB6PSY, posted March 4, 2017
I have experienced this interference for the past few years. I found the interference by swinging my 10m Yagi monobander around until the noise became over S9. I then went outside to see where the beam was physically pointed and discovered a garage where indoor pot is being grown. The lights are on a time cycle so the interference comes and goes. 40º degrees in either direction takes the noise out.
Now that marijuana is being legalized in more states, more hams are going to experience this noise.
WB6PSY
http://bigstory.ap.org/article/c1b607bfbbab459ba9e21d4c282996e4/growing-problem-pot-lights-give-ham-radio-operators-buzz
---
Radio Frequency Interference

posted February 3, 2018
ARRL and the FCC have a cooperative agreement in radio frequency interference matters. You may submit interference reports together with your supporting documentation to ARRL EMC Engineer Mike Gruber W1MG who then files the report with the FCC Gettysburg office.
You may also contact our Section Technical Coordinator Bob Wortman, WB6VYH, or our Section Official Observer Coordinator Bob Hess, W1RH, for assistance. More information is posted under the "From the Section Manager" notes in the November 2016 Section News - Carol KP4MD
Our Official Observer Coordinator Bob Hess, W1RH, shares this helpful web page by NK7Z for identifying sources of Radio Frequency Interference http://www.nk7z.net/rfi-snapshots 
---
Club and Member News - July 2018

---
The club had a very successful Field Day event. We were given a travel trailer to be used as a disaster communications center and put it into service for Field Day. In an effort to garner more public exposure, we decided to use a public site for our Field Day station and with the cooperation of our local WalMart store were able to set up in their parking lot. This worked well and accomplished both communication activity as well as community interest.
John Stettler, KI6DWP, PIO
---
Update from River City ARCS

Posted July 9, 2018
PRESIDENTS MESSAGE
Lots of HEAT, lots of sweat, lots of antennas in the air, and lots of tired people. Sounds like another Field Day in the books. Our Field Day for 2018 is now history, it was not the best we have ever had but it was not the worst either. While the HEAT is/was a big factor, our participation could have been a lot better. At our next club meeting we will have a discussion on ways to make it better and have more participation in the future.
In July our own Kevin Hooke KK6DCT will demonstrate the amazing feats of the new popular FT8 digital mode!
In August we are having our Mobile Station and GO Kit show so bring your mobile installations and your go kits for show and tell.
In September our home brew night and we will have Money $$ prize for first and Second and a first prize in newbie (ham for less than a year) category. Last year we had some great projects using Raspberry Pi, antenna projects, and go kits. So what will we have this year?
October is our White Elephant sale so start cleaning out your closets and garages of any unused items for the sale.
In November we have our elections so we need to start thinking who we will want to lead us in the next year. I will NOT be able to do another year as my health is beginning to restrict things that I do.
We are trying to get Kevin Amey (AA6KA) to do a Digital Voice mode presentation.
Dave Martin, WB6YLK, President
---
Here are a few shots from our Field Day in Nyack.
Photos by Mike, KK6GLP, V.P.
73, Carl, WF6J
PIO Sacramento, CA
Meetings - Monthly Members second Friday Monthly at Auburn City Hall, Rose Room. Everyone welcome. Breakfast last Saturday Monthly at Mel's off 49 in Auburn.
Nets - Thursday night at 7:30 on the W6EK repeater system is the weekly club net. Every 1st and 3rd Wednesday is the Elmer Net. Please join us.
Groups.io - Dennis, WU6X has converted us from the Yahoo Group to the Group.io. This allows a good forum for events, notices, files and database. There are now 105 members.
VE Exams - Every 1st Saturday each month at Raley's Granite Bay. Starts at 8am. Walk ins welcome. Contact is Al, NI2U at vechair2015@w6ek.org.
As with any SFARC net or meeting, we love visitors, so come on down and join the membership check out our website at: w6ek.org
Carl, WF6J, PIO Sacramento, CA
Newsletter at: http://www.w6ek.org/newsletters/current.pdf
VE Report July 2018
Thanks again for all the VE's that were able to come to the session. Today, the VE's at 8 and 14 candidates. We had a very successful session again. We administered 21 elements to 14 candidates. 13 earned a new or upgraded license. We have 5 new Technicians and 8 new Generals. Thanks Al NI2U
---
Update from Plumas ARC

Updated July 9, 2018
The Plumas Amateur Radio Club (PARC) has been working for about 10 years now, placing radios, power supplies, coax and antennas at our 3 hospitals in Plumas County, to provide EmComm. Last year, our neighbor Sierra County experienced a CommDark situation, losing landline, cell and internet service at their Loyalton Skilled Nursing Facility (SNF). Soon after, the Club, working with LeTina Vanetti of Sierra County Emergency Preparedness, set up a complete Dual-Band/Dual-Display Station in the SNF, which they purchased. We also set up a Ham Class and Test in Loyalton, with help from our friends from SNARS (Sierra Nevada Amateur Radio Society) over in Reno, which brought new Techs into the fold.
Around March of 2018, PARC/ARES learned of a FEMA grant funding requirement for Plumas County, that hospitals have an alternate form of Backup Emergency Communication. Our County Public Health Agency's Lori Beatley, chose Amateur Radio. Since early May of 2018, we have been steadily working toward developing resources to get our EmComm system up and running for our first Drill on 26 June 2018. Our three Hospitals in Plumas County, the Loyalton SNF in Sierra County and Lassen County's Northeastern Health Care Clinic along with Banner-Lassen Hospital, will connect on VHF for the Drill. We are located in a mountainous area in Northeastern California (Northern Sierras) that covers over 8,000 square miles and a population of about 58,000 people.
As a note, with the exception of Loyalton's SNF, our equipment is all older, some radios dating back to 1984. Our next goal is to upgrade to dual-band/dual-display radios to cover 2 frequencies simultaneously. This Drill will likely require utilizing at least 2 repeaters and a handful of Simplex frequencies to accomplish the goal of connecting our three counties in what's known as the Tri-County Health Care Coalition (TriHCC).
Results to follow!
73 de KI6YUK, PCARES EC, PARC Secretary/Events Coordinator
---
---
Next Meeting: Monday July 9, 2018 doors open 6:30pm, meeting at 7pm
K9JM - Jim will give us the details on his DXpediton to Spratly Island. Jim is an experienced DX'er and CW operator. Come and hear how the "big boys play".
Holiday Raffle: Tickets for the Holiday Raffle will go on sale starting with the July 9th Meeting. Tickets this year will be limited to 200 so plan on making your purchase early as we expect a sellout. Tickets again will be $5.00 each. The prize this year will be a complete 2 meter mobile installation package. Details will be announced at the July 9th meeting.
Nevada County Amateur Radio Club members hold impromptu meetings at the Omega Rest Area on highway 20. Elevation is around 5000 ft and the views are tremendous. Our activity always draws the interest of motorists coming through the rest stop.
73, Cal McKitrick AI6MC, NCARC President 2018 Newsletter Facebook Group
COFFEE CHAT (Ham n' Coffee)
Thursdays, 8 am at Valentina's Bistro, 841 Sutton Way, Grass Valley
---
Update from Paradise ARS

Posted July 9, 2018
Field Day 2018
Many in our club have attended Field Day many times. Some of us, including me, attended our first this year and I believe we brought honor to PARS. We organized equipment and food, were perhaps a bit unorganized on-site, but looking at the stars at night and helping several visitors better understand radio was time well spent. Thanks to those that participated and those that cheered us on that were not able to attend.
I have already modified my inventory list for Field Day 2019; count me in!
Grant Hunsicker, KK6FKW
---
Update from Mount Shasta ARC - pending

Posted May 30, 2018
Spring has sprung and is headed into Summer, and Summer in Siskiyou County means public service events!
MSARC is the little club that could. With an average meeting attendance of 12 and a total membership of under 20, the club, somehow, manages to handle 5-7 large public service events every year. 2018 is no exception and the festivities kick off on June 23, 2018 (yep, on Field Day) with the Castle Crags Century bike event - wherein we cover over 150 miles of rugged riding in the mountains. We need a minimum of 12 hams (14 would be better) to handle health/welfare/location/logistics traffic for this event - most of which is physically located in areas without cell coverage. Please let us know you are willing to help by signing up at w6bml.com/events
A dedicated troop of volunteers from the club have been teaching a ham radio technician level class at Sisson Elementary School and the final (licensing) exam was held on May 29, 2018 at the clubhouse. We are proud to say that one of our students worked hard and earned his ticket! Please join MSARC in welcoming Jake, KM6TNG (kilo mike six the next generation) into the world of ham radio. Huge props to the hams who volunteered their time to make this class happen: KD2JLY, KD6MC, WA6KJV, KI6LIT, KX6MMM, and NR6J! We have been invited back to the school to teach a full year course starting in Fall.
The attached photo shows former Mt. Shasta Mayor and founder of Snowcrest ISP, Dennis Engdahl - NR6J, congratulating Jake on his achievement and gifting him with his first ham radio.
Submitted by Mark Dibelka, AB2LI
---
Hello members,
Thank you again for an amazing Field Day event! Inside this month's newsletter we recap the event as well as give our Field Day 2018 results. Also, you will find a summary of N6ADT's club presentation on Direction Finding along with other helpful information about the club and it's upcoming activities. I hope that you all enjoy the newsletter. If you have any questions, comments or would like to add something to our webpage, or next months newsletter please be sure to email us at this address.
We appreciate your continued membership and support of the SFM ARC. Without YOU this group could not exist! 73, Michael, N6MQL, SFM ARC President 2018
---
Ham License Testing - Wednesday, Aug 1, 6 PM (No Tests in July)
WPARC offers Ham radio license testing on the first Wednesday of each month at Round Table Pizza at 6 PM (see below for map and directions.) For more information please email Chuck KK6DOA
WPARC Board Meeting - Wednesday, TBD, 7:30 PM
WPARC conducts Board Member meetings on the first Wednesday of each month at Round Table Pizza at 7:30 PM (see below for map and directions.) The board welcomes members and guests who wish to observe or bring business before the board.
WPARC Members Meeting - Tuesday, Jul 17, 7 PM
WPARC holds Member Meetings on the third Tuesday of each month at Round Table Pizza at 7 PM (see below for map and directions.) Come out to enjoy some camaraderie, food, beverage, and tales of the radios! Round Table Pizza offers a pizza and salad bar buffet dinner on Tuesday evenings for about $12/person. Scheduled Topic: TBD
WPARC Meeting and Testing Location
> Join us at Round Table Pizza, 1020 Pleasant Grove Blvd #170, Roseville. This location faces Roseville Parkway at the northeast corner of the complex, just around the corner from the CVS store. View map and directions
The club website, http://wparc.us/index.html, has a new look and new information. Jey KQ6DK is now club web master and is updating the the site on a regular basis. Thanks to Jey for all his work on the website.
Don't forget about our WPARC Facebook page. It is at: https://www.facebook.com/WPARC
Want more? We now have a Twitter account! Just search for @k6pac (the club repeater call sign with the "@" symbol). We are following the ARRL, the ARRL Sacramento Valley Section, Kenwood, and Yaesu and a few others. If you think of someone we should follow, please email me. I know there are a few local clubs with Twitter accounts and I will add them.
73, Michael Buck. K6BUK
WPARC on Facebook and Twitter
Check us out on Facebook and Follow us on Twitter (@k6pac)
---
Once again the club participated in another successful ARRL Field Day Event. We worked as an 8A station in the Sacramento Valley (SV). The weather was great and band conditoins were not too bad. Thanks to all who came up to help and participate. Here are a few pictures that were taken at the event. I'll post our scores when I get them.
---
Update from Yuba-Sutter ARC - pending

Posted May 5, 2018
Club Meeting Location Change
Starting June 2018 the general membership meeting location will move to the Marysville United Methodist Church Assembly Hall at 730 D Street, Marysville.
The Mini-Field Day at Live Oak High School on April 28th was a success. to see pictures of the event visit the club's Facebook Page. If you are not a member of our Facebook Group, just request membership and Kevin or Chris will add you to the group, or, go to this photo page.
EDITORS COMMENTS
✓YSARC's new web page is: www.ysarc.net - click on the upper right-hand icon on the homepage to join the club's Facebook page. Past issue's of the VHN are available on our new website.
✓Send your ham related articles and pictures to share in your VHN. Pictures of ham shacks, antenna projects, antenna parties, etc. are appreciated KI6CSN@arrl.net or KF6FVP@arrl.net
Eleanor Knox KI6CSO - SK
Eleanor Knox, past ARES Emergency Coordinator and long time member and net control of the Yuba-Sutter ARC became a Silent Key on Monday June 18.
---
Elk Grove-Florin ARC—Section News
Remember how much fun the Install-O-Rama was last August? Attached is the announcement for this year's event. Please share it with your radio club and others who may be interested. Thanks... Dave Reingold, KK6MVJ
Christine Lay, KG6JFO, President EGFARC, 916/715-8091  Install-O-Rama Flyer
---
Update from Oroville ARS

Updated July 9, 2018
OARS Monthly Meeting Reminder
The OARS regular monthly meeting will take place Friday, 13 July 2018, 7 pm, at St. Paul's Parish Hall, 1430 Pine Street in Oroville. The doors will open at 6 pm for a social hour prior to the meeting.
St. Paul's has advised me that the Parish Hall flooring is to be redone, starting 6 August, so the club will need to find an alternate venue for (just) next month. Any ideas or suggestions will be welcome at this Friday's meeting. Hope all can attend.
73, Jim, W7XZ
OARS Monthly Breakfast--New Place
This month's OARS Breakfast will take place Saturday, 28 July 2018, 9 am, at Tabletop Restaurant & Catering, 109 Table Mountain Blvd (where Hof Brau used to be) in Oroville. Hope all can attend. 73, Jim W7XZ
---
Unfortunately, due to circumstances beyond my control, including the club's computer crashing, there will be no July meeting of the SOTARS/QCWA combined radio groups. Hopefully things will all be straightened out prior to the August meeting.
73 and I hope to see all of you next month. Dan, WA6VPJ
The meeting is usually at: Denny's Restaurant, 7900 College Town Drive, Sacramento. Phone (916) 383-7071, Located at the southwest corner of Howe Ave. and College Town Drive one block North of Highway 50.
---
Update from North Hills RC

Posted July 9, 2018
The next meeting for The North Hills Radio Club will take place on Tuesday evening, July 17, 2018. This month's presentation will be about Ham Radio Go Kits. Kim Scheidel, amateur call sign KE6RKX will do a presentation on his go kit! Come see how it's done and bring your kit to show, and your questions for the group.
Club meetings are always held on the third Tuesday of every month, at the former (SMUD) building located at 5026 Don Julio Blvd, at the northeast corner of Don Julio and Elkhorn Blvds. The board meeting begins at 6:00 P.M., followed by the general membership meeting at 7:30 P.M.
See you there! From Doug Emerson, Vice-President, North Hills Radio Club. Amateur call sign N6NFF
Link to NHRC Field Day 2018 site photos https://www.flickr.com/photos/83496362@N06/albums/72157695519374495
K6IS Field Day web page http://www.k6is.org/fieldday.html
---
Update from Glenn ARS

Posted July 9, 2018
Prez Says for July 2018
Greetings to all club members and guests. It's almost Independence Day and I want to thank you for your service this club and to this great country. I hope you find the club newsletters and 'Prez Says" message useful and informative.
Over the last couple of months there has been great work on the new club website which can be found at this link < https://garshamradio.org/ > and the club Facebook page at < https://www.facebook.com/KJ6HCG/ >. I want to thank the following for their hard work on these two projects; Rick Hubbard, KI6VOS; Phil Zabell, KI6SMN; and Michael Maddalena, KJ6KIZ. Much work has been done on these two sites and they will continue to grow and become much more useful in the months ahead. So give these two new sites a visit, share with friends and family, and tell me what you think.
Ah!, as in refreshing. Field Day 2018 is now past us and it went much different than planned due to the high temper- atures and wind storm we experienced here in Norcal. It was decided at last minute to move the Field Day site to the QTH of KF6OBI. One, the Disaster Response Trailer was already located there and two, it would make it easier for most club members to visit. Phil, KI6SMN was the main operator.
Although we had two HF transmitters and antenna systems to use there was a common mode RF problem that pre- vented the use of the two radios at the same time. This problem was across all the bands. We operated as 2ASV. Phil, KI6SMN, logged some 14 contacts across the 20, 40, and 80 meter bands where the conditions varied but were not too bad thanks to some Sun spots that showed up the day before. Please visit our Facebook page to see the maps Phil produced to show just where these contacts were located.
We used two new antennas, the first was an End Fed Half Wave by MyAntennas, model EFHW-8010-1K, which was flown West to East at about 22 feet more or less. The second antenna an Off Center Fed Dipole, Windom if you prefer, was a BUXCOMM model 802134 this one was flown in a semi-inverted V arrangement. Its ends were about 10 and 1⁄2 feet high and the center was at 15 feet, suspended on a fiberglass push-up mast.
As we now focus all our attention on Steakbake September, pun intended, and with warmer months ahead please re- member to stay hydrated and seek cooler climes if you feel you are getting overheated.
At this month's membership meeting we will be starting the process, and formalizing plans, for this years Steakbake event, which will be held on the 8th of September 2018, at the Fellowship Hall in Artois, CA.
We are selling raffle tickets during our membership meeting this month and for the next two months will be visiting GEARS and OARS to show off the radio and sell even more tickets. Tickets are one for $5.00 or 5 for $20.00. The donated prize is the AnyTone AT-D868UV, Digital DMR / Analog Radio. Will have the radio for all to see at this months meeting.
We will be meeting at the Artois Lutheran Fellowship Hall at 6:30pm, on Thursday, the 12th of July. Late arrivals and guests are always welcome. So be safe in all you do and may you all have many blessings in the days ahead!
Mike Ellithorpe, KF6OBI President, GARS kilofox6obi@yandex.com 530-518-3730  Newsletter
---
The Prez' Says:
This newsletter will, unfortunately be brief.
Our Editor, Dorothy Post, must return to Washington due to the re-hospitalization of her brother who this time is experiencing even more serious issues. She is leaving almost immediately, and tells me she will stay as long as required.
If there are those among you who wish to assume the duties of publishing a GEARS Radiator newsletter each month, please contact me, otherwise we will wait until Dj returns.
Thank you!
Field Day photos posted by Rick Hubbard & Kathy Favor Are located as indicated below:
1. Three photos (I took) have been posted to GEARS' Google Drive>>080-Media>>Field Day-2018:
2. One is a Panographic view of the site,
3. The other two center on Randall Stone (an elected official)
Here's a link to the folder: https://drive.google.com/open?id=1Y_6fTHQScn08KDa1qC0X00fu11Pyy464
[Modesty prohibits me from mentioning that...] KHSL-TV ran a segment about Field Day which is now included as a Post on https://gearsw6rhc.com/khsl-covered-gears-field-day-2018/ Hope this helps!
73 de KI6VOS, Rick +1.415.624.5865
73, Tom Rider W6JS, President GEARS rustyboyrider@aol.com Newsletter
---
Member Updates and Feedback
---
Rich and Ron's Field Day Report

posted July 9, 2018
Rich and Ron's Field Day at 38°31'51.6"N 120°24'43.2"W, Pioneer, CA, KJ6HRO. Operators Ron Monnie KJ6HRO, Rich Leaman KJ6SII & Michelle Leaman KJ6TUA operated from California State Highway 88, Pioneer, CA.
---
W6YAR Field Day Report

submitted by Jay Ballinger, N6SAC, posted July 9, 2018
Four clubs came together to operate Field Day 2018 as W6YAR. The UC Davis Amateur Radio Communication Society (UCDARCS), the Sacramento Amateur Radio Club (SARC), the Yolo Amateur Radio Society / Mt. Vaca Radio Club (YARS/MVRC), and Yolo County ARES operated from the UC Davis campus right next to the Special Olympics events.
We operated all 24 hours using two stations for SSB and CW along with a GOTA station switching between five different antennas.
The heat and the wind did not deter the operators nor visitors from enjoying the event. A huge thank you to all of the operators and food organizers who helped to make this Field Day successful.
The picture includes the organizers from each of the clubs standing in front of a multi-band Yagi on an antenna mast trailer. From left to right: Jay Ballinger, N6SAC, UCDARCS, Tom Preston, KQ6EO, SARC, Gary Matteson, WA6TQJ, YARS/MVRC/ Yolo ARES, Bill Ragsdale, K6KN, YARS/MVRC.  73, N6SAC
The Yolo Amateur Radio Society/Mt Vaca Radio Club, UC Davis Amateur Radio Club, Sacramento Amateur Radio Club and Yolo County ARES joined together for 2018 Field Day on the UC Davis Campus. 15 operators attended and 17 visitors came by.
Gary, WA6TQJ, President, Yolo Amateur Radio Society/Mt Vaca Radio Club. 
---
ARRL Puerto Rico Section ARES and Hurricane Beryl

submitted by Carol Milazzo, KP4MD, posted July 10, 2018
In response to a gracious invitation by ARRL PR Section Manager Oscar Resto, KP4RF, and Asst. Section Manager Dr. José "Otis" Vicens, NP4G, Roger KI6FYF and I met with ARRL Puerto Rico Section ARES Members at the Vega Baja Public Library on Saturday, July 7, 2018. Link to Photo album
ARRL PR SEC Juan Sepulveda KP3CR opened the meeting at 9 am with a welcome and introductions of attendees,
Ramon Ramos KP4DH then gave a technical talk on how to improvise VHF and UHF ground plane antennas and HF dipole with household items in an emergency,
ARRL PR Section Manager Oscar Resto KP4RF gave a recap of emergency preparedness lessons learned from Hurricane Maria and progress on networking with other local agencies,
ARRL PR Section Traffic Manager Pedro Irizarry KP3PI gave an update on Caribbean Traffic nets and the National Traffic System,
Carlos Roig WP4AOH gave a talk on Emcomm,
and Jorge Camacho, WP3XH, demonstrated his 2 meter backpack Go-kit
The meeting adjourned at 12 noon as we proceeded to a lunch at the Bambu Burger restaurant in Vega Baja.  We connected Hector Roman, KP4AMU, of the San Juan VA Medical Center with Don Righello, W6PJJ, trustee of the California VA Amateur Radio Emergency Service K6VAH, for assistance in establishing a similar amateur radio station at the San Juan VA Medical Center which lacked outside communications during the three weeks following Hurricane Maria.
Hurricane Beryl
The alarm went up once again as Hurricane Beryl took aim at Puerto Rico where many are still struggling to recover from the devastation of Hurricane Maria. With Beryl predicted to graze the southern coast of the island on July 9, Gov. Ricardo Rosselló declared a state of emergency and ordered closure of schools and government offices. Fortunately, Beryl had been degraded to a tropical storm by the 9th.  The island did experience intermittent torrential rains, gale force gusty winds and several flash floods. The eastern coast of the island was mainly affected with over 47,000 losing electric power and 8,600 losing water.  Teams of utility workers promptly responded to restore service.
Carol Milazzo, KP4MD. ARRL Sacramento Valley Section Manager, kp4md@arrl.org
---
50 MHz Sporadic E Openings

submitted by Don Righello, W6PJJ, posted June 23, 2018
The late Spring Sporadic-E Openings on 6 Meters are still alive a sometimes strong, especially the past few days. 6 Meters has been open during the morning hours but, QSO chatter on the calling frequency makes it very difficult to listen for weak signals. It never ceases to amaze me, how Amateurs need to be reminded every year, year after year, that 50.125 MHz is the National SSB Calling Frequency…… NOT the National QSO frequency.
If Amateurs would abide by this protocol, more contacts could be made as the calling frequency would be available for its intended purpose.
---
Update from Keith Edwards, WB6GCL

submitted by Keith Edwards, WB6GCL, posted May 31, 2018
Keith has a vintage station, a restored Collins R-590A and a Johnson Ranger that he will put on the air. He also sent this photo at the right of a three element 40 meter Yagi that he recently built and mounted atop his tower.
"The boom is 40 feet long, the driven element is 15 feet in front of reflector. It is made from three different commercial ham radio antennas."
Keith also sends this amusing original "tongue-in-cheek" article below on a "New Vertical Antenna"...
A New HF Vertical Antenna

by Keith Edwards, WB6GCL
I have been reading about the 43' vertical and how great it is. So, I looked in the ads and saw a couple of them. The price just about put me down. $370.00 for a piece of tubing with a capacitor and inductor at the bottom - no way would I pay that for something that I could make. So, I started to make my 43' vertical with some of my improvements to it. I started with a 29' piece of 2 inch aluminum tubing which I cleaned up with steel wool. Then, to bring it to 43', I added a piece of 1/2 inch aluminum tubing - 3' 8''. I painted the outside of the 2 pieces of tubing with a non-conductive paint. This keeps the RF on the inside of the tubing. Next, I fed the coax on the inside of the 2" at the base on one side of the tubing. What this does is - the RF starts on one side and goes in a circle up the tubing like a centrifuge. As it goes up, it gains strength, like added dB. When the RF hits the top of the 2" it is squeezed down and out the inside of the 1/2" tubing. This is like water being put from the hose into a nozzle. This also adds strength to the signal. I call the 1/2" my "RF Accelerator". The braid of the coax is tied into my metal pump house. I plan on putting in ground rods around the pump house and also tie all the grounds into my water well casing. I think that my antenna has about 43 dB inside the antenna trying to get out. So far, I have worked 2 countries in Europe, New Zealand, South America, the Caribbean, Canada, and the East Coast with 400 watts QRP. If you would like to make one of these antennas, get a hold of Russ. The antenna does work well. P.S.... As you no doubt noticed the antenna leans to the West. This helps me work Japan.
(A response from Larry Murdoch, K6AAW).......
Keith asked me to come down and evaluate this monstrosity antenna he built! I was surprised to see such a sleek, trim, nice job. On paper and just by looking, it appeared to be the real thing, making even Cushcraft envious, but the results are what counts! He purports to have worked 5 stations, but 4 were all in Sutter, not world wide, and the 5th was me whistling "Dixie" in my MIC for testing!
The SWR is horrible, feeding 99% of the power back into the power lines, making the neighbor's meters run backwards. One lady told me she hadn't paid an electric bill in months! ...and he wonders why the pump house is always lit up!!
One of the things I would have changed would be to forget about the actual 43', and bring the whole thing down to resonance with a 55 gallon drum for a top hat. That would bring it down to 7 MHz in only 10 feet tall.
73, Larry, K6AAW, Chief Op
---
---
Keep Our Digital Transmissions Legal on 60 Meters

Posted January 29, 2017
Our decreasing solar activity and residential antenna restrictions have attracted increasing numbers of radio amateurs to operate CW and weak signal digital modes on our lower HF frequencies including 60 meters. The five frequency channels that US amateur radio operators share on a secondary basis with US federal government users on 60 meters (5 MHz) pose unique requirements for CW and digital operators. As explained on http://www.arrl.org/60m-channel-allocation, US radio amateur emissions on our 60m channels must be precisely centered in the center frequency of each assigned channel, that is, 5332.0, 5348.0, 5358.5, 5373.0 or 5405.0 kHz. Thus, for example, a CW signal on channel 3 (USB Dial frequency 5357.0 kHz) must be precisely on 5358.5 kHz. The same ARRL page explains that all digital emissions must also be centered in the channel center.
This may appear unreasonable to radio amateurs because a 2.8 kHz channel can accommodate many digital and CW transmissions simultaneously, and requiring multiple stations to operate on the same exact frequency would result in mutual interference. The National Telecommunications and Information Administration (NTIA)* explains this requirement in https://ecfsapi.fcc.gov/file/7021871884.pdf which states: "Allowing multiple emissions within the necessary bandwidth of the widest authorized modes (2.8 kHz) increases the possibility of harmful interference from secondary amateur stations to primary federal stations, and would make it more difficult for a federal station to identify an interfering amateur station. In addition, NTIA is concerned about the aggregate equivalent isotropically radiated power from multiple amateur stations transmitting within a single 2.8 kHz channel. Accordingly, NTIA requests that 47 C.F.R. Section 97.303(h) continue to require that amateur stations transmit only on the five center frequencies allocated to the amateur service."  (See http://www.arrl.org/what-the-fcc-rules-say-97-303-h)
Observed Violations of US 60 Meter Frequency Regulations

JT65

This screenshot photo shows JT65 signals received on 60 meter Channel 3 (5357 kHz USB dial frequency) from 0300-0309 UTC on January 29, 2017. In the photo, the 5357 kHz dial frequency is at 0 Hz on the left side of the waterfall and the 5358.5 kHz channel center is at the 1500 Hz mark. Decodes of several US radio amateurs are seen transmitting JT65 emissions simultaneously on various frequencies throughout the channel 3 frequency range 5357-5360 kHz. This is the familiar appearance of a JT65 waterfall display on all other amateur radio bands; however, it violates the NTIA requirement that each US radio amateur transmission be centered on the 1500 Hz mark (the 5358.5 kHz channel center frequency).
ARRL Official Observer Richard Saunders, K6RBS, has posted the proper WSJT-X program settings for legal 60m JT mode operation here.

WSPR

The link http://wsprnet.org/olddb?band=60&sort=callsign&reverse=on&unique=on lists WSPR mode emissions on the 60 meter band. One can scroll down that list and see how many A, K, N and W call signs have been transmitting WSPR mode on 5288 kHz outside the authorized 60 meter center channel frequencies.  
US WSPR transmissions continue to be observed on the WSPR software default 60 meter frequency of 5288 kHz, a completely unauthorized frequency for US radio amateurs.
Each licensee has the final responsibility for the lawful operation of his or her station.  Unfortunately, the increasing automation in our radios has apparently accustomed some to falsely assume that the radio will correct for operator carelessness and ignorance of regulations.  Our cooperation with NTIA requirements is essential for our continued access to the 60m channels and for possible future access to the new ITU worldwide 60 meter allocation at 5351.5 to 5366.5 kHz. (See http://www.arrl.org/news/view/arrl-asks-fcc-to-allocate-new-5-mhz-band-retain-channels-and-current-power-limit and http://www.arrl.org/news/fcc-invites-comments-on-arrl-petition-to-allocate-new-5-mhz-band). Please be aware of these requirements if you intend to or currently operate CW or digital modes on our shared 60m allocations. The Amateur Auxiliary is documenting this matter and hopes to raise its awareness in the wider amateur radio community.
-Carol Milazzo, KP4MD
*The NTIA is the federal authority that coordinates radio spectrum use for the US military and federal government while the FCC serves in this capacity for US civilian radio spectrum users.