---
ARRL Sacramento Valley Section News - June 2018
ARRL Field Day Photos Coming Soon!

---
American Radio Relay League
The National Association for Amateur Radio
Sacramento Valley Section
Serving Alpine, Amador, Butte, Colusa, El Dorado, Glenn, Lassen, Modoc, Nevada, Placer, Plumas, Sacramento, Shasta, Sierra, Siskiyou, Sutter, Tehama, Trinity, Yolo & Yuba Counties in Northern California
Sacramento Valley Section is located in the ARRL Pacific Division.
Sacramento Valley Section Web Resources
ARRL National Page: www.arrl.org/Groups/view/sacramento-valley
Organization, Clubs, Calendar, Nets
Sacramento Valley ARES: www.sacvalleyares.org SV ARES Brochure
Facebook: www.facebook.com/ARRLSacramentoValley
Twitter: www.twitter.com/ARRL_SV
Thanks to Greg Kruckewitt KG6SJT for maintaining our Section ARES web page and for assisting with our Facebook page and Twitter feed.
Thanks to Les Cobb W6TEE for maintaining the Section Net list.
Submit Section News updates to kp4md(at)arrl.org
---
ARRL Conventions/Hamfests & other Regional Events
---
Past Section News Archive
---
Amateur Radio License Classes and Volunteer Exam (VE) Information and Schedules
Class and VE Session Calendar
---
Getting Your Amateur Radio License
A license is required to operate an amateur radio station. Amateur Radio Licenses in the United States are granted by the Federal Communications Commission (FCC) after passing an exam at a Volunteer Exam (VE) session.  
The FCC currently issues three classes of amateur radio license: Technician, General and Amateur Extra.
The license exam contains multiple choice questions selected from lists that are published online at http://www.arrl.org/question-pools. Many individuals prepare for an exam session using self-study license manuals and online practice exams. From time to time, license preparation courses are offered that cover the exam material over several weeks. "Ham-Cram" sessions are also popular, where a several hours' review class of exam questions and answers is immediately followed by a license exam session.
Visit http://www.arrl.org/find-an-amateur-radio-license-class to find a license class.
Visit http://www.arrl.org/find-an-amateur-radio-license-exam-session to find a license exam session.
For more information on testing, preparation and study materials, see:
---
Technician FastClass Comes to NVCON 2018 in Reno
This class is part of the upcoming Nevada Section Amateur Radio Convention at Boomtown in Reno over the weekend of July 21. NVCON will include forums, a tradeshow, speakers, upgrade testing, and a Hamswap. There will also be a one Day FastClass, an easy way for prospective hams to review the test questions before taking their exam. This is an easy way for people to have a fun weekend in Reno and get their Ham License!
Class cost is $35 + $15 additional test cost.
For full information, go to NVCON.org and go to "One Day Tech Class." There's info on the study material, a website with sample tests, and even a site with free learning material! I use the Gordon West book which I think is much easier than the ARRL material. The new book is available from www.W5YI.org.
Special Note: The question pool changes on July 1 so be sure to study the 2018-2022 material. There's lots of the Old material around that will be outdated on June 30! Be sure to study the 2018-2022 material!
KD7YIM says "You do have to read the book first but I've done 15 or 20 of these classes and almost everybody passes! This is not a Cram or complete class but a FastClass with a last minute Review of all 423 questions in the pool with some explanations, demonstrations, extra info, and actual teaching and learning thrown in! The book and the test are at a Middle School level so think "7th & 8th Grade." I've had students from age 9 to 94 who have passed the test so you can too."
---
Citrus Heights 2018 Ham-Cram Sessions
Posted December 4, 2017
Section member Joe Cardoza, KA6ROM, announces that his Citrus Heights VE Team will conduct their amateur radio Ham-Cram Technician License training and examinations on the fourth Saturday every other month at starting at 8:45 am at the LDS Church, at 7950 Hazel Ave, Orangevale, CA. This is the intersection of Hazel and Cherry Ave.
The Ham-Cram and Exam dates for 2018 are:

January 27, 
March 24, 
May 26, 
July 28, 
September 22, and 
November 17.
Contact Joe Cardoza, KA6ROM, 916-725-6443 or cardozas@comcast.net to register.
---
California Emergency Volunteers Ham-Cram Sessions
Posted December 4, 2017
The California Emergency Volunteers, Inc. offers 6 hour long "Get Your License in One Day" Ham-Cram sessions followed by a Technician Class license exam session. These sessions are held on monthly on a Saturday alternating between Stockton and Manteca, CA. Visit http://www.hamcram.org/ for more information and to register.
---
Folsom ARRL Volunteer Exam 2018 Schedule - New Location
Updated June 26, 2018
Folsom ARRL VEC exams are held at 6 pm the third Thursday of each month except July and December.
Here is our updated exam scheduled for 2018:
January 18

February 15

March 15

April 19

May 17

June 21

July NO EXAM

August 16
September 20
October 18
November 15
December NO EXAM
All exams start at 6:00 pm.

Round Table Pizza, 9500 Greenback Ave, Suite 1, Folsom, CA 95630.  We meet in the large meeting room.
For information contact Steve Porten, KN6OX at steve@kn6ox.net.

---
Redding ARRL VE Schedule 2018
Posted December 1, 2017
The Redding ARRL VE Team will be hosting exams on the following Saturdays in 2018:
January 20
March 17
May 19
July 21
September 15
November 17
Our exam sessions are now being held at the Shasta County Office of Emergency Services at 2486 Progress Drive in Redding. Exams start at 10:00 AM and candidates are encouraged to pre-register.

More information can be found at: www.reddingve.com or by contacting Steve K6KS at sjmosconi@gmail.com
---
SHINGLETOWN ARRL VE 2018 Schedule
Test Location:
Open Door Community Church, 33883 HWY 44, SHINGLETOWN, CA. 96088
Testing begins at 10:00 AM.
Candidates should arrive 15 to 30 minutes early. We accept walk ins.
Contact:
Dar Walker W6IO, Shingletown ARRL VE Liaison, w6iodar@gmail.com, 530-474-3087
TEST SCHEDULE:
2018: Feb 17, Apr 14, Jun 16, Aug 18, Oct 20, Dec 8
Dar Walker W6IO
---
Other VE Sessions - Schedule List (ARRL national site)

---
Samuel F Morse ARC to offer Morse Code Instructional Course Sep 5-Nov 14
Posted June 1, 2018
The Samuel F Morse ARC will once again be running our 10-week CW for beginner's course. This course will be held once a week for 2 hours (7 PM until 9 PM) each Wednesday evening in Carmichael. If you or someone you know are interested in learning Morse Code we encourage you to sign up NOW. You do NOT need to be a licensed operator to join our class. We will begin Wednesday evening September 5th (ending November 14th).

Everyone can benefit from this course! For those with no Morse Code knowledge this is an excellent course where you or your friends will be taught the complete International Morse Code alphabet, numbers, pro-signs, how to adjust and send on a Morse Code straight. Please contact Mike, N6MQL for more information: admin@w6sfm.com
---
Amateur Radio Parity Act of 2017 - HR 555 - S1534
LATEST NEWS: The Amateur Radio Parity Act of 2017 was introduced in the US Senate on July 12, marking another step forward for this landmark legislation. Senators Roger Wicker (R-MS) and Richard Blumenthal (D-CT) are the Senate sponsors. The measure will, for the first time, guarantee all radio amateurs living in deed-restricted communities governed by a homeowner's association (HOA) or subject to any private land use regulations, the right to erect and maintain effective outdoor antennas at their homes. The Senate bill, S. 1534, is identical to H.R. 555, which passed the US House of Representatives in January. Read more here.
The Amateur Radio Parity Act
---
50 W PEP Maximum Power Limit Area on 70 cm
A little recognized portion of FCC Part 97 regulations applies to 420-450 MHz operations in most counties in our Sacramento Valley section:
47 CFR §97.313 (f) No station may transmit with a transmitter power exceeding 50 W PEP on the UHF 70 cm band from an area specified in footnote US270 to §2.106 of part 2. The indicated affected areas are specified in http://www.arrl.org/us270, in the State of California within a 240-kilometer (150 mile) radius around locations at Beale Air Force Base, California (latitude 39°08' North, longitude 121°26' West).
More information on the additional impact on 70 cm repeater stations is at http://www.narcc.org/NARCC-ARRL-PAVE-PAWS-Update-2014a.pdf
The Amateur Radio Service shares the 70 cm band on a secondary basis with the US Government which has priority. The US Department of Defense routinely monitors and locates signal sources on these frequencies.  Our voluntary cooperation is mandatory to avoid interference with the Pave PAWS (Phased Array Warning System) radar at Beale AFB and thus to assure our continued access to these frequencies.
June 2018 News
From the Section Manager
Here are the latest news and happening from clubs and members around our section.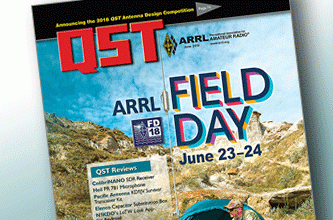 ARRL Field Day is June 23-24!
ARRL Field Day is an annual exercise and public demonstration of our emergency communications response capabilities. Radio amateurs throughout North America participate in this exercise during the last weekend of each June. Anyone with or without an FCC license is welcome to visit and participate in Amateur Radio at a Field Day site.  Field Day operation commences at 11:00 AM on Saturday, June 23 and wraps up at 11:00 AM on Sunday, June 24.  Click to find a public ARRL Field Day site in your area.
Clubs: Be sure to add your public Field Day site to the ARRL Field Day Station Locator. Log onto http://www.arrl.org/field-day and click on the Field Day Site Locator link. Promote your Field Day event in your community, online, and use hashtag #ARRLFD on social media.
Carmichael Ham Swap Meet.  A hearty thanks to John Dyer, KJ6JD, and others of the Carmichael Elks Club for putting together the May 27 swap meet in Carmichael.  Here are a few call signs of others we saw by our ARRL Section booth: AA6AM, AI6JB, AI6U, AI6UO, AI6US, K6GCN, KA6PDY, KC6MHT, KD6MDV, KD6RM, KE6FIQ, KE6RMN, KG7OR, KI6CDD, KJ6ZOL, KK6AHL, KM6RIW, KM6RIX, KQ6EO, N6ICW, N6KIX, N6MQL, N6PGQ, N6TWW, N6UOE, N6YUV, W6TOM, W6XBC, WB2ZEI, WB6BET, WB6GCL, WB6V, and WB6YLK. Also, in this photo by the ARRL Section booth are: (left to right) Sue Mayoff, WA6AGP, Janet Fisher, KK6RXO, Carol Milazzo, KP4MD, Emilia Seiferling, KI6YYT and Michelle Wyman, AA6MW, of the Ladies of the Net group.  Click for other photos from the Ham Swap Meet.  By the way, listen on 40 and 20 meters after 1 pm (2000 UTC), Saturday June 2 for the Ladies of the Net activation of the radio room station N6MSO aboard the USS Lucid during the Museum Ships Weekend event.
Mark Thursday evening June 21 on your calendar to check in to our pre-Field Day Sacramento Valley Section-wide net.  See the details below.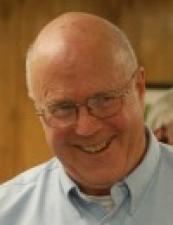 The Yuba Sutter Amateur Radio Club has changed its call sign to W6KJ in honor of the memory of our past Section Manager, Ron Murdock, W6KJ (SK) photo at right. Read more about Ron in
the April 2017 SV Section News
.
Mike Kirkland, NS6Q shares: "Congratulations to Folsom VE Team Examiner Gordy Fuller, WB6OVH, who passed the 300 VE exam session mark this month!"  Bravo!
Our website, Facebook and Twitter pages are a work in progress, and your suggestions and submissions are always welcome.
This website is visited most during the first week of each month, but do check back as it is often updated with late breaking news.
73, Dr. Carol Milazzo, KP4MD
American Radio Relay League Sacramento Valley Section Manager
kp4md(at)arrl.org
You can always send compliments, suggestions and submissions for inclusion in our Section News to kp4md(at)arrl.org
---
ARRL Section-Wide Net Thursday, June 21
On Thursday June 21, ARRL Sacramento Valley Section will hold an ARRL SECTION-WIDE NET, first on the WD6AXM repeater on 146.085 MHz IMMEDIATELY after the 7 pm Yuba-Sutter ARES net closes, then followed immediately by an HF net on 5330.5 kHz USB (alternate 3880 kHz LSB +/- 3 kHz if no propagation on 60 meters). All radio amateurs are encouraged to participate. We will issue an Official Bulletin reminder during that week.
All Sacramento Valley Section radio amateurs are welcome to check into our Section Nets. The nets carry announcements of interest to our section and test our section-wide station communication capabilities.
ARRL Sacramento Valley Section Nets are conducted only on the third Thursday of the month when announced, following the 7 pm Pacific Time Yuba-Sutter ARES net on the WD6AXM 146.085 MHz FM repeater, followed by the HF Section Net on 3880 kHz LSB +/- 3 kHz. During spring and summer months the HF net may be conducted on 5330.5 kHz USB as propagation permits.
Don't have an antenna or HF radio?  Click a link
and Listen to our HF net on a web receiver.
Hourly Northern California NVIS Observations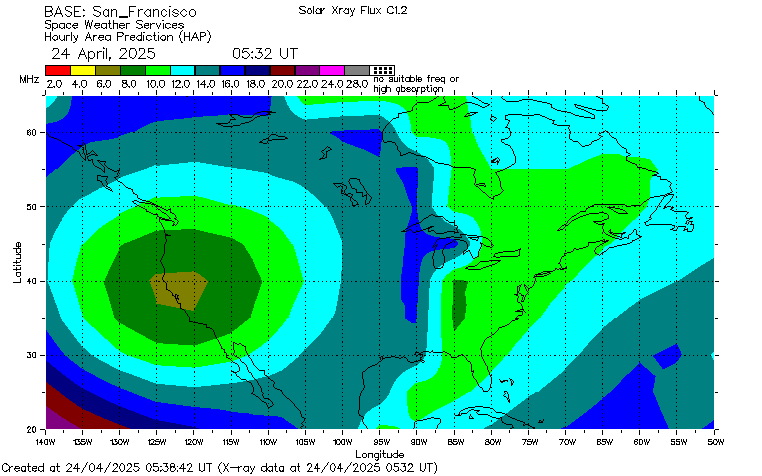 This chart shows colors that represent the recommended HF frequencies for contacting stations for a particular hour. Both stations should use the SAME frequency denoted by the color at the location of the target station. The chart is in Universal Time (UTC). More information at http://www.sws.bom.gov.au/HF_Systems/6/6
---
Update from Bob Wortman, WB6VYH, Section Technical Coordinator

Posted May 31
Pacificon 2018 is right around the corner. I will be there checking WAS, VUCC, and DXCC cards at the NCDXC table. Swap on Sunday.
Field day is coming soon, June 23-24, 2018 . Find your local club and go out and have fun.
I will be out and about this summer in Northern California. If you need cards checked contact me, I may be in your area
73, Bob Wortman, WB6VYH, wb6vyh@arrl.net
ARRL Pacific Division DXCC Awards Manager, Sacramento Valley Section Technical Coordinator, WAS Award Manager, VUCC Awards Manager
---
From Section Affiliated Club Coordinator, Max Soucia, N1KGS

Posted March 11
Hi Sac Valley Hams. I'm the newly appointed section Affiliated Club Coordinator. I've been a ham for 28 years or there about. I relocated from northern Maine in 2009 after I retired where I was Section Emergency Coordinator and I helped write and develop the original EC 101 course. I was an online mentor for EmComm for several years. I'm a big cheerleader for Amateur Radio's ability to assist in emergencies when nothing else works. As such I'm a proponent of ARRL affiliation for the support we can give it in return for the technical and particularly legislative support they provide. In the present atmosphere of monetizing all aspects of society we will be feeling more and more pressure to privatize the EM spectrum including our slivers of it. Witness the development and expansion of 5G services. Protection and expansion of our spectrum is where we as individual hams can benefit from League activity as we support them with sheer numbers through membership and club affiliation.
I'll be contacting each ARRL affiliated club in the Sacramento Valley Section over the coming weeks to update your club information and to help bring your League affiliation up to date if needed. I also want to visit each club over the coming months for an eyeball QSO. There is much of Northern California I have not seen and I'm looking forward to the travel. In the meantime, if you want assistance in utilizing the benefits of affiliation such as club insurance, or updating your Special Service Club status or have questions about any of these issues or just want to rag chew my cell number is (916) 607 6524 and my email is N1KGS@arrl.net.
73 de Max Soucia, N1KGS, Affiliated Club Coordinator, Sacramento Valley Section, ARRL
---
Amateur Radio Youth Outreach at March 3 STEM Expo in Rocklin

Posted March 11
STEM Expo 2018 was a Hit!
The Placer County STEM Expo was a blast this year thanks to the support of Sacramento Valley Section hams. A cadre of dedicated Hams came out on Saturday, March 3rd, to the William Jessup University in Rocklin California to setup two stations and show-off the exciting world of ham radio to the youth in our community.
Section Club support was outstanding. We had members from Western Placer ARC, River City ARCS, Samuel F Morse ARC, and the Sierra Foothills ARC there to get youngsters on the air. A special thank you to Jerry, N6JKH, and Art, KK6NFM, from the WPARC for bringing out the radios and antennas. The HF station was fed by a Buddistick and had to radios attached: an IC-7300 for SSB, and a FT-857D go box for digital. The VHF station was connected to a 2m copper pipe J Pole and had a FT-8800 go box station attached and tuned to the K6PAC and W6EK repeaters. Thank you to all the operators out there hanging around their rigs waiting for us to call. You welcoming voices put smiles on their faces.
Bob, N6PGQ, was a hit with our future coders. He brought two code oscillators and worked with the kids to practice sending their names in CW.
Ken, KE6RMN, Dave, WB6YLK, Marie, Tim, KD6MDV, Carl, WF6J, and Brian, AI6US, worked with the kids and answered folks questions about amateur radio. Most had no idea that amateur radio was a thing nor the importance it has played in the recent disasters. Thank you all for coming out to promote Ham radio and sharing our wonderful hobby to the youth in our Section.
73, Orion Endres, AI6JB, Section Youth Coordinator
Photo: Orion Endres, AI6JB coaches a young STEM Expo attendee on repeater operation.  by Carol KP4MD
---
---
Modoc ARES Meeting Report

Posted May 28, 2018
We talked a little about the ham radio demo we are doing for Children's Fair/Sportsman Expo on June 16-17th. We plan to have the ARES Comm trailer there.
We had 2 Packet Winlink stations set up at the meeting. After viewing a YouTube video about P2P mode, we did a little practice with Peer to Peer mode of sending e-mails and using the on-line forms. I encourage all to keep active on Winlink so if we get called, the system will let you log in. This mode is a force multiplier for us, we could get a lot of traffic in and out of the area during a crisis with a few hams. Even checking in Winlink Express from your computer via Telnet mode will keep your call@winlink.org address active.
You can download the free software at http://downloads.winlink.org/User%20Programs/Winlink_Express_install_1-5-12-0.zip
There are several YouTube videos out there to explain the system.
Reminder, since we are doing the demo in June, we are not holding a 4th Thursday night meeting this month. So next ARES meeting is July 26th. As usual, Chad is doing a good job of reminding us.
73, Jim Linden, N7JIL, n7jil@arrl.net
ARES Emergency Coordinator, Sac Valley District 1 (Trinity, Siskiyou, Modoc and Lassen Counties)
---
CalOES Visits Placer County ARES

Posted May 3, 2018
On April 28th Placer County ARES held a face to face meeting, with 21 members and guests. The guest speaker was Ben Green WD8CZP Assistant Chief Tactical Communications CaOES. Ben spoke about the role of CalOES in large disasters and events, and the role of volunteers including HAMS in these activities.
Submission and photos by Carl First, N6CKV, Placer County ARES Emergency Coordinator
| | | |
| --- | --- | --- |
| The Placer County ARES group | Ben Green WD8CZP | Ben Green's work SUV |
---
Online Emergency Communication Course EC-001 on Hold

Posted May 5, 2018
ARRL has been informed that the Connecticut Distance Learning Consortium (CTDLC), the provider of the online platform though which ARRL offers its EC-001 course, is being dissolved, effective July 1, 2018. That decision was announced today by Charter Oak State College, the parent organization of CTDLC. CTDLC officials cited the fiscal challenges faced by the Connecticut State College and University System and the State of Connecticut as a whole for the decision to close the CTDLC platform.
ARRL is working on steps to address the dislocation that this decision will cause our members and others who planned to take this course. While we look at moving our course content to a new delivery mechanism, new registrations for EC-001 will be suspended effective immediately. Those who signed up for the EC-001 session starting on May 30 will receive a refund.
ARRL had already been in the process of developing new content for the EC-001 course, and now we will intensify the process of selecting a new platform on which to post this material.
More information on the new course content and new host site for the EC-001 course will be available in the near future as soon as a decision is made on an alternative delivery mechanism.
---
ARES Group Registration for ARES Connect

Posted January 19, 2018
All Section ARES groups should contact their Emergency Coordinators now to provide their current ARES group information for registration in the new ARES Connect system.  Your Emergency Coordinator is responsible for registering ARES groups in your respective area.
Additional information on changes to the ARES program will be emailed to SMs and SECs soon. Beta testing of ARES Connect will begin shortly and once completed additional information will be sent out.
ARRL Public Service Enhancement Working Group, Dale Williams, WA8EFK, Chairman
---
June 9 - Sacramento County ARES Training

Posted May 26, 2018
The next Sacramento County ARES training and meeting is scheduled for Saturday June 9, 2018 from 9:00 am to 12:00 noon at the Sacramento Sheriff's Central Division, 7000 65th Street, Sacramento, CA 95823.
Vince Cracchiolo KI6NHP is the Sacramento County EC.
For more information, visit the Sacramento County ARES web site at www.saccountyares.org
---
2018 Disaster Volunteer Program of the Year: Auxiliary Communication Service Amateur Radio Volunteers

Posted April 13, 2018
Video from CalOES: California Volunteers - What Amateur Radio did for the fires last fall. Jim Price KO6GM and Lee Rominger W6LFR are recognized for their service- Thank you!
Greg Kruckewitt, KG6SJT, ARRL Sacramento Valley Section, Section Emergency Coordinator
---
Volunteer Operators Needed for June 23-24 Western States Endurance Run

Posted February 3, 2018
Joe Steinmetz, K6SAT, is the HAM radio coordinator for Western States 100 mile Endurance run, sponsored by WSER, a 501(c)3 non-profit organization. Joe is looking for radio operator volunteers for June 23 and 24th this year. More information about the race is available here: https://www.wser.org/ Radio Volunteer Information are available here: https://www.wser.org/volunteering/communication/ There is a sign-up form link in the above URL location, or interested amateur radio operators may contact Joe directly via email at k6sat@arrl.org or radio@wser.org
Joe Steinmetz, K6SAT, WSER HAM Radio Coordinator
---
From Norm Lucas, WB6RVR (SK),
Section Official Observer Coordinator

Posted January 11, 2016
Do you have what it takes to be an ARRL "Official Observer?"
Update May 4, 2018 - In the light of unanticipated delays in the approval and implementation of revisions to the Official Observer program, ARRL HQ will resume accepting a limited number of Official Observer appointments under the current rules and standards. Any new OO appointments are being made with the understanding that a new program is coming, with new requirements and new standards for OOs.
Reference: ARRL Executive Committee April 21 Meeting Minutes Item 16.
Update April 6, 2017 - The ARRL and the FCC are currently working together to update and to make changes to the Official Observer/Amateur Auxiliary program. Because of these expected upcoming updates and changes, ARRL has placed a temporary hold on applications for new Official Observers and Official Observer Coordinators at this time.  Read more here.
The Official Observer (OO) program has been sponsored by the ARRL for more than 85 years to help Amateur Radio operators assist each other to operate their stations in compliance with Federal Communications Commission (FCC) regulations.
Official Observer appointees have assisted thousands of Amateur Radio operators to maintain their transmitting equipment and comply with operating procedures and regulations. The object of the OO program is to notify amateurs of operating and technical irregularities before they come to the attention of the FCC and to recognize good operating practices.
The OO program serves as the first line of "eyes and ears" for the FCC. It is the backbone of the Amateur Auxiliary. OOs are certified in the Auxiliary by passing a mandatory written examination.
---
Pot grow lights interfere with Ham Radio

Submitted by Rene Smythe, WB6PSY, posted March 4, 2017
I have experienced this interference for the past few years. I found the interference by swinging my 10m Yagi monobander around until the noise became over S9. I then went outside to see where the beam was physically pointed and discovered a garage where indoor pot is being grown. The lights are on a time cycle so the interference comes and goes. 40º degrees in either direction takes the noise out.
Now that marijuana is being legalized in more states, more hams are going to experience this noise.
WB6PSY
http://bigstory.ap.org/article/c1b607bfbbab459ba9e21d4c282996e4/growing-problem-pot-lights-give-ham-radio-operators-buzz
---
Radio Frequency Interference

posted February 3, 2018
ARRL and the FCC have a cooperative agreement in radio frequency interference matters. You may submit interference reports together with your supporting documentation to ARRL EMC Engineer Mike Gruber W1MG who then files the report with the FCC Gettysburg office.
You may also contact our Section Technical Coordinator Bob Wortman, WB6VYH, or our Section Official Observer Coordinator Bob Hess, W1RH, for assistance. More information is posted under the "From the Section Manager" notes in the November 2016 Section News - Carol KP4MD
Our Official Observer Coordinator Bob Hess, W1RH, shares this helpful web page by NK7Z for identifying sources of Radio Frequency Interference http://www.nk7z.net/rfi-snapshots 
---
Club and Member News - June 2018
---
Update from River City ARCS

Posted May 28, 2018
PRESIDENTS MESSAGE
Several of our members volunteered for the AMGEN bicycle race this last month with Paul N6DRY doing a great job as net control. We helped with crowd control rather than reporting on the race its self, but our help was greatly approached.
On the 18th and 19th of May we demonstrated "Ham" radio at the "Farm and Tractor Days" in Rio Linda. Bob N6PGQ, Paul KC5JAX, Ken KE6RMN and Myself WB6YLK were there Friday. Saturday Carol KP4MD joined Ken KE6RMN and myself. Friday was kid's day and quite a few stopped by and were interested in learning something (I hope) about Ham radio.
June being "Field Day" month our meeting will be some last minute planning for the big day. We need to know who will be bringing what? We will have three stations going but we need The following: Antennas, coax, Batteries, Solar Panels, Tables and chairs, Canopies, Rope and other things. We also need the most important thing of all "PARTICIPATION" !!
We will be having our Saturday Night BBQ pot luck. The club will provide meat, hot dogs, hamburgers, and chicken and members bring other dishes.
August is our show and tell of our mobile, portable and Go kits. We have had some very ingenious setups of bicycle mobile, walking mobile and very fancy setups in cars. So get your installations cleaned up and ready to show.
September we are having our homebrew night again. Last year we had some great demos. We will be giving out cash prizes again this year $50 for first place, $25 for second and $25 for an entry-level member. This is for club members only. We have some interesting things coming.
Even a fish wouldn't get into trouble if it kept its mouth shut.
President Dave Martin, WB6YLK
June 23-24 ARRL FIELD DAY
Members of the River City Amateur Radio Communications Society will be participating in the National Amateur Radio Field Day Exercise beginning at 11:00 am on Saturday June 23rd and ending at 11:00 am Sunday June 24th.
This annual event demonstrates volunteer emergency communications skills. The public is encouraged to attend, and a special "Get On The Air" station will allow all attendees to talk to other amateurs across the country. We encourage youth to take the controls and make a live radio contact.
Admission is free at the historic Dry Creek Ranch House, 6852 Dry Creek Road, Rio Linda. www.n6na.org/fieldday #ARRLFD
Assemblyman Ken Cooley helping
to erect antennas for ARRL Field Day

Assemblyman Ken Cooley operating
the Get On The Air station
Dave Martin WB6YLK, President    Newsletter
---
Field Day - Gary, KC3PO and the Committee are hard at work planning out the logistics for our Field Day in Nyack, CA. See the ARRL Location webpage for detailed map.
Count Down to Field Day
It's only about a month away folks - got your gear dusted off and ready to go?
Things seem to be coming together pretty well... as you probably gathered from Brian's recent post, the club has taken delivery of the two 10' x 20' popups that will be used to create our fellowship area that will feature chairs, refreshments, a big screen TV monitoring stats/contacts and so on.
As in the past, we'll be running 4A (four stations simultaneously operating) PLUS a GOTA (Get On The Air) station PLUS a VHF station. One of the four main operating positions will be a dedicated digital station set up by Orion (this will be a great opportunity to learn about and even operate digital modes if you're interested)... two of the main operating stations will be tried and true Elecraft KX3 w/ 100w amps. The remaining main operating station (during the day) is designated as the "fun" station - an easy-to-use touch screen Icom 7300. We thought this would be an attractive option for club members who just wanted to casually jump in and knock out a few QSOs for fun. As previously mentioned the 7300 will only be available during the day. When the 7300 is put to bed, the GOTA station will become one of the main operating stations. GOTA station during the day / main station at night will be a Flex 6000 series software defined radio. If you haven't see one of these in operation, you're in for a treat!! Definitely check it out!
We're planning on more antennas this year - three 80m doublets fed with ladder line (should be able to tune these to just about any band)... and a 160m End-Fed-Half-Wave that can cover 160/80/40. We'll have at least two, maybe three beams to cover the 20/15/10m bands as well.
Also new this year will be a designated tent camping area - tent camping is encouraged, and by all means bring your families!
We're still in need of someone to head up the cooking of the meats... please let me know if you're willing to take this on or maybe at least if you have a suitable BBQ and/or smoker(s) that can be brought up to the site. We normally have Tri-Tip and maybe chicken... cook it low-and-slow so really won't a high maintenance situation! Assuming we can at least get the right gear up there, I imagine we can coordinate a few people to trade off watching the meats (I'll be happy to help!). The club will supply the meats as well... but it's not going to cook itself. Please step up and be the hero! Eight people indicated on the Field Day survey that they had cooking gear that they could bring up...
We also need tables and chairs... in the past, we had a source of tables and chairs. We no longer have that source. Can we crowd source this one? Twenty people indicated on the survey that they could bring chairs and eighteen indicated they could bring tables. Seems like probably enough, but we need to nail down who's bringing what just to be sure. Same goes for popups... seems like we have enough in the club, just need to do some final coordination.
I don't know about the rest of you, but I'm getting excited!
- Gary, KC3PO
Events - MS Walk in Folsom - Mike, KK6GLP coordinated the efforts to support the race. Photos forthcoming on week.org. Next events: Georgetown Enduro, Cyctic Fibrosis Bike Ride, and SFARC will be well represented on The Tevis Cup. Thanks to all the WS100 support.
Meetings - Monthly Members second Friday Monthly at Auburn City Hall, Rose Room. Everyone welcome. Breakfast last Saturday Monthly at Mel's off 49 in Auburn.
Nets - Thursday night at 7:30 on the W6EK repeater system is the weekly club net. Every 1st and 3rd Wednesday is the Elmer Net. Please join us.
Groups.io - Dennis, WU6X has converted us from the Yahoo Group to the Group.io. This allows a good forum for events, notices, files and database. There are now 105 members.
VE Exams - Every 1st Saturday each month at Raley's Granite Bay. Starts at 8am. Walk ins welcome. Contact is Al, NI2U at vechair2015@w6ek.org.
As with any SFARC net or meeting, we love visitors, so come on down and join the membership check out our website at: w6ek.org
Carl, WF6J, PIO Sacramento, CA
Newsletter at: http://www.w6ek.org/newsletters/Sierra_Signals_06_18.pdf
VE Report June 2018
Thanks again for all the VE's that were able to come to the session. Today, the VE's at 7 were less than the 9 candidates. We had a very successful session again. We administered 12 elements to 9 candidates. 8 earned a new or upgraded license. We have 4 new Technicians, 2 new Generals, And 2 new Extras. Thanks Al NI2U
---
Update from Nevada County ARC - pending

Updated May 5, 2018
Nevada County Amateur Radio Club members hold impromptu meetings at the Omega Rest Area on highway 20. Elevation is around 5000 ft and the views are tremendous. Our activity always draws the interest of motorists coming through the rest stop.
73, Cal McKitrick AI6MC, NCARC President 2018 Newsletter Facebook Group
Next Meeting: Monday May 14, 2018 doors open 6:30pm, meeting at 7pm
Speaker for May is Jason, KJ6HNP, Nevada Co. ARES coordinator on go boxes, packet and global email for hams.​
Big Brothers/Sisters ​Gourmet Gravel Bike Ride is May 12th​
Rotary Club Race is May 19th​
K6SMA, SK
Former State Senator Sam Aanested passed away at 71 on May 7th, 2018. Sam was a physician and surgeon who served in both the California Assembly and Senate, representing the local area.
COFFEE CHAT (Ham n' Coffee)
Thursdays, 8 am at Valentina's Bistro, 841 Sutton Way, Grass Valley
---
Update from Paradise ARS

Posted June 5, 2018
Get on the Air Event June 2
The Northern California Amateur Radio Clubs and the Amateur Radio Emergency Services Members were all invited to a Get On The Air (GOTA) June 2nd at the Butte County Fairgrounds in Gridley. Paradise Amateur Radio Society (PARS) and the Yuba Sutter Amateur Radio Club (YSARC) showed various amateur radio activities.
The purpose of the event was to simply have fun and meet other amateur radio operators or those that may wish to become a licensed operator and that need help. During the GOTA event, some were demonstrating radio go box configurations, homemade antennas, sending emails without the internet, helping un-licensed visitors Get On The Air and more.
The GOTA event was held at North State Kiwi Fest at the Butte County Fairgrounds in Gridley. Some of the Kiwi Fest attractions were a carnival, rodeo, model train display, classic cars, food vendors.
Paradise ARS Members. Left to Right: Doug KD6LOK,
Grant KK6FKW, Jerry KM6JIF, Chris WA6CP, Robert KJ6ZEB
Paradise ARS Site
For more information, see the flyer.
Teach, Learn, Communicate and Have Fun
73, Stephen, W6AKF, PIO Paradise Amateur Radio Society  Click to see Event Flyer
---
Spring has sprung and is headed into Summer, and Summer in Siskiyou County means public service events!
MSARC is the little club that could. With an average meeting attendance of 12 and a total membership of under 20, the club, somehow, manages to handle 5-7 large public service events every year. 2018 is no exception and the festivities kick off on June 23, 2018 (yep, on Field Day) with the Castle Crags Century bike event - wherein we cover over 150 miles of rugged riding in the mountains. We need a minimum of 12 hams (14 would be better) to handle health/welfare/location/logistics traffic for this event - most of which is physically located in areas without cell coverage. Please let us know you are willing to help by signing up at w6bml.com/events
A dedicated troop of volunteers from the club have been teaching a ham radio technician level class at Sisson Elementary School and the final (licensing) exam was held on May 29, 2018 at the clubhouse. We are proud to say that one of our students worked hard and earned his ticket! Please join MSARC in welcoming Jake, KM6TNG (kilo mike six the next generation) into the world of ham radio. Huge props to the hams who volunteered their time to make this class happen: KD2JLY, KD6MC, WA6KJV, KI6LIT, KX6MMM, and NR6J! We have been invited back to the school to teach a full year course starting in Fall.
The attached photo shows former Mt. Shasta Mayor and founder of Snowcrest ISP, Dennis Engdahl - NR6J, congratulating Jake on his achievement and gifting him with his first ham radio.
Submitted by Mark Dibelka, AB2LI
---
The W6SFM Samuel F Morse Radio Club May meeting was called to order by club President Mike, N6MQL on May 3rd at the Carmichael Presbyterian Church in Carmichael CA, with 14 members and no guests in attendance. With the addition of better internet service at our meeting location, this month the YouTube in-person Live feed was working flawlessly. Our current broadcast recording of the W6SFM In- person meeting was broken into two parts for convenience, as we didn't want to include too much of our chatter during our scheduled break time. At this time the club still has some issues with the Live Feed broadcast of our weekly on-air net meetings, although this is something that is being worked out with the addition of a new club computer to be installed.
On-air videos along with Club in-person meetings and CW Beginners Class practice code can be found under the "Videos" page of our website. Please note that there may be a delay starting the live videos as it takes the YouTube server up to 2 minutes to begin the live transmission. This is done to accommodate any lag in the transmission video due to internet speeds. At the April meeting, Mike, N6MQL asked the club to consider purchasing a new desktop computer for our needs. At the May in-person meeting Mike presented some of the computers that he believes would meet the needs of the club and come with a reasonable price tag. Both Desktops and Laptop pricing was offered. The club voted with a quorum that we should invest our funds in the purchase of an adequate Laptop rather than a Desktop computer. The club laptop could be used for multiple purposes. This budget would be fine for the current and perceived needs of the club for the next 5–8 years based on our current software and hardware requirements. Members suggested that the laptop be purchased before Field Day scheduled for the weekend starting June 23–24th so it may be used for contest logging during the event.
With this approval Mike is investigating the best computer for the club's needs, along with reliability and durability to find the best choice available. The main presentation was given by Mike, N6MQL regarding the 3 new antenna analyzer models released by RigExpert Ukraine. Mike, presented the club with information regarding the new features added to the Zoom lineup. This presentation was geared both to those who already own a Zoom model analyzer and want to know and understand the new features. Or those who are interested in what an antenna analyzer can do for them and want to possibly purchase one. Our next SFM ARC in-person meeting will be held at its normal time and location June 7th (followed by our July 5th meeting). The SFM ARC in-person meeting will be held in the Howard Crowley room upstairs at the Carmichael Presbyterian Church. Directions, including a Google Map are available at the bottom of the www.W6SFM.com homepage. At our June meeting, we will be discussing ARRL news and events. We will also have a recap of the May W6SFM Bug Roundup event held May 18th–20th . The club will also discuss and plan the logistics of our June Field Day event to be held in the field behind the church parking lot where the club meets in-person. We hope that you will be there to help us plan and offer various items needed to help us operate successfully in the event. As always, we will have our Tech (show and tell) portion. Members and visitors are asked to share their Ham Radio related items they find of interest. Attend our In-Person meetings with items that you've purchased or were given to you that you would like to share with others in the group. Visitors are always welcome to join us at our meetings. They do not need to be licensed to attend our meetings.
On-Air Net Meeting
Each Tuesday of the week 8:00 PM on 3.545 MHz the SFM ARC enjoys getting on the air with CW for our weekly Nets. You do NOT need to be a member of the SFM ARC to check into our nets and we encourage you to invite a friend to join us as well. Although our nets usually run around 13-15 wpm code, we are all happy to accommodate those that are slower and need us to oblige. If you are unable to copy Morse Code or need some code practice, please feel free to visit our on-line LIVE streaming broadcast of both the Audio and a CW to Text decoding of the meeting. The "LIVE FEED" link can be found on our home page of our website. With our YouTube Live streaming system, you can watch the Live Feed on your Apple IOS or Android devices. You do not need to have a YouTube account to access the feed on our webpage. However, you will to subscribe to our channel. Those visiting/viewing can chat with others watching on-line as well. This of course is not mandatory, but rather just a way of making everyone feel more involved in our on-air nets. If you like, you can "checkin" using the chat window and you will be included with our On-Air Net log. Simply announce your call letters in the chat window.
Tell A Friend
Do you know someone in need of a Ham Club to call home? Perhaps someone that wants to learn Morse Code, is interested in CW or already knows and uses it? The SFM ARC would love to be their new Club home. Our in-person meetings are held each 1st Thursday of the month at 7PM. Please use the rear parking lot and entry for best access to the meeting. A map and directions can also be found on our website. We hope to see you at our next meeting!
Chris, AI6U (Secretary SFM ARC) Newsletter
---
Greetings from the Western Placer Amateur Radio Club:
Our Next Club Meeting is Saturday, June 19, 2018. 7:00 PM
Location: Round Table Pizza, 1020 Pleasant Grove Blvd #170, Roseville, CA
Scheduled Speaker and Topic: To Be Determined
WPARC Field Day 2018 - Jun 22-24
WPARC secured a new Lincoln location for Field Day this year at Foskett Regional Park [1911 Finney Way, click to open map on a new tab], on Field 1, directly behind the school. Take Joiner Parkway north to the end, there is a stop sign at Finney Way before becoming Venture Drive. Turn right on Finney Way just past the school, and turn right again at the first roundabout into the parking lot. Plans call for setting up Friday night, Jun 22, operating starting on Saturday morning and overnight into Sunday morning, Jun 24. There will be plenty of time to operate and President Jerry N6JKH assures us that RF noise is very low from this location. Bring some snacks and drinks to share, note that Lincoln Parks does not allow alcohol on the grounds. Come join us and participate in the grand ham tradition of Field Day!
Ham License Testing - Wednesday, Jun 6, 6 PM
WPARC offers Ham radio license testing on the first Wednesday of each month at Round Table Pizza at 6 PM (see below for map and directions.) For more information please email Chuck KK6DOA
Regular Club Meeting Location: WPARC conducts board and member meetings on third Tuesdays of each month. Members and guests with business to bring before the board are welcome to attend board meetings. Join us at Round Table Pizza, 1020 Pleasant Grove Blvd #170, Roseville. This location faces Roseville Parkway at the northeast corner of the complex. View map and directions in link above. Come out to enjoy some camaraderie, food, beverage, and tales of the radios! Round Table offers a pizza and salad bar buffet dinner on Tuesday evenings for about $10/person.
WPARC Ham Fest - Sep 15, 2018 Are you looking forward to our next WPARC Ham Fest on Sep 15? It will be here before you know it. Drawing prizes are already being solicited and WPARC is looking forward to another great Ham Fest. Start rounding up your collectible items that you can bear to part with, in hopes of finding them new owners. Whether you're a buyer or seller, we hope to see you at McBean Park in Lincoln CA on Sep 15!
May Meeting Wrap Up Lou KG6FCT spoke on High Potential Coaxial Cable Testing. There were coaxial cable tests ranging from simple continuity to high potential impedance tests to measure leakage. Special thanks to the member who had the high potential meter in his truck! Special thanks to President Jerry who volunteered his HF radio for some of the testing!
Ham Radio License/Volunteer Examiner (VE) Tests. WPARC offers Ham Radio License testing on the first Wednesday of each month at 6:00 pm at the Round Table Pizza, 1020 Pleasant Grove Blvd #170, Roseville CA.  For more information please email Chuck at: kk6doa (at) gmail (dot) com.
Club T-Shirts. Club T-shirts have been a huge hit, and club members wanted more! Our vendor will soon have a web site offering more colors and shirt options. New orders are suspended until the new web site is available.
K6PAC Repeater Yaesu DR-2x Upgrades Completed. Upgrades to new Yaesu DR-2X are completed. A new FVS-2 Voice Module will add new features to leave messages, record and review your transmission, along with announcements. Stay tuned for more details.
The club website, http://wparc.us/index.html, has a new look and new information. Jey KQ6DK is now club web master and is updating the the site on a regular basis. Thanks to Jey for all his work on the website.
Don't forget about our WPARC Facebook page. It is at: https://www.facebook.com/WPARC
Want more? We now have a Twitter account! Just search for @k6pac (the club repeater call sign with the "@" symbol). We are following the ARRL, the ARRL Sacramento Valley Section, Kenwood, and Yaesu and a few others. If you think of someone we should follow, please email me. I know there are a few local clubs with Twitter accounts and I will add them.
73, Michael Buck. K6BUK
WPARC on Facebook and Twitter
Check us out on Facebook and Follow us on Twitter (@k6pac)
WPARC - Harvey Ulijohn, SK
It is with an exceptionally sad and heavy heart that I must inform you of the passing of club past President Harvey Ulijohn, KD6LND. Harvey was a long-time club member and was a ham for many years. He served in other club positions and was active in many areas. However, it was as President that Harvey had his most impact on the club. He took over the reins after a disastrous term by someone who should have never been President and stabilized the club. He was a natural leader and mentor and had a good influence on many people. Harvey had a calming influence on any organization he was involved with and was highly respected for his leadership. Those who knew him valued his friendship. He organized the WPARC Hamfest one year and played an active role many other years along with his XYL Karen. In addition, Harvey was involved in many other community activities. He was a past President of the Lincoln Rotary club and led many useful projects to help people worldwide. He was also active in some car clubs and for many years had a Sunbeam Alpine, a popular British sports car. He lived in England for several years while running a software company.
Harvey's passing is a great loss to all who knew him. I am deeply saddened but have many good memories of him and will cherish them for years to come. Please join me in offering condolences and sympathies to his XYL, Karen.
Sadly, Michael Buck, WPARC Secretary
---
Update from El Dorado County ARC - pending

Posted April 2, 2018
FROM THE PRESIDENT
Greetings, we will attempt to have a meeting this month. It looks like we may have to deal with some weather again during the meeting but now it looks the snow level will be above Placerville. There is a chance of thunderstorms on Thursday and you never know what they could drop.
The weather was the reason we had to cancel the meeting for February. The Federated Church where we hold our meetings as you know sits on the top of a hill in Placerville. We didn't feel it would be safe for most us to make the drive to the meeting and then back home again with the low snow. To inform every one of the meeting cancelation we used email and announcements over the 2m and 6m repeaters. We did our best to try and reach everyone before they unnecessarily made the drive to Placerville. If you're not able to monitor the club repeater most of the time there are a few times you should try to listen to the repeater for important information. First is during the weekly club net on Tuesdays at 8:00pm. You don't have to check-in if you're busy but you should listen in to hear any important bits of information that may be discussed. Second is on club meeting Thursdays. If we have any last-minute changes to the meeting the repeater will be our primary way to communicate those changes. A hand-held radio sitting on the car seat should let you hear any vital information. If time permits we will also send out a notice on the email reflector. If anyone else has some innovative ideas on how to get information out the membership let the board know so we can discuss the idea and maybe try it out.
Spring will be here this Tuesday and the days are getting longer. After this much- needed rain stops, all of us should be able to get outside and start working on our outdoor projects. I know I have a few antenna things to work on. Also, there is always yard work to do. Don't forget about your defensible space around your property. I hope to see everyone at the meeting on Thursday and please drive safely.
73, Jay, KE6GLA Newsletter
---
Update from Yuba-Sutter ARC - pending

Posted May 5, 2018
Club Meeting Location Change
Starting June 2018 the general membership meeting location will move to the Marysville United Methodist Church Assembly Hall at 730 D Street, Marysville.
The Mini-Field Day at Live Oak High School on April 28th was a success. to see pictures of the event visit the club's Facebook Page. If you are not a member of our Facebook Group, just request membership and Kevin or Chris will add you to the group, or, go to this photo page.
EDITORS COMMENTS
✓YSARC's new web page is: www.ysarc.net - click on the upper right-hand icon on the homepage to join the club's Facebook page. Past issue's of the VHN are available on our new website.
✓Send your ham related articles and pictures to share in your VHN. Pictures of ham shacks, antenna projects, antenna parties, etc. are appreciated KI6CSN@arrl.net or KF6FVP@arrl.net
Eleanor Knox KI6CSO - SK
Eleanor Knox, past ARES Emergency Coordinator and long time member and net control of the Yuba-Sutter ARC became a Silent Key on Monday June 18.
---
Elk Grove-Florin ARC—Section News
June 9th we will have a booth at the Elk Grove regional Safety Fair. We plan to have members with a radio there communicating with members at a booth at the H.E.L.P.S. Safety Fair a few miles away. We will be generating interest in our club and passing out fliers. At our monthly meeting which is also on June 9th, our guest speaker will be AMSAT President Joe Spier, K6WAO, from Auburn, who will give a presentation on satellites and ham radio. Should be very interesting. On June 23-24, Field Day weekend, we will have several Ham stations set up out at Davis Ranch in Sloughhouse along with Sharp's and ARES. We are inviting the public to come check us out and enjoy the fruits and veggies of the Davis' Ranch vegetable stand.
Christine Lay, KG6JFO, President EGFARC, 916/715-8091
---
Update from Oroville ARS

Updated June 6, 2018
OARS Monthly Meeting Reminder
The monthly meeting of OARS will take place Friday, 8 June 2018 7 pm, in St. Paul's Parish Hall, 1430 Pine Street, in Oroville. The doors will open at 6 pm for a social hour prior to the meeting.
The doors will open a 6 pm for a social hour prior to the meeting. Field Day, to take place on the weekend of 23-24 June, is expected to be the main topic. OARS plans to participate, once again, at the EAA grounds and hangar, between Oroville Airport and Table Mountain golf course. Hope all can attend (both).
73, Jim, W7XZ
OARS Monthly Breakfast--New Place
This month's OARS Breakfast will take place Saturday, 26 May 2018, 9 am, at Tabletop Restaurant & Catering, 109 Table Mountain Blvd (where Hof Brau used to be) in Oroville. Hope all can attend. 73, Jim W7XZ
---
Our meeting this month is Wednesday, June 13th. You can choose Lunch or Breakfast. (Denny's serves breakfast all day.) Breakfast (or lunch) starts at eleven and the meeting will start at noon.
Our program for this month is the first half of TXFactor episode 21. "In this early summer episode we look at programming your DMR handie and running a SharkRF openSPOT digital radio IP gateway."
The meeting as usual at: Denny's Restaurant, 7900 College Town Drive, Sacramento. Phone (916) 383-7071, Located at the southwest corner of Howe Ave. and College Town Drive one block North of Highway 50.
Please plan to attend.
---
Update from North Hills RC

Posted May 30, 2018
NHRC Field Day 2018
ARRL Field Day is the most popular on-the-air event held annually in the US and Canada. On the fourth weekend of June, more than 35,000 radio amateurs gather with their clubs, groups or simply with friends to operate from remote locations.
All are welcome to join members of the North Hills Radio Club as they participate in the 2018 ARRL Field Day. It doesn't matter what you're there for, the hot dogs, to watch the setup ( or you can help? ), to watch radio contacts being made, or to make radio contacts yourself, you're invited to come out and have a grand time.
Setup starts around 8am on Saturday June 23, with radio operations starting at 11am and continuing around the clock until 11am the next day.
Our location this year is at Negro Bar, a unit of the Folsom Lake SRA. This is next to the New Rainbow Bridge across the river from downtown Folsom along Greenback Ln, between the east end of Madison Ave and Greenback where they intersect, and Folsom-Auburn Rd.
Drop in visitors during Field Day are welcome. Radio talk-in into Negro Bar will be on the K6IS repeater (145.190, -, 162.2). Please use the Talk-In if you're coming out. Negro Bar is a State Park fee area. We have parking permits that we can run up to you at the road before you enter. Otherwise there will be a $12 fee to enter.
If there are any questions/problems/issues please contact the NHRC Field Day Coordinator, Joel Baldwin, AI6DG@arrl.net
Date: 06/23/2013 (Sat.) Time: 8:00am PDT Sat thru 11:00am PDT Sunday Location: Negro Bar - Folsom Lake SRA - Group Site C - far end of parking lot past bathrooms - Limited # parking permits, use Talk-In and we'll meet you at the street with a permit if available, $12 State Park Fee area otherwise
You may signup here if you will be participating
During Signup you may also volunteer to bring items needed for Field Day
Link to NHRC Field Day 2018 site photos https://www.flickr.com/photos/83496362@N06/albums/72157695519374495
K6IS Field Day web page http://www.k6is.org/fieldday.html
---
Update from Glenn ARS

Posted June 5, 2018
Prez Says for June 2018
As we close in on the longest day of the year, the 21st of June we must remember to pace ourselves so as not to overdo. This month, and I believe most of you will agree with me, is becoming very busy very fast. As we head into the warmer months of the year please remember to stay hydrated and seek cooler climes if you feel you are getting over heated.
At this month's membership meeting we will be making final plans of this year's big ARRL Field Day event.
"Field Day is ham radio's open house. Every June, more than 40,000 hams throughout North America set up temporary transmitting stations in public places to demonstrate ham radio's science, skill and service to our communities and our nation. It combines public service, emergency preparedness, community outreach, and technical skills all in a single event. Field Day has been an annual event since 1933, and remains the most popular event in ham radio.
This year, many groups and participants may choose to combine 2018 Field Day with our yearlong operating event - 2018 ARRL International Grid Chase (IGC) - working stations in as many grid squares as possible and upload-ing log data to ARRL's Logbook of The World (LoTW).
For 2018 Field Day and the IGC, the standard event exchange of Field Day Class and Section is still what is sent over the air. After Field Day is where your logs can count for the IGC, but you must be sure when uploading your Field Day logs to LoTW that your TQSL Station Location includes your Grid Square - then LoTW takes care of the rest. Check out the Monthly ongoing results on the IGC Leaderboard." Quoted from the ARRL web site.
The ARRL has posted the new rules for this year's Field Day, 2018. I have downloaded a copy and will have it at our next membership meeting for all to peruse. We will be discussing this event and formalizing plans during the membership meeting. We have been granted access again this year to the Providence Christian Center site on Highway 32, just east of Orland. Tentative plans are to have the Disaster Response Trailer (DTR) there which can support up to three operator stations. The DRT now has an ICOM 7300 installed in the equipment rack and other radios may be installed in the trailer on a temporary basis.
Yes! You can bring our own rig if you wish.
Mike Ellithorpe, KF6OBI President, GARS kilofox6obi@yandex.com 530-518-3730  Newsletter
---
The Prez' Says:
GEARS annual ham radio auction was, as always, a sterling success...everybody was a winner. The photos inside (the newsletter) help to tell the story and are through the courtesy of Gene Wright-WA6ZRT.
Also, K6FAV-Kathy Favor, our Treasurer, has provided her report.
Field Day is the last full weekend of this month, June 23, 24th. We are fortunate to host this event, often referred to as "Ham's Open House Day", at the Masonic Center on East Avenue. This wonderful location allows easy access with lots of parking spaces for members as well as citizenry who may just drop in learn a little about Ham radio.
Ham stations will be set up for all to try! Last year it was quite hot and I expect this year will be quite warm also. However we are fortunate in this particular location, due to the cemented and covered "patio" area (huge) where our equipment, radios, beverage coolers, food, barbeques, fans, are nicely situated. Our only lack was turnout of members. Please try this year to at least stop by to spend some time with your fellow dedicated Hams.
Tom Rider W6JS, President GEARS rustyboyrider@aol.com Newsletter
---
Member Updates and Feedback
---
50 MHz Sporadic E Openings

submitted by Don Righello, W6PJJ, posted June 23, 2018
The late Spring Sporadic-E Openings on 6 Meters are still alive a sometimes strong, especially the past few days. 6 Meters has been open during the morning hours but, QSO chatter on the calling frequency makes it very difficult to listen for weak signals. It never ceases to amaze me, how Amateurs need to be reminded every year, year after year, that 50.125 MHz is the National SSB Calling Frequency…… NOT the National QSO frequency.
If Amateurs would abide by this protocol, more contacts could be made as the calling frequency would be available for its intended purpose.
---
Update from Keith Edwards, WB6GCL

submitted by Keith Edwards, WB6GCL, posted May 31, 2018
Keith has a vintage station, a restored Collins R-590A and a Johnson Ranger that he will put on the air. He also sent this photo at the right of a three element 40 meter Yagi that he recently built and mounted atop his tower.
"The boom is 40 feet long, the driven element is 15 feet in front of reflector. It is made from three different commercial ham radio antennas."
Keith also sends this amusing original "tongue-in-cheek" article below on a "New Vertical Antenna"...
A New HF Vertical Antenna

by Keith Edwards, WB6GCL
I have been reading about the 43' vertical and how great it is. So, I looked in the ads and saw a couple of them. The price just about put me down. $370.00 for a piece of tubing with a capacitor and inductor at the bottom - no way would I pay that for something that I could make. So, I started to make my 43' vertical with some of my improvements to it. I started with a 29' piece of 2 inch aluminum tubing which I cleaned up with steel wool. Then, to bring it to 43', I added a piece of 1/2 inch aluminum tubing - 3' 8''. I painted the outside of the 2 pieces of tubing with a non-conductive paint. This keeps the RF on the inside of the tubing. Next, I fed the coax on the inside of the 2" at the base on one side of the tubing. What this does is - the RF starts on one side and goes in a circle up the tubing like a centrifuge. As it goes up, it gains strength, like added dB. When the RF hits the top of the 2" it is squeezed down and out the inside of the 1/2" tubing. This is like water being put from the hose into a nozzle. This also adds strength to the signal. I call the 1/2" my "RF Accelerator". The braid of the coax is tied into my metal pump house. I plan on putting in ground rods around the pump house and also tie all the grounds into my water well casing. I think that my antenna has about 43 dB inside the antenna trying to get out. So far, I have worked 2 countries in Europe, New Zealand, South America, the Caribbean, Canada, and the East Coast with 400 watts QRP. If you would like to make one of these antennas, get a hold of Russ. The antenna does work well. P.S.... As you no doubt noticed the antenna leans to the West. This helps me work Japan.
(A response from Larry Murdoch, K6AAW).......
Keith asked me to come down and evaluate this monstrosity antenna he built! I was surprised to see such a sleek, trim, nice job. On paper and just by looking, it appeared to be the real thing, making even Cushcraft envious, but the results are what counts! He purports to have worked 5 stations, but 4 were all in Sutter, not world wide, and the 5th was me whistling "Dixie" in my MIC for testing!
The SWR is horrible, feeding 99% of the power back into the power lines, making the neighbor's meters run backwards. One lady told me she hadn't paid an electric bill in months! ...and he wonders why the pump house is always lit up!!
One of the things I would have changed would be to forget about the actual 43', and bring the whole thing down to resonance with a 55 gallon drum for a top hat. That would bring it down to 7 MHz in only 10 feet tall.
73, Larry, K6AAW, Chief Op.
---
John Curtis, K6KU, Inventor of the Curtis Keyer, Silent Key

Posted June 13, 2018
John G. "Jack" Curtis of Granite Bay, CA passed away on June 4, 2018 at the age of 87. As a boy Jack would discover a passion for amateur ham radio (W3NSJ/K6KU), an interest that would eventually grow from hobby to business.
In 2002, Brad Mitchell, N8YG, wrote, "Modern transceivers incorporate many features that not long ago were considered accessories: CW keyers and SWR meters come to mind. John Curtis, K6KU, created an electronic iambic-keyer circuit and subsequently offered an IC chip to do the job. He revolutionized keying, as we know it." Mitchell wrote that Curtis, when studying for his Amateur Extra ticket, "decided to get a feel for the requirements of the Extra Class test by undertaking a circuit design project. John built a keyer circuit and learned about digital electronics." This keyer worked so well that Curtis's ham friends told him he should market it. Curtis followed the advice, and in 1969, he placed an ad in Ham Radio Magazine announcing the Curtis Electronic Devices EK-38. The -38 and its follow-up, the -39, became so successful that Curtis quit his day job and formed Curtis Electro Devices.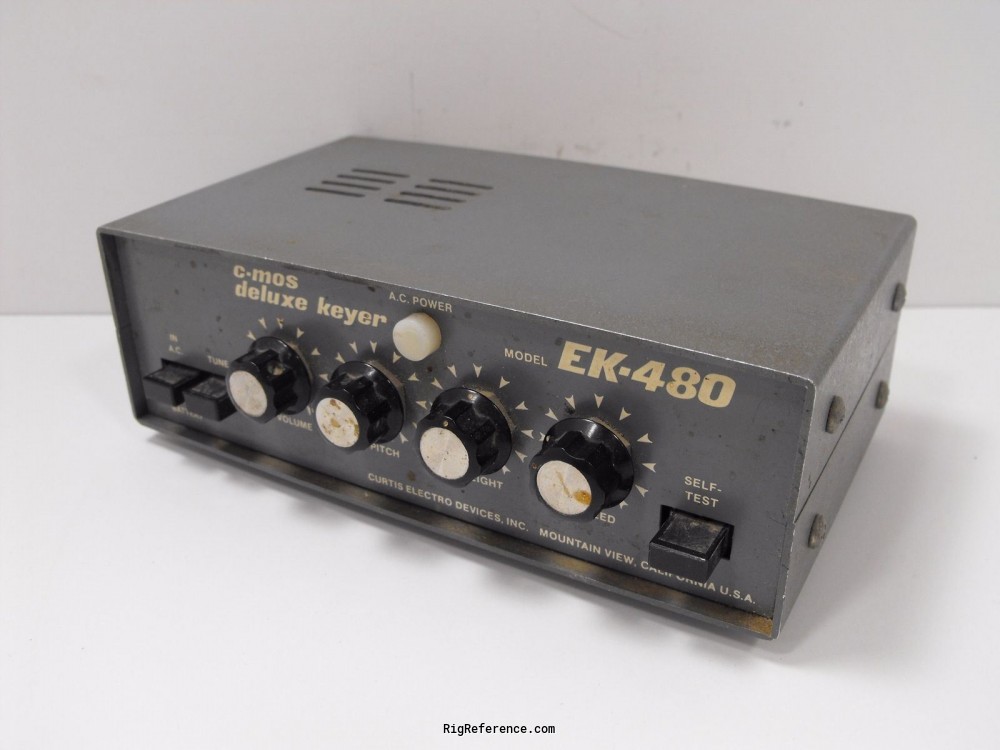 Curtis had established a lot of contacts while working at a semiconductor manufacturing company in the 1960s. These paid off for him when he decided that a keyer circuit could be implemented on a chip. He started with two designs: The 8043 and the 8044. "The 8043 was designed as a completely custom integrated circuit in CMOS," Mitchell wrote. "At the same time, International Microcircuits was looking for a chip in which to test their gate array technology. The first chip down the line was the 8044, produced for Curtis. The 8043 worked first try. It was limited to dit memory, and sold for $7.95 in quantities of 50 or more in 1973. The 8044 also worked right off the bat. It offered dah memory in addition and sold for $24.95 in 1975. The 8044M was introduced in 1980. M stood for meter. A meter could be hooked up to a pin of the 8044M to indicate sending speed."
In 1981 Curtis added mode B keying characteristics to his keyers. Mode B simply added an extra dit or dah when the operator stopped sending, depending on which was sent last. If a dit was sent last, an extra dah would be sent. If a dah were sent last, a dit followed. Curtis added this feature to his 8044B. He introduced several keyers incorporating his new full-featured ICs. The first was the EK430 incorporating the 8043 chip. Curtis also introduced a fully integrated keyboard chip called the 8045. In June 1982, Curtis Electro Devices produced its last keyer, the Lil' Bugger. Offered as the K5 or K5B, it incorporated the 8044 or the 8044B chip, respectively. Both models sold for $39.95 and were quite popular.
In spring of 1986, Curtis introduced the 8044ABM chip. It incorporated selectable A or B modes and the speed meter, becoming an industry standard. In the 1980s, however, microcontrollers were making serious headway and Curtis chips were no longer in demand. MFJ took over part of the line and Curtis Electro Devices ceased operations in April 2000.
In 2008, the Veteran Wireless Operators of America honored Jack Curtis with its Marconi Memorial Award Plaque "for his lifetime efforts of perfecting electronic circuits to generate Morse code as exemplified by the development of the Curtis Keyers."
Jack will be remembered often by Mary Ann Curtis, his wife of 37 years, his three step children: Cynthia L. Anderson, Pamela K. Hanna, Victor A. Neeley, four grandchildren and younger brother Richard E. Curtis. He was preceded in death by his parents, Elmer M. and Esther Curtis, older brother William H. Howard and beloved cat Lucky. He will be laid to rest 11:00am Thursday, June 14th, 2018 at Resthaven 500 Southwest 104th St. Oklahoma City, OK 73139. Condolences to: www.resthavenokc.com
Excerpted from the May 2, 2008 ARRL News and the June 13, 2018 Sacramento Bee
---
Update from Jim Heath, W6LG

posted May 3, 2018
At the request of the Radioaficionados de España (the Spanish version of the ARRL), Deme Pastor, EA5IPC in Valencia Spain and Jim Heath, W6LG in Grass Valley are recording a series of YouTube videos showing typical QSO's in English and Spanish. The purpose of the videos is to teach common phrases in Spanish and English.
Jim Heath's YouTube Channel is Ham Radio Basics. The Channel has about 12,000 subscribers in the last couple of years and about 750,000 views. Jim has been in Grass Valley for almost 40 years. Jim is recovering from a series of Pulmonary Embolisms and related heart damage.
---
Keep Our Digital Transmissions Legal on 60 Meters

Posted January 29, 2017
Our decreasing solar activity and residential antenna restrictions have attracted increasing numbers of radio amateurs to operate CW and weak signal digital modes on our lower HF frequencies including 60 meters. The five frequency channels that US amateur radio operators share on a secondary basis with US federal government users on 60 meters (5 MHz) pose unique requirements for CW and digital operators. As explained on http://www.arrl.org/60m-channel-allocation, US radio amateur emissions on our 60m channels must be precisely centered in the center frequency of each assigned channel, that is, 5332.0, 5348.0, 5358.5, 5373.0 or 5405.0 kHz. Thus, for example, a CW signal on channel 3 (USB Dial frequency 5357.0 kHz) must be precisely on 5358.5 kHz. The same ARRL page explains that all digital emissions must also be centered in the channel center.
This may appear unreasonable to radio amateurs because a 2.8 kHz channel can accommodate many digital and CW transmissions simultaneously, and requiring multiple stations to operate on the same exact frequency would result in mutual interference. The National Telecommunications and Information Administration (NTIA)* explains this requirement in https://ecfsapi.fcc.gov/file/7021871884.pdf which states: "Allowing multiple emissions within the necessary bandwidth of the widest authorized modes (2.8 kHz) increases the possibility of harmful interference from secondary amateur stations to primary federal stations, and would make it more difficult for a federal station to identify an interfering amateur station. In addition, NTIA is concerned about the aggregate equivalent isotropically radiated power from multiple amateur stations transmitting within a single 2.8 kHz channel. Accordingly, NTIA requests that 47 C.F.R. Section 97.303(h) continue to require that amateur stations transmit only on the five center frequencies allocated to the amateur service."  (See http://www.arrl.org/what-the-fcc-rules-say-97-303-h)
Observed Violations of US 60 Meter Frequency Regulations

JT65

This screenshot photo shows JT65 signals received on 60 meter Channel 3 (5357 kHz USB dial frequency) from 0300-0309 UTC on January 29, 2017. In the photo, the 5357 kHz dial frequency is at 0 Hz on the left side of the waterfall and the 5358.5 kHz channel center is at the 1500 Hz mark. Decodes of several US radio amateurs are seen transmitting JT65 emissions simultaneously on various frequencies throughout the channel 3 frequency range 5357-5360 kHz. This is the familiar appearance of a JT65 waterfall display on all other amateur radio bands; however, it violates the NTIA requirement that each US radio amateur transmission be centered on the 1500 Hz mark (the 5358.5 kHz channel center frequency).
ARRL Official Observer Richard Saunders, K6RBS, has posted the proper WSJT-X program settings for legal 60m JT mode operation here.

WSPR

The link http://wsprnet.org/olddb?band=60&sort=callsign&reverse=on&unique=on lists WSPR mode emissions on the 60 meter band. One can scroll down that list and see how many A, K, N and W call signs have been transmitting WSPR mode on 5288 kHz outside the authorized 60 meter center channel frequencies.  
US WSPR transmissions continue to be observed on the WSPR software default 60 meter frequency of 5288 kHz, a completely unauthorized frequency for US radio amateurs.
Each licensee has the final responsibility for the lawful operation of his or her station.  Unfortunately, the increasing automation in our radios has apparently accustomed some to falsely assume that the radio will correct for operator carelessness and ignorance of regulations.  Our cooperation with NTIA requirements is essential for our continued access to the 60m channels and for possible future access to the new ITU worldwide 60 meter allocation at 5351.5 to 5366.5 kHz. (See http://www.arrl.org/news/view/arrl-asks-fcc-to-allocate-new-5-mhz-band-retain-channels-and-current-power-limit and http://www.arrl.org/news/fcc-invites-comments-on-arrl-petition-to-allocate-new-5-mhz-band). Please be aware of these requirements if you intend to or currently operate CW or digital modes on our shared 60m allocations. The Amateur Auxiliary is documenting this matter and hopes to raise its awareness in the wider amateur radio community.
-Carol Milazzo, KP4MD
*The NTIA is the federal authority that coordinates radio spectrum use for the US military and federal government while the FCC serves in this capacity for US civilian radio spectrum users.