American Radio Relay League
The National Association for Amateur Radio
Sacramento Valley Section
Serving Alpine, Amador, Butte, Colusa, El Dorado, Glenn, Lassen, Modoc, Nevada, Placer, Plumas, Sacramento, Shasta, Sierra, Siskiyou, Sutter, Tehama, Trinity, Yolo & Yuba Counties in Northern California
Sacramento Valley Section is located in the ARRL Pacific Division.
Sacramento Valley Section Web Resources
ARRL National Page: www.arrl.org/Groups/view/sacramento-valley
Organization, Clubs, Calendar, Nets
Sacramento Valley ARES: www.sacvalleyares.org SV ARES Brochure
Facebook: www.facebook.com/ARRLSacramentoValley
Twitter: www.twitter.com/ARRL_SV
Thanks to Greg Kruckewitt KG6SJT for maintaining our Section ARES web page and for assisting with our Facebook page and Twitter feed.
Thanks to Les Cobb W6TEE for maintaining the Section Net list.
Submit Section News updates to kp4md(at)arrl.org
---
ARRL Conventions/Hamfests & other Regional Events
May 12 - Reno Ham Swap
May 18-20 - Dayton Hamvention, Xenia, OH
May 27 - Carmichael Elks ARC Swap Meet, Carmichael, CA
May - North Hills RC Hamfest (POSTPONED - To Be Announced)
June 1-3 - ARRL SEA-PAC Convention, Seaside, OR
June 2 - Northern NV Radio Swap, Minden, NV
June 23-24 - ARRL Field Day
July 20-22 - ARRL NV State Convention, Boomtown Casino, Reno, NV
September 15 - Western Placer ARC Hamfest, Lincoln, CA
October 13 - ARRL Booth at Rocklin Maker Faire
October 19-21 - ARRL Pacificon Division Convention, San Ramon, CA
---
Past Section News Archive
---
Amateur Radio License Classes and Volunteer Exam (VE) Information and Schedules
Class and VE Session Calendar
---
Getting Your Amateur Radio License
A license is required to operate an amateur radio station. Amateur Radio Licenses in the United States are granted by the Federal Communications Commission (FCC) after passing an exam at a Volunteer Exam (VE) session.  
The FCC currently issues three classes of amateur radio license: Technician, General and Amateur Extra.
The license exam contains multiple choice questions selected from lists that are published online at http://www.arrl.org/question-pools. Many individuals prepare for an exam session using self-study license manuals and online practice exams. From time to time, license preparation courses are offered that cover the exam material over several weeks. "Ham-Cram" sessions are also popular, where a several hours' review class of exam questions and answers is immediately followed by a license exam session.
Visit http://www.arrl.org/find-an-amateur-radio-license-class to find a license class.
Visit http://www.arrl.org/find-an-amateur-radio-license-exam-session to find a license exam session.
For more information on testing, preparation and study materials, see:
---
Samuel F Morse ARC to offer Morse Code Instructional Course April 4-June 6
Posted February 4, 2018
The Samuel F Morse ARC will once again be running our 10-week CW for beginner's course. This course will be held once a week for 2 hours (7 PM until 9 PM) each Wednesday evening in Carmichael. If you or someone you know are interested in learning Morse Code we encourage you to sign up NOW. You do NOT need to be a licensed operator to join our class. We will begin Wednesday evening April 4th (ending June 6th).

Everyone can benefit from this course! For those with no Morse Code knowledge this is an excellent course where you or your friends will be taught the complete International Morse Code alphabet, numbers, pro-signs, how to adjust and send on a Morse Code straight. Please contact Mike, N6MQL for more information: admin@w6sfm.com
---
Citrus Heights 2018 Ham-Cram Sessions
Posted December 4, 2017
Section member Joe Cardoza, KA6ROM, announces that his Citrus Heights VE Team will conduct their amateur radio Ham-Cram Technician License training and examinations on the fourth Saturday every other month at starting at 8:45 am at the LDS Church, at 7950 Hazel Ave, Orangevale, CA. This is the intersection of Hazel and Cherry Ave.
The Ham-Cram and Exam dates for 2018 are:

January 27, 
March 24, 
May 26, 
July 28, 
September 22, and 
November 17.
Contact Joe Cardoza, KA6ROM, 916-725-6443 or cardozas@comcast.net to register.
---
California Emergency Volunteers Ham-Cram Sessions
Posted December 4, 2017
The California Emergency Volunteers, Inc. offers 6 hour long "Get Your License in One Day" Ham-Cram sessions followed by a Technician Class license exam session. These sessions are held on monthly on a Saturday alternating between Stockton and Manteca, CA. Visit http://www.hamcram.org/ for more information and to register.
---
Folsom ARRL Volunteer Exam 2018 Schedule
Posted December 4, 2017
Folsom ARRL VEC exams are held at 6 pm the third Thursday of each month except July, August and December.
Here is our updated exam scheduled for 2018:
January 18

February 15

March 15

April 19

May 17

June 21

July NO EXAM

August 16
September 20
October 18
November 15
December NO EXAM
All exams start at 6:00 pm.

Round Table Pizza (Small private room by the front door), 2793 E Bidwell St, Suite 100, Folsom, CA 95630
For information see http://ns6q.net/exams or contact Mike Kirkland, NS6Q at radio.ns6q@gmail.com.
73, Mike, NS6Q
---
Redding ARRL VE Schedule 2018
Posted December 1, 2017
The Redding ARRL VE Team will be hosting exams on the following Saturdays in 2018:
January 20
March 17
May 19
July 21
September 15
November 17
Our exam sessions are now being held at the Shasta County Office of Emergency Services at 2486 Progress Drive in Redding. Exams start at 10:00 AM and candidates are encouraged to pre-register.

More information can be found at: www.reddingve.com or by contacting Steve K6KS at sjmosconi@gmail.com
---
SHINGLETOWN ARRL VE 2018 Schedule
Test Location:
Open Door Community Church, 33883 HWY 44, SHINGLETOWN, CA. 96088
Testing begins at 10:00 AM.
Candidates should arrive 15 to 30 minutes early. We accept walk ins.
Contact:
Dar Walker W6IO, Shingletown ARRL VE Liaison, w6iodar@gmail.com, 530-474-3087
TEST SCHEDULE:
2018: Feb 17, Apr 14, Jun 16, Aug 18, Oct 20, Dec 8
Dar Walker W6IO
---
Other VE Sessions - Schedule List (ARRL national site)

---
Amateur Radio Parity Act of 2017 - HR 555 - S1534
LATEST NEWS: The Amateur Radio Parity Act of 2017 was introduced in the US Senate on July 12, marking another step forward for this landmark legislation. Senators Roger Wicker (R-MS) and Richard Blumenthal (D-CT) are the Senate sponsors. The measure will, for the first time, guarantee all radio amateurs living in deed-restricted communities governed by a homeowner's association (HOA) or subject to any private land use regulations, the right to erect and maintain effective outdoor antennas at their homes. The Senate bill, S. 1534, is identical to H.R. 555, which passed the US House of Representatives in January. Read more here.
The Amateur Radio Parity Act
---
50 W PEP Maximum Power Limit Area on 70 cm
A little recognized portion of FCC Part 97 regulations applies to 420-450 MHz operations in most counties in our Sacramento Valley section:
47 CFR §97.313 (f) No station may transmit with a transmitter power exceeding 50 W PEP on the UHF 70 cm band from an area specified in footnote US270 to §2.106 of part 2. The indicated affected areas are specified in http://www.arrl.org/us270, in the State of California within a 240-kilometer (150 mile) radius around locations at Beale Air Force Base, California (latitude 39°08' North, longitude 121°26' West).
More information on the additional impact on 70 cm repeater stations is at http://www.narcc.org/NARCC-ARRL-PAVE-PAWS-Update-2014a.pdf
The Amateur Radio Service shares the 70 cm band on a secondary basis with the US Government which has priority. The US Department of Defense routinely monitors and locates signal sources on these frequencies.  Our voluntary cooperation is mandatory to avoid interference with the Pave PAWS (Phased Array Warning System) radar at Beale AFB and thus to assure our continued access to these frequencies.
May 2018 News
From the Section Manager
Here are the latest news and happening from clubs and members around our section.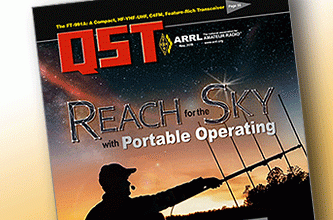 The Carmichael Elks Amateur Radio Club will host a Ham Radio Swap Meet on Sunday May 27 starting at 7:00 am. at the Carmichael Elks Lodge, 5631 Cypress Ave, Carmichael, CA 95608.
For complete information go to https://sacramento.craigslist.org/ele/6595531886.html
Congratulations to the Hi-Landers 4 Wheel Drive Club in Orangevale who now have 41 licensed radio amateurs in their club!
ARRL Field Day is June 23-24!
ARRL Field Day is an annual exercise and public demonstration of our emergency communications response capabilities. Radio amateurs throughout North America participate in this exercise during the last weekend of each June. Anyone with or without an FCC license is welcome to visit and participate in Amateur Radio at a Field Day site.  Click to find a public ARRL Field Day site in your area.
Clubs: Be sure to add your public Field Day site to the ARRL Field Day Station Locator. Log onto http://www.arrl.org/field-day and click on the Field Day Site Locator link. Promote your Field Day event in your community, online, and use hashtag #ARRLFD on social media.
Our website, Facebook and Twitter pages are a work in progress, and your suggestions and submissions are always welcome.
This website is visited most during the first week of each month, but do check back as it is often updated with late breaking news.
73, Dr. Carol Milazzo, KP4MD
American Radio Relay League Sacramento Valley Section Manager
kp4md(at)arrl.org
You can always send compliments, suggestions and submissions for inclusion in our Section News to kp4md(at)arrl.org
---
ARRL Section-Wide Net Report Thursday April 19
The ARRL SV Section-wide nets were held on Thursday, April 19. Andy Boone KJ6IYM opened the VHF net on the WD6AXM 146.085 MHz FM repeater at 7:20 pm PDT after the Yuba-Sutter ARES net signed off.
Here is the VHF net check-in list: AG6IP, AI6LZ, AJ6AR, K6DTH, K6HOM, K6MCS, KB7QWC, KD6LOK, KD6SX, KF6VFP, KG6SJT, KG6VZD, KI6IJI, KJ6PKQ, KK6SOZ, KM6MPV, KM6RIW, KO6HS, KT6KPA, and N6TBC.
In contrast to the propagation blackouts that we experienced in January and February, both 60 and 75 meters supported HF nets. At 7:39 pm, ARRL SV Section Manager Carol Milazzo, KP4MD, called the SV Section HF net on 5330.5 kHz USB where the check ins were: AF6PO, AI6LZ, K6HOM, KD6SX, KO6HS and W6GGI (from Santa Barbara). Afterwards, on 3880 kHz LSB we also checked in N5BMU and N7JIL from Modoc County who reported having heard us very faintly on 60 meters, and AJ6AR and K6GCN from El Dorado County.
All Sacramento Valley Section radio amateurs are welcome to check into our Section Nets. The nets carry announcements of interest to our section and test our section-wide station communication capabilities.
There is no ARRL SV Section Net scheduled for May.
ARRL Sacramento Valley Section Nets are conducted only on the third Thursday of the month when announced, following the 7 pm Pacific Time Yuba-Sutter ARES net on the WD6AXM 146.085 MHz FM repeater, followed by the HF Section Net on 3880 kHz LSB +/- 3 kHz. During spring and summer months the HF net may be conducted on 5330.5 kHz USB as propagation permits.
Don't have an antenna or HF radio?  Click a link
and Listen to our HF net on a web receiver.
Hourly Northern California NVIS Observations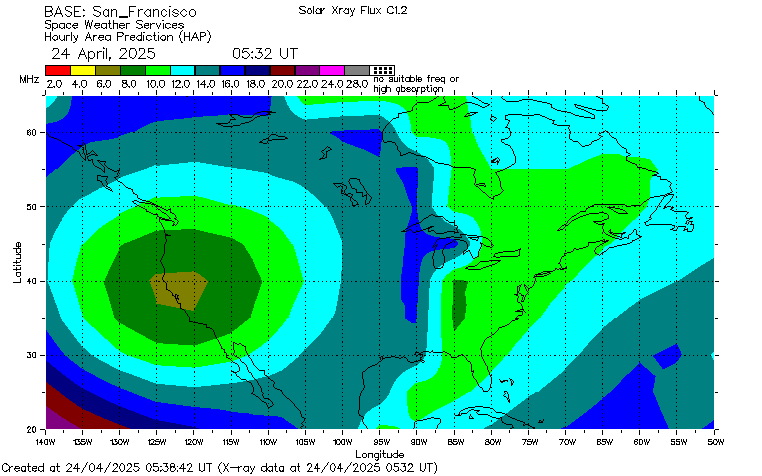 This chart shows colors that represent the recommended HF frequencies for contacting stations for a particular hour. Both stations should use the SAME frequency denoted by the color at the location of the target station. The chart is in Universal Time (UTC). More information at http://www.sws.bom.gov.au/HF_Systems/6/6
---
From Section Affiliated Club Coordinator, Max Soucia, N1KGS

Posted March 11
Hi Sac Valley Hams. I'm the newly appointed section Affiliated Club Coordinator. I've been a ham for 28 years or there about. I relocated from northern Maine in 2009 after I retired where I was Section Emergency Coordinator and I helped write and develop the original EC 101 course. I was an online mentor for EmComm for several years. I'm a big cheerleader for Amateur Radio's ability to assist in emergencies when nothing else works. As such I'm a proponent of ARRL affiliation for the support we can give it in return for the technical and particularly legislative support they provide. In the present atmosphere of monetizing all aspects of society we will be feeling more and more pressure to privatize the EM spectrum including our slivers of it. Witness the development and expansion of 5G services. Protection and expansion of our spectrum is where we as individual hams can benefit from League activity as we support them with sheer numbers through membership and club affiliation.
I'll be contacting each ARRL affiliated club in the Sacramento Valley Section over the coming weeks to update your club information and to help bring your League affiliation up to date if needed. I also want to visit each club over the coming months for an eyeball QSO. There is much of Northern California I have not seen and I'm looking forward to the travel. In the meantime, if you want assistance in utilizing the benefits of affiliation such as club insurance, or updating your Special Service Club status or have questions about any of these issues or just want to rag chew my cell number is (916) 607 6524 and my email is N1KGS@arrl.net.
73 de Max Soucia, N1KGS, Affiliated Club Coordinator, Sacramento Valley Section, ARRL
---
W6SFM's BUG ROUNDUP - May 18-20
The Samuel F. Morse Amateur Radio Club, a Sacramento, California based CW enthusiast club wanted a special time to bring bug operators together on the air. In the same spirit as ARRL's Straight Key Night, participants are encouraged to make simple, conversational, "chewing-the-fat" QSOs using their bug type key. This is an opportunity to exercise, share and exhibit your personalized fist. This is NOT a contest. However, there is a very easy and quick required signup form found at https://w6sfm.com/bug-roundup/. Once you are registered for the event simply Call "CQ BR" so folks know you are a Bug Roundup Participant. So lets grab that bug, clean those contacts, and let'er fly! We want to hear that "Banana Boat / Lake Erie Swing" or that commercial KPH/WCC quality fist.
Reserve the date! The event begins on Friday May 18th (00:00 UTC) and concludes Sunday May 20th (23:59 UTC), 2018, that's 5:00 PM Friday evening until 4:59 PM Pacific Time (LOCAL)
For more information, to register your station, and to help assist in spotting, potentially increasing QSOs, an On-line chat window link can be found near the bottom of Bug Roundup home page located at https://w6sfm.com/bug-roundup/. We hope to hear you all on the air! 73,--W6SFM www.w6sfm.com
---
Amateur Radio Youth Outreach at March 3 STEM Expo in Rocklin

Posted March 11
STEM Expo 2018 was a Hit!
The Placer County STEM Expo was a blast this year thanks to the support of Sacramento Valley Section hams. A cadre of dedicated Hams came out on Saturday, March 3rd, to the William Jessup University in Rocklin California to setup two stations and show-off the exciting world of ham radio to the youth in our community.
Section Club support was outstanding. We had members from Western Placer ARC, River City ARCS, Samuel F Morse ARC, and the Sierra Foothills ARC there to get youngsters on the air. A special thank you to Jerry, N6JKH, and Art, KK6NFM, from the WPARC for bringing out the radios and antennas. The HF station was fed by a Buddistick and had to radios attached: an IC-7300 for SSB, and a FT-857D go box for digital. The VHF station was connected to a 2m copper pipe J Pole and had a FT-8800 go box station attached and tuned to the K6PAC and W6EK repeaters. Thank you to all the operators out there hanging around their rigs waiting for us to call. You welcoming voices put smiles on their faces.
Bob, N6PGQ, was a hit with our future coders. He brought two code oscillators and worked with the kids to practice sending their names in CW.
Ken, KE6RMN, Dave, WB6YLK, Marie, Tim, KD6MDV, Carl, WF6J, and Brian, AI6US, worked with the kids and answered folks questions about amateur radio. Most had no idea that amateur radio was a thing nor the importance it has played in the recent disasters. Thank you all for coming out to promote Ham radio and sharing our wonderful hobby to the youth in our Section.
73, Orion Endres, AI6JB, Section Youth Coordinator
Photo: Orion Endres, AI6JB coaches a young STEM Expo attendee on repeater operation.  by Carol KP4MD
---
---
CalOES Visits Placer County ARES

Posted May 3, 2018
On April 28th Placer County ARES held a face to face meeting, with 21 members and guests. The guest speaker was Ben Green WD8CZP Assistant Chief Tactical Communications CaOES. Ben spoke about the role of CalOES in large disasters and events, and the role of volunteers including HAMS in these activities.
Submission and photos by Carl First, N6CKV, Placer County ARES Emergency Coordinator
| | | |
| --- | --- | --- |
| The Placer County ARES group | Ben Green WD8CZP | Ben Green's work SUV |
---
Online Emergency Communication Course EC-001 on Hold

Posted May 5, 2018
ARRL has been informed that the Connecticut Distance Learning Consortium (CTDLC), the provider of the online platform though which ARRL offers its EC-001 course, is being dissolved, effective July 1, 2018. That decision was announced today by Charter Oak State College, the parent organization of CTDLC. CTDLC officials cited the fiscal challenges faced by the Connecticut State College and University System and the State of Connecticut as a whole for the decision to close the CTDLC platform.
ARRL is working on steps to address the dislocation that this decision will cause our members and others who planned to take this course. While we look at moving our course content to a new delivery mechanism, new registrations for EC-001 will be suspended effective immediately. Those who signed up for the EC-001 session starting on May 30 will receive a refund.
ARRL had already been in the process of developing new content for the EC-001 course, and now we will intensify the process of selecting a new platform on which to post this material.
More information on the new course content and new host site for the EC-001 course will be available in the near future as soon as a decision is made on an alternative delivery mechanism.
---
ARES Group Registration for ARES Connect

Posted January 19, 2018
All Section ARES groups should contact their Emergency Coordinators now to provide their current ARES group information for registration in the new ARES Connect system.  Your Emergency Coordinator is responsible for registering ARES groups in your respective area.
Additional information on changes to the ARES program will be emailed to SMs and SECs soon. Beta testing of ARES Connect will begin shortly and once completed additional information will be sent out.
ARRL Public Service Enhancement Working Group, Dale Williams, WA8EFK, Chairman
---
May 12 - Sacramento County ARES Training

Posted May 3, 2018
The next Sacramento County ARES training and meeting is scheduled for Saturday May 12, 2018 from 9:00 am to 12:00 noon at the Sacramento Sheriff's Central Division, 7000 65th Street, Sacramento, CA 95823.
Vince Cracchiolo KI6NHP is the Sacramento County EC.
For more information, visit the Sacramento County ARES web site at www.saccountyares.org
---
California Office of Emergency Services' New Video Extols Amateur Radio

Posted February 8, 2018
Recent disasters in the United States and around the world have resulted in lost communications. Whether hurricanes, tsunamis, earthquakes, volcanic eruptions or terror attacks response to a disaster is made more difficult without effective communications. California Office of Emergency Services (OES) has at least one answer to that in California - HAMS.
2018 Disaster Volunteer Program of the Year: Auxiliary Communication Service Amateur Radio Volunteers

Posted April 13, 2018
Video from CalOES: California Volunteers - What Amateur Radio did for the fires last fall. Jim Price KO6GM and Lee Rominger W6LFR are recognized for their service- Thank you!
Greg Kruckewitt, KG6SJT, ARRL Sacramento Valley Section, Section Emergency Coordinator
---
Volunteer Operators Needed for June 23-24 Western States Endurance Run

Posted February 3, 2018
Joe Steinmetz, K6SAT, is the HAM radio coordinator for Western States 100 mile Endurance run, sponsored by WSER, a 501(c)3 non-profit organization. Joe is looking for radio operator volunteers for June 23 and 24th this year. More information about the race is available here: https://www.wser.org/ Radio Volunteer Information are available here: https://www.wser.org/volunteering/communication/ There is a sign-up form link in the above URL location, or interested amateur radio operators may contact Joe directly via email at k6sat@arrl.org or radio@wser.org
Joe Steinmetz, K6SAT, WSER HAM Radio Coordinator
---
From Norm Lucas, WB6RVR (SK),
Section Official Observer Coordinator

Posted January 11, 2016
Do you have what it takes to be an ARRL "Official Observer?"
Update May 4, 2018 - In the light of unanticipated delays in the approval and implementation of revisions to the Official Observer program, ARRL HQ will resume accepting a limited number of Official Observer appointments under the current rules and standards. Any new OO appointments are being made with the understanding that a new program is coming, with new requirements and new standards for OOs.
Reference: ARRL Executive Committee April 21 Meeting Minutes Item 16.
Update April 6, 2017 - The ARRL and the FCC are currently working together to update and to make changes to the Official Observer/Amateur Auxiliary program. Because of these expected upcoming updates and changes, ARRL has placed a temporary hold on applications for new Official Observers and Official Observer Coordinators at this time.  Read more here.
The Official Observer (OO) program has been sponsored by the ARRL for more than 85 years to help Amateur Radio operators assist each other to operate their stations in compliance with Federal Communications Commission (FCC) regulations.
Official Observer appointees have assisted thousands of Amateur Radio operators to maintain their transmitting equipment and comply with operating procedures and regulations. The object of the OO program is to notify amateurs of operating and technical irregularities before they come to the attention of the FCC and to recognize good operating practices.
The OO program serves as the first line of "eyes and ears" for the FCC. It is the backbone of the Amateur Auxiliary. OOs are certified in the Auxiliary by passing a mandatory written examination.
---
Pot grow lights interfere with Ham Radio

Submitted by Rene Smythe, WB6PSY, posted March 4, 2017
I have experienced this interference for the past few years. I found the interference by swinging my 10m Yagi monobander around until the noise became over S9. I then went outside to see where the beam was physically pointed and discovered a garage where indoor pot is being grown. The lights are on a time cycle so the interference comes and goes. 40º degrees in either direction takes the noise out.
Now that marijuana is being legalized in more states, more hams are going to experience this noise.
WB6PSY
http://bigstory.ap.org/article/c1b607bfbbab459ba9e21d4c282996e4/growing-problem-pot-lights-give-ham-radio-operators-buzz
---
Radio Frequency Interference

posted February 3, 2018
ARRL and the FCC have a cooperative agreement in radio frequency interference matters. You may submit interference reports together with your supporting documentation to ARRL EMC Engineer Mike Gruber W1MG who then files the report with the FCC Gettysburg office.
You may also contact our Section Technical Coordinator Bob Wortman, WB6VYH, or our Section Official Observer Coordinator Bob Hess, W1RH, for assistance. More information is posted under the "From the Section Manager" notes in the November 2016 Section News - Carol KP4MD
Our Official Observer Coordinator Bob Hess, W1RH, shares this helpful web page by NK7Z for identifying sources of Radio Frequency Interference http://www.nk7z.net/rfi-snapshots 
---
Club and Member News - May 2018
---
Update from River City ARCS

Posted May 5, 2018
PRESIDENTS MESSAGE
We had a great turnout for our Elmer night and several of the attenuator kits were in used for the fox hunt at the picnic which had a good turn out and great food. In May we will have Mike Aretsky, N6MQL, of RigExpertUSA will demonstrate the RigExpert Antenna Analyzer which should be good as Antenna Analyzers have become very sophisticated in the last few years
The 18 and 19 of May is The Farm and Tractor Days at the Dry Creek Ranch House, 6852 Dry Creek Rd, Rio Linda, CA. 95673. Where we have done this before we have had quite a bit of interest shown in our demonstrations.
Field Day is coming and we are going to do it a little differently this year. We will be treating it more like a real emergency and just set up what we bring. WE do NEED People to sign up though.
August is our show and tell of our mobile, portable and Go kits. We have had some very ingenious setups of bicycle mobile, walking mobile and very fancy setups in cars. So get your installations cleaned up and ready to show.
September we are having our homebrew night again. Last year we had some great demos. We will be giving out cash prizes again this year $50 for first place, $25 for second and $25 for an entry-level member. This is for club members only.
So we have an interesting month ahead with plenty to do.
Dave Martin WB6YLK, President Newsletter
---
Field Day - Gary, KC3PO and the Committee are hard at work planning out the logistics for our Field Day in Nyack, CA. See the ARRL Location webpage for detailed map.
Events - MS Walk in Folsom - Mike, KK6GLP coordinated the efforts to support the race. Photos forthcoming on week.org. Next events: Georgetown Enduro, Cyctic Fibrosis Bike Ride, and SFARC will be well represented on The Tevis Cup. Thanks to all the WS100 support.
Meetings - Monthly Members second Friday Monthly at Auburn City Hall, Rose Room. Everyone welcome. Breakfast last Saturday Monthly at Mel's off 49 in Auburn.
Nets - Thursday night at 7:30 on the W6EK repeater system is the weekly club net. Every 1st and 3rd Wednesday is the Elmer Net. Please join us.
Groups.io - Dennis, WU6X has converted us from the Yahoo Group to the Group.io. This allows a good forum for events, notices, files and database. There are now 105 members.
VE Exams - Every 1st Saturday each month at Raley's Granite Bay. Starts at 8am. Walk ins welcome. Contact is Al, NI2U at vechair2015@w6ek.org.
As with any SFARC net or meeting, we love visitors, so come on down and join the membership check out our website at: w6ek.org
Carl, WF6J, PIO Sacramento, CA
Newsletter at: http://www.w6ek.org/newsletters/Sierra_Signals_05_18.pdf
VE Report May 2018
Thanks again for all the VE's that were able to come to the session. We had a very successful session again. We administered 12 elements to 7 candidates. 7 earned a new or upgraded license. We have 6 new Technicians and 1 Extra. Thanks, Al NI2U
May 5 - Sierra Foothills ARC provided communication support at the CERA Enduro in Georgetown, CA.

Photos from the May 11 Sierra Foothills ARC meeting program - the Placer County Rescue Communications vehicle.
 Ron Webb, WE6BB gave a talk, then a walk through to see the van in operation. Photos by Mike Perry KK6GLP
---
Nevada County Amateur Radio Club members hold impromptu meetings at the Omega Rest Area on highway 20. Elevation is around 5000 ft and the views are tremendous. Our activity always draws the interest of motorists coming through the rest stop.
73, Cal McKitrick AI6MC, NCARC President 2018 Newsletter Facebook Group
Next Meeting: Monday May 14, 2018 doors open 6:30pm, meeting at 7pm
Speaker for May is Jason, KJ6HNP, Nevada Co. ARES coordinator on go boxes, packet and global email for hams.​
Big Brothers/Sisters ​Gourmet Gravel Bike Ride is May 12th​
Rotary Club Race is May 19th​
K6SMA, SK
Former State Senator Sam Aanested passed away at 71 on May 7th, 2018. Sam was a physician and surgeon who served in both the California Assembly and Senate, representing the local area.
COFFEE CHAT (Ham n' Coffee)
Thursdays, 8 am at Valentina's Bistro, 841 Sutton Way, Grass Valley
---
Update from Paradise ARS

Posted May 8, 2018
Special Event Station from Gold Nugget Days April 27-28
The Paradise Amateur Radio Society participated in the 60th Gold Nugget Days on April 30th & 31st. This was our first public event for PARS and we had many people stop by and they were interested in what all the radio equipment and what ham radio was all about. It was a cold day event and we made a few HF & VHF contacts. We even had a six year old girl try her hand at Amateur Radio.
The next event PARS will be participating will be the Butte County Fair on June 2nd.
Story and photos by Stephen, W6AKF, PIO Paradise Amateur Radio Society
---
Update from Mount Shasta ARC

Posted April 2, 2018
It has been a very busy time for the Mt. Shasta Amateur Radio Club. The new slate of officers has been elected (all seated officers had their terms extended by a year), the public events for the upcoming year have been added to the calendar, and the website has been completely revamped.
New member Brannan (KM6PKK) has stepped up to help the public relations team with rebuilding the club website (www.w6bml.com) and we think the results are simply amazing! As a result, folks can add the club calendar to their own calendars and never miss a date, register for testing, and see what events we have planned. Please check it out and send him congratulations for his hard work.
Beginning in January 2018, the club began teaching a technician level licensing course at Sisson Elementary School in Mt. Shasta, CA. The class began with 18 students and has been winnowed down to 9 students who are very serious about amateur radio. There will be open operating hours for these fine kids on 4/2/18 and 4/4/18 starting at 1700 PDT on 7.275 and 14.340, please help them make their first contacts and keep them excited about getting their licenses. It would appear that the school has fully bought into the program as well, and we have been invited back for a longer class in the next school year, as well as a simultaneous upgrade class to move our successful students to general class operators. 
Photo: Mark Dibelka, AB6LI, teaching 7th grade.
Due to a lack of emergency communications in general and an obvious need for severe weather spotters in south Siskiyou County, Mike (KX6MMM) is helping to organize a Skywarn Spotter class at the clubhouse and a weekly Skywarn net. Should any active spotters have suggestions on how to make the program successful, please contact Mike and share some thoughts.
With several public service events coming up, please consider taking a day and helping your fellow hams in the north after checking out the "Events" page on our website.
73 until next contact!
Submitted by Mark Dibelka, AB2LI
---
The SFM ARC will host its W6SFM "CQ BR" Bug Roundup event on Friday, May 18, 5:00 PM to Sunday, May 20, 5:00 PM Pacific Daylight Time (Local). The bug roundup event is held twice annually to celebrate the Bug key. Participants from all around the world come together in the same sprit as in the ARRL SKN (straight key night) event to have casual conversations with each other using their Bug style keys. If you are someone you know is interested in joining our on-air event please read more about it at https://w6sfm.com/bug-roundup/
The W6SFM Samuel F Morse Radio Club April meeting was called to order by club President Mike, N6MQL on April 5th at the Carmichael Presbyterian Church in Carmichael CA, with 13 members and no guests in attendance.
This month the club began to see the effects of its old computer system with new drop outs and crashing problems. Despite this happening we did have 2 complete On-air broadcasts for our net meetings. We also enjoyed a full uninterrupted broadcast of the April In-person club meeting. The church announced a new Mesh Network for better internet. Unfortunately, Mike N6MQL didn't have the new password for it, but was able to broadcast over his cellular telephone connection for the entire 1 hour and 45-minute meeting. One of the weekly on-air meets was skipped due to our control operator having to make the CW Class announcement at the N6NA meeting.
All On-air CW meetings are broadcast in their entirety and also posted to our W6SFM.COM website. Those videos along with Club in-person meetings can be found under the "Videos" page. Feel free to use our on-air net recordings archived for CW Practice, or just review when you are unable to view LIVE while the club is on-the-air. Please note that there may be a delay starting the live videos as it takes the YouTube server up to 2 minutes to begin the live transmission. This is done to accommodate any lag in the transmission video due to internet speeds.
Discussed was the need for a new computer for broadcasting the W6SFM live streaming of in-person and on-air meetings. It seems that the new OBS software used to do the YouTube broadcasting has exceeded the CPU and memory limit of the old computer. A will of members will look into the costs of either upgrading the current system or to replace it with a new one. A request for volunteers to help with the annual Kid's Day in the Park event to be held April 28. Other news and items of general interest were discussed by the members.
Each Year in honor of April Fool's day the W6SFM presents its annual Bogus Story Contest. This contest is geared around finding the most entertaining "bogus story". The story should be some stretch of the truth about the member telling it, or just something completely made up. The only important thing is, it should be Ham Radio related, and Entertaining to all. Out of the 5 participants, this years' esteemed winner was Chris, AI6U with his story, "DB SPRAY". This year we were treated to something different as Husband and Wife team Bill, KK6YCO and Katy, KK6YCP read their bogus story as a duo. Other participants included John, WB6UBK, and Mike, N6MQL
Before the event began we were treated to a reading of the new W6SFM Bogus Story Contest user's manual by last year's winner Carol, KP4MD. This is a manual that will be handed down to the winner of each year's event. To see excerpts of the new manual, and to read Chris's, and other past winners' stories, please visit the Bogus Story Contest web page located on the W6SFM website under the "Club Activities" tab at the top of the page.
The new W6SFM CW Beginners Class began April 4th for 10 consecutive weeks with 13 students signed up and 1 walk-in.
At our May meeting, we will be discussing ARRL news and events. We will also have a presentation on the benefits and technology of the New Zoom series of RigExpert Antenna Analyzers. As always, we will have our Tech (show and tell) portion. Members and visitors are asked to share their Ham Radio related items they find of interest. Attend our In- Person meetings with items that you've purchased or were given to you that you would like to share with others in the group. Visitors are always welcome to join us at our meetings.
On-Air Net Meeting
Each Tuesday of the week 8:00 PM on 3.545 MHz the SFM ARC enjoys getting on the air with CW for our weekly Nets. You do NOT need to be a member of the SFM ARC to check into our nets and we encourage you to invite a friend to join us as well. Although our nets usually run around 13 wpm code, we are all happy to accommodate those that are slower and need us to oblige. If you are unable to copy Morse Code or need some code practice, please feel free to visit our on-line LIVE streaming broadcast of both the Audio and a CW to Text decoding of the meeting. The "LIVE FEED" link can be found on our home page of our website. With our YouTube Live streaming system, you can watch the Live Feed on your Apple IOS or Android devices. You do not need to have a YouTube account to access the feed. However, you will to subscribe to our channel. Those visiting & viewing can chat with others watching on-line as well. This of course is not mandatory, but rather just a way of making everyone feel more involved in our on-air nets. If you like, you can "check-in" using the chat window and you will be included with our On-Air Net log. Simply announce your call letters in the chat window.
Tell A Friend Do you know someone in need of a Ham Club to call home? Perhaps someone that wants to learn Morse Code, are interested in CW or already knows and uses it? The SFM ARC would love to be their new Club home. Our in-person meetings are held each 1st Thursday of the month at 7PM. Please use the rear parking lot and entry for best access to the meeting. A map and directions can also be found on our website. We hope to see you at our next meeting!
Thank you. ---- Chris AI6U (SFM ARC Secretary) Newsletter
---
Greetings from the Western Placer Amateur Radio Club:
Our Next Club Meeting is Saturday, May 17, 2018. 7:00 PM
Location: Round Table Pizza, 1020 Pleasant Grove Blvd #170, Roseville, CA
Scheduled Speaker and Topic: To Be Determined
Tour de Lincoln Volunteers Needed - Saturday May 12
Tour de Lincoln is a premiere bicycling event starting from McBean Park in Lincoln. Multiple courses are laid out into the foothills surrounding Lincoln. Cyclists come from all over to ride the event. A new director and organization is taking the reins this year. WPARC is looking for a few of our seasoned pros and apprentice pros to volunteer as radio operators at aid stations or in your vehicle as a SAG wagon patrolling a portion of the course. If you'd like to try hamming at an event but don't want to solo just yet then ask to be paired up with someone to experience the fun. Email Roger K6OU to express interest.
Regular Club Meeting Location: WPARC conducts board and member meetings on third Tuesdays of each month. Members and guests with business to bring before the board are welcome to attend board meetings. Join us at Round Table Pizza, 1020 Pleasant Grove Blvd #170, Roseville. This location faces Roseville Parkway at the northeast corner of the complex. View map and directions in link above. Come out to enjoy some camaraderie, food, beverage, and tales of the radios! Round Table offers a pizza and salad bar buffet dinner on Tuesday evenings for about $10/person.
WPARC Repeater New Tone 67.0 Hz. Our old subaudible tone of 179.9 Hz was becoming audible on newer radios presenting a hum. On Friday October 27 a team treked up to the repeater to change the tone from 179.9 Hz to 67.0 Hz. Ensure that you change all of your radios to use the new PL tone. The old tone won't be recognized by the repeater.
WPARC Repeater Abuses. Repeater Trustee Michael K6BUK received comments on a few repeater users abusing repeater etiquette. Please review Ethics and Operating Procedure for the Radio Amateur as a refresher.
Ham Radio License/Volunteer Examiner (VE) Tests. WPARC offers Ham Radio License testing on the first Wednesday of each month at 6:00 pm at the Round Table Pizza, 1020 Pleasant Grove Blvd #170, Roseville CA.  For more information please email Chuck at: kk6doa (at) gmail (dot) com.
Club T-Shirts. Club T-shirts have been a huge hit, and club members wanted more! Our vendor will soon have a web site offering more colors and shirt options. New orders are suspended until the new web site is available.
K6PAC Repeater Yaesu DR-2x Upgrades Completed. Upgrades to new Yaesu DR-2X are completed. A new FVS-2 Voice Module will add new features to leave messages, record and review your transmission, along with announcements. Stay tuned for more details.
The club website, http://wparc.us/index.html, has a new look and new information. Jey KQ6DK is now club web master and is updating the the site on a regular basis. Thanks to Jey for all his work on the website.
Don't forget about our WPARC Facebook page. It is at: https://www.facebook.com/WPARC
Want more? We now have a Twitter account! Just search for @k6pac (the club repeater call sign with the "@" symbol). We are following the ARRL, the ARRL Sacramento Valley Section, Kenwood, and Yaesu and a few others. If you think of someone we should follow, please email me. I know there are a few local clubs with Twitter accounts and I will add them.
73, Michael Buck. K6BUK
WPARC on Facebook and Twitter
Check us out on Facebook and Follow us on Twitter (@k6pac)
---
FROM THE PRESIDENT
Greetings, we will attempt to have a meeting this month. It looks like we may have to deal with some weather again during the meeting but now it looks the snow level will be above Placerville. There is a chance of thunderstorms on Thursday and you never know what they could drop.
The weather was the reason we had to cancel the meeting for February. The Federated Church where we hold our meetings as you know sits on the top of a hill in Placerville. We didn't feel it would be safe for most us to make the drive to the meeting and then back home again with the low snow. To inform every one of the meeting cancelation we used email and announcements over the 2m and 6m repeaters. We did our best to try and reach everyone before they unnecessarily made the drive to Placerville. If you're not able to monitor the club repeater most of the time there are a few times you should try to listen to the repeater for important information. First is during the weekly club net on Tuesdays at 8:00pm. You don't have to check-in if you're busy but you should listen in to hear any important bits of information that may be discussed. Second is on club meeting Thursdays. If we have any last-minute changes to the meeting the repeater will be our primary way to communicate those changes. A hand-held radio sitting on the car seat should let you hear any vital information. If time permits we will also send out a notice on the email reflector. If anyone else has some innovative ideas on how to get information out the membership let the board know so we can discuss the idea and maybe try it out.
Spring will be here this Tuesday and the days are getting longer. After this much- needed rain stops, all of us should be able to get outside and start working on our outdoor projects. I know I have a few antenna things to work on. Also, there is always yard work to do. Don't forget about your defensible space around your property. I hope to see everyone at the meeting on Thursday and please drive safely.
73, Jay, KE6GLA Newsletter
---
Update from Yuba-Sutter ARC

Posted May 5, 2018
Club Meeting Location Change
Starting June 2018 the general membership meeting location will move to the Marysville United Methodist Church Assembly Hall at 730 D Street, Marysville.
The Mini-Field Day at Live Oak High School on April 28th was a success. to see pictures of the event visit the club's Facebook Page. If you are not a member of our Facebook Group, just request membership and Kevin or Chris will add you to the group, or, go to this photo page.
EDITORS COMMENTS
✓YSARC's new web page is: www.ysarc.net - click on the upper right-hand icon on the homepage to join the club's Facebook page. Past issue's of the VHN are available on our new website.
✓Send your ham related articles and pictures to share in your VHN. Pictures of ham shacks, antenna projects, antenna parties, etc. are appreciated KI6CSN@arrl.net or KF6FVP@arrl.net
---
Update from Elk Grove-Florin ARC - pending

Posted November 18, 2017
Elk Grove-Florin ARC—Section News
ELK GROVE-FLORIN ARC
AWAITING AN UPDATE FOR THE ARRL SV SECTION NEWS
---
Update from Oroville ARS

Updated May 3, 2018
OARS Monthly Meeting Reminder
The monthly meeting of OARS will take place Friday, May 11, 2018, 7 pm, in St. Paul's Parish Hall, 1430 Pine Street, in Oroville. The doors will open at 6 pm for a social hour prior to the meeting.
Membership dues for 2018 ($20) are due at this time.  The OARS Club mailbox location is unexpectedly being shut down.  Until further notice, all club correspondence including dues paid by mail should be sent to: OARS, c/o Ted Cochran, 47 Orchardcrest Dr, Oroville, CA 95965.
Ted Cochran, N6TBC, President, Butte County ARES AEC, N6TBC@WINLINK.ORG N6TBC@arrl.net
OARS Monthly Breakfast--New Place
This month's OARS Breakfast will take place this Saturday, 28 April 2018, 9 am, at Tabletop Restaurant & Catering, 109 Table Mountain Blvd (where Hof Brau used to be) in Oroville. Hope all can attend. 73, Jim W7XZ
---
Our meeting this month is Wednesday, May 9th. You can choose Lunch or Breakfast. (Denny's serves breakfast all day.) Breakfast (or lunch) starts at eleven and the meeting will start at noon.
The program for this month is TXFactor episode 20: "Welcome to our new look for 2018! In this episode we conclude our coverage from Hamfest 2017 with an overview of the Yaesu Fusion Repeater DR2, SOTAbeam's 'Click2Tune for Icom', BHI's ParaPro EQ20 DSP, and SDRplay's newly launched RSP1A SDR receiver. Bob gives and overview on getting started with SDR using an inexpensive RTL-based USB dongle and SDRSharp, but we bring you the chance to win the more comprehensive RSP1A SDR receiver from SDRplay, coupled with the best-selling book on the subject, SDR by Andrew Barron ZL3DW" Due to the length of the program, part of it may be reserved for next month.
The meeting as usual at: Denny's Restaurant, 7900 College Town Drive, Sacramento. Phone (916) 383-7071, Located at the southwest corner of Howe Ave. and College Town Drive one block North of Highway 50.
Please plan to attend.
---
Update from North Hills RC

Posted May 5, 2018
The next meeting of the North Hills Radio Club will take place on Tuesday May 15. This month's presentation will be on Software defined radios (SDR) and Digital modes. This month is a continuation of last months topic, including the new FT-8 digital mode, which has become really popular.
Club meetings are always held on the third Tuesday of every month, at the former (SMUD) building located at 5026 Don Julio Blvd, at the northeast corner of Don Julio and Elkhorn Blvds. The board meeting begins at 6:00 P.M., followed by the general membership meeting at 7:30 P.M.
See you there! From Doug Emerson, Vice-President, North Hills Radio Club. Amateur callsign N6NFF
---
Update from Glenn ARS

Posted May 5, 2018
Prez Says for May 2018
Welcome home Dorothy and John. We trust you folks found everything in order when you returned and that you are now caught up with chores, email, and phone messages. You were sorely missed!
The ARRL has posted the new rules for this years' Field Day, 2018. I have downloaded a copy and will have it at our next membership meeting for all to peruse. We will be discussing this event and formalizing plans during the membership meeting. We have been granted access again this year to the Providence Christian Center site on Highway 32, just east of Orland.
The 'Run Your Tail Off 2018 5K/10K' event which was held on 14th of April, 2018, at the Buckhorn Camp ground, Black Butte lake, was a success. We had the Disaster Response Trailer (DTR) on site to use as the net control station, and to show it off to all event participants. The DTR was operated in battery mode using one of its new Anytone 5888UV III Tri-band FM transceivers and one of the new antennas. This all worked out very well! We also had several participants visit and walk through the DTR so the visibility the DTR had was a true success.
Last month at the GARS membership meeting I had a new NANO-SPOT operating and preformed a short demonstration. The NANO-SPOT is a completely self-contained digital hot spot that supports DMR, Dstar, P25 and System Fusion communications. Fully assembled and tested in a rugged extruded aluminum enclosure. All that's required for operation is a power source and a WiFi based internet connection.
This month I will also will have the NANO-SPOT at the meeting for another demo. I have not had much time to play with it but it holds much promise in future communication work. Also it is hopped Albert, N6YCK, will be present to talk to us about his adventures using new digital technologies and how he plans to interface them to the analog repeater world.
From now through the month of September we as a club will be busy planning for various happenings. As mentioned above, next month, there is the ARRL Field Day event. Then we have this years Steakbake in September (September 8th). Finalized plans are to hold this event at the Lutheran Fellowship Hall and or its adjoining park in Artois, CA. Start time we are embracing is around 12 noon.
A raffle prize has been donated to the club. We will begin selling raffle tickets during our membership meeting this month. Tickets are one for $5.00 or 5 tickets for $20.00. The donated prize is the AnyTone AT-D868UV, Digital DMR / Analog Radio. Will have the radio for all to see at this months meeting.
At this time I thank all for their support at the Run Your Tail Off event and look forward to your continued support and help in advancing the art of radio.
We will be meeting at the Artois Lutheran Fellowship Hall at 6:30pm, on Thursday, the 10th of May. Late arrivals and guests are always welcome. So be safe in all you do and may you all have many blessings in the days ahead!
Mike Ellithorpe, KF6OBI President, GARS kilofox6obi@yandex.com 530-518-3730  Newsletter
---
The Prez' Says:
So much to talk about, both future, present and past events!
Presently: & most immediate…GEARS annual Ham Auction, conducted every year at the May meeting, is this month (surprise) on May 18. Those members who wish to do so, please bring in to sell or donate any Ham radio equipment you no longer use. Hams are constantly upgrading their systems, and one of the things we often do is merely set aside the older item, just to collect dust! But many Hams look for older used units, sometimes for parts, sometimes to just collect, sometimes because they are relatively new to Amateur radio and cannot afford the newest. Give them an opportunity to capitalize on your choices.
We have some truly fine items already donated for our auction, among them the radio equipment of KN6JS-Chuck Alldrin-Silent Key. Our deepest appreciation of his family for this generous gesture, we all know how difficult a decision this has been for them.
NEW FOR THIS YEAR: GEARS has initiated a payment program through PayPal, so we will be accepting payments via pay pal with your credit card, or of course by personal check and CASH always reigns supreme!
FUTURE: JUNE; FIELD DAY; Last full weekend of June! Also, at the Club's December 21st meeting, our yearly raffle event with a First prize of an Au-to Tuner, LDG electronics, an AT-100 Pro II, 125 watts, new! Second prize: a 2 Meter hand held.
PAST: GEARS members again assisted during CHICO WILDFLOWER event – KUDOS to all Hams who were again on board this year. Kathy Favor's report is on page 2 of this newsletter. Thank you ALL.
Our Board has set a price increase on Caps and Badges: $15.00 each. Also, Gene Wright is putting together a sign up sheet for Gears Club Shirts. Members can sign up for a shirt with or without pockets (the pocket shirt will cost more). I don't have the price for shirts, Gene is on the hook for that information.
Tom Rider W6JS, President GEARS rustyboyrider@aol.com Newsletter
---
Member Updates and Feedback
---
Update from Jim Heath, W6LG

posted May 3, 2018
At the request of the Radioaficionados de España (the Spanish version of the ARRL), Deme Pastor, EA5IPC in Valencia Spain and Jim Heath, W6LG in Grass Valley are recording a series of YouTube videos showing typical QSO's in English and Spanish. The purpose of the videos is to teach common phrases in Spanish and English.
Jim Heath's YouTube Channel is Ham Radio Basics. The Channel has about 12,000 subscribers in the last couple of years and about 750,000 views. Jim has been in Grass Valley for almost 40 years. Jim is recovering from a series of Pulmonary Embolisms and related heart damage.
---
Western Placer ARC Member Clay Abrams, K6AEP, Silent Key

posted May 3, 2018
It is with great sadness that I report the passing of Clay Abrams, K6AEP. Clay was a long time member of the WPARC and was licensed as a ham for over 65 years. Clay served as a Board Member for several years and was a stalwart on our Field Day events.
Clay was an electrical engineer and worked for IBM for many years. He was involved in the invention of the floppy and hard drives, including those used in modern PCs. In earlier years he was active in a computer club in Silicon Valley and was friends with many innovators including Steve Jobs and Steve Wozniak. He worked on the development of slow-scan TV for ham radio and is credited with the first trans-oceanic transmission which was to the Japanese government and is well documented on youtube and other internet sites.
Clay loved the latest technology and always had the latest hot goodies. However, he didn't buy things because they were the hot item – he used all his gear actively and could be seen on PSK Reporter for hours every day. He loved CW and was the club CW star every Field Day.
Clay earned his EE degree from a small, mid-Western university and was very appreciative of the education he received there and the opportunities it gave him in life. He did very well investing in the stock market and was able to give a large endowment to the university to show his gratitude. He also set up a ham station/lab at the university to help further our hobby and to encourage students to become involved ham radio.
Clay and his wife traveled extensively throughout the world. Ellen was a travel agent and booked them on numerous trips to dozens of countries. Following her passing several years ago, Clay continued to take cruises to many exotic locations. He always took a portable rig with him and created some big pileups when he transmitted from Easter Island and other rare DX locations.
Clay was a ham through and through and loved the hobby. He was a pioneer, an innovator, and a friend. His passing is a loss to the ham community.
Sincerely, Michael Buck, WPARC Secretary
---
Keep Our Digital Transmissions Legal on 60 Meters

Posted January 29, 2017
Our decreasing solar activity and residential antenna restrictions have attracted increasing numbers of radio amateurs to operate CW and weak signal digital modes on our lower HF frequencies including 60 meters. The five frequency channels that US amateur radio operators share on a secondary basis with US federal government users on 60 meters (5 MHz) pose unique requirements for CW and digital operators. As explained on http://www.arrl.org/60m-channel-allocation, US radio amateur emissions on our 60m channels must be precisely centered in the center frequency of each assigned channel, that is, 5332.0, 5348.0, 5358.5, 5373.0 or 5405.0 kHz. Thus, for example, a CW signal on channel 3 (USB Dial frequency 5357.0 kHz) must be precisely on 5358.5 kHz. The same ARRL page explains that all digital emissions must also be centered in the channel center.
This may appear unreasonable to radio amateurs because a 2.8 kHz channel can accommodate many digital and CW transmissions simultaneously, and requiring multiple stations to operate on the same exact frequency would result in mutual interference. The National Telecommunications and Information Administration (NTIA)* explains this requirement in https://ecfsapi.fcc.gov/file/7021871884.pdf which states: "Allowing multiple emissions within the necessary bandwidth of the widest authorized modes (2.8 kHz) increases the possibility of harmful interference from secondary amateur stations to primary federal stations, and would make it more difficult for a federal station to identify an interfering amateur station. In addition, NTIA is concerned about the aggregate equivalent isotropically radiated power from multiple amateur stations transmitting within a single 2.8 kHz channel. Accordingly, NTIA requests that 47 C.F.R. Section 97.303(h) continue to require that amateur stations transmit only on the five center frequencies allocated to the amateur service."  (See http://www.arrl.org/what-the-fcc-rules-say-97-303-h)
Observed Violations of US 60 Meter Frequency Regulations

JT65

This screenshot photo shows JT65 signals received on 60 meter Channel 3 (5357 kHz USB dial frequency) from 0300-0309 UTC on January 29, 2017. In the photo, the 5357 kHz dial frequency is at 0 Hz on the left side of the waterfall and the 5358.5 kHz channel center is at the 1500 Hz mark. Decodes of several US radio amateurs are seen transmitting JT65 emissions simultaneously on various frequencies throughout the channel 3 frequency range 5357-5360 kHz. This is the familiar appearance of a JT65 waterfall display on all other amateur radio bands; however, it violates the NTIA requirement that each US radio amateur transmission be centered on the 1500 Hz mark (the 5358.5 kHz channel center frequency).
ARRL Official Observer Richard Saunders, K6RBS, has posted the proper WSJT-X program settings for legal 60m JT mode operation here.

WSPR

The link http://wsprnet.org/olddb?band=60&sort=callsign&reverse=on&unique=on lists WSPR mode emissions on the 60 meter band. One can scroll down that list and see how many A, K, N and W call signs have been transmitting WSPR mode on 5288 kHz outside the authorized 60 meter center channel frequencies.  
US WSPR transmissions continue to be observed on the WSPR software default 60 meter frequency of 5288 kHz, a completely unauthorized frequency for US radio amateurs.
Each licensee has the final responsibility for the lawful operation of his or her station.  Unfortunately, the increasing automation in our radios has apparently accustomed some to falsely assume that the radio will correct for operator carelessness and ignorance of regulations.  Our cooperation with NTIA requirements is essential for our continued access to the 60m channels and for possible future access to the new ITU worldwide 60 meter allocation at 5351.5 to 5366.5 kHz. (See http://www.arrl.org/news/view/arrl-asks-fcc-to-allocate-new-5-mhz-band-retain-channels-and-current-power-limit and http://www.arrl.org/news/fcc-invites-comments-on-arrl-petition-to-allocate-new-5-mhz-band). Please be aware of these requirements if you intend to or currently operate CW or digital modes on our shared 60m allocations. The Amateur Auxiliary is documenting this matter and hopes to raise its awareness in the wider amateur radio community.
-Carol Milazzo, KP4MD
*The NTIA is the federal authority that coordinates radio spectrum use for the US military and federal government while the FCC serves in this capacity for US civilian radio spectrum users.