American Radio Relay League
The National Association for Amateur Radio
Sacramento Valley Section
Serving Alpine, Amador, Butte, Colusa, El Dorado, Glenn, Lassen, Modoc, Nevada, Placer, Plumas, Sacramento, Shasta, Sierra, Siskiyou, Sutter, Tehama, Trinity, Yolo & Yuba Counties in Northern California
Sacramento Valley Section is located in the ARRL Pacific Division.
Sacramento Valley Section Web Resources
ARRL National Page: www.arrl.org/Groups/view/sacramento-valley
Organization, Clubs, Calendar, Nets
Sacramento Valley ARES: www.sacvalleyares.org SV ARES Brochure
Facebook: www.facebook.com/ARRLSacramentoValley
Twitter: www.twitter.com/ARRL_SV
Thanks to Greg Kruckewitt KG6SJT for maintaining our Section ARES web page and for assisting with our Facebook page and Twitter feed.
Thanks to Les Cobb W6TEE for maintaining the Section Net list.
Submit Section News updates to kp4md(at)arrl.org
---
ARRL Conventions & Hamfests & Regional Events
March 3 - ARRL Booth at Placer County STEM Expo
Saturday, March 17 0700-1200 - Sierra Foothills ARC Hamfest, Loomis, CA
April 20-22 - International DX Convention, Visalia, CA
Saturday, April 28 0800-1200 - Valley of the Moon ARC Hamfest, Sonoma CA
May 5 - Reno Ham Swap
May 18-20 - Dayton Hamvention, Xenia, OH
May - North Hills RC Hamfest (POSTPONED - To Be Announced)
June 1-3 - ARRL SEA-PAC Convention, Seaside, OR
June 2 - Northern NV Radio Swap, Minden
June 23-24 - ARRL Field Day
July 20-22 - ARRL NV State Convention
September 15 - Western Placer ARC Hamfest, Lincoln, CA
October 13 - ARRL Booth at Rocklin Maker Faire
October 19-21 - ARRL Pacificon Division Convention, San Ramon, CA
---
Past Section News Archive
---
Amateur Radio License Classes and Volunteer Exam (VE) Information and Schedules
Class and VE Session Calendar
---
Getting Your Amateur Radio License
A license is required to operate an amateur radio station. Amateur Radio Licenses in the United States are granted by the Federal Communications Commission (FCC) after passing an exam at a Volunteer Exam (VE) session.  
The FCC currently issues three classes of amateur radio license: Technician, General and Amateur Extra.
The license exam contains multiple choice questions selected from lists that are published online at http://www.arrl.org/question-pools. Many individuals prepare for an exam session using self-study license manuals and online practice exams. From time to time, license preparation courses are offered that cover the exam material over several weeks. "Ham-Cram" sessions are also popular, where a several hours' review class of exam questions and answers is immediately followed by a license exam session.
Visit http://www.arrl.org/find-an-amateur-radio-license-class to find a license class.
Visit http://www.arrl.org/find-an-amateur-radio-license-exam-session to find a license exam session.
For more information on testing, preparation and study materials, see:
---
Samuel F Morse ARC to offer Morse Code Instructional Course April 4-June 6
Posted February 4, 2018
The Samuel F Morse ARC will once again be running our 10-week CW for beginner's course. This course will be held once a week for 2 hours (7 PM until 9 PM) each Wednesday evening in Carmichael. If you or someone you know are interested in learning Morse Code we encourage you to sign up NOW. You do NOT need to be a licensed operator to join our class. We will begin Wednesday evening April 4th (ending June 6th).

Everyone can benefit from this course! For those with no Morse Code knowledge this is an excellent course where you or your friends will be taught the complete International Morse Code alphabet, numbers, pro-signs, how to adjust and send on a Morse Code straight. Please contact Mike, N6MQL for more information: admin@w6sfm.com
---
Sacramento SHARP Amateur Radio Licensing Courses
Posted February 6, 2018
The Sacramento Sheriff's Amateur Radio Program (SHARP) will offer the following at the Sacramento Sheriff's Central Division, 7000 65th Street, Sacramento, CA 95823.
There is no fee for these license courses. A current Technician or General Class ARRL License Manual is required for each course. Each class covers a part of the License Manual with practice exams. A VE exam session will be held on the last day of each course for the FCC mandatory $15 fee. Class duration is from 6-9 pm. For further information visit http://www.sacsharp.org/ham-classes
---
Citrus Heights 2018 Ham-Cram Sessions
Posted December 4, 2017
Section member Joe Cardoza, KA6ROM, announces that his Citrus Heights VE Team will conduct their amateur radio Ham-Cram Technician License training and examinations on the fourth Saturday every other month at starting at 8:45 am at the LDS Church, at 7950 Hazel Ave, Orangevale, CA. This is the intersection of Hazel and Cherry Ave.
The Ham-Cram and Exam dates for 2018 are:

January 27, 
March 24, 
May 26, 
July 28, 
September 22, and 
November 17.
Contact Joe Cardoza, KA6ROM, 916-725-6443 or cardozas@comcast.net to register.
---
California Emergency Volunteers Ham-Cram Sessions
Posted December 4, 2017
The California Emergency Volunteers, Inc. offers 6 hour long "Get Your License in One Day" Ham-Cram sessions followed by a Technician Class license exam session. These sessions are held on monthly on a Saturday alternating between Stockton and Manteca, CA. Visit http://www.hamcram.org/ for more information and to register.
---
Folsom ARRL Volunteer Exam 2018 Schedule
Posted December 4, 2017
Folsom ARRL VEC exams are held at 6 pm the third Thursday of each month except July, August and December.
Here is our updated exam scheduled for 2018:
January 18

February 15

March 15

April 19

May 17

June 21

July NO EXAM

August 16
September 20
October 18
November 15
December NO EXAM
All exams start at 6:00 pm.

Round Table Pizza (Small private room by the front door), 2793 E Bidwell St, Suite 100, Folsom, CA 95630
For information see http://ns6q.net/exams or contact Mike Kirkland, NS6Q at radio.ns6q@gmail.com.
73, Mike, NS6Q
---
Redding ARRL VE Schedule 2018
Posted December 1, 2017
The Redding ARRL VE Team will be hosting exams on the following Saturdays in 2018:
January 20
March 17
May 19
July 21
September 15
November 17
Our exam sessions are now being held at the Shasta County Office of Emergency Services at 2486 Progress Drive in Redding. Exams start at 10:00 AM and candidates are encouraged to pre-register.

More information can be found at: www.reddingve.com or by contacting Steve K6KS at sjmosconi@gmail.com
---
SHINGLETOWN ARRL VE 2018 Schedule
Test Location:
Open Door Community Church, 33883 HWY 44, SHINGLETOWN, CA. 96088
Testing begins at 10:00 AM.
Candidates should arrive 15 to 30 minutes early. We accept walk ins.
Contact:
Dar Walker W6IO, Shingletown ARRL VE Liaison, w6iodar@gmail.com, 530-474-3087
TEST SCHEDULE:
2018: Feb 17, Apr 14, Jun 16, Aug 18, Oct 20, Dec 8
Dar Walker W6IO
---
Other VE Sessions - Schedule List

---
Amateur Radio Parity Act of 2017 - HR 555 - S1534
LATEST NEWS: The Amateur Radio Parity Act of 2017 was introduced in the US Senate on July 12, marking another step forward for this landmark legislation. Senators Roger Wicker (R-MS) and Richard Blumenthal (D-CT) are the Senate sponsors. The measure will, for the first time, guarantee all radio amateurs living in deed-restricted communities governed by a homeowner's association (HOA) or subject to any private land use regulations, the right to erect and maintain effective outdoor antennas at their homes. The Senate bill, S. 1534, is identical to H.R. 555, which passed the US House of Representatives in January. Read more here.
The Amateur Radio Parity Act
---
50 W PEP Maximum Power Limit Area on 70 cm
A little recognized portion of FCC Part 97 regulations applies to 420-450 MHz operations in most counties in our Sacramento Valley section:
47 CFR §97.313 (f) No station may transmit with a transmitter power exceeding 50 W PEP on the UHF 70 cm band from an area specified in footnote US270 to §2.106 of part 2. The indicated affected areas are specified in http://www.arrl.org/us270, in the State of California within a 240-kilometer (150 mile) radius around locations at Beale Air Force Base, California (latitude 39°08' North, longitude 121°26' West).
More information on the additional impact on 70 cm repeater stations is at http://www.narcc.org/NARCC-ARRL-PAVE-PAWS-Update-2014a.pdf
The Amateur Radio Service shares the 70 cm band on a secondary basis with the US Government which has priority. The US Department of Defense routinely monitors and locates signal sources on these frequencies.  Our voluntary cooperation is mandatory to avoid interference with the Pave PAWS (Phased Array Warning System) radar at Beale AFB and thus to assure our continued access to these frequencies.

March 2018 News
From the Section Manager
Here are the latest news and happening from clubs and members around our section.
Bravo to Section Youth Coordinator Orion Endres, AI6JB, and to the volunteers from the River City ARCS, Samuel F Morse ARC, Sierra Foothills ARC and the Western Placer ARC who participated at the March 3 ARRL Exhibit and Special Event Station N6E at Placer County STEM Expo!  Look forward to future outreach events to introduce youth to the fascinating world of amateur radio!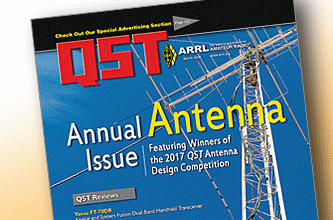 Don't forget to drop by our ARRL Booth at the March 17 Sierra Foothills ARC Hamfest from 7 am to 12 noon.  This is the fourth year for this hamfest to be held at the Loomis Historic Train Depot.  Enjoy the opportunity to win prizes, meet friends and see, buy or sell new and vintage radio equipment!
Now is a good time for all affiliated clubs to renew the contact information that people see on the ARRL National website. Clubs must update their club record at least once per year even if nothing changes. Should two years pass without an update your club will be listed as inactive. Just go to: http://www.arrl.org/club-update and follow the instructions.  For assistance, please contact our Affiliated Club Coordinator, Max Soucia, N1KGS at n1kgs@arrl.net
The ARRL International Grid Chase is the 2018 year long operating event. Read how you can participate on
www.arrl.org/international-grid-chase-2018
You can still send March news to kp4md@arrl.org. This news page is usually updated on the weekend after your submission is received.
Our website, Facebook and Twitter pages are a work in progress, and your suggestions and submissions are always welcome.
This website is visited most during the first week of each month, but do check back as it is often updated with late breaking news.
73, Dr. Carol Milazzo, KP4MD
American Radio Relay League Sacramento Valley Section Manager
kp4md(at)arrl.org
You can always send compliments, suggestions and submissions for inclusion in our Section News to kp4md(at)arrl.org
---
ARRL SV February 15 Section Net Report
The ARRL SV Section-wide nets were held on Thursday, February 15. Andy Boone KJ6IYM opened the VHF net on the WD6AXM 146.085 MHz FM repeater at 7:15 pm PST after the Yuba-Sutter ARES net signed off. 
Here is the VHF net check-in list: AG6IP, AI6JB, AJ6AR, K6CEL, KB7QWC, KC7KET, KC9EI, KD6LOK, KD6SAH, KG6SJT, KJ6IYM, KJ6WYW, KK6IST, KK6SOZ, KM6BDQ, KM6OGC, KM6ONO, KM6PNQ, KN6TED, KP4MD, N6CNY, N6DPH, N6XD, W3OF, W6CK and WA6OHP.
At 7:30 pm, SV Section Manager Carol Milazzo, KP4MD, called the Section HF net on 3880 kHz LSB.  As during our January Section net, a solar storm disrupted HF skywave propagation during net time. These solar events tend to recur every 28 day with the sun's rotation period.  The stations within ground wave range that were able to check into the HF net were W6CK and WB6OGD.
All Sacramento Valley Section radio amateurs are welcome to check into our Section Nets.  The nets carry announcements of interest to our section and test section-wide station communication capabilities.
ARRL Sacramento Valley Section Nets are conducted only on the third Thursday of the month when announced, following the 7 pm Pacific Time Yuba-Sutter ARES net on the WD6AXM 146.085 MHz FM repeater, followed by the HF Section Net on 3880 kHz LSB +/- 3 kHz. During summer months the HF net may be conducted on 5330.5 kHz USB as propagation permits.
Don't have an HF radio?
Listen on the W6DRZ web receiver at Half Moon Bay
or the W7RNA web receiver in Sedona, AZ
Hourly Northern California NVIS Observations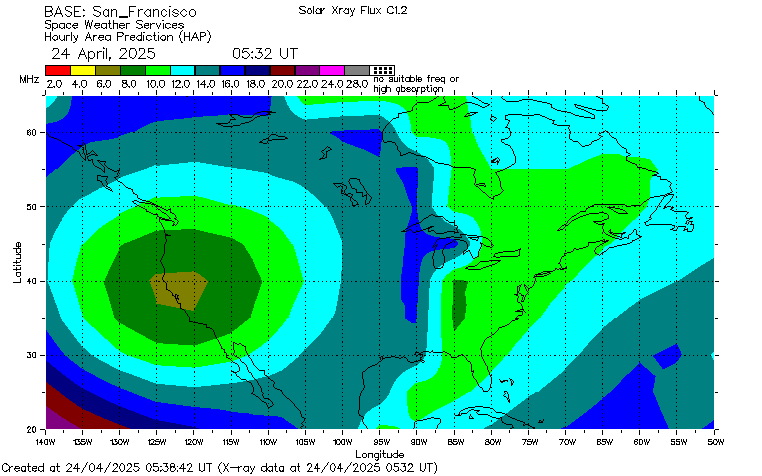 This chart shows colors that represent the recommended HF frequencies for contacting stations for a particular hour. Both stations should use the SAME frequency denoted by the color at the location of the target station. The chart is in Universal Time (UTC). More information at http://www.sws.bom.gov.au/HF_Systems/6/6
---
From Section Affiliated Club Coordinator, Max Soucia, N1KGS

Posted March 11
Hi Sac Valley Hams. I'm the newly appointed section Affiliated Club Coordinator. I've been a ham for 28 years or there about. I relocated from northern Maine in 2009 after I retired where I was Section Emergency Coordinator and I helped write and develop the original EC 101 course. I was an online mentor for EmComm for several years. I'm a big cheerleader for Amateur Radio's ability to assist in emergencies when nothing else works. As such I'm a proponent of ARRL affiliation for the support we can give it in return for the technical and particularly legislative support they provide. In the present atmosphere of monetizing all aspects of society we will be feeling more and more pressure to privatize the EM spectrum including our slivers of it. Witness the development and expansion of 5G services. Protection and expansion of our spectrum is where we as individual hams can benefit from League activity as we support them with sheer numbers through membership and club affiliation.
I'll be contacting each ARRL affiliated club in the Sacramento Valley Section over the coming weeks to update your club information and to help bring your League affiliation up to date if needed. I also want to visit each club over the coming months for an eyeball QSO. There is much of Northern California I have not seen and I'm looking forward to the travel. In the meantime, if you want assistance in utilizing the benefits of affiliation such as club insurance, or updating your Special Service Club status or have questions about any of these issues or just want to rag chew my cell number is (916) 607 6524 and my email is N1KGS@arrl.net.
73 de Max Soucia, N1KGS, Affiliated Club Coordinator, Sacramento Valley Section, ARRL
---
Amateur Radio Youth Outreach at March 3 STEM Expo in Rocklin

Posted March 11
STEM Expo 2018 was a Hit!
The Placer County STEM Expo was a blast this year thanks to the support of Sacramento Valley Section hams. A cadre of dedicated Hams came out on Saturday, March 3rd, to the William Jessup University in Rocklin California to setup two stations and show-off the exciting world of ham radio to the youth in our community.
Section Club support was outstanding. We had members from Western Placer ARC, River City ARCS, Samuel F Morse ARC, and the Sierra Foothills ARC there to get youngsters on the air. A special thank you to Jerry, N6JKH, and Art, KK6NFM, from the WPARC for bringing out the radios and antennas. The HF station was fed by a Buddistick and had to radios attached: an IC-7300 for SSB, and a FT-857D go box for digital. The VHF station was connected to a 2m copper pipe J Pole and had a FT-8800 go box station attached and tuned to the K6PAC and W6EK repeaters. Thank you to all the operators out there hanging around their rigs waiting for us to call. You welcoming voices put smiles on their faces.
Bob, N6PGQ, was a hit with our future coders. He brought two code oscillators and worked with the kids to practice sending their names in CW.
Ken, KE6RMN, Dave, WB6YLK, Marie, Tim, KD6MDV, Carl, WF6J, and Brian, AI6US, worked with the kids and answered folks questions about amateur radio. Most had no idea that amateur radio was a thing nor the importance it has played in the recent disasters. Thank you all for coming out to promote Ham radio and sharing our wonderful hobby to the youth in our Section.
73, Orion Endres, AI6JB, Section Youth Coordinator
Photo: Orion Endres, AI6JB coaches a young STEM Expo attendee on repeater operation.  by Carol KP4MD
---
---
Placer County ARES Meeting January 27th

Posted February 11, 2018
On January 27th Placer County ARES held a meeting at the Auburn Veterans Hall, 19 members were able to attend. The meeting covered the ARRL ARES Field Resources Manual. Greg KG6SJT led the discussion of the manual. Every member in attendance was provided with a copy due to a generous donation. In addition Jim Price KO6GM had a drawing for some surplus equipment from CalOES.
Story and photos by Carl First, N6CKV, Placer County ARES Emergency Coordinator
Placer County ARES Meeting
Greg KG6SJT with
the equipment from CalOES
---
January 20 Butte County ARES Field Training Exercise

Posted February 3, 2018
On Saturday January 20, 2018 a small band of radio operators from Butte County ARES braved the cold temperature to participate in a training exercise in Chico California. The objective of the exercise was to introduce new member Eric Linden KK6LBU to ARES operations using Winlink. Eric is a member of the Oroville Amateur Radio Society. The training was also was to bring up to the speed members Rick Hubbard KI6VOS and Carl Franke KI6CIU to changes in the Winlink software. Rick and Carl are members of the Golden Empire Amateur Radio Society. As part of this exercise, the members led by Butte County ARES AEC and president of the Oroville Amateur Radio Society Theodore Cochran N6TBC were to transmit a check in message across the Winlink system using packet radio into the ARC DOC in Sacramento. Members got to set up a Winlink data system, create, post and transmit a message. Such training prepares operators for real world message traffic using Winlink during deployments.
Theodore B Cochran, N6TBC, Butte County ARES AEC, President Oroville Amateur Radio Society
Rick Hubbard, Carl Franke,
Ted Cochran & Eric Linden
Ted Cochran at the portable
Winlink station
Carl Franke at his station
---
ARES Group Registration for ARES Connect

Posted January 19, 2018
All Section ARES groups should contact their Emergency Coordinators now to provide their current ARES group information for registration in the new ARES Connect system.  Your Emergency Coordinator is responsible for registering ARES groups in your respective area.
Additional information on changes to the ARES program will be emailed to SMs and SECs soon. Beta testing of ARES Connect will begin shortly and once completed additional information will be sent out.
ARRL Public Service Enhancement Working Group, Dale Williams, WA8EFK, Chairman
---
March 10 - Sacramento County ARES Training

Posted March 10, 2018
The next Sacramento County ARES training and meeting is scheduled for Saturday March 10, 2018 from 9:00 am to 12:00 noon at the Sacramento Sheriff's Central Division, 7000 65th Street, Sacramento, CA 95823.
Vince Cracchiolo KI6NHP is the Sacramento County EC.
For more information, visit the Sacramento County ARES web site at www.saccountyares.org
---
California Office of Emergency Services' New Video Extols Amateur Radio

Posted February 8, 2018
Recent disasters in the United States and around the world have resulted in lost communications. Whether hurricanes, tsunamis, earthquakes, volcanic eruptions or terror attacks response to a disaster is made more difficult without effective communications. California Office of Emergency Services (OES) has at least one answer to that in California - HAMS.
---
Volunteer Operators Needed for June 23-24 Western States Endurance Run

Posted February 3, 2018
Joe Steinmetz, K6SAT, is the HAM radio coordinator for Western States 100 mile Endurance run, sponsored by WSER, a 501(c)3 non-profit organization. Joe is looking for radio operator volunteers for June 23 and 24th this year. More information about the race is available here: https://www.wser.org/ Radio Volunteer Information are available here: https://www.wser.org/volunteering/communication/ There is a sign-up form link in the above URL location, or interested amateur radio operators may contact Joe directly via email at k6sat@arrl.org or radio@wser.org
Joe Steinmetz, K6SAT, WSER HAM Radio Coordinator
---
From Norm Lucas, WB6RVR (SK),
Section Official Observer Coordinator

Posted January 11, 2016
Do you have what it takes to be an ARRL "Official Observer?"
Update April 6, 2017 - The ARRL and the FCC are currently working together to update and to make changes to the Official Observer/Amateur Auxiliary program. Because of these expected upcoming updates and changes, ARRL has placed a temporary hold on applications for new Official Observers and Official Observer Coordinators at this time.  Read more here.
The ARRL Executive Committee (EC) has directed that work begin on finalizing the language of a revised memorandum of understanding between ARRL and the FCC regarding the Amateur Auxiliary (Official Observer) program. The EC met on March 25 in Aurora, Colorado. The panel, which acts on behalf of the ARRL Board of Directors between its regular meetings, heard an update on the Official Observer Program Revitalization Study from ARRL Second Vice President and committee chair Brian Mileshosky, N5ZGT, who said his committee plans to present final recommendations later this year on revamping the Amateur Auxiliary, for ultimate consideration by the full Board.
In his remarks, General Counsel Chris Imlay, W3KD, was complimentary of new FCC Chairman Ajit Pai and told the EC he thinks enforcement efforts may be more successful in the future, due to the new chairman's interest in the issue. Imlay also said the new chief of the Enforcement Bureau, Michael Carowitz, is reported to be "amateur friendly." He told the EC that he foresees a potential window of opportunity for improved spectrum enforcement work, as well as the opportunity to build a stronger working relationship with the FCC on all issues.
The Official Observer (OO) program has been sponsored by the ARRL for more than 85 years to help Amateur Radio operators assist each other to operate their stations in compliance with Federal Communications Commission (FCC) regulations.
Official Observer appointees have assisted thousands of Amateur Radio operators to maintain their transmitting equipment and comply with operating procedures and regulations. The object of the OO program is to notify amateurs of operating and technical irregularities before they come to the attention of the FCC and to recognize good operating practices.
The OO program serves as the first line of "eyes and ears" for the FCC. It is the backbone of the Amateur Auxiliary. OOs are certified in the Auxiliary by passing a mandatory written examination.
---
Pot grow lights interfere with Ham Radio

Submitted by Rene Smythe, WB6PSY, posted March 4, 2017
I have experienced this interference for the past few years. I found the interference by swinging my 10m Yagi monobander around until the noise became over S9. I then went outside to see where the beam was physically pointed and discovered a garage where indoor pot is being grown. The lights are on a time cycle so the interference comes and goes. 40º degrees in either direction takes the noise out.
Now that marijuana is being legalized in more states, more hams are going to experience this noise.
WB6PSY
http://bigstory.ap.org/article/c1b607bfbbab459ba9e21d4c282996e4/growing-problem-pot-lights-give-ham-radio-operators-buzz
---
Radio Frequency Interference

posted February 3, 2018
ARRL and the FCC have a cooperative agreement in radio frequency interference matters. You may submit interference reports together with your supporting documentation to ARRL EMC Engineer Mike Gruber W1MG who then files the report with the FCC Gettysburg office.
You may also contact our Section Technical Coordinator Bob Wortman, WB6VYH, or our Section Official Observer Coordinator Bob Hess, W1RH, for assistance. More information is posted under the "From the Section Manager" notes in the November 2016 Section News - Carol KP4MD
Our Official Observer Coordinator Bob Hess, W1RH, shares this helpful web page by NK7Z for identifying sources of Radio Frequency Interference http://www.nk7z.net/rfi-snapshots 
---
Club and Member News - March 2018

---
Update from River City ARCS

Posted March 10, 2018
PRESIDENTS MESSAGE
Bob N6PGQ gave a great talk on his problems with Murphy and his laws installing his tower last month. This month Phil KD6RM will talk on antenna analyzers and how he used one to set up his phased vertical antennas.
This coming Sat. March 3, 2018 is a demonstration of ham radio at the Placer Co. STEM Expo in Rocklin where we will be showing curious youngsters the fascination of Ham Radio.
In April is our Elmer Night where we will be giving talks and hands on help on different things. Also on the 14th. Of April is our Family Picnic at the VFW Center Township Post, 8990 Kruitof Way, Fair Oaks, CA 95628. We will have a Fox Hunt and stations on the air and Lots of good food.
We need a volunteer to be Field Day Captain; some of the work is already done (finding a location and planning food and refreshments). There is a guide all ready to follow that has been used for several years that works great. So volunteer and let's have a great Field Day.
I would like to thank all the members who are volunteering to help the Club at future events and meetings. If you have an idea for a meeting topic or are able to present, please let a member of the Board know.
Dave Martin WB6YLK Newsletter
---
Sierra Foothills ARC, Auburn, CA Web: w6ek.org
Newsletter at: http://www.w6ek.org/newsletters/Sierra_Signals_03_18.pdf
VE – First Saturday each Month 8 am at Raley's Granite Bay. See website for more.
Hamfest 2018, March 17th at the Historic Loomis Train Depot Plaza. If you have not heard of it, you may not have been active recently. This first swap of the year should be the biggest one yet. Free parking, Seller spaces at $10each. Coffee & donuts, plus a lunch special at Taylor's. The drawing will happen throughout the swap, with the main prize drawing before noon. Big News is the top prize is a HONDA 200i Generator info at: https://hamfest.weebly.com/
New web feature- The club's Yahoo Group is being phased out and has changed to a Groups.IO Thanks to Dennis, WU6X for taking on this task. This is an email web system that serves the club's needs. Will post all events, club functions and other items of interest here. You need to apply to become a member. You can view all messages and more, here: https://w6ek.groups.io/g/sfarc
VE Team - First Saturday, monthly, is our VE testing at Raley's in Granite Bay. http://w6ek.org/veexams.html We had a successful session again. We administered 6 elements to 4 candidates. 2 earned a new or upgraded license. We have 2 new Generals and 0 new Extras Thanks Al ,NI2U. Beside the W6EK VE event our team joined the Grass Valley testing - AL, NI2U; Casey, W7IB; Bill, WV6J and Andrew, KC6O and tested 31 candidates with 16 new Technicians!
Club Meeting - Every 2nd Friday, monthly, in the Auburn CIty Hall, Rose Room at 7:30pm. info at: http://w6ek.org/meetings.html Everyone welcome!
Club Breakfast - Last Saturday, monthly, at Mel's Diner on 49 in Auburn, 7:30am. Everyone welcome!
Club Nets - Thursday night net at 7:30pm on W6EK/r and every 1st and 3rd Wednesday the Elmer Net at 7:30pm http://w6ek.org/nets.html
Newsletter - http://w6ek.org/newsletters/Sierra_Signals_02_18.pdf
Sunshine report - Joe, KN6FH is on the mend and going to work on a loop antenna. Keep going there Joe!
Club Library - Jim, WA8MPA is the Librarian and has assembled a large selection of new ARRL and other publications for members to "check out" of the library. SIgn out a publication until the next month's meeting.
Club's contest results - Dennis, WU6X, Earl, K6GPB; Birton, N6UG; Orion, AI6JB worked the North America QSO Party RTTY Contest. Dennis, WU6X submitted his results in the single Op LP group: 6 hours operating time's yield: (band, QSOs, Multplierss) 80m: 31: 9 / 40m: 62:17 / 20m: 185: 40 for total of: 278 contacts times 66 multipliers for a Score of 18,348 Way to go Dennis! Our President, Orion, AI6JB had 21 contacts on 40m 33 contacts on 20m for a total of 54 contacts and 33 multipliers for a score of: 1,782 points.
VOMARC Hamfest - Jim, K6UUW, President. sent us the flyer for their Hamfest Saturday, April 28th, 8am to 12 noon at the Sonoma Veterans Memorial Building. If you have not been, they serve a terrific Blueberry Pancake breakfast and have demos, VE testing and outdoor swap. The flyer is at: http://www.vomarc.org/hamfest.pdf
73, Carl, WF6J, ARRL PIO
VE Session Summary
Hi Everyone, Thanks again for all the VE's (8) that were able to come to the session.
We had a successful session again. We administered 6 elements to 4 candidates. 2 earned a new or upgraded license: 0 new Technician; 2 new Generals; 0 new Extras.
Thanks Al NI2U
---
Update from Nevada County ARC

Updated March 10, 2018
Nevada County Amateur Radio Club members hold impromptu meetings at the Omega Rest Area on highway 20. Elevation is around 5000 ft and the views are tremendous. Our activity always draws the interest of motorists coming through the rest stop.
73, Cal McKitrick AI6MC, NCARC President 2018 Newsletter Facebook Group
Next Meeting: Monday March 12, 2018 doors open 6:30pm, meeting at 7pm
CLUB MINUTES General Meeting on: 2018-02-12
Attendance: 20
After the usual introductions, President Cal gave us a summary of upcoming events and our planned participation in them.
Our presentation was by President Cal and Treasurer John, and consisted of several videos, slideshows and commentary regarding their recent trip to the Arizona Quartzite Quartzfest. Quartzfest is a huge get-together in the Arizona desert that attracts untold, but large, numbers of participants, who spend days doing ham radio-related activities and taking classes in many subjects. They also experience some cold desert nights. It seemed to be an enthusiastically-enjoyed event, so if that is the kind of thing that appeals to you, you probably would enjoy going down there next year. The presentation was well done and quite interesting and I think everyone enjoyed it. Many thanks to Cal and John!
After some discussion about a newly- discovered pirate FM radio station in Nevada City, the meeting officially adjourned about 8:18.
Respectfully submitted by Jon, WA6TNC, Substitute Secretary
COFFEE CHAT (Ham n' Coffee)
Thursdays, 8 am at Valentina's Bistro, 841 Sutton Way, Grass Valley
---
Update from Mount Shasta ARC - pending

Submitted January 3, 2018
January is the month we elect new officers. For the past few years, the January meeting has been cancelled due to weather, but the elections took place online. Who knows what the weather forecaster will bring us, so keep your eyes open and let's make certain we have the right officers in place to bring us into the New Year.
The club wishes to extend our warmest regards to the family of George Dibelka, AB6UE (SK). South Siskiyou County has lost a giant in amateur radio and emergency communications.
On December 20, 2017, the club hosted its annual holiday gathering. An excellent potluck was capped by door prizes and several rounds of "RADIO" (like bingo, but, well, radio) wherein winning members received premium prizes. The night was filled with warmth, laughter, and getting to know each other.
As we head into another year, we also begin another cycle of public service events. Please remember to test your equipment and check your calendars, because we'll be asking you to help.
Submitted by Mark Dibelka, AB2LI
---
SPECIAL NOTICE
The W6SFM CW BEGINNERS CLASS WILL BE HELD STARTING WEDNESDAY April 4th. The club has locked a date for the beginning of our next semi annual CW Beginners Course. The course is a once per week 2 hour class that meets for 10 consecutive weeks. At this course students will learn how to both send and receive Morse Code. Students will be supplied a straight key and Oscillator to keep at the completion of the course. Students will also learn proper on-air pro-signs and other interesting information about Morse Code and On-air practices. If you or someone you know is interested in joining this course please be sure to contact the club ASAP. This is a FIRST COME FIRST SERVE enrollment with VERY limited seating. Those who contact the club via email are eligible to be placed on a 7 day 'seat reservation' while we await your payment. For more information be sure to contact us by going to http://w6sfm.com/contact.html
The W6SFM Samuel F Morse Radio Club February meeting was called to order by club President Mike, N6MQL on February 1st at the Carmichael Presbyterian Church in Carmichael CA, with 17 members and 1 guest in attendance. It was great to see returning member Tony, W6VFW at the meeting. Snacks provided by Bill, KJ6YCO and Katy, KJ6YCP.
This month the YouTube Live feed was working flawlessly on-line. Once again, the club had an uninterrupted 2-hour broadcast of our W6SFM In-person meeting! Due to the snack break the video has been divided up into part 1 and part 2 online. All On-air CW meetings are broadcast in their entirety and also posted to our W6SFM.COM website. Those videos along with Club in-person meetings can be found under the "Videos" page.
Feel free to use our on-air net recordings archived for CW Practice, or just review when you are unable to view LIVE while the club is on-the-air. Please note that there may be a delay starting the live videos as it takes the YouTube server up to 2 minutes to begin the live transmission. This is done to accommodate any lag in the transmission video due to internet speeds. the live videos as it takes the YouTube server up to 2 minutes to begin the live transmission. This is done to accommodate any lag in the transmission video due to internet speeds.
This year the NA QSP held its annual NAQP event on the 13rd of January. David, K6CIM volunteered his home QTH for the event. The club worked the bands from 10 AM until 10 PM. With 6 members in attendance at this year's event everyone had a chance to either get on the air, or enjoy sitting alongside an operator and perform logging duties. All in all, the club was able to score over 220 plus contacts! The club provided a Pizza lunch and refreshments, while the members brought snacks. this months in-person meeting Guest speaker, VEC and SFM ARC member Tom, W6JS, assisted by Gene, WA6ZRG, (the former head of the VEC for Northern California), presented the club with its official documents in order to conduct FCC VE (volunteer Examiner) testing. During his presentation to the club Tom gave out badges to new VEs and presented the club with its credentials. A special PDF VE study manual written and provided by the ARRL was presented via email to all those who applied to our new VE program. After reading this manual those who received their badges at our February meeting are requested to return to the March meeting in order to sign important documents that certify the VE has read and understands the rules, regulations, and procedures of the VE program and its testing. Once the documents are signed the VE position is official. At that point SFM ARC VEs are then able to conduct tests with our group along with other privileges. We would like to thank Tom and his group for honoring the SFM ARC by presenting us with the ability to become VEs under his groups authority. Service and volunteerism are vital parts of our Amateur Radio culture. VEs give so generously of their time, energy and skill to our community.
The results of the October 2017's California QSO party contest have finally been released. The W6SFM scored 17,640 points for the event with a confirmed 170 contacts made in total. W6SFM was placed 4th of all the Sacramento County stations that turned in their scores. In the past W6SFM has placed 2nd place in most years. However, keeping in mind that the 24-hour contest began at 9 AM and was ended by the club at approximately 6 PM, we did very well. In the past the club would activate the contest for the full 24 hours. However, this was found to be difficult for members to offer during that time of the year. The club intends to continue its support and participation in the CAQP events in the future.
For show and tell, member Angie, KG6FJF brought with her an old QSL card sent to her father Victor, K4NP circa 1973, from YV5CC of Venezuela. Member Rob, N6KIX displays his newly constructed Choke balun made from RG8 coax and a 4" piece of PVC pipe. This design is very closely constructed around the ARRL's suggestion in their antenna handbook for Amateurs to isolate the antenna from the feedline below 40 meters
Our next SFM ARC in person meeting will be held at its normal time and location March 1st (followed by our April 5th meeting). SFM ARC in-person Meetings are held in the Howard Crowley room upstairs at the Carmichael Presbyterian Church. Directions, including a Google Map are available at the bottom of the W6SFM.com homepage. At our March meeting, we will have a presentation by Phil, KD6RM on the Phased Vertical Array System. We will also discuss ARRL news and events. As always, we will have our Member show and tell portion. Members and visitors are asked to share their Ham Radio related items they find of interest. These are items that you've purchased or were given to you that you would like to share with others in the group. Visitors are always welcome to join us at our meetings. On-Air Net Meeting Each Tuesday of the week 8:00 PM on 3.545 MHz the SFM ARC enjoys getting on the air with CW for our weekly Nets. You do NOT need to be a member of the SFM ARC to check into our nets and we encourage you to invite a friend to join us as well. Although our nets usually run around 13 wpm code, we are all happy to accommodate those that are slower and need us to oblige. If you are unable to copy Morse Code or need some code practice, please feel free to visit our on-line LIVE streaming broadcast of both the Audio and a CW to Text decoding of the meeting. The "LIVE FEED" link can be found on our home page of our website. With our YouTube Live streaming system, you can watch the Live Feed on your Apple IOS or Android devices. You do not need to have a YouTube account to access the feed. However, you will to subscribe to our channel. Those visiting & viewing can chat with others watching on-line as well. This of course is not mandatory, but rather just a way of making everyone feel more involved in our on-air nets. If you like, you can "check-in" using the chat window and you will be included with our On-Air Net log. Simply announce your call letters in the chat window.
Tell A Friend. Do you know someone in need of a Ham Club to call home? Perhaps someone that wants to learn Morse Code, are interested in CW or already knows and uses it? The SFM ARC would love to be their new Club home. Our in-person meetings are held each 1st Thursday of the month at 7PM. Please use the rear parking lot and entry for best access to the meeting. A map and directions can also be found on our website. We hope to see you at our next meeting! Thank You
---- Chris AI6U (SFM ARC Secretary) Newsletter
---
Greetings from the Western Placer Amateur Radio Club:
Our Next Club Meeting is Saturday, March 20, 2018. 7:00 PM
Location: Round Table Pizza, 1020 Pleasant Grove Blvd #170, Roseville, CA
Scheduled Speaker and Topic: To Be Determined
Tour de Lincoln Volunteers Needed - Saturday May 12
Tour de Lincoln is a premiere bicycling event starting from McBean Park in Lincoln. Multiple courses are laid out into the foothills surrounding Lincoln. Cyclists come from all over to ride the event. A new director and organization is taking the reins this year. WPARC is looking for a few of our seasoned pros and apprentice pros to volunteer as radio operators at aid stations or in your vehicle as a SAG wagon patrolling a portion of the course. If you'd like to try hamming at an event but don't want to solo just yet then ask to be paired up with someone to experience the fun. Email Roger K6OU to express interest.
K6BUK Spoke on Transmission Lines at February Member Meeting
Club Secretary Michael K6BUK spoke on transmission lines used in ham radio. He passed around several samples of window or ladder line, coaxial cable, and connectors. Michael noted the differences between the lines and connectors, and why one might be better suited to your specific application. He also talked about microwave wave guides briefly. He might be coaxed to share more at a future meeting. Thank you Michael!
Regular Club Meeting Location: WPARC conducts board and member meetings on third Tuesdays of each month. Members and guests with business to bring before the board are welcome to attend board meetings. Join us at Round Table Pizza, 1020 Pleasant Grove Blvd #170, Roseville. This location faces Roseville Parkway at the northeast corner of the complex. View map and directions in link above. Come out to enjoy some camaraderie, food, beverage, and tales of the radios! Round Table offers a pizza and salad bar buffet dinner on Tuesday evenings for about $10/person.
WPARC Repeater New Tone 67.0 Hz. Our old subaudible tone of 179.9 Hz was becoming audible on newer radios presenting a hum. On Friday October 27 a team treked up to the repeater to change the tone from 179.9 Hz to 67.0 Hz. Ensure that you change all of your radios to use the new PL tone. The old tone won't be recognized by the repeater.
WPARC Repeater Abuses. Repeater Trustee Michael K6BUK received comments on a few repeater users abusing repeater etiquette. Please review Ethics and Operating Procedure for the Radio Amateur as a refresher.
Ham Radio License/Volunteer Examiner (VE) Tests. WPARC offers Ham Radio License testing on the first Wednesday of each month at 6:00 pm at the Round Table Pizza, 1020 Pleasant Grove Blvd #170, Roseville CA.  For more information please email Chuck at: kk6doa (at) gmail (dot) com.
Club T-Shirts. Club T-shirts have been a huge hit, and club members wanted more! Our vendor will soon have a web site offering more colors and shirt options. New orders are suspended until the new web site is available.
K6PAC Repeater Yaesu DR-2x Upgrades Completed. Upgrades to new Yaesu DR-2X are completed. A new FVS-2 Voice Module will add new features to leave messages, record and review your transmission, along with announcements. Stay tuned for more details.
The club website, http://wparc.us/index.html, has a new look and new information. Jey KQ6DK is now club web master and is updating the the site on a regular basis. Thanks to Jey for all his work on the website.
Don't forget about our WPARC Facebook page. It is at: https://www.facebook.com/WPARC
Want more? We now have a Twitter account! Just search for @k6pac (the club repeater call sign with the "@" symbol). We are following the ARRL, the ARRL Sacramento Valley Section, Kenwood, and Yaesu and a few others. If you think of someone we should follow, please email me. I know there are a few local clubs with Twitter accounts and I will add them.
73, Michael Buck. K6BUK
WPARC on Facebook and Twitter
Check us out on Facebook and Follow us on Twitter (@k6pac)
---
FROM THE PRESIDENT
Greetings, the year is quickly moving along and we are running out of Winter months. I'm hoping that the end of this month will provide for a pattern change that will get us a few decent snow storms to replenish the snow pack in the Sierra. It was nice last year to have creeks and rivers running high well into August.
How many of you have tried the digital mode FT8? I see on my band scope that many amateurs are using the new mode. It certainly can increase your number of QSO's very quickly and it makes it easy to find new DX entities. It's been reported that many Hams are getting burnt-out with the new mode. It's easy to understand why. You basically just sit in front of the computer clicking on call signs for hours without much mental stimulation. You can watch TV or read a book but if the band is very busy it's hard to focus on the distractions. What I have done to keep myself interested is after every five FT8 contacts I'll attempt to make a QSO on another mode such as voice or CW. Then I'll move back and make a few more FT8 contacts. It's still fun to have a phone QSO and rag chew for a bit with someone new. So don't forget about the other modes.
Finally, I would like to thank everyone who helped with the Discovery of Gold Special Event Station last month. It was another very successful event and it would not have been possible without everyone's help. The weather was fantastic for weekend and all the equipment worked well. We were able to make over 500 contacts all over the US and few DX contacts as well. The Winter Field Day stations kept us busy and it sounded like they were having fun as well with their contest. Bob, W1RH is busy working on replying to the QSL cards. I'm already looking forward to next year and maybe participating in Winter Field Day as well.
If you have been working on any projects or have a new toy and would like to show it off. Bring it to the meeting on Thursday and you can have a few minutes during show and tell time to educate the rest of us.
73, Jay, KE6GLA Newsletter
---
Update from Yuba-Sutter ARC - pending

Posted February 6, 2018
February Club Meeting is Tuesday, 6th of February 6:30 pm at the Marysville Methodist Church at 730 D St, Marysville, CA 95901.  It is a meeting and mini-ham swap, so bring your extra junk, err, I mean super cool ham gear to sell or trade. :)
THE "PREZ" SAYS
Beale Air Show http://www.beale.af.mil/Expo2018/
The POC for the Beale Air Show is checking on his side to find out if we'll be able to operate on base and what restrictions there might be.
Beale's operational frequencies are different than ours so I'm pretty positive that won't be a problem. There will be 2 days of displays and flying. Friday, April 27th, is set for local schools to visit the base and see the displays from 9-12. From 12-6 the displays will be open to the base personnel. They will get treated to a flying routine practice. The "open to the public" airshow is on Saturday, April 28th from 10-6. YSARC could participate on both days if we want. I envision taking the trailer and the solar array (which we'll need to finish setting up) and one HF rig at least along with a couple of VHF rigs with J-Poles. We won't have to break down the trailer Friday night as they'll have Security Police patrolling the area. I need to know ASAP who thinks they will participate and what day(s) and get information back to them post haste to arrange for access to the base for all of our participants. E-mail me if you're interested: cwprice77@gmail.com
Chris/KK6VZD TEC
EDITORS COMMENTS
✓YSARC's new web page is: www.ysarc.net - click on the upper right-hand icon on the homepage to join the club's Facebook page. Past issue's of the VHN are available on our new website.
✓Send your ham related articles and pictures to share in your VHN. Pictures of ham shacks, antenna projects, antenna parties, etc. are appreciated KI6CSN@arrl.net or KF6FVP@arrl.net
---
Update from Elk Grove-Florin ARC - pending

Posted November 18, 2017
Elk Grove-Florin ARC—Section News –November 18, 2017
Our General Meeting in November was the Annual Meeting required by our by-laws. We had our election of officers to manage the club affairs for the calendar year 2018. The officers for 2018 are: President: Chris Lay, KG6JFO; Vice President: Mark Flint, KK6YFV; Secretary: Mary Frederici, KI6YPQ; Treasurer: Cindy Gansereit, KM6BUY; Member at Large: Dave Reingold, KK6MVJ
We thank our 2018 officers for the time and service will give in leading our club and look forward to an exciting year.
Following the election Dave, KK6MVJ, presented an excellent slide show talk about his trip to Oregon for the Solar Eclipse in October. Thank You Dave!
Club members and their families will end 2017 with a Christmas Party including lots of food, fellowship and a slideshow summary of the year.
Happy Holidays!, Paul N6DRY
---
Update from Oroville ARS

Updated March 11, 2018
OARS Monthly Meeting Reminder
The monthly meeting of OARS will take place Friday, March 9, 2018, 7 pm, in St. Paul's Parish Hall, 1430 Pine Street, in Oroville. The doors will open at 6 pm for a social hour prior to the meeting.
Membership dues for 2018 ($20) are due at this time.  The OARS Club mailbox location is unexpectedly being shut down.  Until further notice, all club correspondence including dues paid by mail should be sent to: OARS, c/o Ted Cochran, 47 Orchardcrest Dr, Oroville, CA 95965.
Ted Cochran, N6TBC, President, Butte County ARES AEC, N6TBC@WINLINK.ORG N6TBC@arrl.net
---
Our meeting this month is Wednesday, March 14th. You can choose Lunch or Breakfast. (Denny's serves breakfast all day.) Breakfast (or lunch) starts at eleven and the meeting will start at noon.
The meeting as usual at: Denny's Restaurant, 7900 College Town Drive, Sacramento. Phone (916) 383-7071, Located at the southwest corner of Howe Ave. and College Town Drive one block North of Highway 50.
Please plan to attend.
---
Update from North Hills RC

Posted March 11, 2018
The next meeting of the North Hills Radio Club will take place on Tuesday March 20. This month's program will be presented by former past president, vice-president and secretary-treasurer, Maynard Wright, W6PAP. Maynard will give a talk about the new 600 meter amateur band. The FCC recently granted privlages to hams on this band. It promises to be an interesting program. So, why not come and join us!
Club meetings are always held on the third Tuesday of every month, at the former (SMUD) building located at 5026 Don Julio Blvd, at the northeast corner of Don Julio and Elkhorn Blvds. The board meeting begins at 6:00 P.M., followed by the general membership meeting at 7:30 P.M.
See you there! From Doug Emerson, Vice-President, North Hills Radio Club. Amateur callsign N6NFF
---
Update from Glenn ARS

Posted March 11, 2018
Prez Says!
Thought I would get this issue out a few days early so that the John and Dorothy Post can be free to make their travels to Port Angles, Washington. We will miss them while they are away and we wish them safe travels and a safe return to us.
As I understand it, the ARRL will be posting the new rules for this year's Field Day. This posting is to happen the first week of March. It is hopeful then that I will have a downloaded a copy and have it at our next membership meeting for all to peruse. We will be discussing this event and start formal planning during the meeting. Also coming up is the 'Run Your Tail Off 2018 5K/10K' event and which will be held on the 14th of April, 2018. Time of event to be announced soon! Please mark your calendars and come out and support this event. GARS provides communications and safety support on the trail. The plan is to have the Disaster Response Trailer (DTR) on site to use as the net control station, and to show it off to all the participants.
For those that wish to help and support this event please respond to me your desires. We have a minimum need for six communicators and I need to turn names in for the gate pass.
A Nano-Spot, a Multi-Mode Digital Hot Spot, Designed for Pi-Star / MMDVM Open Source Firmware Compatibility, was ordered over a month ago, for testing and then use while traveling around the North State. Well I have it on authority that it will be shipped out on the 26th of this month. This may mean that I will have it in time for show and tell at our next membership meeting. Here is the link to the Micro-Node web site. www.micro-node.com
We will be meeting at the Artois Lutheran Fellowship Hall at 6:30 pm, on Thursday, the 8th of March. Late arrivals and guests are always welcome. So be safe in all you do and may you all have many blessings in the days ahead!
Mike Ellithorpe-KF6OBI kilofox6obi@yandex.com 530-518-3730 Newsletter
---
Update from Golden Empire ARS - pending

Posted February 3, 2018
The Prez' Says:
It's been a busy month.
I asked the VE team to go to Feather River Medical Center to give FCC exams. Three of the candidates passed and three did not. That was on Jan. 28.  On Feb. 1st. Gene and I will be going to a Carmichael club to set up a VE testing group.
Feb. 4 we will be testing at the Search and Rescue building. Please NOTE: On June 3rd we will have to move the test site, as we cannot use the Search and Rescue Building on that specific Sunday. I will obtain a new site for that one test date.
I believe we have guest speaker for our Feb. 16 meeting. Scott Petersen-KE6VUS, will give a presentation on the MESH system.
73, Tom Rider W6JS rustyboyrider@aol.com Newsletter Bulletin 
---
Member Updates and Feedback
---
K9LBC Winter Field Day Station

by Aaron Jones, K6ABJ, posted February 3, 2018
Pictured here is Brian Courtright, K9LBC, a newly licensed ham and a member of the North Hills Radio Club participating in his first contest. The contest was Winter Field Day 2018 (WFD) https://www.winterfieldday.com held at 19:00 UTC on January 27 to 19:00 UTC on January 28. The K9LBC Winter Field Day station event held at Folsom Lake was organized by Aaron Jones, K6ABJ. They competed in the "Outdoor" category, and stayed on site in the outdoors during the entire 24 hour event. Also creating a station and operating at the event was Joel Baldwin AI6DG. Jones learned about the contest and decided to organize a group of contesters after learning about the contest through the Sacramento Valley Section Newsletter.
Story and photos by Aaron Jones, K6ABJ.
---
How I Chose my New Amateur Radio Vanity Callsign

by Alan Canton, K6AAI, posted March 10, 2018
After you have been granted an amateur (i.e. 'ham') radio FCC callsign you have the option to exchange it for a different one that is available and allowed for your license class.
I was assigned KM6AAI ...[ kilo mike six alpha alpha india.] I liked it but I wanted a shorter call by dropping the 'M' and perhaps getting a 'better' suffix. (I'm always amazed that the FCC gave out [kilo six alpha sierra sierra] and [whiskey four tango india tango])!!!
While studying for my Extra exam I did three months of "on and off" research on what vanity call to "reward' myself with upon passing.
I wanted a 1x2 [K6_ _] but given how few come up for grabs and the competition for them, at my age I figured I would not get one in this life!!! So I decided I wanted a 1x3 ... [K6_ _ _]. I thought about a 2x2 [K _6_ _] but I find them hard to 'copy' as well as remember.
My goal was to find a callsign letter-combo that upon hearing was easy to remember as well as one that (subjectively) rolled off the tongue.
While my method was not scientific by any means, after talking to hams and non-hams and doing some testing I learned a lot of things. In no particular order, here are my findings.
I learned that people remembered a letter followed by a number [K6] better than two letters followed by a number [KM6], which reinforced my intent to get a 1x3 and and not the 2x2.
Given five sets of 3 letters (like what might be heard in a DX pileup) I found that my test group of people remembered the combinations with double letters [AAX] or where all 3 were the same [BBB] better than any other grouping EXCEPT if the 3 letters form a known word like CAT or DOG or GOD or GUN or BAT, etc.
All of the 'K6' three-letter common words [map, cop, etc] as well as the three-single-letter options [BBB, GGG] were taken so I had to look for a combination of double-letters followed by a third letter that would tend to stand out and be easily remembered.
I found that the better remembered groups were those that were easy to pronounce phonetically... they rolled off the tongue. Combos like [GGK... golf, golf, kilo] did not work as well as something like [AAL... alpha, alpha, lima].
I found that letters that were vowels or phonetics ending in vowels tended to sound better and be remembered better than harder consonants... 'alpha' worked better than 'hotel.'
I found that the double-letter pair coming first was better remembered than if the pair came last. [AAF ... alpha, alpha, foxtrot] was recalled more often than [FAA... foxtrot, alpha, alpha] because often people didn't hear the final letter of a double letter combo. They hear [FA] and not [FAA].
I learned that when the final syllable of the third letter rhymed or sounded like the final syllable of the combo pair, retention was increased.... like in [delta delta alpha].... all three end in an 'ah' sound.... [charlie, charlie, yankee]... all have an 'eee' sound. The combo of [golf, golf, uniform] didn't work as well.
I also learned that phonetics that had the emphasis on the first syllable (echo) were better remembered than when the emphasis was in the middle (november, sierra) or at the end (quebec, hotel).
While it was a very minor issue, I found that a two-syllable final letter phonetic like "echo" was more often remembered than a three-syllable third letter like [sierra ...see-air-ahh]. (There are only 2 one-syllable letters... golf, mike.)
I liked the sound of 'india' and while it is a three-syllable word, it gets slurred and often sounds like a two-syllable phonetic... 'in-jah.' It helped that 'india' is a well-known country.
I also liked the sound of 'lima.' While 'lima' is a city (in Peru and Ohio,) few people had ever heard of it. Perhaps if 'L' was phonetically 'lie-mah' (like the bean) it might work better than 'lee-mah!')
I gathered a lot of data. The argument can be made that it was just random and I won't dispute that. But random data is better (at some level) than a SWAG (https://www.acronymfinder.com/SWAG.html).
So at the end of the day... I decided to drop the 'M' and keep the suffix that the FCC had given me...[alpha, alpha, india] which was as good as I could get. Everything better was taken.
The above was MY methodology.
YMMV!! (https://dictionary.cambridge.org/us/dictionary/english/ymmv)
73s, Al
Alan Canton, K6AAI, Fair Oaks, CA, http://www.qrz.com/db/K6AAI
---
Rose Jolly, W6QPV, Silent Key

submitted by Dan Langford, WA6VPJ, posted March 10, 2018
Rose Jolly passed away at her home in Fair Oaks, California, on February 10, 2018 after a long and full life. She was born January 1, 1924 in Glendale, California to Jimmie Walter Binkley and Willie Pansy Keown and was raised in a home built by her father in Eagle Rock, California. As a five year old, she traveled with her mother to Washington D.C., visited the White House and met President Hoover and the First Lady, who was also from California. Upon returning, Rose, her mother, and her dear older sister, Betty Violet Day, lived in Hollywood with her grandparents, Tillie and Sam Keown. They belonged to the Country Church of Hollywood where Rose sang on the Church's Saturday morning radio show. Rose attended the Monticello School for Girls in 1931 and later Cheremoya Grammar School. She graduated from Los Angeles Belmont High School, and later in life, from San Mateo Community College. During her junior year in high school she lived with her older sister, Betty, and attended Hilmar High School. Sister Betty, who taught at Hilmar High, introduced Rose to one of her drama students, Jim Jolly, who Rose would marry in 1945. They remained married for 73 years until her passing. Jim and Rose had three children, Mayeve, David and Heidi which lead to 7 grandchildren and 10 great-grandchildren. As an adult, Rose became an Amateur Radio Operator (W6QPV) and used this skill as a radio net operator for the women's cross-country airplane race, the Powder Puff Derby. Rose always loved music and singing and performed in College of Pacific summer theatre in Columbia California's Fallon House Theatre, as well as the San Carlos Little Theatre. She was always involved civically including being president of a Chapter of the Federated Women's Club of America, as well as being active in the Faculty Wives' Association at the Naval Postgraduate School in Monterey and the California State University Sacramento Affiliates. Rose also volunteered in Capitol Public Radio fundraisers. Rose loved history and became active in the Daughters of the American Revolution (DAR) when she and her husband moved to Sacramento in 1976. She served many roles with the DAR including Vice Regent and Historian. Rose also was a lifelong avid gardener and always knew the Latin name for plants. In retirement years, she and husband, Jim, visited all 50 state capitals. Her entire life, Rose was known for her charming and gracious manner with all people. She sang and played the ukulele well into her 90s. She is deeply missed by her family and world of friends. A Celebration of Rose's life is planned by her family for later this spring. Charitable contributions can be made to the local DAR Chapter, Capitol Public Radio, the Kaiser Hospice Program, and your local Public Library.
---
Placerville Ham Radio Operator Returns after 55-year Hiatus

by Alan Thompson, AJ6AR, posted February 3, 2018
When Alan Thompson was just 11 years old, and living in Placerville with his family on Mosquito road, he earned a Novice-class Amateur Radio license. Alan had the distinction at that time of being the second-youngest ham radio operator in the United States (see accompanying story from the Mountain Democrat and Placerville Times, dated August 02, 1962).
The Novice-class license was the first of four Ham Radio licenses available in 1962. Alan always wanted to earn a higher license class. But before he could master the code speed and electronics skills required, he entered into a different group of classes at El Dorado High School and became more interested in cars and girls than radios. He quickly lost interest in Ham Radio altogether and let his Amateur Radio license lapse.
Now 55 years later, after a professional career spent in high tech and communications, Thompson found himself again wanting to renew his Ham Radio hobby and earn his license all over again. Only this time around, he'd promised himself he'd go straight to the top and pass the tests for all three currently-available licenses at once.
One of Thompson's first steps to get back into Ham Radio was to join his local El Dorado County Amateur Radio Club (EDCARC.net) where he could meet other local Hams, and start spinning up on current radio technology. "This was one of the most important moves I made. There, I met a lot of great people who generously offered advice and assistance to a 'wannabe' Ham." said Thompson. "I think it's absolutely vital for anyone thinking about becoming a Ham to connect with their local Amateur Radio Clubs first. My advice is to attend some club meetings in your area, and see if it works for you before you make an investment in hardware. Here, you'll find a welcoming group of fellow enthusiasts who are more than willing to share what they know, and answer questions you hadn't yet thought to ask."
After two months of online study at sites like eHam.com and HamStudy.org, Thompson felt he was finally ready to pass the exams. A twice-yearly exam session, sponsored by the Rubicon Trail Foundation, was held on Saturday, December 2nd, in El Dorado Hills. Thompson passed all three Exams in one sitting, and earned an Extra-class ticket. Barbara Olson-Arenz, one of the attending VEs, and a member of the Rubicon Trail Foundation, remarked, "Our group had witnessed only a few examinees over the past several years who had successfully taken and passed all three exams at once." On December 14th, Barbara was pleased to congratulate Alan, and let him know when his new radio "call sign," AJ6AR, was finally issued.
Thompson continued, "So much has changed in radio during the 55 years since I first earned my license, I feel a bit like a modern-day 'Rip Van Winkle' who woke up in another century. We now have communications satellites, computers, the Internet, smart phones, Google, and WiFi everything." Before, all my equipment used old, "glow-in-the-dark" vacuum tubes. Now, radios are all like miniature computers.
When asked where is the place for Ham Radio in this age of Email, SKYPE, Twitter, Facebook, and instant, world-wide communications, Alan replied, "Well, apart from the sheer fun of building your own radio station from scratch and talking with fellow Hams all over the world, Hams provide vital, local community services through volunteer participation in emergency-response groups such as ARES, CERT and RACES."
Alan added, "The recent weather and fire disasters in Texas, Florida, Puerto Rico and California once again proved the value of Ham Radio operators who provided life-saving, local emergency radio communications when power, cell phone towers, and Internet connections were cut." He continued, "Now that I've regained my license, my dream is to outfit a complete mobile communications rig so I might be able to help the next time Ham Radio operators are called to assist in another emergency."
In the meantime, Alan has been busy buying equipment for his new Shack, and stringing up antennas at his property on Mosquito Road where he and Debra Webster, his wife, live just two miles from where Alan had first earned his license in 1962.
Thompson is the owner and Chief Technical Consultant for El Dorado Networks, a satellite TV and Internet service and installation company in Diamond Springs. Debra added, "Now, I just need to figure out how get Alan back into the office every day, when he'd really rather stay home gabbing on that radio."
Alan Thompson - AJ6AR
Follow Up
As a follow up, my story was picked up by our local newspaper, The Mountain Democrat. They sent a reporter over last week, and they ran a story on their front page this last Monday. A lot of the story was pulled word-for-word from my bio, but I was especially pleased to see the reporter highlight our local El Dorado County Amateur Radio Club.
Hopefully, this will generate some interest in our area on learning more about Ham Radio: https://www.mtdemocrat.com/news/alan-thompson-is-still-a-ham/
73, Alan - AJ6AR
Alan Thompson, VSAT Communications Engineer, El Dorado Networks, 444 Pleasant Valley Rd, Ste B, Diamond Springs, CA 95619
---
Keep Our Digital Transmissions Legal on 60 Meters

Posted January 29, 2017
Our decreasing solar activity and residential antenna restrictions have attracted increasing numbers of radio amateurs to operate CW and weak signal digital modes on our lower HF frequencies including 60 meters. The five frequency channels that US amateur radio operators share on a secondary basis with US federal government users on 60 meters (5 MHz) pose unique requirements for CW and digital operators. As explained on http://www.arrl.org/60m-channel-allocation, US radio amateur emissions on our 60m channels must be precisely centered in the center frequency of each assigned channel, that is, 5332.0, 5348.0, 5358.5, 5373.0 or 5405.0 kHz. Thus, for example, a CW signal on channel 3 (USB Dial frequency 5357.0 kHz) must be precisely on 5358.5 kHz. The same ARRL page explains that all digital emissions must also be centered in the channel center.
This may appear unreasonable to radio amateurs because a 2.8 kHz channel can accommodate many digital and CW transmissions simultaneously, and requiring multiple stations to operate on the same exact frequency would result in mutual interference. The National Telecommunications and Information Administration (NTIA)* explains this requirement in https://ecfsapi.fcc.gov/file/7021871884.pdf which states: "Allowing multiple emissions within the necessary bandwidth of the widest authorized modes (2.8 kHz) increases the possibility of harmful interference from secondary amateur stations to primary federal stations, and would make it more difficult for a federal station to identify an interfering amateur station. In addition, NTIA is concerned about the aggregate equivalent isotropically radiated power from multiple amateur stations transmitting within a single 2.8 kHz channel. Accordingly, NTIA requests that 47 C.F.R. Section 97.303(h) continue to require that amateur stations transmit only on the five center frequencies allocated to the amateur service."  (See http://www.arrl.org/what-the-fcc-rules-say-97-303-h)
Observed Violations of US 60 Meter Frequency Regulations

JT65

This screenshot photo shows JT65 signals received on 60 meter Channel 3 (5357 kHz USB dial frequency) from 0300-0309 UTC on January 29, 2017. In the photo, the 5357 kHz dial frequency is at 0 Hz on the left side of the waterfall and the 5358.5 kHz channel center is at the 1500 Hz mark. Decodes of several US radio amateurs are seen transmitting JT65 emissions simultaneously on various frequencies throughout the channel 3 frequency range 5357-5360 kHz. This is the familiar appearance of a JT65 waterfall display on all other amateur radio bands; however, it violates the NTIA requirement that each US radio amateur transmission be centered on the 1500 Hz mark (the 5358.5 kHz channel center frequency).
ARRL Official Observer Richard Saunders, K6RBS, has posted the proper WSJT-X program settings for legal 60m JT mode operation here.

WSPR

The link http://wsprnet.org/olddb?band=60&sort=callsign&reverse=on&unique=on lists WSPR mode emissions on the 60 meter band. One can scroll down that list and see how many A, K, N and W call signs have been transmitting WSPR mode on 5288 kHz outside the authorized 60 meter center channel frequencies.  
US WSPR transmissions continue to be observed on the WSPR software default 60 meter frequency of 5288 kHz, a completely unauthorized frequency for US radio amateurs.
Each licensee has the final responsibility for the lawful operation of his or her station.  Unfortunately, the increasing automation in our radios has apparently accustomed some to falsely assume that the radio will correct for operator carelessness and ignorance of regulations.  Our cooperation with NTIA requirements is essential for our continued access to the 60m channels and for possible future access to the new ITU worldwide 60 meter allocation at 5351.5 to 5366.5 kHz. (See http://www.arrl.org/news/view/arrl-asks-fcc-to-allocate-new-5-mhz-band-retain-channels-and-current-power-limit and http://www.arrl.org/news/fcc-invites-comments-on-arrl-petition-to-allocate-new-5-mhz-band). Please be aware of these requirements if you intend to or currently operate CW or digital modes on our shared 60m allocations. The Amateur Auxiliary is documenting this matter and hopes to raise its awareness in the wider amateur radio community.
-Carol Milazzo, KP4MD
*The NTIA is the federal authority that coordinates radio spectrum use for the US military and federal government while the FCC serves in this capacity for US civilian radio spectrum users.