American Radio Relay League
The National Association for Amateur Radio
Sacramento Valley Section
Serving Alpine, Amador, Butte, Colusa, El Dorado, Glenn, Lassen, Modoc, Nevada, Placer, Plumas, Sacramento, Shasta, Sierra, Siskiyou, Sutter, Tehama, Trinity, Yolo & Yuba Counties in Northern California
Sacramento Valley Section is located in the ARRL Pacific Division.
Sacramento Valley Section Web Resources
ARRL National Page: www.arrl.org/Groups/view/sacramento-valley
Organization, Clubs, Calendar, Nets
Sacramento Valley ARES: www.sacvalleyares.org SV ARES Brochure
Facebook: www.facebook.com/ARRLSacramentoValley
Twitter: www.twitter.com/ARRL_SV
Thanks to Greg Kruckewitt KG6SJT for maintaining our Section ARES web page and for assisting with our Facebook page and Twitter feed.
Thanks to Les Cobb W6TEE for maintaining the Section Net list.
Submit Section News updates to kp4md(at)arrl.org
---
ARRL Conventions & Hamfests & Regional Events
Sunday, December 3 - California International Marathon, Sacramento

Saturday, March 17, 2018, 0700-1200 - Sierra Foothills ARC Hamfest, Loomis, CA
April 20-22, 2018 - International DX Convention, Visalia, CA
---
Past Section News Archive
---
Amateur Radio License Classes and Volunteer Exam (VE) Information and Schedules (updated)
Class and VE Session Calendar
---
Getting Your Amateur Radio License
A license is required to operate an amateur radio station. Amateur Radio Licenses in the United States are granted by the Federal Communications Commission (FCC) after passing an exam at a Volunteer Exam (VE) session.  
The FCC currently issues three classes of amateur radio license: Technician, General and Amateur Extra.
The license exam contains multiple choice questions selected from lists that are published online at http://www.arrl.org/question-pools. Many individuals prepare for an exam session using self-study license manuals and online practice exams. From time to time, license preparation courses are offered that cover the exam material over several weeks. "Ham-Cram" sessions are also popular, where a several hours' review class of exam questions and answers is immediately followed by a license exam session.
Visit http://www.arrl.org/find-an-amateur-radio-license-class to find a license class.
Visit http://www.arrl.org/find-an-amateur-radio-license-exam-session to find a license exam session.
For more information on testing, preparation and study materials, see:
---
Yuba-Sutter ARC Technician Class License Course
Posted December 4, 2017
The Yuba-Sutter Amateur Radio Club will sponsor a 17 session Technician License exam course at the American Red Cross Center, 2125 East Onstott Frontage Road, Yuba City, CA, classroom 1 from 6:30 to 8:30 pm Monday and Wednesday evenings from Jan 3, 2018 thru Feb 28, 2018. There is no cost for the classes, however you will need an up-to-date ARRL Ham Radio License Manual. You can obtain a Kindle version from Amazon, purchase a copy from a bookstore, ARRL, or order one thru an instructor. The instructors will be Curtis (KF6VFP) and Joe (N9BD). Please get the word out to family, friends and anyone you know who is interested in getting their license. More information can be obtained from Curtis at (530) 743-3003 or KF6VFP@arrl.net.
---
Citrus Heights 2018 Ham-Cram Sessions
Posted December 4, 2017
Section member Joe Cardoza, KA6ROM, announces that his Citrus Heights VE Team will conduct their amateur radio Ham-Cram Technician License training and examinations on the fourth Saturday every other month at starting at 8:45 am at the LDS Church, at 7950 Hazel Ave, Orangevale, CA. This is the intersection of Hazel and Cherry Ave.
The Ham-Cram and Exam dates for 2018 are:

January 27, 
March 24, 
May 26, 
July 28, 
September 22, and 
November 17.
Contact Joe Cardoza, KA6ROM, 916-725-6443 or cardozas@comcast.net to register.
---
California Emergency Volunteers Ham-Cram Sessions
Posted December 4, 2017
The California Emergency Volunteers, Inc. offers 6 hour long "Get Your License in One Day" Ham-Cram sessions followed by a Technician Class license exam session. These sessions are held on monthly on a Saturday alternating between Stockton and Manteca, CA. Visit http://www.hamcram.org/ for more information and to register.
---
NCDXC Free Online General Class License and HF Operating Courses September through January 2018
Posted August 23, 2017
The Northern California DX Club is offering free classes aimed at helping you to pass your General Class license exam, build your first effective HF station and learn HF operating skills. Enhancing your HF experience will be done with classes on advanced HF phone, CW and Digital operating skills, propagation analysis, antennas and other topics. These classes are arranged in 3 tracks so that you may take only those classes that interest you. Some classes will be taught using PowerPoint presentations delivered to your computer over Webex. You need no special software as Webex allows you to see and hear the presentation and participate in the two way audio stream. Other classes will be taught by your Elmer at his or her own shack. There you will experience the skills that you are learning on the air! Our 13 instructors are experts in their fields with literally hundreds of years of active ham radio experience. Our goal is to put you on the air on the HF bands and give you the background to enjoy the many aspects of the HF experience. Some of our instructors are great teachers, others are operators with many years or SSB, CW and Digital mode experience, while others enjoy building state of the art equipment. The classes will be taught at your level. We will strive to make each class fun. We want you to succeed!
Go to http://www.ncdxc.org/pages/elmer.html for details and registration.
---
Yolo County ARES and BARK Radio Club VE Exam Session
Posted November 4, 2017
Yolo ARES and the BARK amateur radio club are holding an FCC license exam Nov 11 at the LDS chapel on 850 Pioneer Ave here in Woodland. All elements tested, no registration required but a call ahead is appreciated, walk in's are accepted. Testing starts at 07:30 and closes down at 09:30. contact person: Ken - K6WLS, 530-305-4088
---
Folsom ARRL Volunteer Exam 2018 Schedule
Posted December 4, 2017
Folsom ARRL VEC exams are held at 6 pm the third Thursday of each month except July, August and December.
Here is our updated exam scheduled for 2018:
January 18

February 15

March 15

April 19

May 17

June 21

July NO EXAM

August 16
September 20
October 18
November 15
December NO EXAM
All exams start at 6:00 pm.

Round Table Pizza (Small private room by the front door), 2793 E Bidwell St, Suite 100, Folsom, CA 95630
For information see http://ns6q.net/exams or contact Mike Kirkland, NS6Q at radio.ns6q@gmail.com.
73, Mike, NS6Q
---
Redding ARRL VE Schedule 2018
Posted December 1, 2017
The Redding ARRL VE Team will be hosting exams on the following Saturdays in 2018:
January 20
March 17
May 19
July 21
September 15
November 17
Our exam sessions are now being held at the Shasta County Office of Emergency Services at 2486 Progress Drive in Redding. Exams start at 10:00 AM and candidates are encouraged to pre-register.

More information can be found at: www.reddingve.com or by contacting Steve K6KS at sjmosconi@gmail.com
---
SHINGLETOWN ARRL VE 2018 Schedule
Test Location:
Open Door Community Church, 33883 HWY 44, SHINGLETOWN, CA. 96088
Testing begins at 10:00 AM.
Candidates should arrive 15 to 30 minutes early. We accept walk ins.
Contact:
Dar Walker W6IO, Shingletown ARRL VE Liaison, w6iodar@gmail.com, 530-474-3087
TEST SCHEDULE:
2018: Feb 17, Apr 14, Jun 16, Aug 18, Oct 20, Dec 8
Dar Walker W6IO
---
Other VE Sessions - Schedule List

---
Amateur Radio Parity Act of 2017 - HR 555 - S1534
LATEST NEWS: The Amateur Radio Parity Act of 2017 was introduced in the US Senate on July 12, marking another step forward for this landmark legislation. Senators Roger Wicker (R-MS) and Richard Blumenthal (D-CT) are the Senate sponsors. The measure will, for the first time, guarantee all radio amateurs living in deed-restricted communities governed by a homeowner's association (HOA) or subject to any private land use regulations, the right to erect and maintain effective outdoor antennas at their homes. The Senate bill, S. 1534, is identical to H.R. 555, which passed the US House of Representatives in January. Read more here.
The Amateur Radio Parity Act
---
50 W PEP Maximum Power Limit Area on 70 cm
A little recognized portion of FCC Part 97 regulations applies to 420-450 MHz operations in most counties in our Sacramento Valley section:
47 CFR §97.313 (f) No station may transmit with a transmitter power exceeding 50 W PEP on the UHF 70 cm band from an area specified in footnote US270 to §2.106 of part 2. The indicated affected areas are specified in http://www.arrl.org/us270, in the State of California within a 240-kilometer (150 mile) radius around locations at Beale Air Force Base, California (latitude 39°08' North, longitude 121°26' West).
More information on the additional impact on 70 cm repeater stations is at http://www.narcc.org/NARCC-ARRL-PAVE-PAWS-Update-2014a.pdf
The Amateur Radio Service shares the 70 cm band on a secondary basis with the US Government which has priority. The US Department of Defense routinely monitors and locates signal sources on these frequencies.  Our voluntary cooperation is mandatory to avoid interference with the Pave PAWS (Phased Array Warning System) radar at Beale AFB and thus to assure our continued access to these frequencies.
December 2017 News
From the Section Manager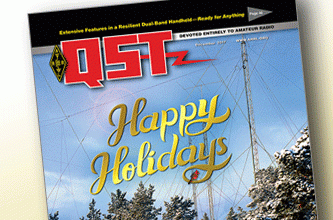 Happy Holidays to all!  This month's news features news and happening from clubs and members around our section.
Each ARRL Affiliated Club may send up to two representatives to the ARRL Pacific Division Cabinet meeting on Saturday, December 2, 2017, at 9:00 a.m., in Livermore, California. The meeting will discuss matters of importance to the membership in the Division including: Use of Mobile Wireless, A.B. No. 1785; Amateur Radio Parity Act, H.R. 555 & S. 1534; ARES and Emcomm; FCC update; and other matters of significance to the membership. Please contact ARRL Pacific Division Vice Director Jim Tiemstra, K6JAT, k6jat@arrl.org if your club leadership has not received notice or has suggestions for additional agenda items.
Our website,
Facebook
and
Twitter
pages are a work in progress, and your suggestions and submissions are always welcome.
This website is visited most during the first week of each month, but do check back as it is often updated with late breaking news.
73, Dr. Carol Milazzo, KP4MD
American Radio Relay League Sacramento Valley Section Manager
kp4md(at)arrl.org
You can always send compliments, suggestions and submissions for inclusion in our Section News to kp4md(at)arrl.org

---
ARRL Sacramento Valley Section Nets are conducted only on months when announced on the third Thursday of that month, starting approximately 7:20 pm Pacific Time on the WD6AXM 146.085 MHz FM repeater, followed by the HF Section Net on 3880 kHz LSB +/- 3 kHz. During summer months the HF net is conducted on 5330.5 kHz USB as propagation permits.
Don't have an HF radio?  
Listen on the W6DRZ web receiver at Half Moon Bay
or the W7RNA web receiver in Sedona, AZ.
Hourly Northern California NVIS Observations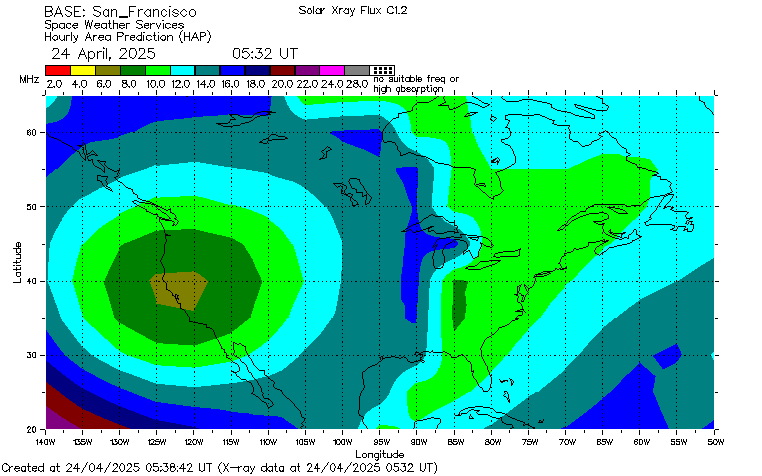 This chart shows colors that represent the recommended HF frequencies for contacting stations for a particular hour. Both stations should use the SAME frequency denoted by the color at the location of the target station. The chart is in Universal Time (UTC). More information at http://www.sws.bom.gov.au/HF_Systems/6/6
---
Joe Pistritto, N3CKF, to Speak January 2 on ARRL/Red Cross Puerto Rico Disaster Relief Deployment

Posted December 2
At the River City ARCS General Meeting on Tuesday, January 2 at 7:30 pm, Joe Pistritto, N3CKF, will give a presentation on his September 28-October 18 deployment as a communications volunteer in the post-Hurricane Maria ARRL-Red Cross Puerto Rico disaster relief effort. The meeting will be held at the Sacramento County Corp Yard, 5026 Don Julio Blvd, Sacramento, CA 95842. Directions are posted at http://www.n6na.org/meetings All are welcome.
---
Sacramento Valley Section Radio Operators Support the 35th California International Marathon

Submitted December 6, 2017 by Greg Kruckewitt, KG6SJT, Sacramento Valley SEC
The running of the 35th California International Marathon, December 2, 2017, required 35 Amateur Radio Operators to provide the needed communication support for this event.
California International Marathon (CIM), is hosted by the Sacramento Running Association. This year the event drew over 11,000 runners and an additional 1,000 Relay Teams for the 26.2-mile race from Folsom to downtown Sacramento. The CIM draws runner from all over the county and is a recognized as qualifying race for the Boston Marathon and as an Olympic qualifying event.
Thirty-five amateur radio operators from multiple counties in Northern California worked together to support necessary communications for this event.
The amateur radio communications teams were directed by Sacramento County ARES Emergency Coordinator Vince Cracchiolo, KI6NHP. The radio operators used amateur radio and the fire department's 800 MHz trunked radios to communicate with Command and provide communications between the seventeen Aid Stations, SAG buses, and the Command Post. Information passed included lead runner information, coordinating the tracking of runners who dropped out and needed rides to the finish line, and passing Aid Station requests for needed materials, and medical information from Aid Stations.
The bulk of amateur radio communications were on the N6ICW repeater. In the command post Frank N6SNO, working his 30th CIM, and Jay N6SAC both did a great job as net control operators. Thank you to all the radio operators for volunteering their time to make this event a great success.
Photo caption: Frank, N6SNO, and Jay. N6SAC, Net Control ops for California International Marathon.
---
Incident Report Monday 13 November 2017

Submiitted November 24 by Larry Trotter, KI6IUK, Plumas County ARES EC
On 13 November 2017, I was traveling south on Highway 89, returning to Quincy from a visit to KJ6CUG in Etna, CA. I had just crossed the bridge over Lake Britton and came upon a tractor-trailer rig that had crashed into the trees, about 1/8 mile from the entrance to the McArthur-Burney Falls Memorial State Park. Tree branches and gravel covered a few hundred feet of the highway. I turned on my emergency flashers and pulled off the road as far as I could safely. Another vehicle following the rig had pulled over just in front of me and together, that driver and I ambled down to the cab. Fuel was still gushing out of the ruptured left saddle tank, so the wreck had just happened. The other fellow and I helped the driver (who had injured his right leg) out of the smashed cab window, which was at a 45-degree angle and about 10 feet up. We got the guy out by sliding him down the crunched door and to the ground. The first driver's wife had gone to her vehicle and retrieved water and a blanket. Then we discovered there was a second (co-driver) in the crushed cab, who refused our help to get him out, retrieving things from the cab and got himself out. I hobbled back the 50 feet or so to my truck and sent out an Emergency Traffic call on 146.520, repeating the call 3 times, with no response heard. By that time, another trucker, driving just the tractor, stopped, then drove off to find a telephone, as there was no cell service at this site. I repeated the call on .52, giving information on the Emergency, brief details on the accident and the location, requesting help from EMS. Still no response. I checked my squelch, frequency and volume on the radio.....all good. Another call out, with no response.
Traffic was still traveling at 55-60 mph passed the accident, so I got out of my truck and attempted some traffic control from the side of the road, gesturing with both hands to SLOW DOWN. Between vehicles, I pulled branches and rocks scattered on the road, thinking that a car or truck could "pinch" some debris with a tire and shoot it off the road into the rescuers or the already injured. Vehicles began slowing down some, looking at the wrecked tractor and 2 trailers in the trees off to the Burney Falls side of the highway. By this time another SUV had stopped on the North bound side of the highway and a woman came over to the crash site, with more blankets and water, attempting to get the injured driver calmed down and warmed up. The light rain falling at the time was actually soaking everyone there, so one by one, we returned to our vehicles and got coats on. Another call on .52, "in the blind" now, with no response. About 25 minutes after I stopped, the first CHP officer arrived; eventually, a CDF rig, several ambulances and another CHP showed up. As there was very limited room along the highway for rescue vehicles to park, I asked the second CHP officer if I could stand down and leave, to allow more room for the EMS folks to park; he agreed and said I could go. I proceeded south on Hwy 89.
With my radio still quiet, I pulled over and made some notes on the incident. Back on the road, a few miles passed the Cassel turnoff, I heard my call sign on 52. I pulled over and responded to John WB6WZF, who told me he'd heard my call and had responded, which I did not hear. He went on to say he had also monitored his scanner and realized help was indeed on the way. We chatted a few minutes and he said he was e-mailing me info on a local repeater in that highway corridor that most likely I could have used on this incident. I checked that e-mail on my return to Quincy and entered that repeater into my radios. Thank You WB6WZF for being there!
Here's the "take-away": Just because you don't hear a response on the radio, report the Incident as best you can. Rinse and Repeat. There may be someone out there monitoring that can pass on your traffic. As a footnote, I developed an Incident Report form a few years ago, which I keep copies of in my truck. If you'd like a copy, I can send you one you can use or modify to fit your needs. It's also on the SACARES website.
73 de KI6YUK Larry Trotter Plumas County ARES EC ki6yuk@arrl.net
---
Golden Empire ARS & Butte County Radio Amateurs' Media Hit in Chico Enterprise-Record 

Posted November 6, 2017
Robert Rentz, KK6WUG, (foreground) and Daniel Shelsta, N6APX, both of Paradise, are members of the Golden Empire Amateur Radio Society and were handling communications for the Red Cross Thursday at the evacuation center for the Cherokee and La Porte Fires at the Church of the Nazarene in Oroville. The group will be having a youth-oriented workshop Saturday at the Gateway Science Museum in Chico. Contributed photo by Kris Koenig, KKØNIG
Read the full story at http://www.chicoer.com/article/NA/20171012/NEWS/171019914
---
CalOES to Offer ICS 300 Course

Posted October 7, 2017
CalOES will be offering the ICS 300 course at Mather Field in Sacramento starting January 30, 2018. It is a great opportunity to learn more and the ICS process and ARES work with served agencies. ARES members who are interested in taking this class may sign up on line at this link.
E300: ICS 300: Intermediate ICS for Expanding Incidents
Course Description: This course provides training for personnel who require advanced application of the Incident Command System (ICS). This course expands upon information covered in the ICS 100 and ICS 200 courses.
Course Objective:
Describe how the National Incident Management System Command and Management component supports the management of expanding incidents.
Describe the Incident/Event Management process for supervisors and expanding incidents as prescribed by the ICS.
Implement the Incident Management process on a simulated Type 3 incident.
Develop an Incident Action Plan for a simulated incident.
Selection Criteria:
NIMS ICS All-Hazards training should be completed by personnel who are regularly assigned to Functional, Support, or Unit Leader positions on Type 3 or 4 All-Hazards Incident Management Teams, or by those persons who desire to seek credentials/certification in those positions.
Prerequisites:
IS0100.b
IS0200.b
IS0700.a
IS0800.b
---
December 1-2 - Skywarn Recognition Day

Posted November 18, 2017
The annual SKYWARN Recognition Day (SRD) Event will be held on December 1 from 00z-24z (Friday 4 PM PST to Saturday 4 PM PST). SKYWARN Recognition Day was developed in 1999 by the National Weather Service and the American Radio Relay League. It celebrates the contributions that SKYWARN volunteers make to the NWS mission: the protection of life and property. Amateur Radio operators comprise a large percentage of the SKYWARN volunteers across the country. During this 24 hour event, licensed Amateur Radio operators are welcome to visit our NWS office and make contacts using our station, WX6NWS. We will be operating on 40-10 Meters on SSB, and 2 Meters and 70 cm on FM. We will also be operating on IRLP Node 9252 and Echolink *SKY_GATE* and *WX_TALK* (where we will be responsible for running the net from 2300-2400 hrs). Over 100 NWS stations across the country are expected to take part in the event again this year. Additional information about SRD, operating procedures, and participating offices can be found online at http://hamradio.noaa.gov
We are currently planning on operating from 00z to 06z (4 PM to 10 PM PST Friday) and 16z to 24z (9 AM to 4 PM PST Saturday). We will be setting up equipment in our conference room and operating there. Those interested in operating, observing, or assisting with setup (usually starts around 2 PM Friday) and take down (after 4 PM Saturday) are welcome. We are also looking for experienced Echolink operators who have their own equipment (i.e., laptop and internet access) who would be interested in making contacts on Echolink and/or running our portion of the WX_TALK net from 3 PM to 4 PM Saturday. Also, if you would like to bring and operate your own equipment from our outside parking area, let us know (you will need generators or operate from your mobile setup).
We are looking forward to another great event and hope you can join us. Please respond back via email to chris.hintz@noaa.gov if interested, and feel free to forward this information to others you think may be interested.
---
December 9 - Sacramento County ARES Training

Posted November 27, 2017
The next Sacramento County ARES training and meeting is scheduled for Saturday December 9, 2017 from 9:00 am to 12:00 noon at the Sacramento Sheriff's Central Division, 7000 65th Street, Sacramento, CA 95823.
Vince Cracchiolo KI6NHP is the Sacramento County EC.
For more information, visit the Sacramento County ARES web site at www.saccountyares.org
---
Redding Veterans Home to Receive Amateur Radio Station

Posted November 27, 2017
Members of the Redding ARRL VE Team and the Redding Old Timers' group have received permission to move forward to design and install an amateur radio station at the Redding Veterans Home. The station is likely to have HF, VHF and UHF capabilities. Currently, there are five licensed amateur radio operators living at the facility and two more residents are studying to obtain their Technician Class licenses.
73, Steve, K6KS
---
Update from Bob Wortman, WB6VYH, Section Technical Coordinator

Updated October 7, 2017
Well here comes Pacificon 2017 ready or not. I will be there checking cards at the NCDXC table.
Also there is a ham swap in Durham California on Saturday Sept 30, 2017 08:00am, read more at http://www.w6thw.com/image/durham_swap_meet.jpg
Then there is a ham swap in Redding on the 14th of October 2017 from 10 am to 2 pm at Bentronics Electronics on 141 Locust Street, Redding, California, CA 96001.
If you need cards checked for DXCC, WAS or VUCC let me know. I get all over Northern California.
Call me and leave a message or email me, my information is on the ARRL web page.
73 and good DX, Bob Wortman, WB6VYH
ARRL Pacific Division DXCC Awards Manager, Sacramento Valley Section Technical Coordinator, WAS Award Manager, VUCC Awards Manager
---
Update from Duane Wyatt, WAØMJD

Posted November 27, 2017
Amateur Radio Program for the Shriner's Hospital School
A joint project of Shriners Hospitals for Children and the Sacramento City Unified School District, the on-site Northern California Shriners Hospital School provides bilingual education for preschool through 12th grade. Special programs include vocational education and school re-entry programs for rehabilitation patients.
The administrator and teachers at the Northern California Shriner's Hospital School are interested in starting an amateur radio program for their patients/students.  Duane Wyatt, WAØMJD, has secured some Morse equipment and an Alinco VHF handheld radio for the program and is soliciting a donated HF station (transceiver, microphone, power supply and antenna).
Please contact Duane at duanewyatt@hotmail.com if you or your club can assist or would like to collaborate with him and the school staff in setting up and conducting this youth outreach project.
Duane Wyatt, WAØMJD,
duanewyatt(at)hotmail.com
Editor's note - The November 22 TWiT Ham Nation webcast featured an inspiring video story on Jim Mayercak's success at the Dresden Elementary Amateur Radio Station, KD8NOM.  See https://twit.tv/shows/twit-bits/episodes/4559.
---
December is Youngsters on the Air Month

Posted November 27, 2017
December YOTA Month 2017 registration started!
The entire month of December several youngsters will become active with YOTA as suffix in the callsign. The idea for this is to show the amateur radio hobby to youth and to encourage youngsters to be active on the ham radio waves.
Give a demonstration in a school or local club, gather together with your friends, grab a pizza and make some QSOs or enjoy a great pile-up. Let us all show this great hobby to the world!
Feel free to make a QSO with the youngsters, they are happy to get some attention and exchange information. Licensed and unlicensed youth will be making QSOs, be aware this could be their first radio contact ever and give them a chance to experience a possible new hobby.
Winter is coming to the northern hemisphere, summer is starting in the southern part. Which means it's time again for December YOTA month! We encourage you all to take part using a callsign with YOTA in suffix. The idea is to show the amateur radio hobby to youth and to encourage youngsters to become active on the ham radio waves. Do you want to participate? Register here for YOTA Month 2017.  
---
From Norm Lucas, WB6RVR (SK),
Section Official Observer Coordinator

Posted January 11, 2016
Do you have what it takes to be an ARRL "Official Observer?"
Update April 6, 2017 - The ARRL and the FCC are currently working together to update and to make changes to the Official Observer/Amateur Auxiliary program. Because of these expected upcoming updates and changes, ARRL has placed a temporary hold on applications for new Official Observers and Official Observer Coordinators at this time.  Read more here.
The ARRL Executive Committee (EC) has directed that work begin on finalizing the language of a revised memorandum of understanding between ARRL and the FCC regarding the Amateur Auxiliary (Official Observer) program. The EC met on March 25 in Aurora, Colorado. The panel, which acts on behalf of the ARRL Board of Directors between its regular meetings, heard an update on the Official Observer Program Revitalization Study from ARRL Second Vice President and committee chair Brian Mileshosky, N5ZGT, who said his committee plans to present final recommendations later this year on revamping the Amateur Auxiliary, for ultimate consideration by the full Board.
In his remarks, General Counsel Chris Imlay, W3KD, was complimentary of new FCC Chairman Ajit Pai and told the EC he thinks enforcement efforts may be more successful in the future, due to the new chairman's interest in the issue. Imlay also said the new chief of the Enforcement Bureau, Michael Carowitz, is reported to be "amateur friendly." He told the EC that he foresees a potential window of opportunity for improved spectrum enforcement work, as well as the opportunity to build a stronger working relationship with the FCC on all issues.
The Official Observer (OO) program has been sponsored by the ARRL for more than 85 years to help Amateur Radio operators assist each other to operate their stations in compliance with Federal Communications Commission (FCC) regulations.
Official Observer appointees have assisted thousands of Amateur Radio operators to maintain their transmitting equipment and comply with operating procedures and regulations. The object of the OO program is to notify amateurs of operating and technical irregularities before they come to the attention of the FCC and to recognize good operating practices.
The OO program serves as the first line of "eyes and ears" for the FCC. It is the backbone of the Amateur Auxiliary. OOs are certified in the Auxiliary by passing a mandatory written examination.

---

FCC Opens 630 and 2200 Meter Bands

from September 15, 2017 ARRL News
The FCC has announced that the Office of Management and Budget has approved, for 3 years, the information-collection requirement of the Commission's March 29 Report and Order (R&O) that spelled out Amateur Radio service rules for the two new bands — 630 meters and 2200 meters. Notice of the action appears in today's edition of the Federal Register. Before using either band, stations must notify the Utilities Technology Council (UTC), formerly the Utilities Telecom Council, that they plan to do so, and if UTC does not respond within 30 days, they may commence operation.
Read the full story on the ARRL News http://www.arrl.org/news/fcc-opens-630-and-2200-meter-bands-stations-must-notify-utc-before-operating.
Update on FCC Deliberate Interference Case

Posted April 4, 2017
Recent filings related to a long-standing FCC case regarding deliberate interference on 3908 kHz is posted on the FCC website at https://www.fcc.gov/ecfs/search/filings?proceedings_name=08-20&sort=date_disseminated,DESC.
Additional information related to this matter is posted on the ARRL News http://www.arrl.org/news/fcc-levies-25-000-fine-on-california-radio-amateur-for-deliberate-interference.
---
Update on California Hands Free Law

Submitted by Andrew Silvester, KC6O, posted October 7, 2017
Good news! On 26-SEP-17 AB-1222 was "Approved by the Governor." AB1222 was the bill that fixed the problem we amateur radio operators had with the "Electronic wireless communication devices" law (AB 1785) that went into effect last year. This bill removes "specialized mobile radio device" and "two way messaging device" as examples of an "electronic wireless communications device" that is prohibited from being used while driving.
From the Assembly Transportation Committee bill analysis:
The author believes AB 1785 inadvertently included devices that were not intended to be included in the wider cellphone ban. Devices such as two-way radios functioning on business band or civilian band (CB) radios which have a more limited scope of functions, and thus, a more limited potential for distracting a driver. With this bill, the author intends to provide technical cleanup to AB 1785, so that it is not construed to limit the use of two-way wireless communication devices utilized by either trained professionals or individuals that have been properly licensed for brief, verbal communications essential to the functioning of their job duties. According to guidance issued by the California Highway Patrol, a radio installed and mounted in a vehicle with a wired hand microphone, for example, business band or CB radio, is not considered to be wireless communication device, nor is it considered a specialized mobile radio device, and therefore not subject to enforcement under AB 1785. This bill is consistent with that guidance, and codifies that distinction.
For the text of the bill and other information: AB-1222: Vehicles: electronic wireless communications devices: http://leginfo.legislature.ca.gov/faces/billNavClient.xhtml?bill_id=201720180AB1222
Editor's Note - Jim Aspinwall, NO1PC, has posted comments on AB-1222 on http://www.no1pc.org/handsfree/
---
Pot grow lights interfere with Ham Radio

Submitted by Rene Smythe, WB6PSY, posted March 4, 2017
http://bigstory.ap.org/article/c1b607bfbbab459ba9e21d4c282996e4/growing-problem-pot-lights-give-ham-radio-operators-buzz
I have experienced this interference for the past few years. I found the interference by swinging my 10m Yagi monobander around until the noise became over S9. I then went outside to see where the beam was physically pointed and discovered a garage where indoor pot is being grown. The lights are on a time cycle so the interference comes and goes. 40º degrees in either direction takes the noise out.
Now that marijuana is being legalized in more states, more hams are going to experience this noise.
WB6PSY

ARRL and the FCC have a cooperative agreement in radio frequency interference matters.  You may submit complaints together with your supporting documentation to ARRL EMC Engineer Mike Gruber W1MG who then files the report with the FCC Gettysburg office.
You may also contact our Section Technical Coordinator Bob Wortman, WB6VYH, or our Section Official Observer Coordinator Bob Hess, W1RH, for assistance. More infomation is posted under the "From the Section Manager" notes in the November 2016 Section News - Carol KP4MD
---
Club and Member News - December 2017
---
Update from Mount Shasta ARC - pending

Posted November 4, 2017
Winter is coming and with it, the activity level of the club is changing. Fortunately, the club will be remaining as active through the winter months as it did through the summer, but we will be spending most of our time sitting down now, instead of out supporting community organizations. At some point during the summer, every member of MSARC was involved with a public service event and many laughs were exchanged, so we are now looking forward to sharing our laughs and fellowship indoors at events such as our swap meet and holiday party.
The club hosts a weekly net on the Grey Butte repeater (440.275, thanks Ken, W6YOP) each Wednesday at 1900 PT. We'd love to hear you check in!
The Swap Meet/Cook-Out was held on October 28, 2017. Look for a further report on how things went next month.
Please make plans to attend our annual Winter Holiday Party will be at the clubhouse (329 N. Washington Dr. Mt. Shasta, CA) on December 20.2017 at 1800 PST. The Holiday Party is potluck, with a game and door prizes. All hams are welcome and the cost to get in the door is a dish to share.
On a final note, Mark (AB2LI) has developed a partnership between the club and Sisson Elementary School to allow the club to sponsor a class at the school which will teach basic RF theory and provide hands-on projects for the students. The final exam will be the licensing test.A special thanks must go to Dennis (NR6J) who has pledged a new HT to each student who successfully passes the licensing exam. So far, we have 13 students in the class! Stay tuned for more reports on how the kids are doing.<
Submitted by Mark Dibelka, AB2LI
---
2017 Club Holiday Dinner
Saturday, December 9th @ 5:00pm, CT European Cafe & Grill, 4064 Mother Lode Dr, Shingle Springs, CA 95682, $20 Per Person
Ham Radio Exam
January 13th at 9:00am Held at the American Legion Post 119, 4561 Greenstone Road, Placerville CA 95667. Testing Fees $14.00. Contact Ken Vogele, W6KWV at 530-642-9523
FROM THE PRESIDENT
The turnout for our October meeting was great! There were two presentations on the topic of Software Defined Radio. One presented by our VP, Jay (KE6GLA) and one by myself. Judging by the questions from those in attendance, I'd say both talks generated quite a bit of interest!
Our November meeting, as mentioned last month, will be one week early, so as not to interfere with the Thanksgiving holiday. We will meet at the same location on the third week of November. During this meeting, we will be voting for new officers and board members for 2018 and I encourage you all to attend and throw your name into the hat to serve for a year. It can be quite rewarding!
As the weather cools and we head for winter, more of us will have time to spend at 'the bench'. Please let a club officer, or board member, know if you're working on a project that could be of interest to the general membership. We'll happily make some time for you!
See you at the November meeting!
73, Michael, K6MLE Newsletter
---
PRESIDENT'S MESSAGE
Seasons Greetings, fellow RCARCS members. As we wind down 2017, I was thinking about what to write as the last column of my tenure. Over the year the board and elected officers have worked on presenting talks and activities to promote amateur radio. This year, they have developed two new ideas that to my knowledge have not been tried before: "Elmer Night" and "Home Brew Night". Each of these ideas was presented as a separate theme for a month general meeting. What was significant about these ideal was they served as a spring boards for future events.
"Elmer Night" was January's general meeting theme. It consisted of four topics of interest to some club members: antennas; sound card applications; programming radios; and, general electronic topics.
Some members were surprised at the meeting as they found the tables rearranged for discussions, instead of the normal configuration used for presentations. The idea was foreign but in the end, I think many took advantage of the resources to fill in missing knowledge. I hope we will continue this theme in 2018.
The other, "Home Brew Night", was the theme of September's general meeting, allowing members to hear and see what other members were doing in amateur radio. The presentations covered a wide range of topics from hardware to software radio applications. Preparation for this event was not an overnight task but months of work, driven by member's passion for amateur radio. Hopefully this has stirred the minds of other members to start "tinkering" with equipment and ideas. Again, I hope to see this in 2018. It has been noticed by board members that new members are having a difficult time getting started with amateur radio. How to help new members is an uncertain task as the problems vary from "mike fright" to "how to solder". Unlike the Novice License days of my time, where you learned how to load up your CW transmitter on various antennas and tried to get QSL cards from as many states as you could during your 1 year license period, things are different now. With only 12 meetings and a couple extra events each year, there's not a lot of time to resolve these problems. The board is thinking on ways to do a one-on-one Elmering. I'm not sure how this will develop, but it's something that needs to be done.
In closing, I give my thanks to all the board member for being different this year in developing major ways of improving the club's growth; To Marie Martin for being our club hostess; To Ken Martin (KE6RMN) for being our publication editor; To Phil Sittner (KD6RM) for being Treasurer and staying on top of all the registrations and behind the scene things he takes care of; To Paul McIntyre (KC5JAX) for backing me up and taking care of Wednesday's Net; To Gert Thompson (KK6ZGA) for taking notes as club's secretary; To those members who take care of the N6NA repeater and quietly keep it running; to all the volunteers who serve as net control operators and to our new president, Dave Martin (WB6YLK) - hang in there Dave, it's an adventure. Hope to see everyone at the Christmas Party, Tuesday, December 5th, Sam's Hof Brau.
73, Ed Siegner, WA6QYO Newsletter
---
Update from Yuba-Sutter ARC

Posted December 1, 2017
THE "PREZ" SAYS
When you're on the road what frequency do you have your rig tuned to? Probably like me you keep it tuned to the local repeater so that you can talk to your friends if they're on the air. What about when you leave the area though or it's late at night and no one seems to be out there on your normal stomping grounds? I hope you've got some other local frequencies programmed onto your rig and routinely scan those in these circumstances. You'll be giving yourself a chance to expand your contacts and make new friends. I recently found myself in those situations and was glad to have the extra frequencies programmed onto my mobile. I made a trip to Fairfield a week or so ago and was having a nice conversation with Doug/KD6LOK when I lost the signal because of the Coastal Range. Having nothing else to do except drive I set my rig to scan and eventually picked up a conversation between some hams in Fair Oaks, Elk Grove and Woodland about a project that one of them was coordinating to assemble a rig for another ham living in an assisted living facility. I didn't join in but enjoyed listening to this group of hams, some of whom were unknown to the others, working together to aid a fellow ham. A couple of days later I turned on my radio to go home and caught the call sign of one of those hams, Mal/KM6MFP, who was on our repeater testing out an antenna he was building for this project. I answered him and we had a nice conversation about how I had heard them discussing this the other day and was glad to have the chance to talk to him. He was with another of the hams who was on that original conversation. Even though they had never met before they were together in Mal's workshop collaborating on building this piece for the project. Yet a couple of days later I was heading for Santa Rosa for Thanksgiving, again with my mobile on scan, when I heard Mal's call sign for the third time in a week. I took the time to have another pleasant conversation with him before I lost the signal. We might not talk again for a long while but have got another friend out there because of scanning frequencies other than our own. I also made another acquaintance the other night, Brett/N6VIA, when I switched to another frequency during a very late night's drive and just asked if anyone was on the frequency. Apparently I had gotten onto the Sacramento Sheriff's Amateur Radio Program repeater and he was over in Jackson that evening. We didn't have a long chat but it was nice to have a friendly conversation and meet yet another ham during that long, dark night.
Because of our hobby we have a unique avenue to make new and interesting acquaintances in varied and sometimes far-flung locations. I'm getting more bold in getting out onto other frequencies when the opportunity arises and have always been glad that I reached out. I hope you'll take the opportunity, especially the new hams, to make new friends and give them the opportunity to get to know you also.
73s and a great Christmas season to you all, Chris/KK6VZD
CHRISTMAS PARTY
The party will be at the 1st United Methodist Church at 730 D Street, Marysville. That is at 8th and D Streets. We will be using Pioneer Hall, which is in the back. There will be a couple of door prizes so bring your tickets. There will also be tickets sold for drawings for other related items. There will something for all groups including the kids. Doors will open at 6 PM.
The caterers will arrive and set everything up. Porky's BBQ will be serving chicken, pulled pork, baked beans, coleslaw, rolls, and green salad with a choice of either ranch or Italian dressing.
Dinner tickets for Adults are $15 each, $8 for kids 6 to 11 years and under 6 are free.
Joe Visalli, N9BD
EDITORS COMMENTS
✓YSARC's new web page is: www.ysarc.net - click on the upper right-hand icon on the homepage to join the club's Facebook page. Past issue's of the VHN are available on our new website.
✓Send your ham related articles and pictures to share in your VHN. Pictures of ham shacks, antenna projects, antenna parties, etc. are appreciated KI6CSN@arrl.net or KF6FVP@arrl.net
---
Sierra Foothills ARC, Auburn, CA Web: w6ek.org
Newsletter at: http://www.w6ek.org/newsletters/Sierra_Signals_12_17.pdf
As the Holidays are here and there is cyber everything, thoughts turn to new Ham Gear, working SK night, and enjoying time with family and friends. SFARC wishes everyone a great Holiday Season!
VE – First Saturday each Month 8am at Raley's Granite Bay. See website for more.
Club Christmas Party - December 9th at Auburn VFW. Members only.
Elections results for 2018 Officers and Directors: President: Orion-AI6JB (Incumbent); Vice President: Mike-KK6GLP (Incumbent); Secretary: Bruce-K6BAA (Incumbent); Treasurer: Sharron-KK6RGV (Incumbent); Director: Greg-KO6TH (Hold over position); Director: Brian-AI6US (Elected two years); and, Director: Mark-W8BIT (Elected one year).
Repeaters - Birton, N6UG advised a 440 preamp was replaced.
Hamfest 2018 – March 17th Historic Loomis Train Depot Plaza. Orion, AI6JB is the Hamfest 2018 Chairperson this year. Already planning, approved as a sanctioned ARRL Hamfest and we are working on some fabulous prizes. Check the w6ek.org website for more.
SFARC Activities - The Club Net meets every Thursday at 7:30pm, Elmer Net meets the 1st and 3rd Wednesdays at 7:30pm.Board and General Meetings occur on the 2nd Friday, Board meeting is held at Sizzler Restaurant in Auburn, and General meetings at 7:30pm at Auburn City Hall everyone is welcome. The Club breakfast is held on the last Saturday at Mel's Diner in Auburn.
73, Carl, WF6J, PIO
Results 12-2-2018 SFARC VE Testing
Thanks again for all the VE's that were able to come to the session. Today we had 7 VE's. We had a good session. We administered 5 elements to 3 candidates. All earned a new or upgraded license. We have 2 new Technicians 1 new General. Thanks, Al NI2U
---
Update from Elk Grove-Florin ARC - pending

Posted November 18, 2017
Elk Grove-Florin ARC—Section News –November 18, 2017
Our General Meeting in November was the Annual Meeting required by our by-laws. We had our election of officers to manage the club affairs for the calendar year 2018. The officers for 2018 are: President: Chris Lay, KG6JFO; Vice President: Mark Flint, KK6YFV; Secretary: Mary Frederici, KI6YPQ; Treasurer: Cindy Gansereit, KM6BUY; Member at Large: Dave Reingold, KK6MVJ
We thank our 2018 officers for the time and service will give in leading our club and look forward to an exciting year.
Following the election Dave, KK6MVJ, presented an excellent slide show talk about his trip to Oregon for the Solar Eclipse in October. Thank You Dave!
Club members and their families will end 2017 with a Christmas Party including lots of food, fellowship and a slideshow summary of the year.
Happy Holidays!, Paul N6DRY
---
Update from Oroville ARS

Posted December 1, 2017
Greetings from Oroville
The OARS website is back online, as w6af.com for the time being while awaiting the opportunity to retrieve the .org URL. Webmaster Erik, AF6EF,gave a full status report on the site at the club's November meeting on the10th. Additional agenda at OARS' monthly meeting included comm support for the Veterans Day Parade taking place the following day, planned communications support for the Parade of Lights in downtown Oroville on 9 December, the club's Christmas dinner to be held on 16 December at Hof Brau (RSVP Marilyn, KK6GNL), and nominations for the club's 2018 officers.
The OARS participation in the Veterans Day Parade, coordinated by Ron,KD7UHF, went as planned with Gerry, N6GCV, Gary, KF6EWO, Terry, KB6TR,Bennett, K6CEL, Joe, WA6CAL, Bill, AG6ZT and this writer at locations along the parade route.
The EchoLink node for the OARS repeater has been (finally) restored to proper operation. The node for the repeater (146.655 MHz, - offset, 136.5Hz tone) is now W6AF-R (Node 860085). The repeater itself was reconfigured on 25 November by Josh, K6ZRX and Reid, W6MTF, who came to Oroville for that purpose. The OARS Sunday Night Net meets at 2000 local time on this repeater; it's conducted in a roundtable format, but can handle NTS traffic if necessary.
Earlier in the day on the 25th, the OARS Monthly Breakfast took place at the Waffle Shop with 20 in attendance.
OARS' next monthly meeting will be 8 December 2017, 7 pm, at St. Paul' s Parish Hall in Oroville. The scheduled program is to be presented by Gerry,N6GCV, on the subject of D-Star.
73, Jim, W7XZ
OARS Monthly Meeting Reminder
The monthly meeting of OARS will take place this Friday, 8 December 2017, 7 pm, in St. Paul's Parish Hall, 1430 Pine Street, in Oroville. The doors will open at 6 pm for a social hour prior to the meeting. The agenda is expected to include nominations for election of 2018 officers. The program, presented by N6GCV, will be on the subject of D-Star, and Gerry would like those attending who have D-Star capable radios to bring them to the meeting.
The OARS Christmas dinner will take place on Saturday, 16 December 2017, 5:30 pm at the Hof Brau, corner of Grand Avenure and Table Mountain Boulevard. Marilyn, KK6GNL, needs RSVP from those planning to attend and numbers for dinner choices, beef or turkey.
The OARS website (http://w6af.com) is online again, with a .com URL until the .org one can be retrieved. The OARS repeater (146.655 MHz, –600 KHz offset, 136.5 Hz tone) has been reconfigured since last meeting, and its EchoLink node is now W6AF-R.
Hope everyone can make the meeting. 73, Jim, W7XZ
---
Our meeting this month is Wednesday, December 13th. You can choose Lunch or Breakfast. (Denny's serves breakfast all day.) Breakfast (or lunch) starts at eleven and the meeting will start at noon.
This month we conclude TXfactor Episode #18 with the second half on YOTA, the Youngsters On The Air from Gilwell Park in the UK, which includes RDF, Radio Direction Finding and concludes with a piece about two amateurs who cycled from Germany to the UK.
The meeting as usual at: Denny's Restaurant, 7900 College Town Drive, Sacramento. Phone (916) 383-7071, Located at the southwest corner of Howe Ave. and College Town Drive one block North of Highway 50.
Please plan to attend.
---
Update from North Hills RC

Posted December 4, 2017
NO December meeting...It's the holiday season!
The North Hills Radio Club will hold our annual Christmas dinner on Tuesday evening, December 12 at Brookfield's Restaurant, located at 4343 Madison Avenue, near I 80. The dinner will take place from 6:30 Until 8:30 P.M. on that evening. All who are members in good standing of the NHRC are welcome to attend.
You are also cordially invited to invite a family member or friend to accompany you to the dinner. You will be permitted to order anything you wish from the main menu. You will be responsible for paying your own check. There will be a drawing for door prizes plus lots of fun and fellowship with our NHRC friends and guests.
The officers and directors of The North Hills Radio Club sincerely hope that many of you will plan to attend this once-a-year event which will bring to a conclusion, another successful year in the on-going history of NHRC.
The NHRC would like to wish everyone in the ham radio community a most joyous holiday season and a Happy and Bright New Year.
From Doug Emerson. Vice-President, North Hills Radio Club. Amateur radio callsign N6NFF
---
Update from Nevada County ARC

Posted December 4, 2017
Next Meeting: Monday, December 11, 2017, doors open 6:30pm, meeting at 7pm.
December 11th Meeting Holiday Dinner
The club provides Ham and Turkey, drinks and dinnerware. We need you to bring a side dish. Please RSVP to any club officer or Facebook signup.
Don't forget.... The club is raffling off the Kenwood TH-D72 handheld radio! A VERY nice Radio! Please bring an unwrapped Toy to donate to the Salvation Army for a child. Stuffed animals are great suggestions!
The Club elected a new administration at our Nov. 13th meeting. Officers for 2018 are:
President - Cal McKitrick AI6MC
Vice President - Peter Mason N6ERL
Secretary - Mark Graybill W8BIT
Treasurer - John Hart KE6FIQ - continuing
Board of Directors: Al Helberg AA7C and Chuck Murphy KI6CM will continue as Board members as will Larry Latta K6LRL as past president
COFFEE CHAT (Ham n' Coffee)
Thursdays, 8 am at Valentina's Bistro, 841 Sutton Way, Grass Valley
---
NOVEMBER 2 MEETING MINUTES
The W6SFM Samuel F Morse Radio Club November meeting was called to order by club President Mike, N6MQL on November 2nd at the Carmichael Presbyterian Church in Carmichael CA, with 13 members and 2 guests in attendance.
The SFMARC would like to welcome aboard two new members, Walter K5EST of Right City MO and Lou, N8LA from St. Louis MO. Both applications were approved in October.
This month the YouTube Live feed was working flawlessly on-line. Although we saw an uninterrupted 2-hour broadcast of our W6SFM In-person meeting last month, the club has yet again found another bug in the broadcast system. Because of this situation only 1:24 of the 2-hour meeting was broadcasted live. On-air meetings have not just been broadcast in their entirety but also posted to our W6SFM.COM website. Those videos along with Club in-person meetings can be found under the "Videos" of our website. Feel free to use these recorded and archived videos. Please note that there may be a delay starting the live videos as it takes the YouTube server up to 2 minutes to begin the live transmission. This is done to accommodate any lag in the transmission video due to internet speeds.
The bi-annual bug roundup (CQ BR) event was held November 18/19 (UTC). In the spirit of straight key night, stations from all over the world take to the airwaves with their bug style keys. A good time was had by all. The new 48-hour format generated much positive feedback. More details next month.
This month, the CW Beginner's class concluded graduating 15 students. We began with 21 students. Our youngest student was an unlicensed 17-year-old female. Of the 15 that completed the last night of the course all were 'tested' for speed and accuracy. Our fastest student was clocking in at about 16 WPM, where as our slowest 2 students were still around 5 WPM. All of the other students (13 people) were operating between 11 and 14 WPM. This is a very good speed for a 20-hour class. We had students that insisted at the beginning of the course they would be unable to learn Morse code as they have been trying to learn code for years. One of those students graduated at the rate of 14 WPM! The next class, (10 weeks) will commence in April 2017. To sign up, please register on the W6SFM homepage, or drop an email to admin@w6sfm.com to be added to the notification list.
Other news and items of general interest were discussed by the members.
For this month's main presentation, Member Mike, N6MQL presented the club with a presentation on "DSP Noise Control" An explanation on Noise Reduction, RF Gain, AGC and Noise blanking as it pertains to a Superheterodyne / SDR Radio.
Our next SFM ARC in-person meeting will be held at its normal time and location Dec. 7th (followed by our Jan 4th meeting). The SFM ARC in-person meeting will be held in the Howard Crowley room upstairs at the Carmichael Presbyterian Church. Directions, including a Google Map is available at the bottom of the W6SFM.com homepage. At our December meeting, we will be discussing ARRL news and events. We will also have a presentation on vertical antenna design. As always, we will have our Tech (show and tell) portion. Members and visitors are asked to share their Ham Radio related items they find of interest. Attend our In-Person meetings with items that you've purchased or were given to you that you would like to share with others in the group. Visitors are always welcome to join us at our meetings.
Each Tuesday of the week 8:00 PM on 3.545 MHz the SFM ARC enjoys getting on the air with CW for our weekly Nets. You do NOT need to be a member of the SFM ARC to check into our nets and we encourage you to invite a friend to join us as well. Although our nets usually run around 13 wpm code, we are all happy to accommodate those that are slower and need us to oblige. If you are unable to copy Morse code or need some code practice, please feel free to visit our on-line LIVE streaming broadcast of both the Audio and a CW to Text decoding of the meeting. The "LIVE FEED" link can be found on our homepage of our website. With our YouTube Live streaming system, you can watch the Live Feed on your Apple IOS or Android devices. You do not need to have a YouTube account to access the feed. However, you will have to subscribe to our channel. Those visiting/viewing can chat with others watching on-line as well. This of course is not mandatory, but rather just a way of making everyone feel more involved in our on-air nets. If you like, you can "check in" using the chat window and you will be included with our On-Air Net log. Simply announce your call letters in the chat window. Tell A Friend
Do you know someone in need of a Ham Club to call home? Perhaps someone that wants to learn Morse code, are interested in CW or already knows and uses it? The SFM ARC would love to be their new Club home. Our in-person meetings are held each 1st Thursday of the month at 7 PM. Please use the rear parking lot and entry for best access to the meeting. A map and directions can also be found on our website. We hope to see you at our next meeting!
Thank You -- Chris AI6U (SFMARC Secretary) Newsletter
---
Greetings from the Western Placer Amateur Radio Club:
Our Next Club Meetings are December 19, 2017. 5:45 : Board Meeting, 7:00 : Members Meeting
New Meeting Location: Round Table Pizza, 1020 Pleasant Grove Blvd #170, Roseville CA
Scheduled Speaker and Topic: 2018 Club Officer Election and Boy Scout Flag Folding Demonstration
Club Meeting Location: WPARC conducts board and member meetings on third Tuesdays of each month. Members and guests with business to bring before the board are welcome to attend board meetings. Join us at Round Table Pizza, 1020 Pleasant Grove Blvd #170, Roseville. This location faces Roseville Parkway at the northeast corner of the complex. View map and directions in link above. Come out to enjoy some camaraderie, food, beverage, and tales of the radios! Round Table offers a pizza and salad bar buffet dinner on Tuesday evenings for about $10/person.
WPARC Supports Lions Club Food Distribution Event - Dec 16, 6-11 AM
WPARC members will assemble to support the Lincoln Lions Food Distribution event on Saturday, December 16. Meet at parking lot on Venture Drive just east of Aviation Blvd (east end of Gulfstream Aviation office/warehouse, 1501 Aviation Blvd). We support this event with traffic control, document checks, and helping the line move smoothly. There is no heavy lifting here, just a few hours of coordinating logistics. Come join us! Dress for the weather and bring your HT!
WPARC Repeater New Tone 67.0 Hz Our old subaudible tone of 179.9 Hz was becoming audible on newer radios presenting a hum. On Friday October 27 a team treked up to the repeater to change the tone from 179.9 Hz to 67.0 Hz. Ensure that you change all of your radios to use the new PL tone. The old tone won't be recognized by the repeater.
WPARC Repeater Abuses. Repeater Trustee Michael K6BUK received comments on a few repeater users abusing repeater etiquette. Please review Ethics and Operating Procedure for the Radio Amateur as a refresher.
Ham Radio License/Volunteer Examiner (VE) Tests (New Day and Location). WPARC is now offering VE testing on the first Wednesday of each month. Chuck KK6DOA will be managing the program. The location will be at the Round Table Pizza, 1020 Pleasant Grove Blvd #170, Roseville CA. This is the same location as our monthly member meeting noted above. See link there for map and directions. For more information and to confirm a time please email Chuck at: kk6doa (at) gmail (dot) com.
Club T-Shirts. Club T-shirts have been a huge hit, and club members wanted more! Our vendor will soon have a web site offering more colors and shirt options. New orders are suspended until the new web site is available.
K6PAC Repeater Yaesu DR-2x Upgrades Completed. Upgrades to new Yaesu DR-2X are completed. A new FVS-2 Voice Module will add new features to leave messages, record and review your transmission, along with announcements. Stay tuned for more details.
Save the Date: Jan 27 for WPARC 2018 Kick Off Luncheon. We're looking forward to our return to Via Roma in Rocklin for the club 2018 Kick Off. More details to follow.
The club website, http://wparc.us/index.html, has a new look and new information. Jey KQ6DK is now club web master and is updating the the site on a regular basis. Thanks to Jey for all his work on the website.
Don't forget about our WPARC Facebook page. It is at: https://www.facebook.com/WPARC
Want more? We now have a Twitter account! Just search for @k6pac (the club repeater call sign with the "@" symbol). We are following the ARRL, the ARRL Sacramento Valley Section, Kenwood, and Yaseu and a few others. If you think of someone we should follow, please email me. I know there are a few local clubs with Twitter accounts and I will add them.
73, Michael Buck. K6BUK
WPARC on Facebook and Twitter
Check us out on Facebook and Follow us on Twitter (@k6pac)
---
Update from Glenn ARS

Posted December 4, 2017
Prez Says!
Just a reminder that this Thursday, the 14th, is our December meeting session. I believe we had voted to have a potluck? In this cold weather a potluck sounds really good! Meeting time is 6:30 p.m. Hope to see you all there.
Dorothy Post, Editor GARS Repeater
Merry Christmas and a Happy 2018 everyone! Newsletter  Newsletter Second Edition
---
Update from Golden Empire ARS

Posted December 4, 2017
The Prez' Says: QST de KA6GND
As this year comes to a close I find myself reflecting on the past two years that I have served as your club president. I am grateful to have had the opportunity to serve in this capacity and wish to thank the members of the Board and club as a whole for your support and contributions. I would especially like to thank Michael Favor, N6FAV for so much help and support to me personally, it has been invaluable. Our club has a rich history in our area and I encourage you all to be involved in the club as much as you can - it helps each of us and the new hams of the future!
At our meeting this month on the 15th we will hold our annual Christmas party with members and guests. Those who can please bring a dessert or finger food, and a wrapped gift ($10 limit) for our fun gift exchange for those who would like to participate. I hope that you can attend and bring a guest as we have a fun evening together. We will conduct the elections for the coming year, thank you to all that have accepted being nominated to serve our club next year.
Thank you Kris Koenig, KK0NIG for the very interesting pro- gram presented at the November meeting regarding your exciting career as a Emmy Award winning writer, director and producer. We were also treated to a program on the subject of QSL card submitting to the ARRL for awards by Jackson, W1FOG's grandfather Jim Zimmerman, N6KZ visiting from Arizona.
I encourage you all to check out our club website from time to time at www.gearsw6rhc.org and also our Facebook page "Golden Empire Amateur Radio Society - GEARS" which as interesting posts regarding ham radio posted there.
I hope to talk with you on the air soon.
73 for now, Larry Marcum, KA6GND, GEARS Club President, ka6gnd@gmail.com, 530-345-5399  Newsletter
---
Al's Tips for the Amateur Extra Class License Exam

Submitted November 24, 2017
Having just passed the Extra Class exam I have some tips for anyone out there who is in the process of studying or getting ready to sit for the test.
One thing you should know is that this is not an easy exam. I have it on good authority that the current question pool put into service in July 2016 is far more difficult than the previous one. I'm told that there was a a lot of pushback from 'old guard' hams (especially the guys still upset over the elimination of CW!) who claimed that too many people were passing the exam... that it was too easy.
Thus, you are looking a answering a lot of questions that have only marginal (and sometimes zero) congruence to running a radio station. So, your only option is to plan a lot of extra time to prepare as well as in the actually taking of the exam. As I said, it is not easy.
I do not believe it is possible to cram for this exam unless you have advanced degrees in both quantum mechanics and astrophysics! While you can memorize some questions and answers, by and large you will have to know the material, or at least have the cognative ability to 'figure it out' while taking the test.
There are some ways to make the process a bit easier and help insure success in the exam. I present the ones that worked for me (in no particular order.)
- The ARRL Extra manual is not great exam study guide. It is a college-level textbook on radio theory, semiconductor physics, and endless explanations fo the many arcane FCC rules. Don't spend the money on it until after you pass and want to know in more detail advanced radio theory, etc.
- I'm told the Gordon West book is good but I had it for the General and was not impressed with it.
- I found that the 100 page "No-No-Nonsense!Extra Class License Study Guide" by Dan Romanchik KB6NU to be well worth the $10 PDF cost. Read it a few days after you have studies and about to take the exam as it is a good review and answers all 700+ questions.
- Using http://hamstudy.org, a good protocol to follow is to spend several weeks reading the entire 700+ question pool, then another several weeks doing the flash cards, and finally take at least 50+ practice exams to where you consistently get 80% or better.
- When starting out, tell whatever program you use to eliminate the distractor (wrong) answers.
- Here is my best tip. For some questions you can create easy-to-remember mnemonics to give you a hint of the answer. For example there is a question as to whether a T-net is a high pass or a low pass. The answer is high-pass and you can remember that T stands for Touchdown in football and often is the result of a high pass from the QB. Another answer about meteor showers is Sporadic-E. "E" rhymes with "meteor."
- The analysis that I did (subject to an unknown margin of error) is that 85% of the time the longest answer was the correct answer. So if you have to guess, choose the longest answer.
- Many times a keyword that is in the question also shows up in only one answer... and that is the correct one.
- Some non-common words only show up ONCE in the entire question/answer pool... like "astable" which is the right answer.
- When taking the exam at the VE session do as many of the 50 questions as you can and omit the ones you are not totally sure about. Then go back and do them. Often the answer to them can be found in other questions.
- Give yourself plenty of time to study for the exam, but be consistant. Find an 60 minutes or so a day to read text or flash cards or do exams. The week before the exam, allocate two hours every night to take practice exams.
- Try to schedule the exam for an afternoon VE session or evening. Spend several hours before the exam reading flash cards, preferably right up until they pass out the exam books. That way your brain is 'tuned' to work well.
At the risk of being too repetitious, for most of you (us) this will be the hardest exam you have ever taken in your post-college/graduate school life.
The following is my opinion. Yours may be different and I'm OK with that:
Some people say that this version of the exam was designed to insure that Extra class operators were the "best of the best."
I disagree.
At least half the exam consists of questions that have zero relation to running a radio station. They are overly technical, contain math that most of us have long forgotten, and encompass theory more congruent with academic pursuits than practical application.
It was designed by be hard.
It was designed so that you will fail.
Many say, and I believe it to be true, that it was designed so that the Extra class would continue to be an 'good old boy's' club. If so they did a really good job of it! If you want to gain access to this club, you will indeed pay your dues by losing a lot of sleep and perhaps some hair as well! The lyrics Ringo Star once wrote are true:
"Got to pay your dues if you wanna sing the blues
And you know it don't come easy"
For those who are considering taking the Extra exam, hope I've helped a little bit.
Alan Canton, KM6AAI, Fair Oaks, CA, http://www.qrz.com/db/KM6AAI, ac@KM6AAI.net
---
Keep Our Digital Transmissions Legal on 60 Meters

Posted January 29, 2017
Our decreasing solar activity and residential antenna restrictions have attracted increasing numbers of radio amateurs to operate CW and weak signal digital modes on our lower HF frequencies including 60 meters. The five frequency channels that US amateur radio operators share on a secondary basis with US federal government users on 60 meters (5 MHz) pose unique requirements for CW and digital operators. As explained on http://www.arrl.org/60m-channel-allocation, US radio amateur emissions on our 60m channels must be precisely centered in the center frequency of each assigned channel, that is, 5332.0, 5348.0, 5358.5, 5373.0 or 5405.0 kHz. Thus, for example, a CW signal on channel 3 (USB Dial frequency 5357.0 kHz) must be precisely on 5358.5 kHz. The same ARRL page explains that all digital emissions must also be centered in the channel center.
This may appear unreasonable to radio amateurs because a 2.8 kHz channel can accommodate many digital and CW transmissions simultaneously, and requiring multiple stations to operate on the same exact frequency would result in mutual interference. The National Telecommunications and Information Administration (NTIA)* explains this requirement in https://ecfsapi.fcc.gov/file/7021871884.pdf which states: "Allowing multiple emissions within the necessary bandwidth of the widest authorized modes (2.8 kHz) increases the possibility of harmful interference from secondary amateur stations to primary federal stations, and would make it more difficult for a federal station to identify an interfering amateur station. In addition, NTIA is concerned about the aggregate equivalent isotropically radiated power from multiple amateur stations transmitting within a single 2.8 kHz channel. Accordingly, NTIA requests that 47 C.F.R. Section 97.303(h) continue to require that amateur stations transmit only on the five center frequencies allocated to the amateur service."  (See http://www.arrl.org/what-the-fcc-rules-say-97-303-h)
Observed Violations of US 60 Meter Frequency Regulations

JT65

This screenshot photo shows JT65 signals received on 60 meter Channel 3 (5357 kHz USB dial frequency) from 0300-0309 UTC on January 29, 2017. In the photo, the 5357 kHz dial frequency is at 0 Hz on the left side of the waterfall and the 5358.5 kHz channel center is at the 1500 Hz mark. Decodes of several US radio amateurs are seen transmitting JT65 emissions simultaneously on various frequencies throughout the channel 3 frequency range 5357-5360 kHz. This is the familiar appearance of a JT65 waterfall display on all other amateur radio bands; however, it violates the NTIA requirement that each US radio amateur transmission be centered on the 1500 Hz mark (the 5358.5 kHz channel center frequency).
ARRL Official Observer Richard Saunders, K6RBS, has posted the proper WSJT-X program settings for legal 60m JT mode operation here.

WSPR

The link http://wsprnet.org/olddb?band=60&sort=callsign&reverse=on&unique=on lists WSPR mode emissions on the 60 meter band. One can scroll down that list and see how many A, K, N and W call signs have been transmitting WSPR mode on 5288 kHz outside the authorized 60 meter center channel frequencies.  
US WSPR transmissions continue to be observed on the WSPR software default 60 meter frequency of 5288 kHz, a completely unauthorized frequency for US radio amateurs.
Each licensee has the final responsibility for the lawful operation of his or her station.  Unfortunately, the increasing automation in our radios has apparently accustomed some to falsely assume that the radio will correct for operator carelessness and ignorance of regulations.  Our cooperation with NTIA requirements is essential for our continued access to the 60m channels and for possible future access to the new ITU worldwide 60 meter allocation at 5351.5 to 5366.5 kHz. (See http://www.arrl.org/news/view/arrl-asks-fcc-to-allocate-new-5-mhz-band-retain-channels-and-current-power-limit and http://www.arrl.org/news/fcc-invites-comments-on-arrl-petition-to-allocate-new-5-mhz-band). Please be aware of these requirements if you intend to or currently operate CW or digital modes on our shared 60m allocations. The Amateur Auxiliary is documenting this matter and hopes to raise its awareness in the wider amateur radio community.
-Carol Milazzo, KP4MD
*The NTIA is the federal authority that coordinates radio spectrum use for the US military and federal government while the FCC serves in this capacity for US civilian radio spectrum users.