American Radio Relay League
The National Association for Amateur Radio
Sacramento Valley Section
Serving Alpine, Amador, Butte, Colusa, El Dorado, Glenn, Lassen, Modoc, Nevada, Placer, Plumas, Sacramento, Shasta, Sierra, Siskiyou, Sutter, Tehama, Trinity, Yolo & Yuba Counties in Northern California
Sacramento Valley Section is located in the ARRL Pacific Division.
Sacramento Valley Section Web Resources
ARRL National Page: www.arrl.org/Groups/view/sacramento-valley
Organization, Clubs, Calendar, Nets
Sacramento Valley ARES: www.sacvalleyares.org SV ARES Brochure
Facebook: www.facebook.com/ARRLSacramentoValley
Twitter: www.twitter.com/ARRL_SV
Thanks to Greg Kruckewitt KG6SJT for maintaining our Section ARES web page and for assisting with our Facebook page and Twitter feed.
Thanks to Les Cobb W6TEE for maintaining the Section Net list.
Submit Section News updates to kp4md(at)arrl.org
---
ARRL Conventions & Hamfests & Regional Events
---
Past Section News Archive
---
Amateur Radio License Classes and Volunteer Exam (VE) Schedules
Class and VE Session Calendar
---
Getting Your Amateur Radio License
A license is required to operate an amateur radio station. Amateur Radio Licenses in the United States are granted by the Federal Communications Commission after passing an exam at a Volunteer Exam (VE) session.  
There are currently three classes of amateur radio license: Technician, General and Amateur Extra.
For information on testing, preparation and study materials, see:
---
Citrus Heights Ham-Cram Sessions
Posted January 5, 2017
Section member Joe Cardoza, KA6ROM, announces that his Citrus Heights VE Team will conduct their amateur radio Ham-Cram Technician License training and examinations on the fourth Saturday (except third Saturday in January) every other month at starting at 8:45 am at the LDS Church, at 7950 Hazel Ave, Orangevale, CA. This is the intersection of Hazel and Cherry Ave.
The Ham-Cram and Exam dates for 2017 are:

January 21st, 
March 25th, 
May 27th, 
July 22nd, 
September 23rd, and 
November 18th (date change).
Joe Cardoza, KA6ROM, 916-725-6443, cardozas@comcast.net
A Ham-Cram is a several hours' review class of exam questions and answers followed by a license exam session.
---
NCDXC Free Online General Class License and HF Operating Courses September through January 2018
Posted August 23, 2017
The Northern California DX Club is offering free classes aimed at helping you to pass your General Class license exam, build your first effective HF station and learn HF operating skills. Enhancing your HF experience will be done with classes on advanced HF phone, CW and Digital operating skills, propagation analysis, antennas and other topics. These classes are arranged in 3 tracks so that you may take only those classes that interest you. Some classes will be taught using PowerPoint presentations delivered to your computer over Webex. You need no special software as Webex allows you to see and hear the presentation and participate in the two way audio stream. Other classes will be taught by your Elmer at his or her own shack. There you will experience the skills that you are learning on the air! Our 13 instructors are experts in their fields with literally hundreds of years of active ham radio experience. Our goal is to put you on the air on the HF bands and give you the background to enjoy the many aspects of the HF experience. Some of our instructors are great teachers, others are operators with many years or SSB, CW and Digital mode experience, while others enjoy building state of the art equipment. The classes will be taught at your level. We will strive to make each class fun. We want you to succeed!
Go to http://www.ncdxc.org/pages/elmer.html for details and registration.
---
Yolo County ARES and BARK Radio Club VE Exam Session
Posted November 4, 2017
Yolo ARES and the BARK amateur radio club are holding an FCC license exam Nov 11 at the LDS chapel on 850 Pioneer Ave here in Woodland. All elements tested, no registration required but a call ahead is appreciated, walk in's are accepted. Testing starts at 07:30 and closes down at 09:30. contact person: Ken - K6WLS, 530-305-4088
---
Folsom ARRL Volunteer Exam 2017 Schedule
Posted December 16, 2016
Folsom ARRL VEC exams are held at 6 pm the third Thursday of each month except July, August and December.
Here is our updated exam scheduled for 2017:
January 19

February 16

March 16

April 20

May 18

June 15

July NO EXAM

August NO EXAM
September 21
October 19
November 16
December NO EXAM
All exams start at 6:00 pm.

Round Table Pizza (Small private room by the front door), 2793 E Bidwell St, Suite 100, Folsom, CA 95630
For information see http://ns6q.net/exams or contact Mike Kirkland, NS6Q at radio.ns6q@gmail.com.
73, Mike, NS6Q
---
Redding ARRL VE Schedule 2017
Posted December 1, 2016
The Redding ARRL VE Team will be hosting exams on the following Saturdays in 2017:
January 21
March 11 (changed)
May 20
July 15
September 16
November 18
Our exam sessions are now being held at the Shasta County Office of Emergency Services at 2486 Progress Drive in Redding. Exams start at 10:00 AM and candidates are encouraged to pre-register.

More information can be found at: www.reddingve.com or by contacting Steve K6KS at sjmosconi@gmail.com
---
SHINGLETOWN ARRL VE 2017 Schedule
Test Location:
Open Door Community Church, 33883 HWY 44, SHINGLETOWN, CA. 96088
Testing begins at 10:00 AM.
Candidates should arrive 15 to 30 minutes early. We accept walk ins.
Contact:
Dar Walker W6IO, Shingletown ARRL VE Liaison, w6iodar@gmail.com, 530-474-3087
TEST SCHEDULE:
2016: Dec 17
2017: Feb 18th, Apr 15th, Jun 17th, Aug 19th, Oct 21st, Dec 9th
Dar Walker W6IO
---
Other ARRL VE Sessions - Schedule List

BARK Repeater Club - Quarterly - Woodland
Carmichael Elk Lodge ARRL VE - 3rd Sat. at 0700
SFARC ARRL VE at Granite Bay Raley's - 1st Sat. at 0800
---
Amateur Radio Parity Act of 2017 - HR 555 - S1534
LATEST NEWS: The Amateur Radio Parity Act of 2017 was introduced in the US Senate on July 12, marking another step forward for this landmark legislation. Senators Roger Wicker (R-MS) and Richard Blumenthal (D-CT) are the Senate sponsors. The measure will, for the first time, guarantee all radio amateurs living in deed-restricted communities governed by a homeowner's association (HOA) or subject to any private land use regulations, the right to erect and maintain effective outdoor antennas at their homes. The Senate bill, S. 1534, is identical to H.R. 555, which passed the US House of Representatives in January. Read more here.
The Amateur Radio Parity Act
---
50 W PEP Maximum Power Limit Area on 70 cm
A little recognized portion of FCC Part 97 regulations applies to 420-450 MHz operations in most counties in our Sacramento Valley section:
47 CFR §97.313 (f) No station may transmit with a transmitter power exceeding 50 W PEP on the UHF 70 cm band from an area specified in footnote US270 to §2.106 of part 2. The indicated affected areas are specified in http://www.arrl.org/us270, in the State of California within a 240-kilometer (150 mile) radius around locations at Beale Air Force Base, California (latitude 39°08' North, longitude 121°26' West).
More information on the additional impact on 70 cm repeater stations is at http://www.narcc.org/NARCC-ARRL-PAVE-PAWS-Update-2014a.pdf
The Amateur Radio Service shares the 70 cm band on a secondary basis with the US Government which has priority. The US Department of Defense routinely monitors and locates signal sources on these frequencies.  Our voluntary cooperation is mandatory to avoid interference with the Pave PAWS (Phased Array Warning System) radar at Beale AFB and thus to assure our continued access to these frequencies.
November 2017 News
From the Section Manager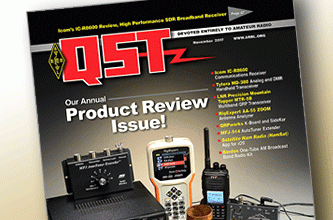 This month's news features news and happening from clubs and members around our section. As several clubs will hold their elections this month, I urge members to follow the example of our predecessors and to volunteer service in leadership positions. Your participation is vital for the future of amateur radio.
Assistant Section Manager Roger Cain KI6FYF and I enjoyed seeing many of you at the Lincoln Hamfest, at the Rocklin Mini Maker Faire and at the October 20-22 ARRL Pacificon Division Convention in San Ramon. We were also delighted to hear Carole Perry, WB2MGP and our ARRL President Rick Roderick, K5UR, who gave inspiring keynote speeches on working with youth in amateur radio and a vision for the future of the Amateur Radio Service.
Photo caption: Tom Cleminson, KF7FTJ (left) and Steve Mosconi, K6KS (right) at the ARRL Pacificon Convention Banquet.  Photo by Carol Milazzo, KP4MD
Our website,
Facebook
and
Twitter
pages are a work in progress, and your suggestions and submissions are always welcome.
This website is visited most during the first week of each month, but do check back as it is updated weekly with late breaking news.
73, Dr. Carol Milazzo, KP4MD
American Radio Relay League Sacramento Valley Section Manager
kp4md(at)arrl.org
You can always send compliments, suggestions and submissions for inclusion in our Section News to kp4md(at)arrl.org

---
October 19 ARRL SV Section HF Net Report
After the Thursday October 19 VHF ARRL SV Section Net on the WD6AXM repeater, the Sacramento Valley HF Section Net was conducted on 3880 kHz LSB from 7:30 - 7:45 pm PDT.
The following stations participated in the HF Net: N7JIL in Canby, N6FC in Fort Jones, N6SAC in Antelope, KA6NSN in Quincy, AI6LZ in Grass Valley, and KP4MD in Citrus Heights (Net Control).
Only on months when announced by Official Bulletin, ARRL Sacramento Valley Section Nets are conducted on the third Thursday of that month, starting approximately 7:20 pm Pacific Time on the WD6AXM 146.085 MHz FM repeater, followed by the HF Section Net on 3880 kHz LSB +/- 3 kHz. During summer months the HF net is conducted on 5330.5 MHz USB as propagation permits.
Don't have an HF radio?  
Listen on the W6DRZ web receiver at Half Moon Bay
or the W7RNA web receiver in Sedona, AZ.
Hourly Northern California NVIS Observations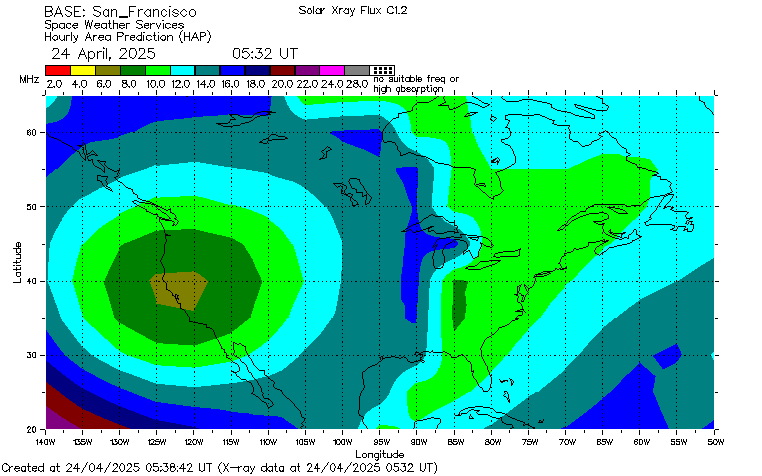 This chart shows colors that represent the recommended HF frequencies for contacting stations for a particular hour. Both stations should use the SAME frequency denoted by the color at the location of the target station. The chart is in Universal Time (UTC). More information at http://www.sws.bom.gov.au/HF_Systems/6/6
---
Sierra Foothills ARC Jamboree on the Air Event

posted October 25, 2017
A great big THANK YOU goes out to the JOTA team for coming out and pulling together a phenomenal event!
Bruce, K6BAA, Bob, N6EMS, Mike, KK6GLP, Jef, N5JEF, Greg, KO6TH, Jim, WA8MPA, Mike, KK6PVS, Richard, WA6RWS, Al, NI2U, Birton, N6UG, and Brian, AI6US, donated their Saturday and equipment to make special memories for the scouts and their families.
The "Save the Day" award has to go out to one of our newest members Chip, KM6MDF! When the fairground's transformer blew up just before 10 AM, yes, you read that correctly, "BLEW UP", and we lost power, he spring into action, drove home and brought back his 5kW generator. Thank you Chip, you saved the day! And me, from having a coronary!!
All in all, there were a total of 127 participants: 72 Boy/Cub scouts, 2 Girl Scouts, 12 Adult leaders, 28 visitors, and 13 staff. Of the 127, 16 were hams. We had 7 operational stations: 40m CW, 40m SSB, 20m SSB, 20/40m PSK31, 15m FT-8, DStar, and IRLP.
Kudos need to also go out to Gerry, WA6E, for allowing us to use his IRLP node and teaching Brian everything there is to know about IRLP. Bob, K6UDA, loaned us his ICOM 7100 rig and a 2m/440 antenna for the DSTAR station which Birton graciously let us use his DSTAR node to make US and international contacts.
This was truly a team effort! Thank you all!!
Mike, KK5GLP, and Greg, KO6TH, have been burning the mid-night oil. They have produced, edited and posted to YouTube a slide show/videos of our 60th Jamboree On The Air event.You can see it by following this link: http://www.youtube.com/watch?v=ElL9eKRgPpc
73, Orion Endres, AI6JB, SFARC President
---
Golden Empire ARS & Butte County Radio Amateurs' Media Hit in Chico Enterprise-Record 

Posted November 6, 2017
Robert Rentz, KK6WUG, (foreground) and Daniel Shelsta, N6APX, both of Paradise, are members of the Golden Empire Amateur Radio Society and were handling communications for the Red Cross Thursday at the evacuation center for the Cherokee and La Porte Fires at the Church of the Nazarene in Oroville. The group will be having a youth-oriented workshop Saturday at the Gateway Science Museum in Chico. Contributed photo by Kris Koenig, KKØNIG
Read the full story at http://www.chicoer.com/article/NA/20171012/NEWS/171019914
---
Yolo ARES Member Joe DeAngelo, AG6QO, Media Hit in Davis Enterprise Journal

Posted October 7, 2017
Joe DeAngelo, AG6QO, a radio amateur since 1974, member of Yolo County ARES, ARRL Technical Specialist, Official Relay Station, and Digital Relay Station was interviewed for a feature article "Amateur radio enthusiasts are handy in emergencies" in the September 24, 2017 issue of the Davis Enterprise journal.
"Joe DeAngelo of Winters, a ham radio enthusiast, teaches an introductory workshop earlier this month for people who are new to the hobby. DeAngelo is involved in the local branch of the Amateur Radio Emergency Service, whose trained volunteers throughout the United States and Canada dedicate their time to helping with emergency communications."
Read the full story at http://www.davisenterprise.com/local-news/amateur-radio-enthusiasts-are-handy-in-emergencies/
---
Sacramento Valley ARES Members Respond to Northern California Fires
from ARRL News October 13, 2017
According to Sacramento Valley Section Emergency Coordinator Greg Kruckewitt, KG6SJT, Butte County Emergency Coordinator Dale Anderson, KK6EVX, reported that radio amateurs deployed on October 9 to a Red Cross shelter in Oroville. They are set up for VHF, to monitor public service frequencies, and for Winlink. Shelter status reports are being sent to the California Office of Emergency Services (CAL OES), via Winlink. The Oroville shelter was opened for evacuees from the Cherokee, Lobo, Cascade, Bangor, and Loma Rica fires. As of Friday, October 13, Butte County ARES operators continue to provide support for the shelter.
In Nevada County, radio amateurs deployed to a shelter that opened to accept evacuees from the McCourtney Fire. Nevada County Emergency Coordinator Richard Vizcarra, K6TM, said need for the shelter is winding down, but the Red Cross has invited those Amateur Radio volunteers to support its efforts. At one point the shelter had more than 80 evacuees.
Vizcarra said, "The Red Cross was very impressed with the communication abilities we demonstrated, and immediately had several ideas of how it could be used to eliminate unnecessary legwork for communication in emergency situations." The shelter team was able to send and receive messages via Winlink on VHF. Jason Eaton, KJ6HNP, demonstrated Amateur Radio's messaging capabilities. The radio amateurs handled health-and-welfare and other message requests.
In Amador County, ARES Emergency Coordinator Daniel Edwards, KJ6WYW, told Kruckewitt that the Red Cross requested ARES support at a shelter in Pioneer for Calaveras County residents. Edwards set up a temporary net control station using a 2-meter mobile radio, working through the K6ARC repeater. "Nancy Edwards, KK6CZG, provided additional relay support from our home as well as providing alternate net control when I needed to step away," Edwards said.
Contact was made with the Calaveras County CERT Team, and the Red Cross opened a shelter in West Point. Communication was set up at the shelter by Guy Johnstone, KK6VQY, using an HT until a more permanent station could be set up with VHF and UHF capabilities. Several volunteers stepped up to staff the station until the need for the shelter ended.
Shelter status reports were relayed by voice to Kruckewitt, who sent them on via Winlink to Cal OES — Thanks to Greg Kruckewitt, KG6SJT
---
Update from Placer County ARES

Submitted by Carl First N6CKV, posted October 7, 2017
Placer County ARES at the Auburn Home and Garden Show
Placer County ARES had a booth in the Fire Prevention and Public Safety tent at the Auburn Home and Garden Show September 29,30 and October 1. About 10,000 visitors visited the tent, of those there were several people interested in Amateur Radio, in addition there were many inactive hams who were interested in becoming active in Amateur Radio. The staff in the booth answered questions on both ham radio and ARES. They mentioned the 50 hams that are being deployed to Puerto Rico, there was a lot of interest in the Puerto Rico activities. The hams that staffed the booth brought their Go Kits to so the equipment to the visitors. The HF bands were not active so it was hard to show ham activity on the radio. The hams that staffed the booth were; Gary KT6SKR, Gary N6UWQ, Mike KK6GLP, Brian AI6US, George KG6LSB, Ralph W6WL, and Carl N6CKV.
Pictures all by Carl N6CKV
Gary KT6SKR, Gary N6UWQ,
Mike KK6GLP

Brian AI6US, George KG6LSB

Ralph W6RWL
---
CalOES to Offer ICS 300 Course

Posted October 7, 2017
CalOES will be offering the ICS 300 course at Mather Field in Sacramento starting January 30, 2018. It is a great opportunity to learn more and the ICS process and ARES work with served agencies. ARES members who are interested in taking this class may sign up on line at this link.
E300: ICS 300: Intermediate ICS for Expanding Incidents
Course Description: This course provides training for personnel who require advanced application of the Incident Command System (ICS). This course expands upon information covered in the ICS 100 and ICS 200 courses.
Course Objective:
Describe how the National Incident Management System Command and Management component supports the management of expanding incidents.
Describe the Incident/Event Management process for supervisors and expanding incidents as prescribed by the ICS.
Implement the Incident Management process on a simulated Type 3 incident.
Develop an Incident Action Plan for a simulated incident.
Selection Criteria:
NIMS ICS All-Hazards training should be completed by personnel who are regularly assigned to Functional, Support, or Unit Leader positions on Type 3 or 4 All-Hazards Incident Management Teams, or by those persons who desire to seek credentials/certification in those positions.
Prerequisites:
IS0100.b
IS0200.b
IS0700.a
IS0800.b
---
December 1 - Skywarn Recognition Day

Posted November 18, 2017
The annual SKYWARN Recognition Day (SRD) Event will be held on December 1 from 00z-24z (Friday 4 PM PST to Saturday 4 PM PST). SKYWARN Recognition Day was developed in 1999 by the National Weather Service and the American Radio Relay League. It celebrates the contributions that SKYWARN volunteers make to the NWS mission: the protection of life and property. Amateur Radio operators comprise a large percentage of the SKYWARN volunteers across the country. During this 24 hour event, licensed Amateur Radio operators are welcome to visit our NWS office and make contacts using our station, WX6NWS. We will be operating on 40-10 Meters on SSB, and 2 Meters and 70 cm on FM. We will also be operating on IRLP Node 9252 and Echolink *SKY_GATE* and *WX_TALK* (where we will be responsible for running the net from 2300-2400 hrs). Over 100 NWS stations across the country are expected to take part in the event again this year. Additional information about SRD, operating procedures, and participating offices can be found online at http://hamradio.noaa.gov
We are currently planning on operating from 00z to 06z (4 PM to 10 PM PST Friday) and 16z to 24z (9 AM to 4 PM PST Saturday). We will be setting up equipment in our conference room and operating there. Those interested in operating, observing, or assisting with setup (usually starts around 2 PM Friday) and take down (after 4 PM Saturday) are welcome. We are also looking for experienced Echolink operators who have their own equipment (i.e., laptop and internet access) who would be interested in making contacts on Echolink and/or running our portion of the WX_TALK net from 3 PM to 4 PM Saturday. Also, if you would like to bring and operate your own equipment from our outside parking area, let us know (you will need generators or operate from your mobile setup).
We are looking forward to another great event and hope you can join us. Please respond back via email if interested, and feel free to forward this information to others you think may be interested.
---
November 11 - Sacramento County ARES Training

Posted November 4, 2017
The next Sacramento County ARES training and meeting is scheduled for Saturday November 11, 2017 from 9:00 am to 12:00 noon at the Sacramento Sheriff's Central Division, 7000 65th Street, Sacramento, CA 95823.
Vince Cracchiolo KI6NHP is the Sacramento County EC.
For more information, visit the Sacramento County ARES web site at www.saccountyares.org
---
ARRL Exhibit and Special Event Station N6M at October 14 Rocklin Mini Maker Faire
Posted November 4, 2017
On Saturday October 14, 2017, over 8,000 attended the
Rocklin Mini Maker Faire
at Sierra College in Rocklin where the ARRL Sacramento Valley Section sponsored an
exhibit promoting Amateur Radio
. Dave Martin, WB6YLK, Ken Martin, KE6RMN, Phil Sittner, KD6RM, SV Assistant Section Manager Roger Cain, KI6FYF, and Section Manager Carol Milazzo, KP4MD participated in the exhibit which displayed homebrew amateur radio equipment and antenna projects, Morse Code practice stations, and offered opportunities for attendees to learn about the many facets of the amateur radio and to communicate on the air with amateur radio operators via our operational on-site amateur radio Special Event Station N6M. We provided literature and information on licensing, local clubs, the ARRL and amateur radio's role in community service and promoting careers in Science, Technology, Engineering and Math.  
More photos here
.
---
Update from Bob Wortman, WB6VYH, Section Technical Coordinator

Updated October 7, 2017
Well here comes Pacificon 2017 ready or not. I will be there checking cards at the NCDXC table.
Also there is a ham swap in Durham California on Saturday Sept 30, 2017 08:00am, read more at http://www.w6thw.com/image/durham_swap_meet.jpg
Then there is a ham swap in Redding on the 14th of October 2017 from 10 am to 2 pm at Bentronics Electronics on 141 Locust Street, Redding, California, CA 96001.
If you need cards checked for DXCC, WAS or VUCC let me know. I get all over Northern California.
Call me and leave a message or email me, my information is on the ARRL web page.
73 and good DX, Bob Wortman, WB6VYH
ARRL Pacific Division DXCC Awards Manager, Sacramento Valley Section Technical Coordinator, WAS Award Manager, VUCC Awards Manager
---
Update from Duane Wyatt, WAØMJD

Posted September 18, 2017
Report on September 16-17 Youth Outreach
Here is a photo of the exhibit at the FairyTale Town's ScholarShare event last Saturday and Sunday. The weather was perfect, there were lots of parents and kids there and lots of them tried the Morse machines--so it was fun and happiness...
Call for Equipment Donations for Kid's "Radio Library"
Duane Wyatt, WAØMJD, is starting a Radio Library for local elementary school students who attend school workshops sponsored by the A Touch of Understanding disability inclusion and acceptance organization. This Radio Library will allow students parents to check out radios and accessories instead of books. The students parents return the amateur radio items to the library if the student loses interest in amateur radio or purchases his own equipment.
Duane is seeking amateur radio equipment donations to start this program. If interested please contact Duane at duanewyatt(at)hotmail.com
Duane Wyatt, WAØMJD,
duanewyatt(at)hotmail.com
---
From Norm Lucas, WB6RVR (SK),
Section Official Observer Coordinator

Posted January 11, 2016
Do you have what it takes to be an ARRL "Official Observer?"
Update April 6, 2017 - The ARRL and the FCC are currently working together to update and to make changes to the Official Observer/Amateur Auxiliary program. Because of these expected upcoming updates and changes, ARRL has placed a temporary hold on applications for new Official Observers and Official Observer Coordinators at this time.  Read more here.
The ARRL Executive Committee (EC) has directed that work begin on finalizing the language of a revised memorandum of understanding between ARRL and the FCC regarding the Amateur Auxiliary (Official Observer) program. The EC met on March 25 in Aurora, Colorado. The panel, which acts on behalf of the ARRL Board of Directors between its regular meetings, heard an update on the Official Observer Program Revitalization Study from ARRL Second Vice President and committee chair Brian Mileshosky, N5ZGT, who said his committee plans to present final recommendations later this year on revamping the Amateur Auxiliary, for ultimate consideration by the full Board.
In his remarks, General Counsel Chris Imlay, W3KD, was complimentary of new FCC Chairman Ajit Pai and told the EC he thinks enforcement efforts may be more successful in the future, due to the new chairman's interest in the issue. Imlay also said the new chief of the Enforcement Bureau, Michael Carowitz, is reported to be "amateur friendly." He told the EC that he foresees a potential window of opportunity for improved spectrum enforcement work, as well as the opportunity to build a stronger working relationship with the FCC on all issues.
The Official Observer (OO) program has been sponsored by the ARRL for more than 85 years to help Amateur Radio operators assist each other to operate their stations in compliance with Federal Communications Commission (FCC) regulations.
Official Observer appointees have assisted thousands of Amateur Radio operators to maintain their transmitting equipment and comply with operating procedures and regulations. The object of the OO program is to notify amateurs of operating and technical irregularities before they come to the attention of the FCC and to recognize good operating practices.
The OO program serves as the first line of "eyes and ears" for the FCC. It is the backbone of the Amateur Auxiliary. OOs are certified in the Auxiliary by passing a mandatory written examination.

---

FCC Opens 630 and 2200 Meter Bands

from September 15, 2017 ARRL News
The FCC has announced that the Office of Management and Budget has approved, for 3 years, the information-collection requirement of the Commission's March 29 Report and Order (R&O) that spelled out Amateur Radio service rules for the two new bands — 630 meters and 2200 meters. Notice of the action appears in today's edition of the Federal Register. Before using either band, stations must notify the Utilities Technology Council (UTC), formerly the Utilities Telecom Council, that they plan to do so, and if UTC does not respond within 30 days, they may commence operation.
Read the full story on the ARRL News http://www.arrl.org/news/fcc-opens-630-and-2200-meter-bands-stations-must-notify-utc-before-operating.
Update on FCC Deliberate Interference Case

Posted April 4, 2017
Recent filings related to a long-standing FCC case regarding deliberate interference on 3908 kHz is posted on the FCC website at https://www.fcc.gov/ecfs/search/filings?proceedings_name=08-20&sort=date_disseminated,DESC.
Additional information related to this matter is posted on the ARRL News http://www.arrl.org/news/fcc-levies-25-000-fine-on-california-radio-amateur-for-deliberate-interference.
---
Update on California Hands Free Law

Submitted by Andrew Silvester, KC6O, posted October 7, 2017
Good news! On 26-SEP-17 AB-1222 was "Approved by the Governor." AB1222 was the bill that fixed the problem we amateur radio operators had with the "Electronic wireless communication devices" law (AB 1785) that went into effect last year. This bill removes "specialized mobile radio device" and "two way messaging device" as examples of an "electronic wireless communications device" that is prohibited from being used while driving.
From the Assembly Transportation Committee bill analysis:
The author believes AB 1785 inadvertently included devices that were not intended to be included in the wider cellphone ban. Devices such as two-way radios functioning on business band or civilian band (CB) radios which have a more limited scope of functions, and thus, a more limited potential for distracting a driver. With this bill, the author intends to provide technical cleanup to AB 1785, so that it is not construed to limit the use of two-way wireless communication devices utilized by either trained professionals or individuals that have been properly licensed for brief, verbal communications essential to the functioning of their job duties. According to guidance issued by the California Highway Patrol, a radio installed and mounted in a vehicle with a wired hand microphone, for example, business band or CB radio, is not considered to be wireless communication device, nor is it considered a specialized mobile radio device, and therefore not subject to enforcement under AB 1785. This bill is consistent with that guidance, and codifies that distinction.
For the text of the bill and other information: AB-1222: Vehicles: electronic wireless communications devices: http://leginfo.legislature.ca.gov/faces/billNavClient.xhtml?bill_id=201720180AB1222
Editor's Note - Jim Aspinwall, NO1PC, has posted comments on AB-1222 on http://www.no1pc.org/handsfree/
---
Pot grow lights interfere with Ham Radio

Submitted by Rene Smythe, WB6PSY, posted March 4, 2017
http://bigstory.ap.org/article/c1b607bfbbab459ba9e21d4c282996e4/growing-problem-pot-lights-give-ham-radio-operators-buzz
I have experienced this interference for the past few years. I found the interference by swinging my 10m Yagi monobander around until the noise became over S9. I then went outside to see where the beam was physically pointed and discovered a garage where indoor pot is being grown. The lights are on a time cycle so the interference comes and goes. 40º degrees in either direction takes the noise out.
Now that marijuana is being legalized in more states, more hams are going to experience this noise.
WB6PSY

ARRL and the FCC have a cooperative agreement in radio frequency interference matters.  You may submit complaints together with your supporting documentation to ARRL EMC Engineer Mike Gruber W1MG who then files the report with the FCC Gettysburg office.
You may also contact our Section Technical Coordinator Bob Wortman, WB6VYH, or our Section Official Observer Coordinator Bob Hess, W1RH, for assistance. More infomation is posted under the "From the Section Manager" notes in the November 2016 Section News - Carol KP4MD
---
Club and Member News - November 2017
---
Update from Mount Shasta ARC

Posted November 4, 2017
Winter is coming and with it, the activity level of the club is changing. Fortunately, the club will be remaining as active through the winter months as it did through the summer, but we will be spending most of our time sitting down now, instead of out supporting community organizations. At some point during the summer, every member of MSARC was involved with a public service event and many laughs were exchanged, so we are now looking forward to sharing our laughs and fellowship indoors at events such as our swap meet and holiday party.
The club hosts a weekly net on the Grey Butte repeater (440.275, thanks Ken, W6YOP) each Wednesday at 1900 PT. We'd love to hear you check in!
The Swap Meet/Cook-Out was held on October 28, 2017. Look for a further report on how things went next month.
Please make plans to attend our annual Winter Holiday Party will be at the clubhouse (329 N. Washington Dr. Mt. Shasta, CA) on December 20.2017 at 1800 PST. The Holiday Party is potluck, with a game and door prizes. All hams are welcome and the cost to get in the door is a dish to share.
On a final note, Mark (AB2LI) has developed a partnership between the club and Sisson Elementary School to allow the club to sponsor a class at the school which will teach basic RF theory and provide hands-on projects for the students. The final exam will be the licensing test.A special thanks must go to Dennis (NR6J) who has pledged a new HT to each student who successfully passes the licensing exam. So far, we have 13 students in the class! Stay tuned for more reports on how the kids are doing.<
Submitted by Mark Dibelka, AB2LI
---
FROM THE PRESIDENT
The turnout for our October meeting was great! There were two presentations on the topic of Software Defined Radio. One presented by our VP, Jay (KE6GLA) and one by myself. Judging by the questions from those in attendance, I'd say both talks generated quite a bit of interest!
Our November meeting, as mentioned last month, will be one week early, so as not to interfere with the Thanksgiving holiday. We will meet at the same location on the third week of November. During this meeting, we will be voting for new officers and board members for 2018 and I encourage you all to attend and throw your name into the hat to serve for a year. It can be quite rewarding!
As the weather cools and we head for winter, more of us will have time to spend at 'the bench'. Please let a club officer, or board member, know if you're working on a project that could be of interest to the general membership. We'll happily make some time for you!
See you at the November meeting!
73, Michael, K6MLE Newsletter
---
PRESIDENT'S MESSAGE
October has been a tough month for me but let's look at club activities. October's General Meeting was very busy. The White Elephant Sale was successful with some items going for almost nothing at the end as we tried to close the meeting by 2130. There were things that needed to be discuss for the upcoming November 7 meeting, such as elections, but we just didn't get to them. So, November's meeting will be another fully packed meeting, along with a "MESH Network" presentation.
I know that a low percentage of the club's member will read this column but for those that do, we need some new officers and some new faces on the board of the River city ARCS - maybe you. Please consider the opportunity to serve and contribute to the growth of the your club.
There were some issues I mentioned in the October column that I would like some input. Please look at the October's News Letter and give me your thoughts. I would like to share a personal experience. On October 8th, my wife and I drove to Windsor, California, just a few miles north of Santa Rosa, for a few days. Other than the wind, it was a nice drive. Monday morning, the 9th, around 0700, friends called to wish us happy anniversary and ask about the fire status. Fire, what fire? Opening the balcony door at the resort, the strong smell of smoke and haze was present. The resort's staff was not sure what was happening. Checking the TV news, we learned that several fires started Sunday night around 2200 and were burning out of control in the wine country. Other than that, we knew nothing more. Being an anniversary get-a-way, I did not take my handheld with me - maybe a mistake (?). I don't know if the amateur radio service was of value that week - maybe others can add something.
But from now on, I'll take my handheld. It's small enough to be stuffed in my carry-on suitcase.
Until Tuesday, 73, Ed Siegner,, WA6QYO Newsletter
---
Update from Yuba-Sutter ARC

Posted November 4, 2017
CHRISTMAS PARTY
Our Christmas Party will be like last years. We did not have a group that wanted to take charge so a couple of the members along with myself are putting things together. The party will be at the 1st United Methodist Church at 730 D Street, Marysville. That is at 8th and D Streets. We will be using Pioneer Hall, which is in the back. There will be a couple of door prizes so bring your tickets. There will also be tickets sold for drawings for other related items. There will something for all groups including the kids. Doors will open at 6 PM.
The caterers will arrive and set everything up. Porky's BBQ will be serving chicken, pulled pork, baked beans, coleslaw, rolls, and green salad with a choice of either ranch or Italian dressing.
Dinner tickets for Adults are $15 each, $8 for kids 6 to 11 years and under 6 are free.
Tickets will be available for purchase at the November 7th meeting.
Joe Visalli, N9BD
VETERANS DAY PARADE
John Rogers (KI6UDF) YSARC's ramrod for the Veterans Day Parade needs more volunteers. About 12 hams are needed. So far 5 ham radio operators have volunteered (KF6VFP Curtis, N6CNY Neal, KA6FFM Mark, KK6SOZ Linda, and KJ6IYM Andy).
The parade will be held Saturday, Nov. 11, 2017, and begin 11:00 a.m. in Marysville. Let John know if you are willing to help out. YSARC hams will be needed to start at about 9:00 a.m. helping parade participants find starting positions.
John can be reached at KI6UDF@gmail.com.
EDITORS COMMENTS
✓YSARC's new web page is: www.ysarc.net - click on the upper right-hand icon on the homepage to join the club's Facebook page. Past issue's of the VHN are available on our new website.
✓Send your ham related articles and pictures to share in your VHN. Pictures of ham shacks, antenna projects, antenna parties, etc. are appreciated KI6CSN@arrl.net or KF6FVP@arrl.net
On page 9 of the Oct VHN under VE Test Session the date should be 4 Nov instead of 2 Nov. My apologies for the error and thanks to Bob (N6BOB) for catching the error. Curtis R. Sylvester-Jose
---
Sierra Foothills ARC, Auburn, CA Web: w6ek.org
Newsletter at: http://www.w6ek.org/newsletters/Sierra_Signals_11_17.pdf
Puerto Rico - This is the first hand account of our own Barbara, W6EVA's deployment to the island: The first two weeks in October I was deployed through the National Disaster Medical System (NDMS) to Puerto Rico to assist with whatever needed to be done. I got to drive a big truck to deliver medical supplies from the airport to the hospitals, distribute food and water, and assist in the communications center which was set up in the Convention Center in San Juan. I operated the G2 satellite radio and monitored incoming calls from mobile hospitals setup in various cities on the island.
I did get a chance to have a QSO on 2 meter simplex with another member of my team that brought his radio too. We spent the day exploring the area around a damaged building and cleaning up grave markers in the adjacent cemetery..The hurricane tore through the island leaving so much damage and destruction. The road to recovery will be a long one for the people of Puerto Rico. I was just glad to help. 73, Barbara W6EVA
Photo caption: Barbara, W6EVA, in Puerto Rico Deployment
JOTA - A great big THANK YOU goes out to the SFARC's JOTA team for coming out and pulling together a phenomenal event!: Bruce, K6BAA, Bob, N6EMS, Mike, KK6GLP, Jef, N5JEF, Greg, KO6TH, Jim, WA8MPA, Mike, KK6PVS, Richard, WA6RWS, Al, NI2U, Birton, N6UG, and Brian, AI6US, donated their Saturday and equipment to make special memories for the scouts and their families. The "Save the Day" award has to go out to one of our newest members Chip, KM6MDF! When the fairground's transformer blew up just before 10 AM, yes, you read that correctly, "BLEW UP", and we lost power, he spring into action, drove home and brought back his 5kW generator. Thank you Chip, you saved the day! And me, from having a coronary!! All in all, there were a total of 127 participants: 72 Boy/Cub scouts, 2 Girl Scouts, 12 Adult leaders, 28 visitors, and 13 staff. Of the 127, 16 were hams. We had 7 operational stations: 40m CW, 40m SSB, 20m SSB, 20/40m PSK31, 15m FT-8, DStar, and IRLP. Kudos need to also go out to Gerry, WA6E, for allowing us to use his IRLP node and teaching Brian everything there is to know about IRLP. Bob, K6UDA, loaned us his ICOM 7100 rig and a 2m/440 antenna for the DSTAR station which Birton graciously let us use his DSTAR node to make US and international contacts. This was truly a team effort! Thank you all!!
Mike, KK5GLP, and Greg, KO6TH, have been burning the mid-night oil. They have produced, edited and posted to YouTube a slide show/videos of our 60th Jamboree On The Air event.You can see it by following this link: https://www.youtube.com/watch?v=ElL9eKRgPpc
White Elephant - October is always a great time at the clubs for the White Elephant Sale/Auction. THis year was no exception as Tyghe, W6TJR lent his professional auction skills for a fun packed, funny event. The proceeds go to the Ladies Christmas Dinner presents. Everyone go something, but the Big winner was Brian, AI6US who had the most pound for pound bounty! 
VE Exams - Held the First Saturday each month at Raley's Granite Bay. See this link for more information: http://w6ek.org/veexams.html
Nets - Thursday night at 7:30pm is time for the W6EK weekly net. The first and third Wednesdays we have the Elmer Net. This is a forum where new hams and old can come and ask questions and get answers. Both nets are on the W6EK repeater system. http://w6ek.org/nets.html
New Officers/ elections - This month we will elect (some) new officers and directors. Many thanks go out to those who will stay on in their capacities. Election outcome will be noted in next month's news.
Meetings - Held the Second Friday monthly, we meet in the Auburn Town Hall's Rose Room. Activities start at 7:30 pm. Everyone is welcome!
73, Carl, WF6J, PIO
Thanks go out to our Satellite Officer, Greg, KO6TH for taking videos of our programs, editing them and posting on our You Tube page:https://www.youtube.com/user/W6EK/
November 4 VE Session Report
Thanks again for all the VE's that were able to come to the session. Today, the VE's at 9 matched the candidates.
We had a very successful session again. We administered 13 elements to 9 candidates. 8 earned a new or upgraded license. We have 5 new Technicians, 2 new Generals, and 1 new Extra.
Thanks Al NI2U
---
Elk Grove-Florin ARC—Section News –November 18, 2017
Our General Meeting in November was the Annual Meeting required by our by-laws. We had our election of officers to manage the club affairs for the calendar year 2018. The officers for 2018 are: President: Chris Lay, KG6JFO; Vice President: Mark Flint, KK6YFV; Secretary: Mary Frederici, KI6YPQ; Treasurer: Cindy Gansereit, KM6BUY; Member at Large: Dave Reingold, KK6MVJ
We thank our 2018 officers for the time and service will give in leading our club and look forward to an exciting year.
Following the election Dave, KK6MVJ, presented an excellent slide show talk about his trip to Oregon for the Solar Eclipse in October. Thank You Dave!
Club members and their families will end 2017 with a Christmas Party including lots of food, fellowship and a slideshow summary of the year.
Happy Holidays!, Paul N6DRY
---
Update from Oroville ARS

Posted November 6, 2017
The monthly meeting of OARS will take place this Friday, 10 Nov 2017, 7 pm, in St. Paul's Parish Hall, 1430 Pine Street, in Oroville. The doors will open at 6 pm for a social hour prior to the meeting. The Veteran's Day Parade will take place on the day following the meeting—11 November at 1100 PST. OARS will be providing communication assistance and Ron KD7UHF, will find a spot along the parade route for any and all who wish to participate.
OARS website (http://w6af.org) is down at time of this writing.
Hope all can attend the meeting and the parade. 73, Jim, W7XZ
The OARS Monthly Breakfast will take place this Saturday, 25 November 2017, 9 am, at The Waffle Shop, 2107 Feather River Blvd (across the street from Applebee's) in Oroville. Hope to see everyone there.
Josh Heide, K6ZRX, Plans to be here on that date to reconfigure and check the performance of the OARS repeater on Kelly Ridge, and expects to arrive in the area around noon. Those interested are invited to observe the processes. 73, Jim, W7XZ
---
Our meeting this month is Wednesday, November 8th. You can choose Lunch or Breakfast. (Denny's serves breakfast all day.) Breakfast (or lunch) starts at eleven and the meeting will start at noon.
This month we will go back to the TXfactor videos. This time we will air the first half of TXfactor Episode #18 about working Earth-Moon-Earth (EME) using Goonhilly Antenna #6, a gigantic dish engineered by Marconi Communications Systems Ltd. for British Telecom International in 1984. http://www.goonhilly.org/
The meeting as usual at: Denny's Restaurant, 7900 College Town Drive, Sacramento. Phone (916) 383-7071, Located at the southwest corner of Howe Ave. and College Town Drive one block North of Highway 50.
Please plan to attend.
---
Update from North Hills RC

Posted November 16, 2017
The North Hills Radio Club will be holding our final meeting for the year on Tuesday evening, November 21.
The meeting will be held at the former SMUD building, located at 5026 Don Julio Boulevard, at the northeast corner of Elkhorn and Don Julio boulevards in Sacramento.
The board meeting will begin shortly after 6:00 P.M. and all NHRC members are welcomed to sit in. The general meeting will begin at 7:30.
We will elect a slate of officers who will serve us during the upcoming year of 2018. Kaayla, KA6YLA, Doug, N6NFF, Aaron, K6ABJ and Bill, K6WLM have agreed to run for another term. They are running un-opposed.
The evening program will be presented by our repeater trustee, Ryan Larkin, W6RNL. Ryan will present a program on our K6IS repeater, with special emphasis on the Echolink IRLP node which is connected to our repeater.
Please remember that all meetings of the NHRC are held at our site on the third Thursday of the month, January through November. Watch out for an announcement about the club's annual Christmas dinner coming up in December.
We look forward to seeing all of you at our November meeting and thank you for coming to all of our meetings during the year, as well as our Hamfest this past May.
All meetings of the NHRC are open to the general public. See you at the meeting!
Sincerely yours, Doug Emerson, Vice President, North Hills Amateur Radio Club. Amateur callsign N6NFF.
---
Update from Nevada County ARC

Posted November 6, 2017
Next Meeting: Monday, November 13, 2017, doors open 6:30pm, meeting at 7pm.
NOVEMBER MEETING - Election time!
We will be selecting a new leadership slate for the club. Please come prepared to serve and help our club continue to be the great place that we all enjoy!
Also have a look at and buy tickets for the Yaesu digital HT that is the drawing prize for the December meeting, and hear the latest on our plans for our annual holiday dinner.
NEVADA COUNTY AMATEUR RADIO CLUB MINUTES
No official business was conducted at the October meeting. 21 Attendees
Mark Graybill, W8BIT, nominated himself for the position of club secretary for the Novement meeting elections, and agreed to serve as secretary pro-tem until the invocation of the new officers.
Ike, KI6IUI, reported that he made his first HF contacts during the California QSO party on Oct. 7th at Cal, AI6MC's mobile station set up along Hwy 20. We all wish him well in his further operations. As Obi-Wan says, "You have taken your first step into a larger world."
Other members reported on their operations over the prior month, including antenna snafus from Peter, N6ERL and Cal, AI6MC. Ray, K6YIN, inquired about antennas for QRP 40m ops, and received what may have been more advice than is actually useful, but was very polite about it.
John, KE6FIQ, had photographs of the McCourtney fire published in The Union.
Members were asked to consider their ability to serve as officers of the club for the upcoming year. Elections will be held in November, and any nominees can expect to count on the support of their fellow club members in taking on their duties.
Respectfully submitted by secretary pro-tem Mark Graybill, W8BIT
COFFEE CHAT (Ham n' Coffee)
Thursdays, 8 am at Valentina's Bistro, 841 Sutton Way, Grass Valley
73, Walt, N6HNS        Newsletter  Facebook Group
---
NOVEMBER 2 MEETING ANNOUNCEMENT
At our November meeting, we will be discussing ARRL news and the Bug Roundup event. We will also have a presentation on the proper use of RF Gain and NR as it pertains to a DSP Radio. (The program notes are in the November newsletter).  As always, we will have our Tech (show and tell) portion. Members and visitors are asked to share their Ham Radio related items they find of interest. Attend our In-Person meetings with items that you've purchased or were given to you that you would like to share with others in the group. Visitors are always welcome to join us at our meetings.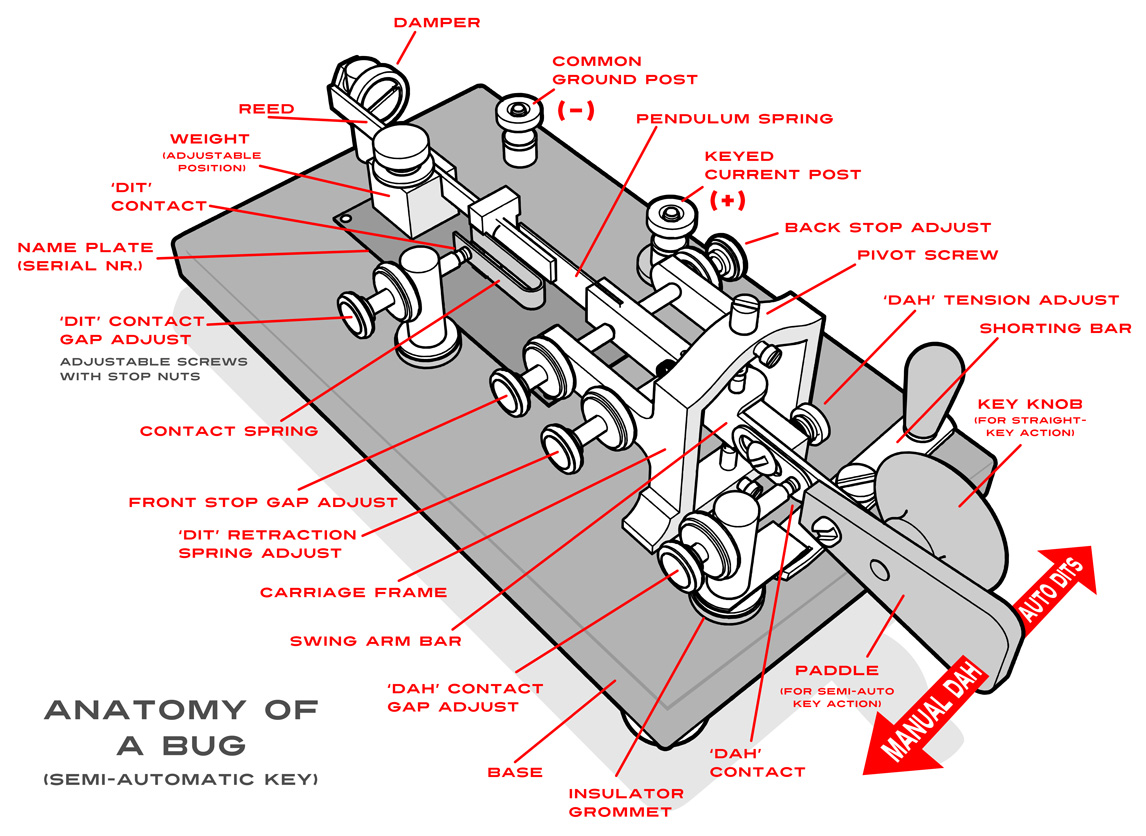 Announcing W6SFM's BUG ROUNDUP - November 17-19
The Samuel F. Morse Amateur Radio Club, a Sacramento, California based CW enthusiast club wanted a special time to bring bug operators together on the air. In the same spirit as ARRL's Straight Key Night, participants are encouraged to make simple, conversational, "chewing-the-fat" QSOs using their bug type key. This is an opportunity to exercise, share and exhibit your personalized fist. This is NOT a contest. However, there is a very easy and quick required signup form found at https://w6sfm.com/bug-roundup/. Once you are registered for the event simply Call "CQ BR" so folks know you are a Bug Roundup Participant. So lets grab that bug, clean those contacts, and let'er fly! We want to hear that "Banana Boat / Lake Erie Swing" or that commercial KPH/WCC quality fist.
Reserve the date! The event begins on Friday November 17th (00:00 UTC) and concludes Sunday Nov. 19th (23:59 UTC), 2017, that's 4:00 PM Friday evening until 3:59 PM Pacific Time (LOCAL)
For more information, to register your station, and to help assist in spotting, potentially increasing QSOs, an On-line chat window link can be found near the bottom of Bug Roundup home page located at https://w6sfm.com/bug-roundup/. We hope to hear you all on the air! 73,--W6SFM www.w6sfm.com
OCTOBER 5 MEETING MINUTES
The W6SFM Samuel F Morse Radio Club October meeting was called to order by club President Mike, N6MQL on October 5th at the Carmichael Presbyterian Church in Carmichael CA, with 12 members and 2 guest in attendance.
This month the YouTube Live feed has been working flawlessly online the club had an uninterrupted 2-hour broadcast of our W6SFM In-person meeting! On-air meetings have not just been broadcast in their entirety but also posted to our W6SFM.COM website. Those videos along with Club in-person meetings can be found under the "Videos" of our website. Feel free to use these recorded and archived videos. Please note that there may be a delay starting the live videos as it takes the YouTube server up to 2 minutes to begin the live transmission. This is done to accommodate any lag in the transmission video due to internet speeds.
The W6SFM was once again represented at the Boy Scouts and Girl Scouts of America Eternal Flame Ceremony (flag retirement). The W6SFM provides the scouts with an opportunity to see and operate a Morse Code radio station. Club President Mike, N6MQL and Vice-President John WB6UBK both participated at this year's event.
The W6SFM participated in the California QSO Party, hosted by Mike, N6MQL in Carmichael. As the main station Operating 8 hours, W6SFM logged 158 contacts. More contacts could have been made, but the club uses these events as a way to have club members get together in order to build member comradery and not necessarily to focus on the contest score itself. For the first time the CQP contest was open to members of the club within a 175-mile radius of Carmichael
For the main presentation, Mike, N6MQL gave a talk on basic antenna design.
For show and tell, Bob, WA6NEA showed his 2 element 6-meter quad antenna to the group.
Mike, N6MQL brought with him some patches that he was presented at the Boy and Girl Scouts of America Eternal Flame ceremony discussed earlier. The patches represent the different years of the Eternal Flame event as they were handed out to scouts and their leaders that attended those previous events. The patches are hung around the button of the scout's breast pocket. The patches were presented to member Carol, KP4MD as a gift for her efforts at coordinating between the club and the scouts for this event each year.
Our next SFM ARC in-person meeting will be held at its normal time and location Nov. 2nd (followed by our Dec. 7th meeting). The SFM ARC in-person meeting will be held in the Howard Crowley room upstairs at the Carmichael Presbyterian Church. Directions, including a Google Map is available at the bottom of the W6SFM.com homepage. At our November meeting, we will be discussing ARRL news and the Bug Roundup event. We will also have a presentation on the proper use of RF Gain and NR as it pertains to a DSP Radio. As always, we will have our Tech (show and tell) portion. Members and visitors are asked to share their Ham Radio related items they find of interest. Attend our In -Person meetings with items that you've purchased or were given to you that you would like to share with others in the group. Visitors are always welcome to join us at our meetings.
Each Tuesday of the week 8:00 PM on 3.545 MHz the SFM ARC enjoys getting on the air with CW for our weekly Nets. You do NOT need to be a member of the SFM ARC to check into our nets and we encourage you to invite a friend to join us as well. Although our nets usually run around 13 wpm code, we are all happy to accommodate those that are slower and need us to oblige. If you are unable to copy Morse Code or need some code practice, please feel free to visit our on-line LIVE streaming broadcast of both the Audio and a CW to Text decoding of the meeting. The "LIVE FEED" link can be found in the menu at the top of our website. You do not need to have a YouTube account to access the feed. However, you will to subscribe to our channel. Those visiting viewing can chat with others watching on-line as well. This of course is not mandatory, but rather just a way of making everyone feel more involved in our on-air nets. If you like, you can "checkin" using the chat window and you will be included with our On-Air Net log. Simply announce your call letters in the chat window.
Do you know someone in need of a Ham Club to call home? Perhaps someone that wants to learn Morse Code, are interested in CW or already knows and uses it? The SFM ARC would love to be their new Club home. Our in-person meetings are held each 1st Thursday of the month at 7PM. Please use the rear parking lot and entry for best access to the meeting. A map and directions can also be found on our website. We hope to see you at our next meeting! Thank You -- Chris AI6U (SFMARC Secretary)
Samuel F Morse ARC Field Day Photos
---
Greetings from the Western Placer Amateur Radio Club:
Our Next Club Meetings are Nov. 21, 2017. 5:45 : Board Meeting, 7:00 : Members Meeting
New Meeting Location: Round Table Pizza, 1020 Pleasant Grove Blvd #170, Roseville CA
Scheduled Speaker and Topic: 2018 Club Officer Nominations
Club Meeting Location: WPARC conducts board and member meetings on third Tuesdays of each month. Members and guests with business to bring before the board are welcome to attend board meetings. Join us at Round Table Pizza, 1020 Pleasant Grove Blvd #170, Roseville. This location faces Roseville Parkway at the northeast corner of the complex. View map and directions in link above. Come out to enjoy some camaraderie, food, beverage, and tales of the radios! Round Table offers a pizza and salad bar buffet dinner on Tuesday evenings for about $10/person.
WPARC Repeater New Tone 67.0 Hz Our old subaudible tone of 179.9 Hz was becoming audible on newer radios presenting a hum. On Friday October 27 a team treked up to the repeater to change the tone from 179.9 Hz to 67.0 Hz. Ensure that you change all of your radios to use the new PL tone. The old tone won't be recognized by the repeater.
WPARC Repeater Abuses. Repeater Trustee Michael K6BUK received comments on a few repeater users abusing repeater etiquette. Please review Ethics and Operating Procedure for the Radio Amateur as a refresher.
Ham Radio License/Volunteer Examiner (VE) Tests (New Day and Location). WPARC is now offering VE testing on the first Wednesday of each month. Chuck KK6DOA will be managing the program. The location will be at the Round Table Pizza, 1020 Pleasant Grove Blvd #170, Roseville CA. This is the same location as our monthly member meeting noted above. See link there for map and directions. For more information and to confirm a time please email Chuck at: kk6doa (at) gmail (dot) com.
Club T-Shirts. Club T-shirts have been a huge hit, and club members wanted more! Our vendor will soon have a web site offering more colors and shirt options. New orders are suspended until the new web site is available.
K6PAC Repeater Yaesu DR-2x Upgrades Completed. Upgrades to new Yaesu DR-2X are completed. A new FVS-2 Voice Module will add new features to leave messages, record and review your transmission, along with announcements. Stay tuned for more details.
Save the Date: Jan 27 for WPARC 2018 Kick Off Luncheon. We're looking forward to our return to Via Roma in Rocklin for the club 2018 Kick Off. More details to follow.
Sep 16 - WPARC 2017 Ham Fest. Our Annual WPARC Ham Fest on Saturday, Sep 16 was another resounding success. Thank you to all vendors and attendees that came out in search of treasure. Start setting your ham radio treasures aside for our next ham fest in 2018. See you next year!
The club website, http://wparc.us/index.html, has a new look and new information. Jey KQ6DK is now club web master and is updating the the site on a regular basis. Thanks to Jey for all his work on the website.
Don't forget about our WPARC Facebook page. It is at: https://www.facebook.com/WPARC
Want more? We now have a Twitter account! Just search for @k6pac (the club repeater call sign with the "@" symbol). We are following the ARRL, the ARRL Sacramento Valley Section, Kenwood, and Yaseu and a few others. If you think of someone we should follow, please email me. I know there are a few local clubs with Twitter accounts and I will add them.
73, Michael Buck. K6BUK
WPARC on Facebook and Twitter
Check us out on Facebook and Follow us on Twitter (@k6pac)
---
Update from Glenn ARS

Posted November 4, 2017
Prez Says!
With a warmer than normal Autumn here in California, a few sparks of unknown origin, coupled with wind storm events, we saw what wind whipped fire can deliver to Mother Nature and Mankind. Having seen live action, post action videos, and pictures of the fire ravened are-as my heart and thoughts go to the families that lost all their possessions, daily routines, and loved ones. May we all be grateful to those First Responders, and others that provided aid to all these communities. I believe that I am not alone in wanting cooler and wetter days ahead.
The windstorms took out two antennas at my QTH. Now much repair and rebuilding needs take place in the months ahead to bring back the full capabilities of the KF6OBI station. Prayerfully other Amateurs fared better than I? The loss was in part due to not maintaining the antenna systems as one should. So let this be a prompt to get you out to look over your antennas and feed lines to see if they need any service and repairs. Get it done now before it is too wet and dangerous to do so. Antenna systems are maybe the most important part of our communications systems. They are the interface with the ether and without this interface our radios are just paper weights.
There are three happenings on November 5! The first is Daylight Saving Time ends, so set your clocks back one hour so as to not miss the second happening which is the dedication of the Disaster Response Trailer beginning at noon, at the Lutheran Fellowship Hall, Artois California . The third happening is that our GARS meeting has been moved from the 9th of November to the 5th of November in support of the dedication. We need a good turn out of club members to show our club is alive, well, and at the ready.
Carol Milazzo, KP4MD, ARRL Sacramento Valley Section Manager and Assistant Section Manger, Roger Cain, KI6FYF have plans to attend as well as other civic leaders. Phil, KI6SMN, has been involved and rather busy with Northern California community leaders in disaster recovery planning for their affected areas. Hopefully he will be able to update all present at the dedication on the progress to help these communities rebuild.
This dedication is a big milestone for GARS and will be an awesome event for the club. So until we meet on 5 November be safe in all you do and have a blessed time in your daily adventures.
Mike Ellithorpe-KF6OBI President, GARS kilofox6obi@yandex.com 530-518-3730  Newsletter
Photo captions: 1. (Left to right) Rick Hubbard, KI6VOS, Carol Milazzo, KP4MD, Mike Ellithorpe, KF6OBI and John Stettler, KI6DWP
2. Phil Zabell, KI6SMN, leads dedication of the the new  Disaster Response Trailer.  Photo album
---
Update from Golden Empire ARS

Posted November 6, 2017
The Prez' Says
QST de KA6GND
Welcome to November everyone, when hopefully fire danger ends for another year and we may get more time on the air as storms start keeping us indoors more.
On October 14th we held a demo at the Gateway Science Museum. Thank you again Kris, KK6QIL, for chairing this project. Thank you to Michael - N6FAV, Gene - WA6ZRT, Rick - KI6VOS, for setting up stations and others who attended and helped talk with the public, We opened the eyes of some who had not seen amateur radio before.
On Saturday October 21st some of us participated in JOTA, Jamboree On The Air, and annual event in conjunction with Boy Scouts of America. Many Cub Scouts came out to the Elks Lodge to see amateur radio in action and get the opportunity to talk on the air. Thank you Tom - W6JS, Gene - WA6ZRT, Michael - N6FAV, John - AJ7J, Jackson - W1FOG, Mel - N6JLX and others for helping us make this event a success locally. Mel - N6JLX helped the kids "find the fox" on the hidden transmitter fox hunt - great job all!
As announced at the last club meeting, after the online survey and discussions at Board meetings, we are considering changing the night away from Fridays for our club General Meetings to improve attendance. The majority of members seem to be in favor of this. If you have input on this, please let myself or other Board members know.
At this months meeting our program should be very interesting as our member Kris, KK6QYL will talk about his current career as a writer, director and producer of worldwide renowned documentaries, it should be fascinating!
Remember, "The sky is the limit with amateur radio".
73 for now, Larry Marcum, KA6GND, GEARS Club President, ka6gnd@gmail.com, 530-345-5399  Newsletter
---
Amateur Radio Demonstration at Scouting Eternal Flame Fellowship Weekend in Elverta

Posted October 9, 2017
On Saturday September 30, Samuel F Morse ARC members Mike Aretsky, N6MQL, and John Geyer, WB6UBK, offered a taste of the fascination of Amateur Radio to hundreds of Girl Scouts and Boy Scouts who attended the Pioneer Express District Golden Empire Council Scouting Fellowship Weekend at Gibson Ranch in Elverta. Scouts experienced radio contacts made with an Elecraft KX3 transceiver and Buddipole antenna and many tried their at hand learning and sending Morse Code.  
(Photos by Michael Aretsky, N6MQL)
From the W6SFM October 2017 Newsletter
The W6SFM was once again represented at the Boy Scouts and Girl Scouts of America Eternal Flame Ceremony. At this ceremony beginning Friday evening around 8:00 pm and continuing non-stop until approximately 10:00 am Sunday the BSA and GSA troops from all over Sacramento sign up for available time slots, normally 1 hour in length to retire flags. The W6SFM provides the scouts with an opportunity to see and operate a Morse Code station. Club President Mike, N6MQL and John WB6UBK both participated at this year's event.
A standard SFM ARC PR booth was set up. Not unlike the Kids Day in the Park event, the club provided a work sheet for the scouts to use. With this work sheet the kids were able to write their name and then code it using the supplied Morse Code alphabet. Once the scouts filled out their work sheets they were then introduced to a Morse Code straight key and oscillator. Each attendee was then given a brief lesson in the proper use of the straight key, and then how the Morse characters Dit and Dah should sound. They were then given an opportunity to send their names on the oscillators while John and Mike offered helpful hints and corrections.
Scouts who showed interest in Morse Code after the lesson were then introduced to our on- air Elecraft KX3 radio station on-hand using only a simple 20-meter Buddipole in a dipole configuration with 5 watts. The club made contacts with various states such as Ohio, Nevada, New York and one DX contact with Japan. Scouts who participated with the on-air station were fascinated that contacts around the globe could be made with such a small antenna. Others were just fascinated with the idea there was a coded language such as Morse that people could communicate in.
The SFM ARC provided the booth to the scouts from 10:00 am Saturday morning until 5:30 pm Saturday evening. Fun was had by both the kids, and the members of the SFM ARC. For more pictures of this event please be sure to visit our Photo Gallery under the Media Clips & Pics section of the club's website www.w6sfm.com.
---
Update - Solar Eclipse Operation from Michael Kashuba, K6LQ

Posted October 9, 2017
Michael Kashuba, K6LQ, of the Samuel F Morse ARC shares these photos of his operation in Culver, OR during the August 21 Solar Eclipse QSO Party.
(Photos by Michael Kashuba, K6LQ)
Note all the vehicles in the background for
the eclipse viewing.
Car, antenna, telescope
and Michael Kashuba, K6LQ.
This shot with one of a kind paddle.
---
Keep Our Digital Transmissions Legal on 60 Meters

Posted January 29, 2017
Our decreasing solar activity and residential antenna restrictions have attracted increasing numbers of radio amateurs to operate CW and weak signal digital modes on our lower HF frequencies including 60 meters. The five frequency channels that US amateur radio operators share on a secondary basis with US federal government users on 60 meters (5 MHz) pose unique requirements for CW and digital operators. As explained on http://www.arrl.org/60m-channel-allocation, US radio amateur emissions on our 60m channels must be precisely centered in the center frequency of each assigned channel, that is, 5332.0, 5348.0, 5358.5, 5373.0 or 5405.0 kHz. Thus, for example, a CW signal on channel 3 (USB Dial frequency 5357.0 kHz) must be precisely on 5358.5 kHz. The same ARRL page explains that all digital emissions must also be centered in the channel center.
This may appear unreasonable to radio amateurs because a 2.8 kHz channel can accommodate many digital and CW transmissions simultaneously, and requiring multiple stations to operate on the same exact frequency would result in mutual interference. The National Telecommunications and Information Administration (NTIA)* explains this requirement in https://ecfsapi.fcc.gov/file/7021871884.pdf which states: "Allowing multiple emissions within the necessary bandwidth of the widest authorized modes (2.8 kHz) increases the possibility of harmful interference from secondary amateur stations to primary federal stations, and would make it more difficult for a federal station to identify an interfering amateur station. In addition, NTIA is concerned about the aggregate equivalent isotropically radiated power from multiple amateur stations transmitting within a single 2.8 kHz channel. Accordingly, NTIA requests that 47 C.F.R. Section 97.303(h) continue to require that amateur stations transmit only on the five center frequencies allocated to the amateur service."  (See http://www.arrl.org/what-the-fcc-rules-say-97-303-h)
Observed Violations of US 60 Meter Frequency Regulations

JT65

This screenshot photo shows JT65 signals received on 60 meter Channel 3 (5357 kHz USB dial frequency) from 0300-0309 UTC on January 29, 2017. In the photo, the 5357 kHz dial frequency is at 0 Hz on the left side of the waterfall and the 5358.5 kHz channel center is at the 1500 Hz mark. Decodes of several US radio amateurs are seen transmitting JT65 emissions simultaneously on various frequencies throughout the channel 3 frequency range 5357-5360 kHz. This is the familiar appearance of a JT65 waterfall display on all other amateur radio bands; however, it violates the NTIA requirement that each US radio amateur transmission be centered on the 1500 Hz mark (the 5358.5 kHz channel center frequency).
ARRL Official Observer Richard Saunders, K6RBS, has posted the proper WSJT-X program settings for legal 60m JT mode operation here.

WSPR

The link http://wsprnet.org/olddb?band=60&sort=callsign&reverse=on&unique=on lists WSPR mode emissions on the 60 meter band. One can scroll down that list and see how many A, K, N and W call signs have been transmitting WSPR mode on 5288 kHz outside the authorized 60 meter center channel frequencies.  
US WSPR transmissions continue to be observed on the WSPR software default 60 meter frequency of 5288 kHz, a completely unauthorized frequency for US radio amateurs.
Each licensee has the final responsibility for the lawful operation of his or her station.  Unfortunately, the increasing automation in our radios has apparently accustomed some to falsely assume that the radio will correct for operator carelessness and ignorance of regulations.  Our cooperation with NTIA requirements is essential for our continued access to the 60m channels and for possible future access to the new ITU worldwide 60 meter allocation at 5351.5 to 5366.5 kHz. (See http://www.arrl.org/news/view/arrl-asks-fcc-to-allocate-new-5-mhz-band-retain-channels-and-current-power-limit and http://www.arrl.org/news/fcc-invites-comments-on-arrl-petition-to-allocate-new-5-mhz-band). Please be aware of these requirements if you intend to or currently operate CW or digital modes on our shared 60m allocations. The Amateur Auxiliary is documenting this matter and hopes to raise its awareness in the wider amateur radio community.
-Carol Milazzo, KP4MD
*The NTIA is the federal authority that coordinates radio spectrum use for the US military and federal government while the FCC serves in this capacity for US civilian radio spectrum users.