Here's an exceptionally stimulating and wide-ranging selection, from both new and established writers.
Among the intriguing first novels to tempt you, there's Simon vs the Homo Sapiens Agenda by Becky Albertalli, The Honest Truth by Dan Gemeinhart, David Hofmeyr's Stone Rider, and The Accident Season, by Moira Fowley-Doyle. Our selection also includes the latest books by high-profile authors David Almond, Frances Hardinge, Sarah Mussi and Liz Kessler.
LGBT fiction for young adults is very much to the fore at present, partly through the influence of Malorie Blackman during her time as Children's Laureate. You could easily assume that this is a new development, although teen fiction with gay central characters has been around since the eighties and nineties, from authors of the calibre of Aidan Chambers and Jean Ure, among others. The difference was that you'd have had to look quite hard to find such books, whereas now LGBT is an acknowledged, necessary and ever-growing category. For some reason lesbian relationships have featured less frequently than male homosexuality in young adult fiction. Julie Burchill's Sugar Rush (2005) was an exception, and recent issues of Armadillo have included at least two young adult novels which feature lesbian relationships, though not given central importance. In this issue, titles with LGBT interest include Liz Kessler's Read Me Like a Book, which has taken fifteen years to reach publication; Bomb, by Julie Mayhew, with a lesbian character attempting to survive in a counterfactual Nazi Britain; I'll Give you the Sun by Jandy Nelson and Simon vs the Homo Sapiens Agenda, a first novel by Becky Albertalli.
The subject of teenage suicide is another that needs to be addressed, but requires careful handling – it would be a bold and possibly reckless author who entered into the thoughts of a successful suicide victim. Editor's Choice for this issue is Andrew Norriss's Jessica's Ghost, with characters who feel different from their peers in various ways.  Jessica has indeed committed suicide, but Norriss (a Whitbread prize-winner before it became the Costa) allows himself authorial distance through the "ghost" device and the redemptive nature of Jessica's role.
In this issue we welcome two new author-reviewers: Paul Dowswell and Emma Pass, both writers of young adult fiction. Paul has also contributed the guest feature for this issue, so don't miss that.
---
Editor's Choice Jessica's Ghost
---
Written by: Andrew Norriss
Published by: David Fickling Books
Reviewed by: Linda Newbery
Andrew Norriss' novel certainly delivers what it says on the cover: within pages we are aware that the girl who sits next to loner Francis on a bench in the school grounds during a wintry lunchtime is indeed a ghost. Only certain people can see Jessica, and at first it's only Francis, who feels himself to be an oddity at school because of his keen interest in clothes and fashion. He and Jessica immediately form a bond, soon joined by Andi, a tough girl who's been excluded from school for aggressive behaviour, and Roland, a school refuser, whose obesity is partly the fault of his indulgent mother. As the four spend time together they wonder what links them, and why Jessica is there – apparently unable to move on from the hospital ward in which she died, and to which she feels compelled to return each evening.
When we find out that Jessica killed herself, and that her role in the world of the living is to save her three friends – as well as a fourth, yet to appear in a dramatic incident – from a similar fate, the novel takes on a serious tone combined with the Blithe Spirit fun of having a sociable ghost around. The risks of adolescents feeling themselves to be different, and picked on by their peers, are strongly felt, along with the redeeming power of friendship and the acquisition of confidence. Francis, with his friends, learns that he needn't depend only on anti-bullying strategies at school: once he realizes that others experience feelings of self-doubt and inadequacy, the real strength is within himself.
Pacey and accessible enough to read at a single sitting, this will be a reassuring read for many young teenagers, while teachers, librarians and parents will value it for its positive message about individuality and the importance of resisting bullying and attempts to define what is and isn't acceptable. 
---
The Honest Truth
---
Written by: Dan Gemeinhart       
Published by: Chicken House
Reviewed by: Trevor Arrowsmith     
This is the story of Mark, his faithful dog, Beau, and friend Jessie. Mark's recurrence of the cancer he had been told was in remission leads him to leave his concerned parents for a quest to climb the appropriately named Paradise Mountain. Mark's episodic adventure alternates with chapters in a contrasting font, describing Jessie's anxiety at her close friend's absence.
Their narrative kicks along at a good pace, but also finds time to build a picture of Mark's inner life. It is never really clear why scaling the mountain should provide relief from his medical condition, or why sneaking off with little concern for the feelings of his parents or friend Jessie is justified. Dr Johnson once described how travel alleviated his anxieties, so perhaps this is the explanation.
The reverse cover blurb includes a summary of the book as 'Exciting – Inspiring – Heartbreaking'. This could also be said of many a Mills and Boon title, and in this case does not do justice to the controlled nature of the writing and the genuine quality of the emotions portrayed to build a context of 'small moments' which address 'big questions.'
An accessible and engrossing read.
Written by: Sarah Mussi
Published by: Hodder Children's Books
Reviewed by: Simon Barrett
Genesis knows exactly when she is going to die.  The bomb strapped around her body will be detonated either by a mobile signal or a timer.  Her choice is who she kills.
Kidnapped, drugged and rigged up to a bomb, Genesis seems helpless, with no option other than to follow the instructions of the terrorists through the ear-piece superglued into her ear.  Moreover the terrorists seem to know exactly where she is and who she is talking to, threatening to detonate the bomb should she disobey.  Who can help her?  The Police are operating a 'deadly force policy', shooting suspected suicide bombers on sight. In desperation Genesis tries to make contact with her recent ex-boyfriend, Naz. No response. There is hope when best friend Holly's brother, Dave, the guy Genesis dumped for Naz, appears. He is 'Dave that saves', but, despite the help of his expert friends it seems to be an impossible task this time.
The story is a high-octane thriller with Genesis and Dave racing across London and the South of England, keeping to the terrorists' schedule, while desperately trying to find a way of removing the bomb. Commandeering vehicles as necessary, Genesis and Dave drive a bus into the Thames and find themselves hotly pursued by police across the Wiltshire landscape.
The thriller is also a psychological rollercoaster as Genesis comes to terms with her imminent death, giving her a renewed sense of purpose. From being a victim, Genesis soon realizes that she is the one in control and begins to manipulate the terrorists. The hunted becomes the hunter as she learns the identity and location of the terrorists. The true horror of the terrorists' plans however shocks Genesis even further. From helpless to hunter, Genesis must transform herself into a hero. In the telling of Genesis' story, the reader also learns about the radicalization that has led other young people to become terrorists and the twisted logic that makes destroying life a right and good act.
Bomb is a book that will not disappoint. It is not suitable for younger readers, because of its disturbing plot-line.
Back to Top
---
The Big Lie
---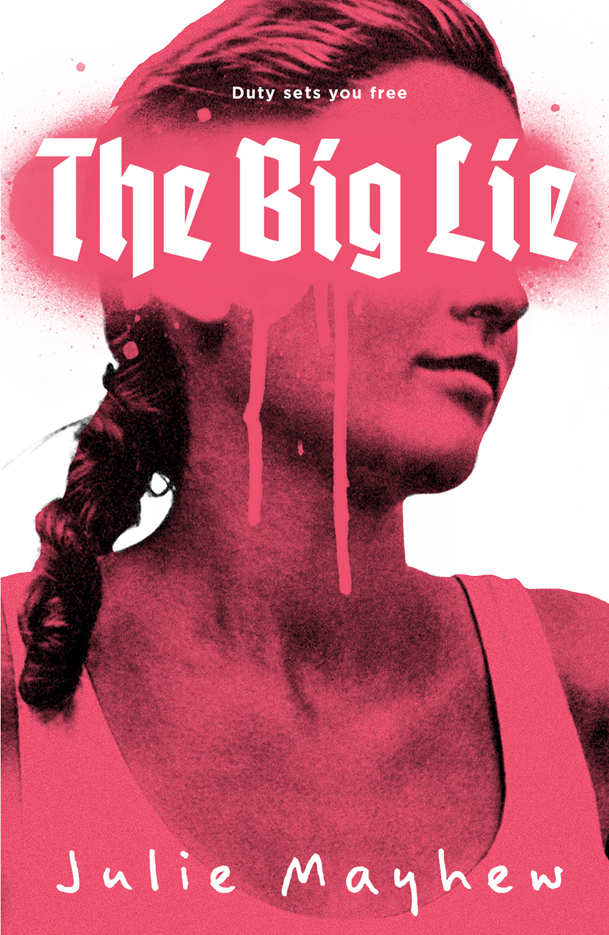 Written by: Julie Mayhew
Published by: Hot Key Books
Reviewed by: Paul Dowswell
The 'what if Hitler won and Britain became a Nazi state' scenario is a popular one in fiction, but the most successful books (SS-GB, Fatherland, Dominion) have been set in the past. Julie Mayhew's The Big Lie brings real freshness to this genre with a story set in the present day.
Here we see the callous cruelty of the Nazi State in all its glory: the bodies hanging from commuter town lampposts with a 'Traitor' label round their neck; the babies who weren't 'born right' being taken away to be destroyed, the 'asocials' subjected to compulsory sterilisation. A pungent whiff of evil rises from these pages like body odour. But it's also a disturbingly familiar world. Mayhew weaves in contemporary references with great aplomb – After Eights renamed Curfew Mints, girls giggling about 'side boobs', an internet restricted to top Nazis, and even a mention of The Generation Game conveyor belt: 'a fondue set, a hunting rifle, and a bust of the Führer'.
Our teenage hero, Jessika Keller, champion ice-skater of ambivalent sexuality, daughter of Nazi high-ups, is determined to be a 'good' girl – good in the Nazi sense of unquestioning, and conforming to all the expected 'female' characteristics of motherhood and home making. But her circumstances stir up the rebel impulse. Jessika's incipient lesbianism is treated with a course of hormone injections and her great crush, Clementine Hart, and her family, face the full wrath of the Nazi State.
The climax of the story, a visit by Justin Bieber-like Jay Acker, in a heavily stage-managed concert at Trafalgar Square to try to improve relations between Nazi Europe and America, brings dire consequences for all the main characters.
Julie Mayhew rounds off this brilliant and compulsively readable story with a note beseeching her readers to ask themselves 'Is this right? And if it isn't try to do something about it.' In these troubled political times, this book carries a vital message on the consequences of extremism.
Paul Dowswell's ninth historical fiction novel, Bomber, is published by Bloomsbury in May.
Back to Top
---
Read Me Like A Book
---
Written by: 
Liz Kessler   
Published by: Orion Children's Books
Reviewed by: Linda Lawlor   
Liz Kessler is well-known as an author, but this book is something of a departure from her popular series and stand-alones for middle grade and young teens. The protagonist Ashleigh is seventeen, just on the edge of adult life, and she finds, to her surprise, that the whole process of coming of age also entails coming to terms with aspects of her sexuality she had never suspected before.
Life is more than a little complicated in the Walker household. Her parents' marriage is under strain, and Ashleigh herself is struggling to decide whether or not to sleep with dreamy Dylan. Exams are looming and while school has never been Ashleigh's first priority (she'd much rather hang out with her best mate Cat), she is now beginning to think seriously about university. Miss Murray, the energetic and charismatic new English teacher, leads Ashleigh to see just how enjoyable the subject can be – and before long Ashleigh's head over heels in love. Is it just a crush on a teacher who's kind and understanding, or is it something more?
Ashleigh's search for the truth about herself is the subject of the main part of the book. At times she is confused and angry, desperately in need of support but not spotting it when it is offered, and it is to the author's credit that this is handled so gently and sensitively. These bewildering new feelings of anguish and desire are not welcomed by Ashleigh herself at first, and this is not helped by the fact that she has to endure opposition and denial from several people around her as she makes tentative moves towards understanding. But this is not, in any obvious way, an 'issues' book: it is, first and foremost, a cracking good story, and readers will quickly identify with Ashleigh and her down-to-earth friend, Cat, as they negotiate the familiar world of adolescence, filled as it is with friendships, family and homework. Well worth reading. 
---
I'll Give You the Sun
---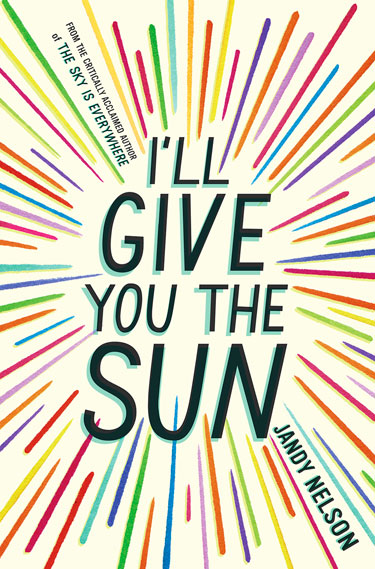 Written by: Jandy Nelson
Published by: Walker Books
Reviewed by: Penny Dolan
Jandy Nelson is a published poet, living in California. Her second teen/YA novel I'll Give You the Sun, is a writerly, non-linear tale of young love, sexual secrets and artistic ambitions, all darkened by a family tragedy.
Twins, Jude and Noah, were close as children, but when their mother decides that her thirteen-year-olds must get into CSA (California School of Arts), she sparks a storm of competition, mutual jealousy and self-doubt that tears the two apart.
Noah – a sensitive, gifted artist – is a loner. He's tormented by the bullies in the beach gang and terrified about his own gay sexuality. When Brian, a charismatic boy – obsessed by meteorites and stars – arrives next door, the boys are instantly friends. Physically attracted too, neither admits such dangerous emotions.
Jude, a dare-devil swimmer and diver, feels excluded by her mother's preference of talented Noah. She makes her art on the beach: huge sand women sculptures that get washed away by the tide. Unsure she'll get a place at CSA. Jude rebels against her mother's view of 'girls like that' by joining the gang on the surfing beach. Later, at a party, Jude deliberately damages Noah and Brian's relationship.
Bad things happen. When their mother dies in a car accident, Jude and Noah's family and worlds collapse. The twin's grief is sharpened by guilt. Noah, not accepted at CSA, conceals his true self and becomes a regular sporty guy. Jude, wayward and failing at CSA, gets one last chance: a placement at the studio of stone sculptor Guillermo. There Jude starts to examine the past.
Gradually, but not easily, Jude and Noah are forced to face all the consequences of their words and actions, to face new possibilities and sort out the relationships that matter to them. 
Jandy Nelson tells her story through the passionate voices of Noah and Jude. Noah often sees his life through the works of modern painters while Jude's peppers her pages with Grandma Sweetwine's haunting advice. Sensual, heart-rending and quirky, this novel is powerfully and poetically told.
---
A Song for Ella Grey
---
Written by: David Almond
Published by: Hodder Children's Books
Reviewed by: Catherine Butler
'We'll make our own Italy! We'll make our own Greece! Where? In Northumberland, of course.'
So pronounces Claire, the narrator of David Almond's lyrical A Song for Ella Grey, a tale that brings the beauty and tragedy of Orpheus and Eurydice to Newcastle and the beaches of Bamburgh.
Claire and her friends are hungry for experience, for sights and sounds and Mediterranean sun, but as impecunious teenagers they must make do with camping on the Northumberland coast. Even then, Claire's best friend Ella Grey is not allowed to accompany them, being forbidden by her adoptive parents. But when the mysterious lyrist, Orpheus, appears on the beach, it is Ella who falls for him, first as he serenades her using Claire's mobile phone and then in person. Shy yet confident, powerful yet vulnerable, awkward of speech and unworldly in manner, Orpheus is a young man who seems only partially to understand his own talent, which brings not only humans and animals but even waves and winds to rapt attention.
This is a short book, and for anyone who has a passing acquaintance with Greek mythology its plot will need no retelling, though you must be prepared not only for the legend of Eurydice but also for its bloody sequel involving Orpheus's fate at the hands of the Maenads. Almond tells his tale with Orphic power, melding the worlds of past and present and fusing latitudes, but always with a calculated obliquity that leaves the reader slightly uncertain, straining to hear more. Enhancing the book are Karen Radford's black-and-white illustrations of the Northumberland dunes, while the device of printing the pages that tell of Orpheus's underworld journey on black, unnumbered paper, with white words scattered across its surface like so many disarticulated bones, is powerful indeed.
Finally, those of us who have visited and loved the Seven Stories centre for children's books in Newcastle will appreciate the fact that much of the book's action takes place a very short walk from there, in the Ouseburn valley. Perhaps in future years there will be tours? But not, I think, for the fainthearted.
Catherine Butler's edited collection, Twisted Winter, is published by A&C Black.
Back to Top
---
The Lie Tree
---
Written by: Frances Hardinge
Published by: Macmillan Children's Books
Reviewed by: Bridget Carrington    
Located somewhere on a spectrum between the supernatural pseudo-historical and fantasy worlds of Joan Aiken and Philip Reeve, several of Hardinge's previous novels have had more overtly other-worldly settings. By contrast The Lie Tree sits firmly in solidly historical time, specifically the 1860s, where natural science had been thrown into a period of deep uncertainty by the publication of theories of evolution expounded by Wallace and Darwin et al, which challenged biblical accounts of creation.
Fourteen-year-old Faith Sunderly has hurriedly left her home in Kent to travel with her parents and small brother to a Channel Island. It becomes clear that her father, a clergyman, has something to hide, quite apart from the Lie Tree itself, which he secretes in a cave. Discovering aspects of the Rev Sunderly's scientific deceit, the island's population turn against the family, and when he is found dead, Faith suspects that he has not, as assumed, killed himself, but that he has been murdered. As a girl, Faith has little opportunity to investigate her theory, but she harnesses the powers of the mysterious tree, which flourishes only in the dark and, if lies are told it, produces hallucinatory fruit which reveal aspects of the truth. Using this she begins to trick others into revealing the deception surrounding the circumstances of her father's death.
In the course of this enthralling mystery Hardinge examines aspects of mid-Victorian society, particularly around the role of women, viewed by men as incapable of intelligent thought, and despite a few determined pioneering women, categorized as an inferior section of society whose only role is marriage and child-breeding. The conflict between Christian beliefs and the newly published evolutionary theories arising from the study of fossils perturbs traditionalists such as Faith's father, resulting in bizarre paleontological 'finds' seeking to restore the biblical assertions.
Woven into the story is an examination of familial relationships, between husband and wife and parent and child, often revealing frustration, conflict and cruelty.
Set as it is so firmly in mid-nineteenth-century evolutionary theories and archaeological/paleontological discovery, an appendix or bibliography extending this background might further enhance this excellent novel.
Feast or Famine? Food and Children's Literature, papers from the 2013 IBBY UK/NCRCL Conference, edited by Bridget Carrington and Jennifer Harding, is published by Cambridge Scholars Press.
Back to Top
---
Stone Rider
---
Written by: David Hofmeyr
Published by: Penguin
Reviewed by: Morag Charlwood
Stone Rider is an absorbing story; a raw coming-of-age tale that pits its hero, Adam Stone, against a cruel regime in a harsh landscape of trial and tribulation.
Adam is desperate to escape the dust-bowl town where rival teenage tribes battle viciously for power. He yearns for freedom, peace and love. For any chance of a new life, Adam will have to ride the Blackwater Trail, a gruelling challenge that will test him to his physical and spiritual limits.
Hofmeyr's story-telling is filmic, resonant of reality media programme styles, and driven logically along like a board game. What distinguishes this debut young adult novel is Hofmeyr's style. He has a poet's ear; an evocative use of diction that gives his writing a stripped-down immediacy. Hofmeyr draws the reader breathlessly through the narrative's well-pitched pace and tensions. He plays on the language of Old Testament retribution, alongside that of primal, post-apocalyptic doom. The film rights have already sold. There's every chance this could become a real blockbuster. I do hope the language is not lost in translation.
Stone Rider is a highly original novel that should appeal to both male and female Young Adult readers. Let's hope we see more of Adam, Sadie and Kane in future episodes. 
Back to Top
---
The Other Girl
---
Written by: Nicole Burstein
Published by: Andersen Press
Reviewed by: Louise Stothard
This exciting story is a wonderfully refreshing observation of two best friends, almost sisters, who share everything, would do anything for each other and have the same likes and dislikes. They have their different talents as Louise is good at school work which she enjoys and Erica is not; but there is one skill which is difficult to overlook – Erica has the powers of a superhero.  This is not unusual – they live in a world where superheroes are not uncommon and indeed are very useful in saving people from disasters. The Vigils, as they are known, have cult following and fan clubs on social media. Louise and Erica's main concern is how are they to let the Vigils know of Erica's growing skills with fire?
In the meantime, they share this amazing secret; Louise concentrates on getting school work done for both of them and Erica looks for quiet places where she can practice flying and flame throwing. Fortunately Louise is also skilful in making costumes for Erica and working with flame-proof Lycra!
The friendship and loyalty between the two girls is put to the test when Erica is forced to reveal her powers to avert an explosion in their town. A new guy at school is taking a lot of interest in her too, and Louise is beginning to realize that perhaps she and her other best friend, Toby, are becoming more than just friends. Life gets complicated as they endeavour to hide Erica's identity, and when the Vigils discover her talent they both learn the hard way, just who to trust. 
This enjoyable story is very well written and the friendship between the girls and the challenges they face are simply but accurately portrayed with sensitivity and humour too. Above all it is a story about loyalty, friendship, the complications of relationships and how talent and courage come in many forms when not everyone is a superhero.
Back to Top
---
The Accident Season
---
Written by: Moïra Fowley-Doyle
Published by: Kathy Dawson Books
Reviewed by: Emma Pass
Every October, the accident season arrives, and Cara and her family must take extra care – sharp edges in the house are padded; extra layers of clothing are worn; anything that might constitute a danger is avoided. For during the accident season, accidents can turn to tragedy, and this year's looks set to be the worst one yet. Meanwhile, hovering in the shadows is the mysterious Elsie, who despite Cara's attempts to pin her down, evades her again and again. Why is she always there – and what does she have to do with the accident season?
Reviewing The Accident Season without spoilers is not an easy task. It's a book of many layers, and its definition is as slippery and hard to pin down as the truth behind the accident season itself. Every time I thought I had a handle on what sort of book it was, it would slip off in another direction. It's not a book which fits easily into any one genre; instead, it cleverly subverts familiar tropes, building a compelling sense of mystery which makes it impossible to put down.
Secrets – how they're hidden and how we deal (or don't deal) with them – are at the centre of this novel, which seems quiet on the surface but has a fierce, roaring undertow which pulled me in and left me, at the denouement, frantically re-reading to check I'd really understood it (and hoping, in vain, that it wasn't true, a measure of how deeply I'd come to care for the characters).
If you expect neat answers from this book then you may be left frustrated – in less expert hands, the way this novel is constructed could have been clumsy, and the book could have felt unfinished, but Fowley-Doyle manages it beautifully. You're left to draw your own conclusions, which makes you want to read the book again and discover all the things you missed the first time round.
The Accident Season is a stunning and often surprising debut, and I can't wait to read more by this author.
Emma Pass is the author of ACID and The Fearless, both published by Corgi (Penguin Random House).
---
Simon vs The Homo Sapiens Agenda
---
Written by: Becky Albertalli
Published by: Harper Teen
Reviewed by: Jackie Spink
I often struggle to accept the narrative voice of a teenage boy when it's been written by a woman: not so, for one second, this time. I believed in Simon from line one, and was completely charmed by the feisty, rude humour and honesty of his narration.
Simon has made a horrible, careless mistake, which results in Martin Addison (aka Monkey's Asshole) stealing a glimpse into his email correspondence with a mysterious boy called Blue. Simon and Blue are known to each other only on-line although they know they both attend the same school. They are helping each other figure out their first tentative steps in the world as gay teenagers, and their virtual relationship is precious to them both.  Martin's chance discovery poses a sickening threat to their privacy.
This is a fabulous read, with characters I really cared about. It captures and celebrates a web of relationships, familiar to teens everywhere: the everyday joy and resilience of friendship; sibling loyalty and connection; and the embarrassment of parents who care!  And, in the spotlight, is the all-consuming, irresistible unfurling of physical attraction, how vulnerable it makes you feel and how very intense it is when you know that your sexual identity can't remain a secret forever if you want to embrace love and life fully.
Emotionally intelligent and thought-provoking in the best way, as well as very funny, this is a great rites of passage novel, probably best suited for teenagers of 14 and up.
Back to Top
---
Circus of the Unseen
---
Written by: Joanne Owen
Published by: Hot Key Books
Reviewer: Morag Charlwood
After her grandmother dies, Rosie is driven to investigate the great secret that Granny had kept hidden for decades. However, whilst seeking for clues at her grandmother's house, Rosie has a grave accident and is transported to a disorientating world; a limbo-like universe populated by a cast of fantastical, if charming characters who inhabit the carnivalesque Circus of the Unseen. Reigning over this world is the all-powerful Mother Matushka; she who guards the threshold between life and death and controls the cycles of nature.
Rosie has fallen into a fairy tale in-between world, hovering on the misty edges between death and life. For the circus players this is a strangely heightened life on the borders of existence, but Rosie is suspended in a different stage of being. She still has blood in her veins and energy to exhibit unexpected and extraordinary powers, powers which come to challenge the rule of Mother Matushka.
Whether Rosie can escape from this weird limbo between death and life to continue her quest for the truth of her grandmother's life and chosen way of death lies at the narrative heart of this absorbing if unusual tale.
The writing is woven through with evocative elements of folk and fairy tale, legend and lore, which lend a wistful sense of the mythic to the story. The quest element is strong, a seeking for truth and for consolation in loss. In many ways, it is a book about coming to terms with the loss of a grandparent and with bereavement. In this I found it a tender, sympathetic read.  
Most of the young readers' reviews that I've looked at on line, from as young as ten upwards, have found the story gripping and mysterious. Many say that it has given them cause for reflection.
Back to Top
---
Conversion
---
Written by: Katherine Howe
Published by: Oneworld Publications
Reviewed by: Alison Garraway
Conversion is a suspense-filled novel that entwines two gripping stories: one real, one horribly possible. 
Colleen attends St Joan's School in Danvers, Massachusetts, where competition for places at top colleges is intense. It is here that a strange affliction takes hold of the girls as the intensity of college applications builds.
The first girl to be afflicted, Clara Rutherford, is beautiful and popular; she has everything going for her. Her seizure, and its aftermath of tics, causes a sensation that ripples across the school.  More girls follow with their own afflictions, exhibiting shocking but different symptoms, and no-one has a satisfactory explanation. The suspense builds as does the furore surrounding the girls and the school. Does it make a difference that Danvers used to be known as Salem Village?
Equally engrossing is the parallel with the real story of the Salem Witch Trials of 1692 which is cleverly woven through the book. Howe beautifully brings to life Anne Putnam, one of the original girls involved in accusing members of her village of witchcraft. Anne confesses her sins to the priest and through her we are drawn into the extremely hard life these girls endured. Is it just coincidence that there are haunting similarities connecting these girls across time?
I found myself completely immersed in the worlds of both these girls.  The voice of Colleen felt genuinely like that of a teenager, where self-interest and pressure can stop you from seeing clearly.  
What raises this book from a would-be clichéd story of moving on from high school is not just the inclusion of Anne Putnam's story; it is also the thought-provoking theme of powerlessness and the ease with which you can get caught up in events resulting from the competing agendas of so many others.
This is an impressive novel that left me wanting to talk about it with others.