I honestly think that the Junior age group must be one of the most difficult to write for as its readers can be at such vastly different reading ability levels, yet our authors manage it and a wonderful accomplishment it is too as the reviews below evidence. Perhaps reviewers do not always love the book but their comments are all fair and balanced and will hopefully help you, our readers, to make up your minds about the books.
So what do we have in store for you? Lots of humour and illustrations in Moone Boy, John Smith is Not Boring and Jonny Jakes Investigates whilst Princesses meet princesses in the latest story from Meg Cabot. There are also stories about fairies, abandoned children and children at war.  Every title is amazing and some are completely gripping stories. My Editor's Choice for this edition is the utterly brilliant Conversion by Katherine Howe. Modern day witchcraft and the Salem Witches combined in a dual story of hysteria and its effects.
---

Circus Mirandus


---
Author: Cassie Beasley
Published by: Chicken House
Reviewed by: Jackie Spink
Grandpa Ephraim is seriously ill; Micah's time with him is running out. Dreadful Aunt Gertrudis, Ephraim's sister, has come to look after them both, but she seems intent on making a wretched time even worse. Above all, the thing she cannot abide is the talk of magic between grandfather and grandson. But the old man's tales are more than just fantasy. As a boy, he spent time at the mysterious Circus Mirandus, ('magnificent since 500BC') where he met the Man Who Bends Light. Back then, Ephraim was promised a miracle, which he hasn't claimed – until now.
Micah is a compelling hero; he loves his grandpa so much and, for his sake, finds reserves of great faith and courage. With Grandpa bedridden, he is a solitary figure, struggling with school and Aunt Gertrudis, but then he unexpectedly finds himself with an ally in brainy Jenny. She is the voice of reason, perplexed by Micah's confidence in the existence of magic, but she is a staunch friend, practical and loyal. Together, they undertake the journey to Circus Mirandus to claim Grandpa Ephraim's miracle for him.
Grief, loss, hope, imagination and belief: these are big themes in this life-affirming adventure.  'Mirandus', in case you're wondering, means to be wondered at or marvelled at, and my favourite part is where the Man Who Bends Light performs his act, conjuring up an astonishing sensory carnival, comprising, amongst other things, mangoes and penguins and monkeys; he turns the vast, natural world into somewhere magical, waiting to be discovered.
Circus Mirandus looks set to hit the screen, with TV and film rights sold. In the meantime, it is a treat of a novel, pitched at children from about ten years and up.
---
Moone Boy: The Blunder Years
---
Written by: Chris O'Dowd and Nick V Murphy      
Published by: Pan Macmillan Children's Books
Martin Moone is totally fed up with being the only boy in a family of girls and needs a sidekick to help him fight his corner. Will an imaginary friend be the answer or could it be his biggest challenge yet?
Dealing with three sisters is very stressful for Martin Moone; they are all older than him and very good at giving dead arms on a daily basis. The only bike he has access to is small, rusty but still undeniably pink with no crossbar and he will be starting his last year at primary school with hand-me down books. Martin needs a wingman, someone to help him through the trials and tribulations of his life. His best friend Padraic suggests an imaginary friend, IF for short, which Martin thinks is a great idea. The first to arrive is Loopy Lou, a zany idiot given to writing and singing rubbish rap songs, who doesn't help at all. Then Sean Murphy, an imaginary clerk, turns up; his advice is much more useful. The only problem is how to get rid of Loopy Lou, which is not going to be easy.
Winner of the Irish Children's Book Award, this is a prequel to the television series, which stars Chris O'Dowd. Fans will love the chance to read more about Martin's life, in a book full of quirky humour and slapstick comedy. Cartoon drawings, inkblots and funny footnotes all add to the appeal.
---
John Smith is Not Boring and Cap'n John the (Slightly) Fierce
---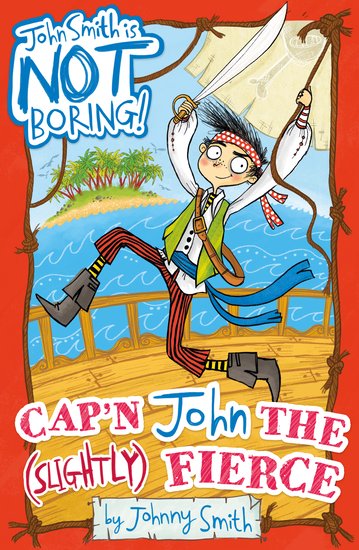 (John Smith is Not Boring): Cap'n John The (Slightly) Fierce & (John Smith is Not Boring): Sir John The (Mostly) Brave
Written by: Johnny Smith
Illustrated by: Laura Ellen Andersen
Published by: Scholastic
Reviewed by: Damian Harvey     
These two titles are the first in a new series from Johnny Smith (one half of the screenwriting writing partnership Sprackling and Smith that created, amongst other things, Disney's Gnomeo and Juliet). They've been wonderfully illustrated by Laura Ellen Anderson whose black-and-white artwork (on most pages) gives added humour to the characters and situations.
John Smith can't understand why his parents gave him the most boring name in the world. Dad explains that he thought with a name like John Smith no one would make fun of him, but unfortunately they do. His big sister, Hayley, tells him he's called John Smith because he is the most boring, useless person in the world. Mum tells him that he's not boring at all; in fact he's one in a million. Grandad, also named John Smith, comforts his grandson and tells him that just because he has a boring name doesn't mean he has to have a boring life.
Whilst looking under Grandad's bed for his false teeth, John finds a chest full of fancy dress costumes. The costumes, and the magic words written on the lid of the chest 'say it long, say it loud – I'm John Smith and I'm proud!' mark the start of John's adventures.
John's first adventure sees him as the captain of a pirate ship where he and his pirate crew come face to face with Captain Black, the meanest, grizzliest pirate that ever lived. At first, John is convinced that the whole pirate adventure is just a game that's been arranged for his friend's birthday party, but when he finds himself accused of piracy and being made to walk the plank over shark infested water he realises just how real the adventure is.
In the second adventure, John travels back to the days of (mostly) brave knights and he has to use his wits and luck to save everyone from Ivan the Horrible and his army of ruffians who are intent on sacking, looting and pillaging.
Both books are full of action and humour and despite most of the adventure being set in the past the stories have a very modern feel to them making them lots of fun to read. There's just enough background information in the second and subsequent books to let the reader know about the chest of clothes beneath Grandad's bed. This should give the series added appeal as readers can join John in his adventure as a cowboy, a spaceman and more. John Smith is definitely not boring as he soon realises for himself – 'I'm so excited I think I'm going to wet myself' he declares.
Written by:  Malcolm Judge
Illustrated by: Alan Brown – Advocate Art
Published by: Curious Fox Books
Reviewed by Anita Loughrey
The synopsis is this: Jonny Jakes Undercover Reporter for banned school newspaper The Woodford Word. Readership: enlightened; Authority: angry. Nothing will stop his pursuit of the truth. Not teachers. Not parents. Not double detention.
When a new headteacher arrives halfway through term, Jonny smells a rat. Hamburgers for lunch? Sweets in class? He's determined to get to the bottom of it, because Jonny Jakes investigates the same way he eats his hamburgers: with relish.
Jonny Investigates journal is packed with evidence, doodles and some alien snot on page 77.
In review: this is a fantastic concept, well written and in the style of the Wimpy Kid diaries and the Tom Gates books. The fact that the school newspaper has been banned has you hooked from the start. It is the first book in a new series that is sure to capture even the most reluctant reader's attention.
In Jonny Jakes Investigates: The Hamburgers of Doom, you follow Jonny on his quest to save the school from aliens, whilst not only avoiding being licked to death but also preventing both the children and parents from becoming morbidly obese. Jonny Jakes talks you through the mounting evidence, and how he comes to his amazing deductions that provide his hilarious, hard-hitting headlines. Find out if Jonny manages to meet his deadline to get the next copy of The Woodford Word out on time.
This book highlights why you should never take sweets from strangers and how healthy food, herbs and spices can save your life.
Back To Top
---
The Magnificent Lizzie Brown and the Mysterious Phantom
---
Written by: Vicky Lockwood
Published by: Curious Fox
Reviewed by: Laura Brill
On the run from the squalid Victorian slum, where the only prospect is a life of thieving and begging, Lizzie Brown discovers Fitzy's Travelling Circus. It is a world to which Lizzie feels incredibly drawn and which she is allowed to join on a trial basis. At the circus, Lizzie discovers unimaginable wonders, great kindness and an amazing gift she never thought she possessed.
London, though, is troubled by the news of a mysterious Phantom, a thief breaking into wealthy households whose deeds are becoming increasingly daring and dangerous. Very soon Lizzie and her newly found friends at Fitzy's become involved in the hunt for the criminal only for their efforts to be misinterpreted, damaging the circus' reputation and that of its workers.
It is only when all seems lost and Lizzie's life is in great danger that the true identity of the Phantom is finally revealed.
This is a book that offers a captivating storyline and great characters. The exciting plot will keep its readers hooked. Lizzie is a feisty protagonist and her antagonists are menacing in equal measure. The circus troupe offers a display of entertaining and exotic characters, which are introduced to the readers with lovely touches, such as the Amazon Queen and the fakir, and all presented through the perspective of an astonished little girl. They all inhabit a place of warmth, fellowship and hard graft that is at the opposite end of the spectrum to the miserable setting where the story begins.
The narrative style is fluid with crisp dialogues that include some use of vernacular language. This is a good touch though it is not sustained and later in the book appears only sporadically.
What a brilliant adventure story, which will prove very popular with readers in the 9+ age group.  The sequel is already available and it will hopefully offer even more captivating adventures.
---
Nixie, The Bad, Bad Fairy
---
Written by: Cas Lester
Published by: Oxford University Press
Reviewed by: Abby Mellor
Grubby, scruffy and adventurous, Nixie is a bad, bad fairy. Wherever she goes, she just can't help but cause disruption, and her wayward wand with its wonky black star is as naughty as she is! Nixie is supposed to be helping with preparations for the Blossom Ball, the most exciting fairy event of the year, but trouble beckons and she is soon causing havoc.
When Nixie manages to spoil Adorabella, the Goody-goody fairy's 'yukky-yellow silly-frilly fairy dress', Adorabella is determined to get her own back, and Nixie ends up in worse trouble than she's ever been in before …  Will she manage to put things right in time for the Blossom Ball?
Children will immediately identify with the likeable Nixie and array of other colourful characters.  Although she's a little rascal, you can't help but root for the Bad, Bad Fairy.  After all, who can blame her for being a little mischievous when she is faced with the incredibly irritating Adorabella?
Full of fun and magical mischief, this is a tale that is sure to delight young girls in particular.  Adding to the appeal are the beautiful black and white illustrations throughout which make an easy read even more accessible.
---
We Are All Made of Molecules
---
Written by: Susin Nielsen
Published by: Andersen Press
Reviewed by: Francesca Del Mese                           
We are all made of molecules is a middle grade book about a boy called Stewart, whose life changes completely when a girl from school and her mother move in with him and his dad.
The book is comedic and also touches upon important issues such as bullying, teenage social awkwardness and modern-day family contexts and struggles. Nielsen's writing is sharp and witty; she manages to capture the essence of teenage life whilst also moving the compelling story along at a fast pace. The humour of the book is also worth a mention.
Through Stewart, Nielsen speaks about, for example, 'sphincter tightening horror'.  The partial diary format also evokes a modern day Adrian Mole context. We Are All Made of Molecules is an effective and exciting read and one that deserves a wide readership.
---
Notebooks of a Middle School Princess
---
Written by: Meg Cabot
Published by: Macmillan Children's Books
Review by: Imogen Russell Williams
Princess Mia Thermopolis, of Princess Diaries fame, might be all grown up and about to get married – but now there's a new middle-school princess in town, in the shape of Olivia Grace, her long-lost half-sister.
Twelve-year-old Olivia is having a very bad day. Her nemesis, school bully Annabelle Jenkins, has threatened to give her 'a beat-down' after school, and the step-cousins she lives with won't intervene. Who should sweep in and save the day but Princess Mia herself?
Mia offers Olivia a chance at a fairy-tale departure, to meet a family – and a father – she's never met. But her aunt and uncle have other ideas. Will Olivia be able to take up her sister's offer?
This little book is engaging and readable, and it's good to have a biracial Princess this time - Olivia's mum, who died when she was little, was African American, and this is touched on, intriguingly at times, throughout the story, although not in great depth.  Cabot's illustrations break up the text enticingly, making it feel still more approachable, and the 'notebook diary' format works well.
However, to me, it's very much a companion piece to the original series, rather than a stand alone – a nice addition, but too thin, in terms of characterisation, plot and prose, to represent an exciting new departure. Anyone unfamiliar with Princess Mia's diaries is likely to be slightly puzzled by some references, which is a pity. Although die-hard fans will devour it, this feels to me a bit like an opportunity wasted – this little princess has some way to go yet to catch up with her brainy, zany sister.
Back To Top
---
Hook's Daughter
---
Written by: Heidi Schulz    
Published by: Chicken House
Reviewed by: Jayne Gould
Jocelyn dreams of following her father – but her grandfather sends her to finishing school instead. When Captain Hook meets his end, Jocelyn travels to Neverland to avenge him. But she hadn't bargained on ticking crocodiles, lazy pirates and a trouble-making Peter Pan.
Growing up in the care of her grandfather, Jocelyn only has vague memories of her mother and has never met her father, the renowned and fearsome pirate Captain James Hook. She is determined to follow in his footsteps, and she certainly seems to be succeeding, seeing off numerous governesses and tutors with her unruly behaviour. Her grandfather reaches the end of his patience after one unfortunate incident and sends her away to school to learn to be a lady. Life there is only made bearable by her friendship with Roger, the gardener's boy; together they weave tales of magic and adventure in their secret hideout. But when Roger is dismissed, Jocelyn knows she can't stay any longer. A messenger from Neverland brings an unexpected letter from her father; sadly she will not be able to meet him, as he has died, eaten by the crocodile that took his hand, but he does request that she avenge his death. With the piratical life she has dreamed of now open to her, Jocelyn flies to Neverland, meeting up with Smee, who engages the most unlikely crew of pirates. Together they set sail to track down the ticking crocodile and find justice for James Hook. During her ensuing adventures, Jocelyn encounters many dangers and learns valuable lessons about courage and friendship.
A swashbuckling, riotous story, which pays homage to the original whilst adding new detail, narrated by a sardonic retired pirate, this should appeal to readers of 9+ looking for adventures on the high seas. There is the promise of more to come to and I look forward to renewing my acquaintance with Captain Jocelyn Hook. 
Written by: Tom Avery
Published by: Oxford University Press
Reviewed by: Louise Ellis-Barrett
A first look at Not As We Know It shows a beautiful object. Compact in size and displaying on its front and back covers the delicate and suggestive artwork by Kate Grove, this book cannot fail to rouse one's curiosity. The gazing children and the floating creature in these images may conjure thoughts of lost lands and quests and while those are present in the book, this is a story which at its centre places the frailty of human life, the bonds of family relationships and the drama of loss, but, and importantly, also the strength of hope.
Jamie and Ned are twin brothers. They live by the sea, love Star Trek and regularly comb the beaches, enjoying discovering what objects the passing storms deposit on the shore near their home. After one particular storm they find something that they have only ever heard about in their fisherman grandfather's tales. This creature, half-fish and half-man, the boys hide in the garage, among their eclectic collection, and name Leonard, in homage to their favourite sci-fi series.
They are both fascinated by it, but it is Ned who develops a close connection with Leonard.  Ned, whose cystic fibrosis diagnosis has shaped the life of the family and in particular that of Jamie; Ned the dare-devil; an adventurous Captain Kirk to Jamie's cautious Doctor McCoy.
Fed by grandfather's sea stories, the boys nurture the idea that Leonard's appearance has a link with Ned's illness and a special purpose. When Ned's actions risk his own life, it is clear that the brothers' hopes have grown in opposite directions and that their thoughts are dramatically divergent.
Resonant with echoes of folklore tales and dealing with a deeply emotional issue, this story is suited to mature young readers. The sadness and fear caused by the illness, its repercussions on Ned and his family and the way in which those who are left behind deal with grief and the sense of loss are told through Jamies' words. There are some moments of lightness as well in this book, which is beautifully written and framed by delightful drawings. 
---
Joe All Alone
---
Written by: Joanna Nadin       
Published by: Little Brown
Reviewer: Andrea Rayner
Thirteen-year-old Joe lives with his mum and her boyfriend Dean in Peckham. He dreams of escaping the school bully, Perry Fletcher, and of his mum getting rid of the useless and bigoted Dean. However, Joe is happy because it is half-term and he has a whole week away from school and the bullying.  Then his mum drops a bombshell. She and Dean are going to Spain for a week – but without Joe. Joe must stay in the flat on his own. It is to be their little secret – he must not tell anyone.
So Joe is left with twenty pounds to recharge the electricity meter and for emergencies. At first it is fun. He plays with the Xbox and eats Jammy Dodgers until he feels sick, but then the novelty starts to wear off – that is, until he meets Asha, the granddaughter of Otis who lives across the hall.
Asha and Joe become firm friends and the week passes quickly, but at the end of half-term, Asha has to go back to her mum's as school is starting. Then Joe's mum and Dean don't come back, and he runs out of money and food. To make matters worse, Perry is after Joe, and Mickey Dooley is looking for Dean. Joe is sure it is something to do with the money hidden in the toilet cistern.
Joe thought that staying in the flat on his own would be an adventure but now it has become a nightmare, and he doesn't know where to turn …
Joanna Nadin completely captures the voice of a thirteen-year-old boy.  Joe is both engaging and naive, and his precarious situation cannot fail to generate sympathy.  Joe All Alone is simultaneously funny and sad.  It compassionately shows that parents abandoning children – even on a temporary basis – can have devastating consequences.
---
An Island of Our Own
---
Written by: Sally Nicholls
Published by: Scholastic
Reviewed by: Bridget Carrington    
Sally Nicholl's latest novel combines an exciting quest with a deeply thoughtful, sympathetic portrayal of an orphaned family whose nineteen-year-old oldest member cares for his twelve-year-old sister and her eight-year-old brother. Recounted by Holly in a series of short chapters this is the story of the family's struggle to stay together and make ends meet. Jonathan has postponed university to support his siblings, and taken on an adult role that is threatening to extinguish his own enjoyment of life. While the family has come to terms with their mother's death, each has been forced to take on roles beyond their ages. Always short of money, when Davy's pet rabbit needs expensive veterinary treatment, their discovery that their aunt has left them a legacy seems like a godsend. The only problem is that it appears to be buried in any one of the places that appear in her photo album.
The detective work the family undertakes is exciting though often frustrating, their search involves an unpleasant uncle but many kind and helpful strangers who become friends. Their chief help are the members of an inventors club, whose skills (including safe-breaking!) come in very useful.  There is a great emphasis on co-operative working, self-sufficiency – in many different ways – and perseverance. After initial success, the family face disappointment, and Holly and Jonathan find it increasingly hard to support their youngest sibling. Nicholls always emphasises the underlying strength of the family unit, who have already overcome the trauma of maternal bereavement – the memory of their mother often making them stronger.
As well as clues to the whereabouts of the legacy, Nicholls scatters references to many favourites – old and new – of children's literature and beyond, from The Family from One End Street to Harry Potter and The Hitchhiker's Guide to the Galaxy, taking in G. K. Chesterton on the way. As an avid reader, Holly may entice a new generation of readers to investigate some of the less well-known titles, and discover the subtle links between this twenty-first century family released from parental restraints, and their literary forebears.
Feast or Famine? Food and Children's Literature, papers from the 2013 IBBY UK/NCRCL Conference, edited by Bridget Carrington and Jennifer Harding, is published by Cambridge Scholars Press.
---
The Accidental Prime Minister
---
Written by: Tom McLaughlin
Illustrated by: Tom McLaughlin
Published by: Oxford University Press
Reviewed by: Edd Bankes
On a seemingly unremarkable morning Joe wakes up to find that his local park has been shut, meaning his mother has lost her job. Determined to reverse the decision, it just so happens that it's the day the Prime Minister has decided to pay a visit to Joe's school. After Joe shames the Prime Minister in front of the world's media (also bringing to light several of his more questionable policies), the whirlwind catapults Joe into Downing Street, aided by his best friend (and now media agent and lifestyle guru) Ajay. Charged with the most important job in the country, Joe will have to contend with blustering politicians, accidentally initiating international incidents and the schemes of the Deputy Prime Minister, Violetta, outraged to have missed out on the job she wanted and willing to do anything to get it.
Tom McLaughlin's story in many ways tells the sort of story that many children would want to write and there are definitely ways in which the book might be a useful tool for the classroom, particularly as a starting point for creative writing. Many of the characters are very strong, particularly Violetta, who even if the reader passes over the many jibes at politics that seem positioned for the adults alongside, is really funny and well realised in her determination and ruthlessness in getting the top job. However, there are several aspects of the book that would make me unsure about using the book in the classroom.
While the book relies on a very cynical and mocking of politicians, contrasted to Joe's innocence and idealism, in some instances I think the tone could actually exclude many young readers. In one part, Joe nearly causes an international conflict between East and West Transilmania over something apparently very piffling. The message – that conflicts in far-away places are so simple that a British child could easily solve them – could well alienate readers who do have experience of living in conflict. I would therefore urge some caution in making sure that the tone of the book is appropriate in the contexts it might be used.
Written by: Kerr Thomson
Published by: Chicken House
Reviewed by: Bridget Carrington    
Winner of the Times Children's Fiction Prize 2014, Glasgow Geography teacher Kerr Thomson's first book raises a number of thought-provoking topics amidst an enthralling adventure story. Fraser lives on the tiny Hebridean island of Nin with his father and his younger brother Dunny, an elective mute. Texan teenager Hayley has moved there with her estranged mother, an author. While Fraser loves Nin, the sea and the whales who visit the waters, Hayley hates its remoteness, resents her mother's separation from her father, and her own enforced separation from her life and friends. Reluctantly they are drawn together as they help an illegal immigrant hiding on the island, and the mystery behind a second man found dead on the beach.
Thomson understands the frustrations of adolescence, the lack of control over one's own life and feelings, and the helplessness teenagers experience when adults intervene. Fraser is infuriated with Dunny's refusal to speak, Hayley is disgusted at her mother's behaviour, which she considers disloyal to her father. Dunny himself is an enigmatic, slightly spiritual figure who, because of his specific gifts, brings about the rescue of people in life-threatening situations at sea. Thomson forces his readers to interrogate the ethical issues not only behind illegal immigration, but behind Hebridean culture, whaling and scientific investigation. Ultimately Fraser and Hayley must choose between the law and the safety of the man they befriend, and have to face up to the fact that our heroes can be flawed, and may act illegally to counteract perceived restraints on their own work.
This is a gripping novel about hard decisions in a life where things are never as clear-cut as we would wish. While Fraser comes to accept and admire his brother's special qualities, he has to wrestle with his wish to use those qualities in a commercial way that might benefit the island's economy but damage the ecology and his brother's life. Hayley discovers that her family life and friendships can be built anew if she will allow that to happen. Does the final page hint at a sequel?  I certainly hope so!
Feast or Famine? Food and Children's Literature, papers from the 2013 IBBY UK/NCRCL Conference, edited by Bridget Carrington and Jennifer Harding, is published by Cambridge Scholars Press.
---
Alfie Bloom and the Secrets of Hexbridge Castle
---
Written by: Gabrielle Kent    
Published by: Scholastic
Reviewed by: Francesca Del Mese
Alfie Bloom and the Secrets of Hexbridge Castle is a middle grade fantasy novel about a boy who finds out he has an incredible fortune. Alfie is heir to a castle, and it has been sealed for centuries. This provides a wonderful premise for a book, and it doesn't disappoint on delivery of the storyline. Kent's writing is clever and engaging. She starts the book with an amusing description of Nora Bennett who disapproves of a number of things, including children. The concepts of the book are well drawn and it is brave of anyone to write in the fantasy genre under the post-Potter shadow and inevitable comparisons that this genre will draw. Kent's descriptive skills are also impressive and amusing. This is the kind of book that will indeed appeal to Potter heads, but also to a wider audience who want a fantasy fix without the surrounding hype. Alfie Bloom and the Secrets of Hexbridge Castle deserves to be widely read as it is a stimulating and wonderful read.  
Written by: Phil Earle    
Illustrated by: Sara Ogilvie
Published by: Orion
Reviewer: Diana Barnes
This is not only a good and very funny story, but a thought-provoking look at ambition, family stresses and life vs reality.
Jake and his dad, George Biggs, love watching wrestling at weekends, and Jake persuades his dad, who is big and beefy and demolishes buildings from the top of a crane, to take it up as a hobby. It has to be a secret, even from Mum and little brother, but Dad proves to be quite good in local contests, and Jake's pride in his dad make his ambitions go higher. He has to enlist the help of his friends: Mouse, who reads loads of comics, and designs an awesome costume with a wrecking ball across George's belly, and Floss, a film-maker, to enter Dad in an American competition. When Arnie McBride with his mahogany tan and stretch limo turns up at the house, Jake is thrilled, but of course it's not a secret any more, and the whole town gets very excited.
George has to spend 5 weeks in America building up to his big match with the Tsunami Terror, and the family don't hear much from him, so when the town gathers to watch on a big screen, they are all astonished when George appears accompanied by the wrong music, much slimmer, and in a Beefeater costume. He is evidently not at all his usual self, and loses the match, then comes back humiliated and depressed, unable to go to work, and finally disappears. Jake feels responsible for pushing Dad out of his comfort zone, and, with Mouse and Floss, searches all over the town, finally entering a half-demolished building that George had been working on some time ago, even though he knows this is not a good idea …
It does indeed collapse around them and the children are in trouble, but Floss has her camera with her, and broadcasts an appeal to George for help. All is well in the end, but the whole family has changed – Mum has gone back to work in a job she loves, they have an adopted Granny who looks after the children, and George's career takes a new turn.
The humour in this is terrific – the little asides to the reader, the wrestlers' names, Arnie's misunderstandings about the English, and more, and there is plenty of drama in Jake's encounters with the local bullies and his attempts to rehabilitate George. The family life is very credible, and Sara Ogilvie's scratchy cartoon illustrations are perfect for the story.
A terrific read for juniors, and you don't have to know about wrestling to enjoy it!
---
Written by: Gillian Cross
Published by: Oxford University Press
Reviewed by: Sasha Roth
An unlikely friendship. An incredible secret. An adventure of a lifetime ... Nolan leaves school one day to discover that his mum has dyed her hair bright green, sold everything they own, and they're going on a road trip ... On the way he meets Feather, the adopted daughter of a famous rock star. This mismatched pair appears to have nothing in common, until they discover an escaped wild cat, a serval, that needs their protection. Together they vow to keep it a secret. But someone else wants the serval too. Someone who will stop at nothing to get their hands on it ...
The book opens with a series of madcap events that sees Nolan return from school to find his mum has dyed her hair green, packed up their belongings and is waiting to whisk them off, destination unknown, in a brand new camper van – before he can even buckle his seatbelt.
Feather is the black adoptee daughter of, Midir, the main singer of The Gentry, a fading rock band planning a dramatic comeback, under the direction of their villainous manager, Vix.
Rosie, Nolan's mum, is a 'follower', as long-time devoted fans of The Gentry are known, and she has managed to buy two sought-after tickets to The Gentry's one-off gig for her and Nolan – explaining the sudden appearance of the camper van as they travel to the concert's location.
The concert finale features a wild cat, a serval, in a spectacular publicity stunt aimed to put the band back on the map. However, soon after the concert the cat is found to have escaped and before long Nolan and Feather become embroiled in the hunt for it and its ultimate fate.
Through the course of the book we follow Nolan and Feather as they overcome their very different, but nonetheless dysfunctional, families and backgrounds and their plans to save the escaped serval. The suspenseful narrative weaves through the two characters, and is told by both Nolan and Feather.
Cross's characterisation enables the reader to readily relate to the very likeable Feather and Nolan and the warmth and kindness of Mrs Jay from the village shop and Alasdair of the local campsite. Whilst Vix, the band manager, is an instantly dislikeable modern day Cruella de Vil. Cross also sensitively and sympathetically introduces younger readers, through Rosie, to mental illness and depression and Nolan's unflinching support, care and love for his mother and her erratic behaviour, despite his own young age and lack of comprehension of her illness.
Whilst the premise of using a wild cat in a rock band's live stage show is somewhat far-fetched, the resulting story is an interesting and heart-warming tale of friendship, courage and overcoming adversity and will leave readers delighted at the heroics of the two children. 
Written by: Virginia Boecker
Published by: Orchard Books
Reviewed by: Louise Ellis-Barrett
Witch Hunter is a stunning novel. Elizabeth Grey is a witch hunter and as meek and harmless as she looks be wary, be very wary for she is a very highly skilled and adept hunter. She can take out the meanest of necromancers without thinking too hard or using too much effort, trained as she has been by the toughest and most difficult of masters. She, and Caleb her long time friend and partner (in witch hunting), are there to ensure that no witch disturbs society or contravenes their strict laws. When Elizabeth finds herself accused of witchcraft and thrown into prison for her supposed crimes, Caleb does not come to her rescue as promised but the secretive and much awed Nicholas does. Taking her into the arms and fold of the supposed enemy, the witches, she is rescued, cared for and suddenly finds herself fighting against all she had believed was true and right, in order to save the life of someone she once thought a traitor.
Magic and murder combine in this gripping story of treachery, double-crossing and witches. There are echoes of the Salem witch trails, of witch burning, of Merlin even, in the telling, but this is a unique and cleverly woven plot, leaving you continually guessing as to who is in the right, what those in the wrong have really done and how those with power wield it for their own ends.
Utterly gripping, I found this one really hard to put down, a great read for 11+, not for the faint hearted and one that I hope ended with the promise of more, for I would love to read more!
Written by: Geoff Rodkey
Published by:  Little Brown Children's
Reviewed by: Edd Bankes
Claudia and Reese are siblings, living on the Upper West Side and attending the prestigious Culvert Prep. More importantly, they are at war, all stemming from the pernicious theft of a pop-tart. Revenge must be met with revenge, which Claudia presents to her reader in the form of an oral history, collecting everything important to fully relate a complex web of online rumours, hidden fish and a crush on a mysterious Dutch boy.
Geoff Rodkey's first children's novel Deadweather and Sunrise was nominated for the Waterstone's Children's Book Prize. There are many positive aspects of this book. The writing style is very imaginative, setting the book as the collection of everything that Claudia has compiled to tell the story, including emails, text messages and hand-written notes and annotations. The result is very visually appealing, as the reader is never bombarded with text, and it provides a really nice way for the reader to get a sense of the characters without it seeming contrived. This style makes it very easy to understand the character of Claudia as slightly precocious preteen trying to have complete control over the story she's trying to tell, and is a character that might particularly appeal to adults reading the book with their children.
However, I'm really not sure how relatable the characters in the story really are. Though the premise, of the lengths siblings will go to get revenge on one another is really great in the story, the plot doesn't really seem to have very much to do with who the characters are as people, but much more to do with how privileged they are. Most of the revenges don't seem to rely on Claudia and Reece's ingenuity, imagination or hard work, but rather the ease with which they can buy things with their own money, like large quantities of fish, or the fact that they have their own smartphones, laptops and iPads and know people skilled enough to recode online games. I was left wondering whether the ease with which Claudia and Reece pull off their schemes might have made it much harder to like them.
---
Storm Horse
---
Written by: Nick Garlick      
Published by: Chicken House
Reviewed by: Sheena Wilkinson 
Twelve-year-old Flip, like many a protagonist before him, has been left alone in the world. His feckless father is dead, his mother disappeared years before, and his only relatives are the stern Uncle Andries and his family. Uprooted from the Amsterdam which is all he has ever known, Flip finds himself taken to a remote island, where the islanders are suspicious of the city boy, and he is expected to live in a barn and work on a farm.
The island is harsh, isolated and defined by the pounding sea. Flip struggles to adjust to his new life, but proves himself a capable and willing worker, which endears him to his new family. However, he soon falls foul of the bullying Mesman brothers, who resent his city ways and fashions. His encounters with the bullies are all too real, but what seems slightly unreal to Flip is the mysterious silent Ghost Girl, who disappears when he tries to approach her. When he helps rescue a horse washed up in a storm, Flip (whose name, of course, is from the Greek Fillipus, Lover of Horses) discovers his affinity with horses. His love for Storm leads to adventure, danger and eventually a new sense of belonging for both of them.
This is a well-paced story with a great deal of heart. Stoical, resourceful Flip is a very likeable protagonist, and the supporting characters are also convincing and varied, from perky Renske to the elusive Ghost Girl. The adult characters also rang very true. I loved the setting – a North Sea island in the 1960s, which was completely new to me. The relationship between horse and boy was perhaps slightly sentimentalised, but that is a minor quibble in a very enjoyable, well-crafted and thoroughly engaging read.
Sheena Wilkinson's new novel Still Falling is out now (Little Island).
---