Two charming features, by two Julia's (!) – Julia Jarman on the delights of picture book publishing and Julia Wills on the wonders of the ancient world and the fun of writing about it!
---
Guest Feature  
Julia Jarman –
Picture Book Writer (among other things)
---
SERIOUSLY . . .
What Children Are Reading
Report and the latest PLR figures point to their popularity. Don't think I'm looking down my nose here, or turning it up. I do scatology. There's a lot of poo in
Hey! What's that Nasty Whiff?
which Garry Parson's brill illustrations take to new depths. I'm delighted that the Geographical Association include a lesson based on it in their excellent publication
The Everyday Guide to Primary Geography
. It is an anti-pollution save-the-planet story. I like using humour to make a point and sometimes do it without meaning to. Teachers use
Kisses Are Yuk
(now retitled
The Best Kiss
for reasons known to publishers) to make the point that you should choose who you kiss and who you are kissed by
. 
There's a lesson written by a Child Protection adviser on my website.
Next year Hodder Chldren's Books will publish a new edition of Fussy Freda, a story I wrote years ago for a reading scheme. It's a fun story using rhyme and repetition in an entertaining way and isn't for the faint hearted:
'Freda didn't eat. 
She didn't drink.
Mum and Dad watched Freda shrink.
They took her home and in the house
Claws the cat thought he saw a . . . mouse.' 
Editor Emma Layfield, saw another possibility: a healthy eating angle. I came up with new text and Emma chose the zany Fred Blunt for the pictures. It will be great if it encourages children, if not cats, to eat sensibly – but moralising is not something I feel I have to do.
The Big Red Bath
and perhaps
Class Two at the Zoo,
where children get eaten by an anaconda. (I say 'if' because on my numerous school visits I'm often greeted by a child with 'Hello, Julia, I really love The Gruffalo!' and I have to explain – Grrrrr . . .  – that I am the
other
Julia.) I have written sixteen picture books but haven't caught up with Julia Donaldson yet.
The success of these books is largely due to illustrators interpreting and enhancing my texts imaginatively. I am lucky that my editors have matched me with some amazing talents. It is editors – not authors – who choose, by the way. I've now done five books with Adrian Reynolds (more famous for Harry and the Bucketful of Dinosaurs), and five with the wacky Lynne Chapman. Lynne is at this moment doing the illustrations for Class One Farmyard Fun, a prequel to Class Two at the Zoo and Class Three All at Sea. The roughs, recently seen, are bull-ody marvellous! No prizes for guessing the villain of the piece. And, oh yes, I've got pants too. Ants in Your Pants illustrated by the wonderful Guy Parker Rees of Giraffes Can't Dance fame is high in the PLR charts.
I do funny – so when a librarian rang and said she needed a picture book about dementia and thought I was the person to do it, I was a bit nonplussed. Karen Morris, a Health and Wellbeing librarian, reminded me I'd written Two Shy Pandas, a quieter story than I usually write, dealing with a problem a lot of children experience, and went on to say that a growing number of children were worried about a granny or granddad who couldn't remember their name, or the rules of the game they were playing, or even the days of the week. Worried parents were coming into the library, asking for a book to help them explain dementia and help children understand and deal with this sad situation. Karen was adamant it should be a story with characters that children could empathise with, preferably animals to add a little distance and make it less painful.
Lovely Old Lion
about an elderly lion who is losing his memory and his grip on reality. I told it from the point of view of his grandson, Lenny, who decides to help his granddad, as I like to empower children and show them they can solve problems. But Lenny can't solve this one, only alleviate it, as I had to convey the reality that dementia can't be cured. I couldn't write a conventional happy ending. I sent the story to Karen who approved and then to Andersen Press, with fingers crossed. The optimistic me hoped the wonderfully innovative publisher, Klaus Flugge, would approve. The pessimistic me feared rejection on the grounds that it was for a niche market. There was an undoubted need for this book, but it wouldn't fly off the shelves like poo and pants.
I'm thrilled to say that Andersen Press took it on and chose Susan Varley, renowned for the classic bereavement story, Badger's Parting Gifts, to do the illustrations. Her ability to show every nuance of emotion along with the fact that dementia is a world-wide problem has helped to sell lots of co-editions. So far I've seen it in French, German and Romanian – there are more to come – and it has been short-listed for the Bishop's Stortford Children's Book Award.
Lovely Old Lion
helps children who are losing their grandparents to dementia in the same way that Varley's 'Badger's Parting Gifts' helps children when grandparents die, I will be delighted.
Picture books by Julia Jarman: Hey! What's that Nasty Whiff?; The Big Red Bath; Class Two at the Zoo; Class Three All at Sea; Ants in Your Pants; Two Shy Pandas; Lovely Old Lion.  In production: Fussy Freda and Class One Farmyard Fun
---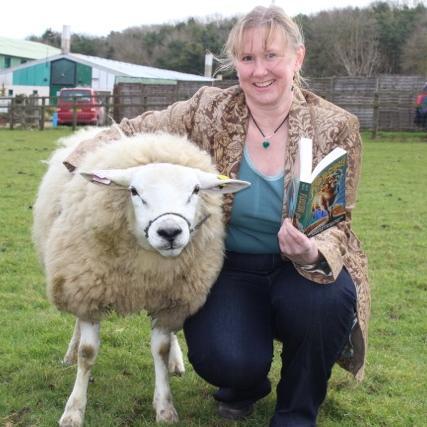 Could you tell us how you first came to be an author?
I've written for as long as I can remember and recently turned up an early classic of mine.
A small, beribboned booklet with felt-tip pictures, about a mouse that took a holiday and brought back a suitcase of cheese.
I think I was about seven at the time!
How did you choose the genre you wanted to write about? Both Rampage! and Fleeced! are based on Greek myths – is this something you had prior knowledge of?  I'd read many of the Greek myths from an old Book of Wonder that my late father gave me, something he'd read in his boyhood. However, it wasn't until I became a primary school teacher and found myself teaching Ancient Greece on the National Curriculum to classes of 8–9 year-olds that I realised just how much children loved the heroes, monsters and gods of the old stories, and that's when I developed my passion for mythology.  Classics have an unfair reputation for being dusty, but that couldn't be further from the truth.  Year Four lit up when they heard the heroes' adventures and that's what made me wonder about giving the old tales a new twist. What if the underdog, or indeed ram, won for a change? 
But I also wanted to make children laugh. Many youngsters, particularly in primary school, find reading hard work. However, when what they read makes them burst out laughing, then reading suddenly becomes fun. Mixing funny with fast-pace, strong characters and excitement has made the books very popular.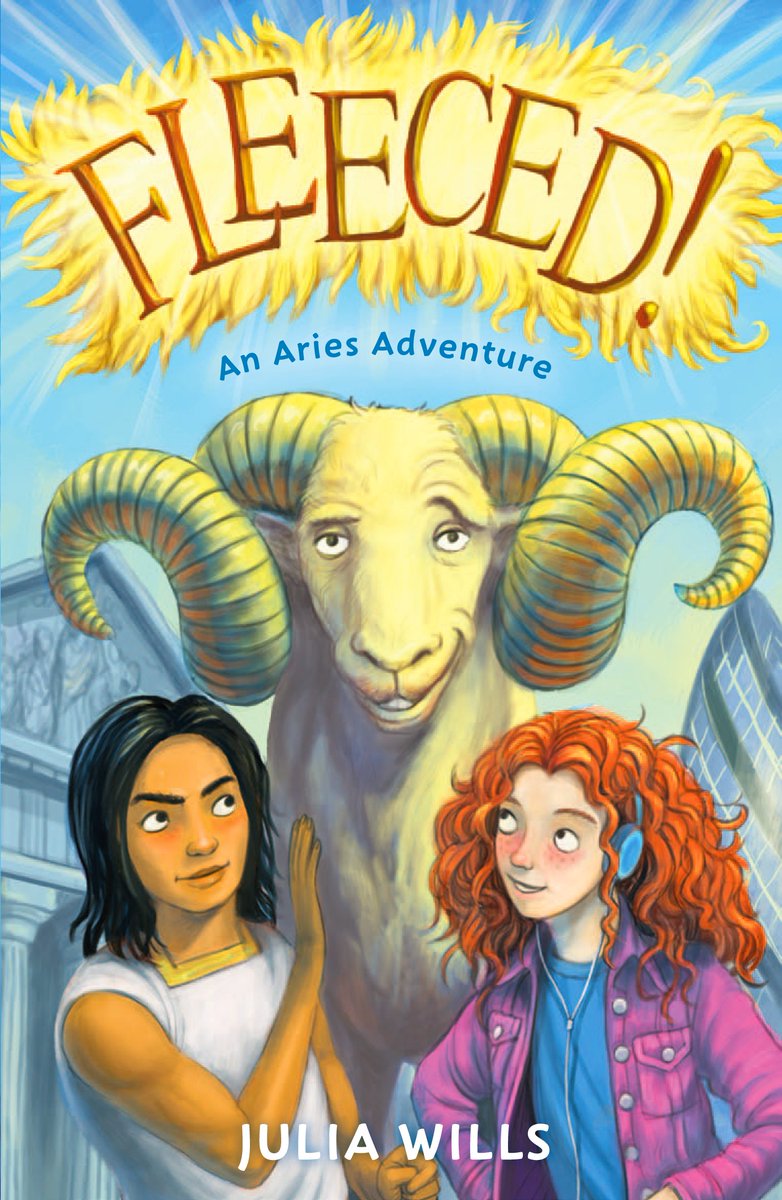 I think that it must have a great appeal to 7–11 year-olds.

 

Do you get feedback from children who have read the books?

 

Do you ever get to meet your readers?

 

I get lots of feedback, and I've been delighted to discover that children love Aries.

 

My debut, Fleeced! was chosen for the 2014 Summer Reading Challenge by the votes of a number of children's reading groups around the country, which was wonderful.

 

I've also had lots of letters, e-mails and pictures about Aries, and great feedback from teachers, parents and librarians.

 

Most touchingly, one mum contacted me to say that Fleeced! was the first book, without pictures, that her autistic son had read and loved, and that he was already on to the sequel, Rampage! 

Giving children the key to reading, and to the magic of books, is what it's all about.
Choosing the myth to write about must have been great fun – why this one? I chose Jason and the Argonauts as my starting point because it had all the ingredients of a great myth: the handsome hero determined to wrest back his stolen kingdom; a talking ship; a band of Greece's greatest heroes; oodles of godly help; and a lonely sorceress who helps Jason defeat fire-breathing bulls and a man-eating serpent. In fact, all it lacked was a ram – specifically the bald, ghost one left snorting with rage after Jason's theft – and Fleeced! puts that right.
I love the fact that you have chosen your hero to be not a person but an animal – was this a real challenge from a writing perspective – finding the right voice? Aries is a classic comic figure because there is a huge gap between how important he feels he is and the way that everyone else sees him. He clings to the fact that he is a fabulous animal with a glorious past, but everyone else simply sees him as a big, bald sheep. This is what makes him funny. However, capturing his vulnerability as well as his pomposity was trickier. Not to mention researching sheep behaviour, temperament, digestion, appearance, breeds and diet!
How authentic did you feel you ought to be or had to be for your audience? Aries is a fantasy character but his problems are real and understandable. He is bullied in the Underworld and the hurt he feels about that, although wrapped up in his fiery indignation, is real enough. The reader warms to Aries because they sympathise with him. And despite his prickliness, he has loving friends, people who will help him no matter what, so we know that he is good at heart.  This is borne out by the way his character changes through the story, as he comes to understand what is really worth fighting for and what it means to be a hero. The message of the book is nestled deep, but it resonates through the tale, and gives the reader that something extra.
Further to that, how much research did you have to do and was it a challenge to mix the ancient myth with modern reality. Loads. I did an awful lot of research about Greek myth, ancient history and, for book two, the Amazon rainforest. I must have filled several lever-arch files with notes. However, as well as understanding who's who, and what the heroes and gods and monsters did, reading the myths gave a great insight to the way the ancient Greeks lived and thought, what mattered to them, and how they decided on their values. 
It was a challenge to mix the ancient myth with modern reality, not least, as the Ancient Greeks would have been bewildered by today's London. This was a great source for humour, making them classic 'fish out of water', but it also gave them something in common with Rose, the modern London schoolgirl they meet, because the world they come from and its stories are just as alien to her. 
The covers are great.

 

I know we should not use them to judge, and I didn't, but they really capture the characters.

 

Were you involved in the design? 

Yes, I was lucky enough to be asked during the process.

 

I think Leo Hartas, the illustrator, has done a wonderful job and I particularly love the animosity he's captured between Jason and Aries on the cover of

Rampage!

 

You can almost hear the anger crackling between them!

The mix of modern and ancient is great. There is a careful balance and it is made clear that when the characters are using modern imagery, language etc, that Aries doesn't really understand. Did you do this to add to the comic element?  Certainly. Both Aries and Alex are bewildered by the modern world, but whilst Alex is a thinker and worries about protecting them both, Aries is far more concerned with finding something to eat and making life less uncomfortable. This highlights their characters, their conflicts and makes for humour.

Aries certainly thinks a lot of himself. Was he a good character to write? Was it easy to find his voice? Aries is the voice of the outraged, ill-treated, fabulous creature and he speaks for the Minotaur, Hydra, Medusa and all the others, the creatures that were lopped, bopped and chopped down by the heroes. Whilst the others sulk in their enclosures in the Underworld Zoo, Aries continues to rage against the unfairness of it all. He is proud and he sees the world through his own self-importance. Understanding his frustration, and continued daily annoyances in terms of his larger than life personality made it easy to find his voice and opinions.

Our readers always like to know if their authors have any writing quirks, are only authors or do another job?

Quirks:

I am a tea dragon and always have a steaming mug in front of me and generally a stash of Custard Creams or Tunnock's Teacakes.

Other work:

I'd love to be a full-time writer, but it doesn't pay well enough. So, I have always had a day job too. In the course of my career I've been a photo librarian for a Texan oil company, a market researcher for Unilever, a secretary at Oxford University, a primary school teacher, and am currently a legal secretary in a firm of solicitors.

Are you planning further adventures in the series? I have a great idea for a third episode, one that would be set in the Underworld. But my mind is busy simmering on a number of other ideas at the moment too. Watch this space!

And any other books – what can we expect to come our way in the future?

Definitely. I'm not sure if it will be another Aries adventure, as I have a brilliant idea for another escapade, or something quite different – but whatever it is, it will be full of laughs!