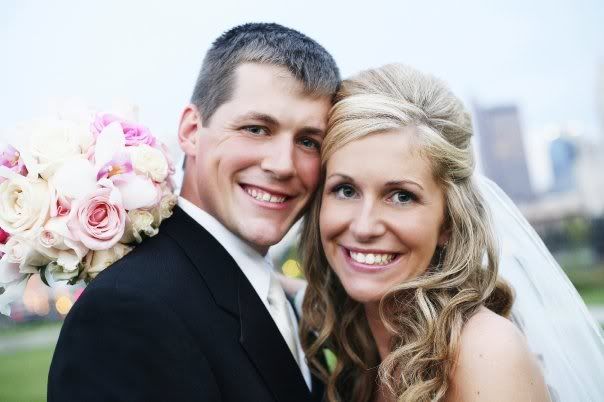 Our wedding was the most amazing and joyful day of our lives! Nothing went wrong ... there were a few things that didn't necessarily go according to plan, but everything turned out great! Things that would have normally been a big deal went unnoticed. We were in complete euphoria and just happy to be married! My husband was by my side through the whole planning process. He went with me to vendor meetings and we made every wedding decision together, so to see our day come together was special to both of us.
My favorite memory of the day is when I started walking down the aisle and I locked eyes with Matt. From that point, I didn't see anything else. I didn't see any of the guests or the wedding party. I couldn't stop smiling. As we stood at the altar, listening to our priest speak, Matt and I mouthed the words "I love you" over and over. I took in every moment of our ceremony. I listened completely to Father Michael as he spoke so eloquently. I soaked in every word. And as I said I do, I meant it with my whole heart. I was told by someone that during your wedding ceremony, you don't really hear anything because it's all a blur. Well, mine wasn't like that at all.  I heard everything and took in every moment, every word.  When we were pronounced husband and wife, we walked past our loved ones, hand in hand, and again, I don't remember seeing anyone except Matt. Our day perfect.
***if you use any of my photos, please credit me***
Our wedding sign my hubby made! This was his contribution to our DIY madness.
Alison Feamster worked her magic on me...
My accessories
My amazing dress... 
my personalized dress label :)
dress time!
 It really did take a team effort to put on the dress!
almost there...
________________________________________
the funnest girls you will ever meet..
my little sister was being innapropriate as always ;)
silly girls!
not to be outdone...
my sisters..
team bride huddle!
there is something about this photo that I just love...
 ________________________________________
I loved loved loved my hair brooches and my gorgeous flowers!
on my way to church...
off to rock and roll!
 ________________________________________
isn't he so just handsome?
Opening my gift... He had no clue what he was in for!
this expression is priceless :)
yupp, you guessed it- bpics!
and a thoughtful card...
 Boys on their way to church...
and a chest bump for good luck!
let the show begin...
Our adorable mini-mi's!
Our parents...
 my amazing and wonderful Mom
 DH's Mom and Stepdad
 DH's dad and stepmom
Beautiful Bridesmaids..
My Dad and I...
 seeing my husband for the first time was my favorite part of the whole entire day
my husband waiting patiently
very bittersweet :)
this is where matt, my dad and I were all crying. such an overwhelming feeling. :)
We had a traditional Greek Orthodox Ceremony
i love this! :)
the new mr + mrs!
hah, i was very pumped!
yippie!
________________________________________
Just some of the DIY projects we took on!
i designed the bubble tags and my hubby tied them. They matched our dance floor lighting :)
The escort cards I designed to match the reception. Hubby freaked out when I said each one had to be cut, then scored, then folded. But it all worked out ;)
our beautiful head table with custom gobo lighting, that I had to have :)
our DIY table numbers and CD favors :)
'signature drink' table tents that I designed and we placed at each table
I love love love how beautiful our reception hall looked!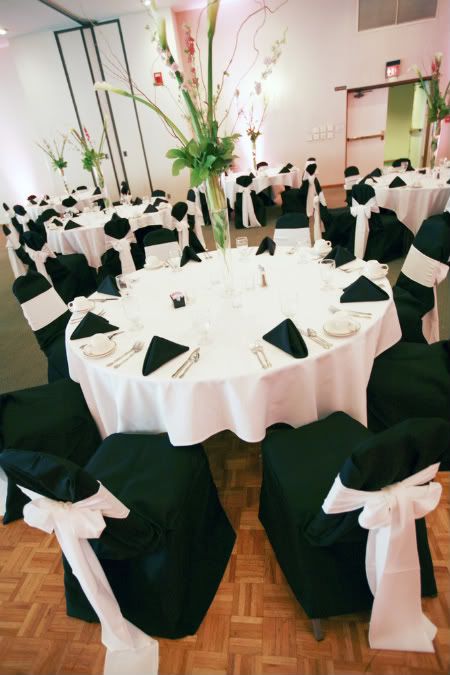 ________________________________________
________________________________________
the new mr.+ mrs!
hubby + wife!
we did it!
I was pretty excited, can you tell?
time to party!
Toasts + Speeches!
Our two best men, Matt's brother and his childhood friend since grade school
Our two maids of honor, my beautiful little sister and best friend
our reactions to my sister's speech...
I was crying happy tears and matt was laughing at her silly stories!
DH's mom made a slideshow for us as a suprise...
Cutting The Cake!
We had a french vanilla cake with fresh raspberry filling and it was yuuuuuummy!
Waching my DH closely! He is a troublemaker :)
haha, well done!
First Dance As Mr. + Mrs
We danced to "When You Say Nothing at All"
my paparazzi :)
our dance lessons paid off!
whispering sweet things...
i love this man!
And then it was time to party!
garter toss! the guys were all lined up...
silly hubby- gotta love this face!
my expression says it all ;)
hubby plays football, so i think he thought he was throwing a football
he jumped about 5 feet into the air for it... well deserved!
our adorable flower girl was a dancing machine!
they sure know how to party!
i think my hubby picks his friends based on their ability to dance ;)
but my girls have moves too!
DH's brother has a future on dancing with the stars :)
bumpin' and grindin'
 the usual Ryan move
maybe raising the roof?
action shot!
even my beautiful grandma got on the dance floor!
and you know it's a good party when my dad gets down...
Thank you for visiting!