Master Bedroom
Want to hear more about our Master Bedroom? Read all about it in A Bed That Could Break My Arm.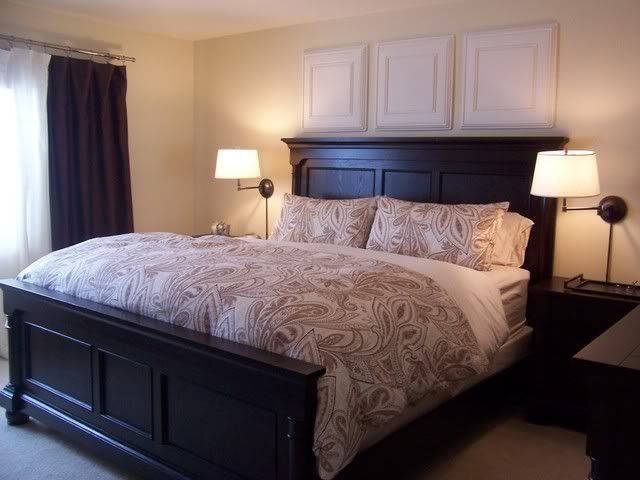 Swing-arm bedside sconces from Pottery Barn.
Window treatments & close-up of our bedding from Crate & Barrel.
The dresser and chest---I love the drop ring pulls!
Our Master Bedroom Walk-In Closet
My Christmas present from DH in 2007—I love it so much! It's the Closet Maid system from Home Depot. I designed the layout, and he did all the installation. I took pics before he finished installing the upper shelving, but there are now shelves above my double-hanging rods & the long-hanging rod.
My Side
I have a tower for my shoes, with 2 drawers for my tank tops, double hanging rods, and another shelving tower for my sweaters. I have a little stool (on the floor, next to shoe tower) to reach the things on the top shelf (which isn?t installed on my side yet, but will be soon).
My shoe tower--there is a pull-out basket at the bottom for my flip-flops & shelving for my boots. The middle section has 2 drawers for tank tops. The top half has slanted shelving for my heels. Shoes I don't wear as often are stored across the very top in plastic bins.
DH's Side
He has a large corner shelving unit, which holds his shoes, T-shirts, sweatshirts, and jeans, a double hanging rod for his clothes, and a tie/belt organizer on the end.