Kitchen
Interested in finding out more about my kitchen? Read A Lot of Wine Went Into This Kitchen and Open Shelving Is My Nemesis, plus related posts for details!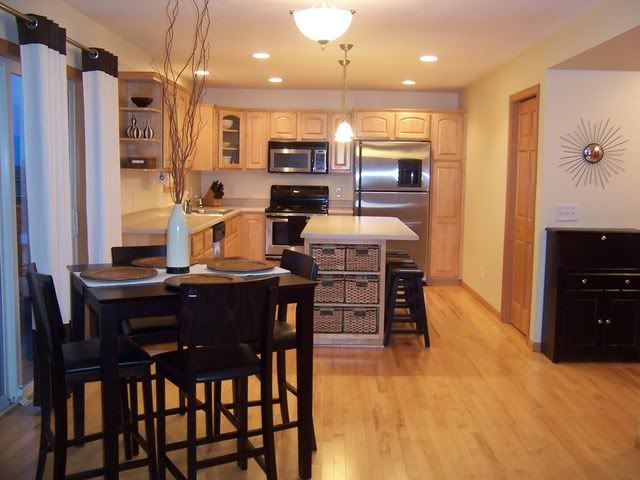 Customizable (and cheap!) seagrass rug from World Market.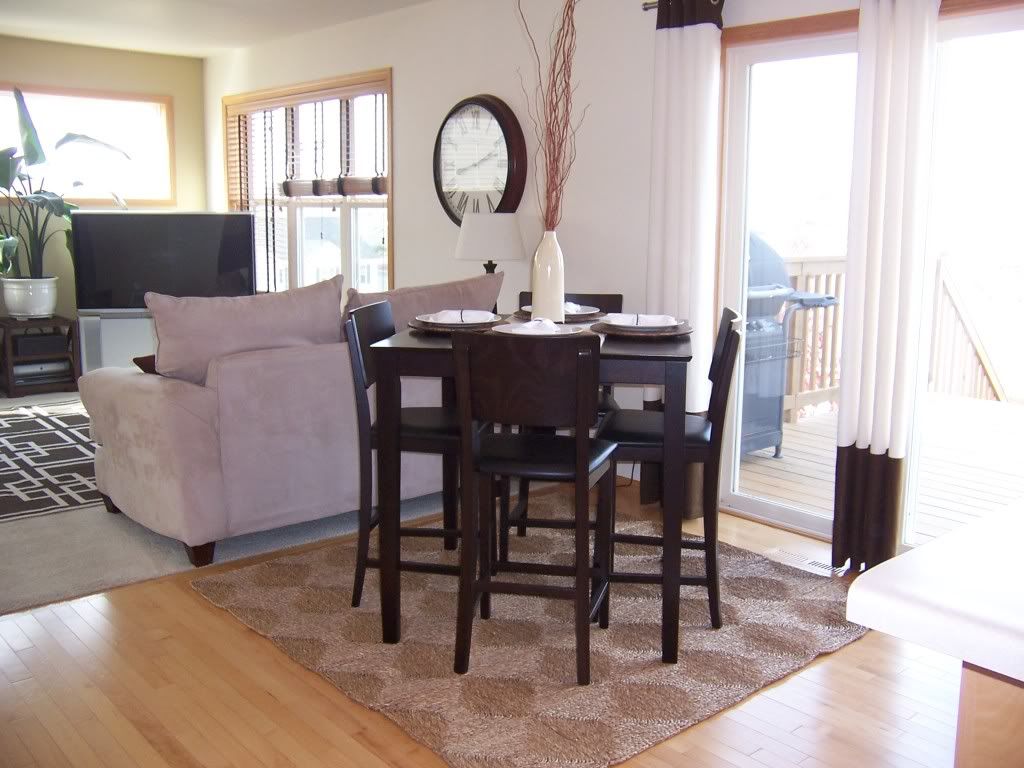 Close up of tablescape and chargers. The table, which is counter-height, has a butterfly leaf and opens to seat 6.
Close up of the panels over the patio door & the open shelving at the end of the kitchen cabinets.
Kitchen Organization
I installed this pull-out SS bin under the sink for cleaning supplies. Cabinet organizer/divider (from www.stacksandstacks.com) allows me to store my pans and cookie sheets upright (so they slide right out) vs. having to stack everything. Much more convenient.
My little spice cupboard. I painted the inside of the door with magnetic paint and bought these magnetic jars at BB&B which are perfect for spices. My most commonly used spices are now on the door for easy access.
Living Room
Want to know more about my living room? Read 64 Throw Pillows & Only 1 Living Room for the details!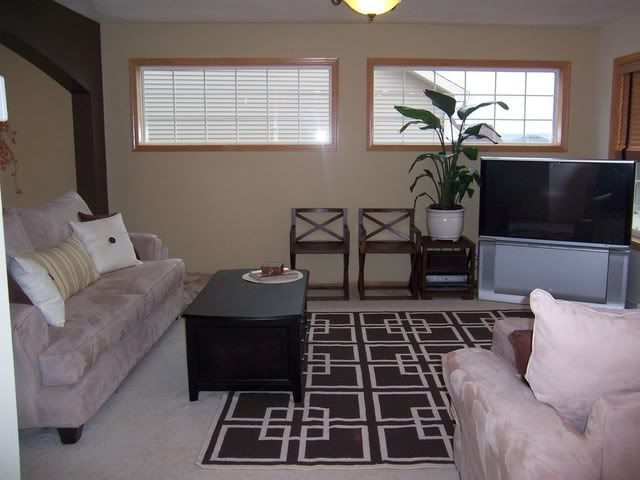 View of the LR from the Kitchen.
End table with built-in magazine rack and pull-out coaster tray.
Dining Room in the background.
Dining Room
Check out Anatomy of Our Dining Room for the inside scoop on how this room came together.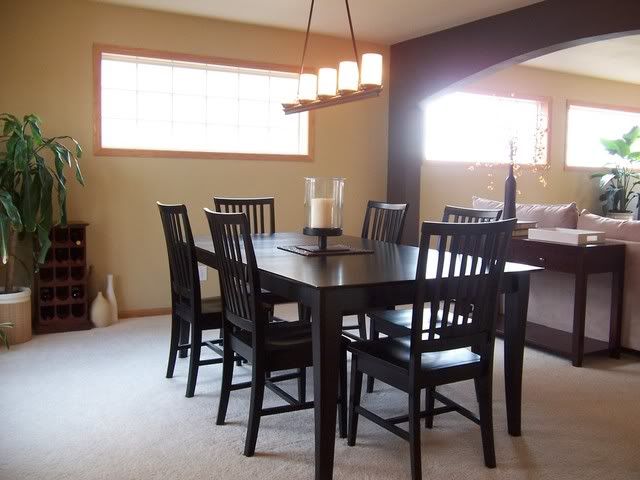 View from the Living Room.
Our table expands and can seat up to 12.
Close-ups of centerpiece, window treatment & wine rack.
Close-up of floor to ceiling Photo Gallery
Console table/sideboard & view into the Living Room.
Entryway
Read more about our Entryway at: It's All About The First Impression.
This is the view when you first walk through the front door.
DR & LR to the left, hallway to the kitchen in front, and stairs to the upstairs on the right.
Pic 1: Coat Closet. Pic 2: Stairs going upstairs.
Powder Room
This room WAS just plain white, but not anymore! Before & After:
Floor to ceiling stripes.
Vanity and shelf (from BB&B) under the sink to maximize storage space. Six-paneled pocket door.
Close up of my perfect stripes!
To find my instructions for painting perfect stripes, check out: I've Never Met a Stripe I Didn't Like.
Master Bedroom
Want to hear more about our Master Bedroom? Read all about it in A Bed That Could Break My Arm.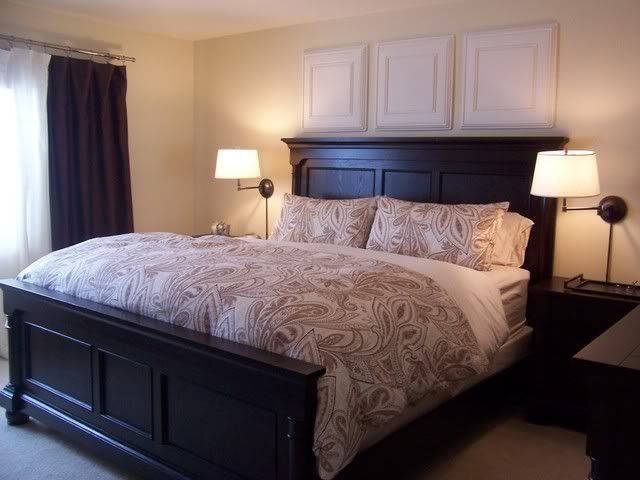 Swing-arm bedside sconces from Pottery Barn.
Window treatments & close-up of our bedding from Crate & Barrel.
The dresser and chest---I love the drop ring pulls!
Our Master Bedroom Walk-In Closet
My Christmas present from DH in 2007—I love it so much! It's the Closet Maid system from Home Depot. I designed the layout, and he did all the installation. I took pics before he finished installing the upper shelving, but there are now shelves above my double-hanging rods & the long-hanging rod.
My Side
I have a tower for my shoes, with 2 drawers for my tank tops, double hanging rods, and another shelving tower for my sweaters. I have a little stool (on the floor, next to shoe tower) to reach the things on the top shelf (which isn?t installed on my side yet, but will be soon).
My shoe tower--there is a pull-out basket at the bottom for my flip-flops & shelving for my boots. The middle section has 2 drawers for tank tops. The top half has slanted shelving for my heels. Shoes I don't wear as often are stored across the very top in plastic bins.
DH's Side
He has a large corner shelving unit, which holds his shoes, T-shirts, sweatshirts, and jeans, a double hanging rod for his clothes, and a tie/belt organizer on the end.
Master Bathroom
Bathroom Organization
This white cabinet was an over-the toilet cupboard, but a leg broke in the move. So we chopped off the other leg, flipped it upside down, and now it sits on the floor as additional bathroom storage.
These cabinet shelves (from www.stacksandstacks.com) screw right into the door and are perfect for easy access to products. I have one for hair products and one for face products. I love them!
Main Guest Room
Check out Our 'I Don't Get It' Guest Room to find out more about how this room is coming together--including instructions for my DIY wall arrangement behind the bed.
Almost finished with this room! I'm painting a dresser that will go in here and still need to do window treatments and accessories, but it's slowly progressing. More to come!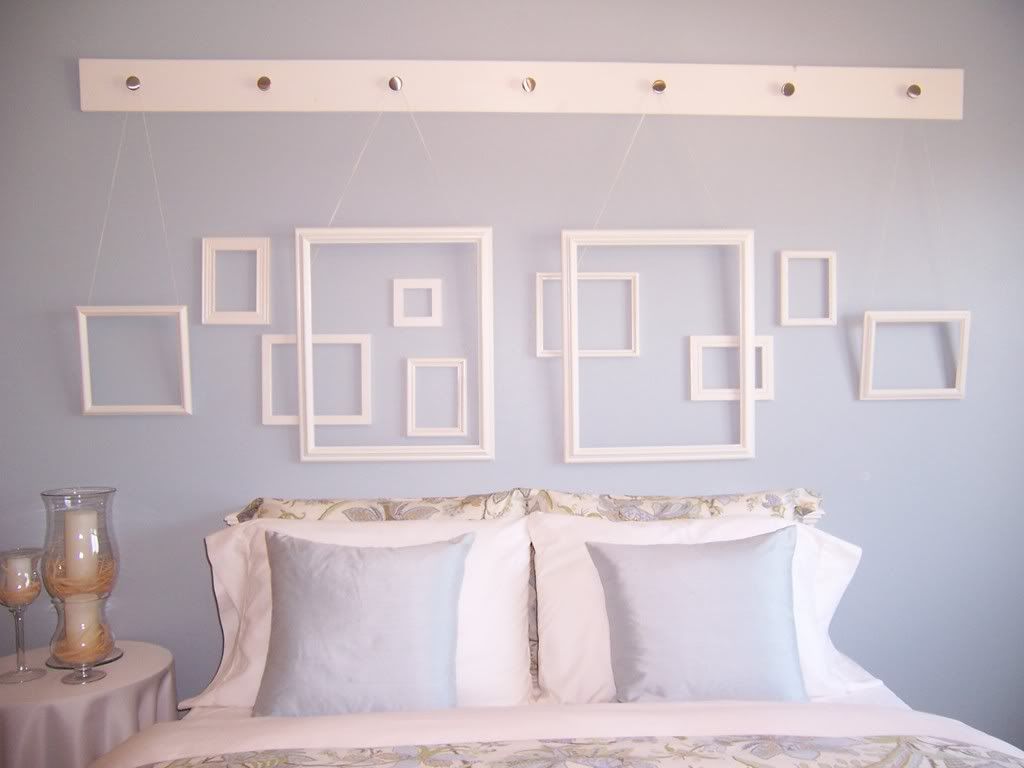 I got these risers for under the bed.  They raise the bed up an additional 6" for added storage underneath and a long bedskirt hides them.
The Circle Room
Find out more about The Circle Room--as well as instructions for making a DIY tufted upholstered headboard--by clicking HERE and HERE.
Another guest bedroom, inspired by my little sister who sleeps here when she comes to visit.  Still need to do some accessorizing, but here's what I've got so far: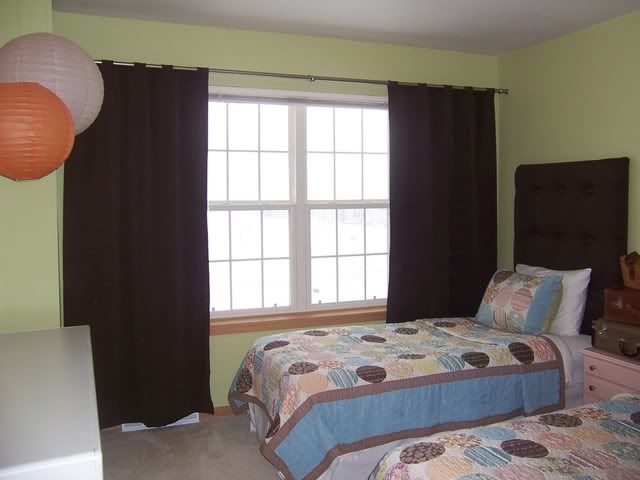 Close ups of paper lanterns, DIY tufted headboard, & bedding.
4th Bedroom
Our 4th bedroom is currently being used as an office with a futon, but it will eventually be the nursery and we'll move the office downstairs to the lower level.
Close ups. I got the Nate Berkus wooden panels on clearance at LNT for only $10 each (originally $80 each!!). They were white with a black frame and I spray painted them ivory.
Linen Closet
The canvas totes are from BB&B and they store various linens. Each basket on the upper row stores a complete sheet set for a specific size bed. We have 4 different sized beds in our house and it was so difficult to keep track of the king size vs. the queen size, vs. the full size, etc. Now they're separated out in their own basket and labeled.  I love it!  The lower row of baskets holds things like hand towels, cleaning rags, and guest toiletries.
I hated these doors and wanted to replace them w/paneled doors, but I changed out the clunky wooden knobs to these sassy chrome ones and they look so much better!
Man Room
The Lower Level, a.k.a. The Man Room.  When we moved in only the dry wall was done down here.  Over the past year, we've put the texture and paint on the walls & ceilings, had carpet installed, did trim, all interior doors and electrical, and put in a wet bar. This is the view when you first walk in. We have full exposure with a walk-out to the lower deck.
Pic 1--Close up of DH's bobble head collection. Pic 2: DH's high school football helmet, and above it a b&w pic of his HS football team that I had enlarged as a surprise for him.
Coffee table DH built a couple years ago. These are pics of the tabletop, which we did together. We cut out various b&w sports pictures from a book, pasted them on the wood and then poured a clear epoxy over it. It turned out so neat! Then he added casters so it's more mobile, and I upholstered the sides.
View of the other side of the room. You can see the wet bar on the left and DH's "poker table" in the center. The door in the background is the 5th bedroom. We bought unfinished cabinetry for the bar area and stained it ourselves. We did 2 coats of walnut stain and one coat of mahagony to get this cappuccino similar to our entertainment center
The hallway leading back up to the steps. The first door to the left is the 3/4 bath, the longer doors is a large storage closet.
Other side of the hallway leading back up to the stair. DH's Wall of Fame--autographed sports photos. The door at the end of the hall is to the laundry room and storage. Close-up of DH's Wall of Fame.
4th Bathroom
This 3/4 Bathroom is on the lower level, off the Man Room. DH and I did the ceramic tile floor ourselves.