---
Although not a frequent visitor to sites about fetish bondage, on the occasions I have explored these I cannot fail to notice that the images there are not unlike those in older medical orthopaedic textbooks. I am left wondering why they look so similar - is there a reason?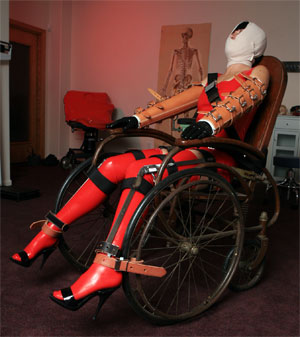 In the world of fetish bondage the leather or rubber straps and buckles seem to be about restriction, tightness, immobility and helplessness for sexual pleasure. They are also about the look, feel and smell of the materials - see the utter complexity of straps and harnessing in some of this gear. Many men and women love dressing up in this kit. It is a sort of roleplay and they very much enjoy the sensations that flow from it. Bondage and BDSM are not always the same: many people like the sense of restrictiveness and helplessness from being in bondage clothing, but are not in the least bit interested in sado-masochism. They wish to be bound tightly in leather straps and buckles to give them and their partners sexual pleasure either through submissiveness or dominance. To be enjoyed it has to be mutual and reciprocated. For many, there is something powerfully erotic about being helpless and bound but this is certainly not everyone's "cup of tea" as we say on this side of the Atlantic!

In the medical textbooks about orthopaedic appliances, leg-braces or spinal braces are shown providing support for damages limbs and/or to aid recovery or movement. Many orthopaedic appliances are also restrictive too, especially those designed in earlier times. Some of the orthopaedic appliances used to correct spinal deformities resemble medieval torture equipment! Also, the similarity between some forms of orthopaedic traction apparatus and some of the equipment used in bondage play is uncanny.

Image linked from http://www.medicaltoys.com/


Many of the suppliers of leg-braces for wannabes have commented to me that some, but by no means a majority, of their customers ask them to make the braces look complex with lots and lots of straps and buckles: the greater the degree of complexity the better they are liked. In these cases the leg-brace is being used as a fetish object. For these people it is the experience of bondage, albiet in orthopaedic appliances, that appeals.

For others the requirement is just to use a leg-brace akin those used by children and adults with polio they knew when they themselves were young. These customers want to experience what it is like to be disabled, to get "inside the skin" of a physically disabled person. Sadly the experience can rarely mimic all aspects of physical disability so the experience is only distantly similar to the reality. For these people - I believe a majority - it is probably not a fetish object at all but an altogether different psychological need that is being addressed.

Do some forms of fetish bondage wear have their origins in orthopaedics? Is there a subconscious force at work here too? Do some of those who enjoy fetish bondage also have memories of helpless children years ago unable to walk because of polio? Is it an attempt to be the child they never were? Is the wish to be bound and helpless actually a cry for acceptance, recognition, love and caring?

This is a difficult area that I'd like to explore further, with your help. The coincidences may be just that, or there may be more to it. I'd very much appreciate hearing your views.