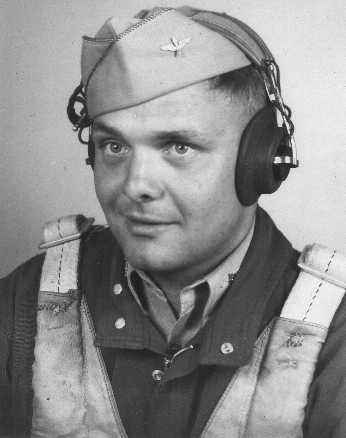 (Above) Junior Gossell answering questions at the WWII History Round Table at Fort Snelling
Junior H. Gossell, Co-pilot. Boeing B-17G, United States Army Air Forces, Eighth Air Force, 487th Bomb Group, 836th Bomb Squadron, Lavenham, England. European Theater of Operations. WWII Service 1942-1945
Drafted into the infantry in 1942. Transferred to the Aviation Cadet program. Completed flight training in the Fall of 1943. Flew with his crew to Wales. Flew 20 combat missions in March, April, and May of 1945.
A Chronology:
Born: October 8, 1917, Verndale, Mn
Obtained pilot's license through the Civilian Training Program while in college.
Graduated from St. Cloud Teacher's College 1942; Teaching Degree
July 12, 1942 Pre-induction tests and physicals: Ft. Snelling
Inducted into US Army
Camp Robinson, Little Rock Arkansas: Basic Training
Assigned Fort Lewis, Washington: 40th Infantry Division of Engineers. Missed the troop movement.
Camp Stoneman, Pittsburg, California
Camp Knight, Oakland, CA loading and unloading freighters
Took Aviation Cadet Exam
Furlough to Mn for Christmas Dec. 1942
Oakland then ordered to Santa Anna, CA for Preflight School. Class 43-J.
Completed Preflight school 4-14-43
King City, CA Primary Flight Training
June 1, 1943 sent to Chico, CA for Basic training
Yuma, AZ for Advanced and Multi-engine Training
Commissioned 2nd Lt on 11-3-43
Ardmore, OK for B-17 Training
Colorado Springs, CO Final hearing on flying status
Lincoln, Nebraska crew assignment
Dyersburg, Tennessee: Crew training
Assigned to 487th BG, 836th BS, near Lavenham, England
Training missions in England
First mission: March 8, 1945 Chaff mission
20 Missions plus 1 abort.
Promoted 1st Lt. mid July, 1945
Ordered to return to the US
Camp Miles Standish, Compton, MA
Camp McCoy, WI
Given leave and A-Bomb was dropped before needing to report for B-29 training at McDill AFB for duty in the Pacific.
Discharged August 16, 1945
To read an account of his time in service and many experiences, see Don Ward's book, The Greatest Generation of Silver Wings (2004) pp. 25-34. ISBN 0-9654964-0-8. The Memorial Press.
See also the
Online Transcript of a videotaped  interview which was a later Presentation to 8th AFHS-Mn
(Above) From a display prepared by high school students who interviewed Larry. See Norma Ley's webpage.
Junior H. Gossell and actors / reenactors shooting scenes for a film by Louise Woehrle about Charles Woehrle using the visiting EAA B-17, Aluminum Overcast. Blaine-Anoka Airport, July 21, 2011. (Junior was asked a lot of questions!)
Bob Clemens and Junior Gossell in front of Aluminum Overcast. Blaine-Anoka Airport. July 21, 2011.
Junior Gossell addressing the 8th AFHS-Mn group. July 6, 2011.
Spook Johns made an accurately marked model of Junior Gossell's B-17.
Junior Gossell recently authored a very successful publication called A Co-Pilot's Tour Guide to the B-17 (Copyright 2012: 8th AFHS-Mn) which points out features of the B-17 that visitors should look for when doing a walk-through of the airplane. All proceeds go to support the Eighth Air Force Historical Society of Minnesota, a non-profit organization. He was also featured in a short article with a photo of him in a B-17 and a video in the St. Paul Pioneer Press of July 3, 2009.
_____________________________________________________________________
Obituary Notice
Gossell, Junior 'JR' H. 
Age 96, of Minneapolis
Passed away on November 15, 2013. Preceded in death by parents, Fred and Lena. Survived by wife of 64 years, Helen; children, Nancy and Julie; brother, Alan; grandchildren, Dylan and Molly and many relatives and friends. Raised in St Cloud, JR entered the service after graduating from St. Cloud Teacher's College. B17 Co-Pilot, completed 20 missions with the 487th Division. Began teaching Industrial Arts/ Painting in 1945 and continued as an assistant principal until he retired from the Minneapolis School Systems in 1977. JR remained active in his retirement. A funeral service will be held on Tuesday, November 19, 2013 at 11 AM at LAKE NOKOMIS LUTHERAN CHURCH, 5011 31st Avenue South, Minneapolis. Visitation, Monday, November 18, 2013 from 3-7 PM at BRADSHAW (McDivitt-Hauge), 3131 Minnehaha Ave. S., Minneapolis. Interment Fort Snelling National Cemetery. - See more at: http://www.bradshawfuneral.com/obituary/Junior-Gossell/Minneapolis-MN/1314547#sthash.7Lzwz5KO.dpuf