(Below) Don McIntyre speaking at an 8th AFHS-Mn Luncheon in 2001.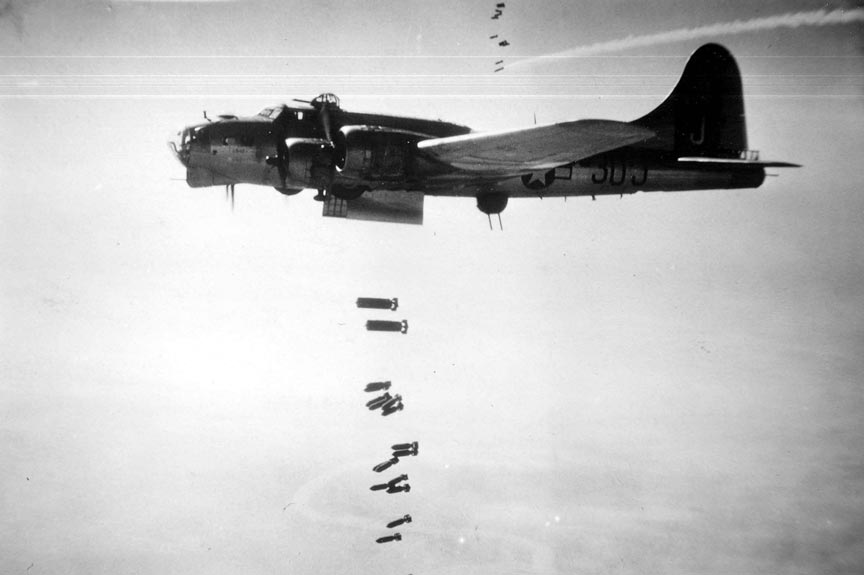 The above photo is of Don McIntyre's plane on March 22, 1945 over Dorsten, Germany and is from the
398th's website
.
Donald B. McIntyre, S/Sgt., B-17G Spot Jammer / Waist Gunner, 8th AF, 398th BG, 306th
BS,  (The Spot Jammer jammed enemy radar from aboard the B-17 and sat near the radio operator.)
Presentation regarding Missions over Germany and to Pilsen, Cz. (Sep.-Oct. 2001)
On April 10, 2006 Vince Parker also recorded an extended conversation with Don about his time in service, which is available as an Audio CD and Mp3 file.
Donald B. McIntyre b. July 12, 1925-d. April 29, 2007 Age 81.
   During WWII, Don was stationed at Nuthamstead, England flying on B-17 aircraft first as a waist gunner and then in the position of Spot Jammer. Spot Jammers were few and operated specialized equipment installed in certain aircraft within each squadron. Their task was to search for and jam enemy radar to try and protect the group from ground attack. The jammer would usually remain with the same plane, not necessarily the same crew.
   Don completed a Bachelor of Science degree at Stout University and worked at the U of Mn eventually becoming Managing Research Engineer in the Research Shop for the Physics and Astronomy Departments where he worked for over 34 years. In the late 1970s he started his own business for a medical implant device he designed and manufactured with American Medical Systems.
   Don was also an avid supporter of the 8th AF, dedicating time and financial support to local air museums, air shows, annual reunions, and plane operation/restoration whenever possible. His camaraderie, sense of humor, dedication, and true friendship is greatly missed by many.
  I have digitized several of Vince's Parker's cassette recordings.
This is Vince interviewing Don McIntyre re WWII electronic jamming
You may need to download a plugin or software to play it inside your web browser, or you can download it to your computer
It is an MP3 file.