1800-1845 Costume Fashion History
Regency to Romantic
1800 Accessories
Fashion History

By Pauline Weston Thomas for Fashion-Era.com

 
Fashion History of 1800s Accessories

The period 1800-1837 is part of the Georgian era.  George III was insane after 1811, but lived on until 1820.  His son the Prince Regent, George, acted as Regent for nine years of the King's madness, then reigned 1820-1830.  Because of the influence of the Georgian Prince Regent, this is early part of the C19th is known as The Regency Period, and in costume history terms the Regency fashion era.  Accessories such as those shown on this page were an essential part of the fashion of the Regency period.

Throughout the Regency Era the lightweight robes needed other garments or accessories to make the wearer warmer. Tulle shawls which were delicate and light particularly suited fine evening dresses. White muslin net shawls embroidered with tambour work were made in Essex where a thriving cottage industry was set up by a Flemish refugee. Not far away Norwich produced silk warp and wool weft twill Norwich shawls which were almost Chinese in design. 

The warmest Regency era shawls were primarily made from cashmere wool.

Genuine Kashmir shawls of the most beautiful quality made from very fine wool with woven and embroidered patterns were considered one of the most useful and attractive accessories. The draped shawls emphasised the classical effects that women in Regency England strived for.  Taste was everything to the gentry of the Regency era.  Other stoles and long slender scarves were also used, but the Kashmir shawl was prized.

An example of an oriental influenced shawl in rich golden hues is shown in the header painting of Madame Recamier. Madame Recamier was a famous French beauty of her day - celebrity is nothing new!

Changing tastes in fashion through the Regency period meant the fashionable way of wearing Kashmir shawls changed with the years.
Right - Fashion plate showing woman wearing a shawl folded in half in 1801.
Left - Two decades later this Regency fashion plate of 1820 shows the lady wearing her shawl as a stole. The swirling Paisley pattern features as a strong border on both the dress and the stole.

Eventually the shawls were copied by manufacturers in Britain and especially by the towns of Paisley and Norwich. Paisley made reversible shawls. Firstly they were woven, but later to cut costs and beat competition Norwich started to print the shawls.

By the Edwardian Era even cheaper printed paisley shawls bought for shillings were worn solely by the lower classes. The once sought after items had become so watered down and universally changed from a true Kashmir shawl that the upper class ladies rejected them.  You are reading an original 1800s Fashion History Accessories article by Pauline Weston Thomas at www.fashion-era.com ©

See the section on lower class use of shawls in Shopping In The Past.

The Regency era had an endless supply of fascinating headwear that became more and more outrageous as the era moved on. When the C19th began a wide range of hats from small caps to enormous ribbon festooned bonnets. These plus turbans, feather trimmed satin jockey hats and poke bonnets were all part of Regency gentlewoman's wardrobe. At night exotic turbans were usually seen. The white satin mameluke turban was trimmed with an ostrich feather and worn early on in 1804. An example is shown to the right below.

Above - Caps and turbans from 1800, 1801,1806 and 1807.

In 1800 caps were worn mostly in the day by older ladies, then in the 1820s young people generally wore them in the day. Some references hint that the morning cap of white cotton covered up paper tied ringlets for release later in the afternoon. 

Poke bonnets like these above right and circa 1816/17 had a soft crown and could be called a capote. Firmer crowned bonnets trimmed with ribbons, feathers, frills and sometimes flowers shown left soon got larger.  The variety and range of trimmings can be fascinating and is always a source of joy when studying Regency era fashion plates.

At the height of the Regency era and beyond 1815 the bonnet size increased until the crown was very big and culminated in the Leghorn style shown right. The name comes from the leghorn straw used. Fabrics such as taffeta silk were ruched and pleated to make flowerpot style hats with wide deep brims. 

Right - Romantic Leghorn Hat 

For reproducing hats today use plastic hat blocks called Hat Shapers and for lots of information on hats, visit Carol Marston's www.hatshapers.com

Throughout the late Georgian fashion era ladies wore a limited amount of jewellery. They liked dainty necklaces and other pieces including combs of jewelled hair ornaments all modelled on original Greek items.  Braided hair was dressed with combs as show in the illustration above of Grecian influenced hairstyles. these date at 1804.
Right - Ornamental Hair Comb 

The women kept hair shorter and cleaner, but enhanced with false ringlets, an ideal style to show off earrings.

After the coronation of Emperor Napoleon and Empress Josephine when the splendid, reset, French royal family jewels were worn, matching jewel sets called Parures once again gained popularity. 

As the Regency progressed hairstyle became much more elaborate and so did the hair jewellery.

 

The reticule bag was a new accessory in the late 1790s because before then, women had carried their pockets about their waist when their gowns had been large enough to hide them. The advent of slender columns of muslin meant that pocket purses could be seen beneath dresses and so the reticule came into fashion.

Left - Reticule Handbags and Purses.

Reticules were pretty small decorative purse like bags, similar to an evening bag of today and they held a lady's belongings.

Some had steel hoops which gave a concertina like framed effect. Still others might be steel mesh trimmed with Pailettes and steel fringe beading.  Others might be circular with ribbon drawstrings and feather trimmed.

Drawstring reticule styles have always been popular since they are easy to self craft. C19th magazines intended for gentlewomen who could read, supplied plenty of how-to ideas for ladies to pass away their days making needlecraft items for personal use.

The handbag as we know it today was established in the Regency era.  By the 1820s the reticules had become proper handbags either soft drawn up leather or rigid and buckled hard leathers or decorative materials.

Dainty Parasols

Folding small fans, and shot silk or taffeta parasols with ivory handles were used as decorative, rather than functional accessories in the early C19th and through the Regency. By the Victorian era parasols were often larger as they were by then more utilitarian and designed to protect the face from sunburn since a suntan was a common vulgar look for a real gentle lady.

The Muff and Tippet of 1804

The Muff

Fur muffs were a strong fashion accessory of 1800, but not of the true Regency period.  By 1811, the massive huge fur, feather or shirred silk muffs which began the C19th  disappeared totally ending the fashion with smaller rounder muffs. But by the nature of the muff there is always some volume.

Left - 1804 Fashion accessory - Huge dark fur muff, probably beaver and a pale fur tippet for the neck.

The tippet was a long slender boa fashion accessory used to wrap the neck area.  It was worn at various times, by all classes, at some time in the 19th century. By the end of the century it took on a 'gaiety' girl effect, especially when made from inferior materials.

It was a fancy version of the scarf and could be made of swansdown or fur. Worn initially by the gentlewoman of c1800 it was eventually favoured by poorer woman of the 1890s.

Right - A Swansdown Tippet Worn With Above Elbow Evening Gloves. 

By night ladies wore the longest of gloves reaching right to the tiny sleeves. By day short gloves that matched dresses were best.
You are reading an original 1800s Fashion History Accessories article by Pauline Weston Thomas at www.fashion-era.com ©

Cloaks and mantles or mantelets were three quarter length or full length. Winter cloaks like this red cloak mantle of 1827 left were fur lined. 

Witzchoura Mantle

About 1808 the Witzchoura mantle a fashion from Poland was a fur trimmed three quarter length mantle with wide open sleeves. This is true Regency fashion.

Far Right - Blue fur trimmed Witzchoura mantle of 1821.
Left  - A Witzchoura Mantle from the Regency Era 1821.

Below -  Witzchoura Mantle from the later Romantic Era showing actual lines and a fashion plate of 1835 showing a brown mantle. The sleeves show mantle development in line with the huge sleeves of the 1830s Romantic era. The look has more relationship with later Victorian fashions.

You are reading an original 1800s Fashion History Accessories article by Pauline Weston Thomas at www.fashion-era.com ©

For more information on mantles see my section here :-

Costume History - Cloaks, Mantelets, Pelisses, Redingotes, Paletots

The flat or low heeled pump that replaced 18th century heeled shoes was an accessory fashion for forty years in Great Britain.  throughout the Regency era the shoe was often trimmed with a bow or rosebud.  These shoes were made of soft kid, cloth or silk and were very flimsy, so wore out easily.  They were basically little more than ballet slippers. The flat sandal sometimes had ribbon ties that were crossed over the leg reaching to the calves. They were almost too fragile to wear and were mainly worn in the evenings or indoors.  The half boot was worn for outdoors.

Above  - Dainty slipper low pump shoes of 1807.

Then about 1810 as the true Regency era began, the flat soled boot was worn by fashionable women for general wear. These were attractively made of coloured leather or leather and fabric or the same fabric as pelisses.  In a short time boots became so usual that even bride's boots and dancing boots were made.  Proper walking for gentle ladies other than in landscaped gardens was unknown. Pumps were not made for anything other than a tiled promenade. 

1800s Style Contribution to Fashion Accessories of Today

Several of the accessory items on this Regency page are still some of most used accessories today. Many have come in and out of fashion as new styles arise. Yet, some accessories are enduring for their utility whilst managing to combine daintiness and prettiness within the item.

Pashmina shawls plain and patterned have become a fashion classic. Hair ornaments - barrettes and decorated combs continue to be useful.  Short and long tippets regularly appear each winter as that exotic cover up that both keeps the wearer warm and nods to fashion. Some fashions like the umbrella became totally utilitarian for twenty years contracting and shortening until they are frequently no more than 6 inches in length. But now they are being hailed as fashion accessory again and pagoda style versions also very popular in the 60s have once again re-emerged.

Flat ballet shoes were all the modern rage 200 years later in the noughties, but most enduring of all is the reticule bag accessory. The small dainty evening bag has never really gone out of fashion. It is always a must-have accessory for any special occasion and the finishing touch. Fascination with the reticule has been intense in the past 5 years with the minaudière reaching a new generation.  Re-enactors will always find these simple accessories available in fashion stores today, making dressing up in the world of Regency England or Jane Austen so much easier.

 

The Romantic Era 
1825-1845 Fashion History

By Pauline Weston Thomas for Fashion-Era.com

 
The Romantic Era - Fashion History
The neo-Gothic influence in fashion history dress fashions was at its peak during the Romantic Era between 1825 and 1835. The romantic spirit in fashionable dress lasted until the late 1840s.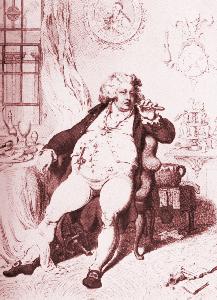 After the Napoleonic wars became a memory, French fashion was dominated by a new wave of Anglomania.
The British writings of Sir Walter Scott and Lord Byron helped popularise a thirst for a more romantic image. There was a snobbish attraction on the continent for all things English, cultivated and refined. 
Many of the attitudes toward the 'Art Of Dress' had been codified by Beau Brummell in his relationship with the Prince Regent. The rules and refinements of manners set at that time were built on and developed by the middle classes of Europe who sought to gentrify themselves.  
Left - Picture of the overweight Prince Regent.
Until 1820 dress waists had been round, but in 1828 the bodice waistline took on a V-pointed form. Even so it was the late 1830s before every lady sported the fashion for long pointed bodices. Evidence in museums suggests that real women were still wearing and making dresses with a slightly raised waistlines well into the 1830s despite the low waist illustrations of fashion plates. 
Beret sleeves were cut from a circle. There was an opening in the centre for the arm and this was gathered and bound into a band. The outer circle was gathered and set into the armhole. Sometimes a sheer oversleeve of silk embroidered shimmering gauze covered the beret puff. Generally the beret sleeve was worn for evening.  
The arms and décolletage along with the highly desirable and visible sloped shoulders left some women feeling quite undressed and exposed. So gauze sleeves became very fashionable by the mid 1820s and were worn until the sleeves subsided to new styles. 
The sleeves of the Romantic Era are the main feature and were built on an inverted triangle bodice. The bodice décolletage was so exposed by the pull of the wide sleeves that it really showed off the chest, throat and the sloping shoulders.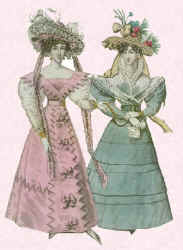 The full length gigot or leg of lamb sleeve or the gigot de mouton known as the leg of mutton sleeve, was first seen in 1824. The long sleeve pattern was cut on the true cross of the fabric. It was rounded at the top, increasing to greater size.
Left - Romantic gigot sleeves C1826
After 1825 the decade saw sleeves billow to huge proportions by 1833.  They came to typify the look we now associate with the costume of the Romantic Era.
By the mid 1830s the enlarged top cap was sagging with its own enormity. There was so much material that the fullness initially held up with inner stiff buckram support or 'crin' horsehair fabric began to flop. The buckram was replaced with either whalebone hoops in a cotton cover or feather filled pads. When by 1835 the supports stopped being effective the sagged fabric volume collapsed down the arm and merged into a new sleeve fashion.  
Over a few years after 1836 the Romantic sleeve fullness inevitably worked its way down the sleeve giving a much tighter top arm and more fullness at the elbow. Next the elbow fullness dropped to the wrist and excess material was gathered into a rouleau or band creating a new sleeve shape. 
By 1840 early Victorian day sleeves could be quite slim fitting. 
By 1845 the shoulder line of dresses showed that a new fashion era was in the making. Tight sleeves were set into a low small armscye restricting women's arm movements and increasing the demure mannerisms we associate with Victorian women. 
Large romantic wide hats, ornately trimmed with feathers, loops of ribbons and bows complemented the wide shoulder lines of the 1830s. For evening many married ladies liked to wear gauzy silk, satin and velvet exotic turbans or berets especially on one side of the head. The turbans they twisted up from scarves, but as a fashion they were dead by the 1840s.
Bonnets were virtually interchangeable with hats, so little difference was seen between the types. Loose uncut ribbon ties were a feature of the bonnets and by 1828 both bonnets and hats were quite vast affairs. Coal scuttle  bonnet styles with deep crowns accommodated the high Apollo knot coiffure and were a great feature of the Romantic Era. 
Pelerine collars came in several  variations. Their similarity was that each covered the very wide shoulders and could aid modesty. The first style was a fine white collar embroidered or lace trimmed and which looked like a cape. The pelerine grew wider as it spread over the increasing shoulder line of gigot sleeves. It accentuated the shoulder width and made the waist of the 1830s look very small and was a popular feature of dress in the Romantic period. 
The width of the lace pelerine reached about 31 inches when at its widest fashion and the pelerines were sometimes attached to a chemisette which was a sleeveless side opened blouse fastened at the waist. Another name for this item was a tulle canezou. 
In the second version if the lace pelerine had long front ends, it was called a fichu-pelerine. These ends could be crossed at the front waist and tied at the back waist. 
Another later mid 19th century variation was a fashionable long fronted little shoulder short backed cape mostly made of velvet or wool, trimmed with fur and worn as an outdoor garment. 
Skirts were a source of endless variation. Skirts were gored into panels between 1820 an 1828, so that width could be added to hemlines whilst keeping the waist clear of bulk. They were first stiffened with horsehair about 1815 and gradually padding adding was added. The padding backed the lower six inches of the skirt.
Decoration of stuffed rouleau tubes, Italian quilting and flounces and frills were added to push out the skirt hem width in an architectural way. It also shortened the dress to reveal the ankle at the same time. Women's fashions took on a pert cheeky air.
When all forms of decoration had been exhausted just the padded hems remained by about 1828. 
Gores disappeared at the same time and from then on skirts were made from straight panels of dress material pleated and gathered to waistbands. The silhouette changed and lost its overall puffiness by 1835. The skirts began to get rounder and more bell like, setting the scene for the Victorian Era. 
With the return of the waist women had to wear stays. Once again they returned to tight lacing to make the waist look narrow and pinched in to balance the wide skirts and wide shoulder line.
Stays were made from cloth layers that had whalebone inserted in channels. Corsets were intended to emphasise the natural curves rather than create a false silhouette. Little gussets at the hips allowed for roundness rather than trying to flatten the line. Small shoulder straps were made detachable and the wearer could wear the stays with more revealing necklines.
Over the stays women wore a chemise and a waist petticoat. As the skirt expanded the robust linen or cotton petticoats increased in number. They supported crisp firm silk or woollen materials and in summer or indoors cotton chintzes and muslins. 
Click here to go to the section on 19th Century foundations called Crinolines.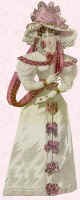 By 1831 the pelisse robe fashionable since 1818 was worn almost as a house dress. After 1848 this day coat-dress was called a redingote as fashion writers had called it for many years.
As a dress the pelisse robe was supplanted by the pelisse mantle in the 1830s. Sleeves on the pelisse robe were too big to wear under coats so shawls and cloaks were more practical. The pelisse mantle was the ideal answer during the Romantic Era. It was an interlined warm deep cloak and was the most used outer garment in chilly weather remaining fashionable until 1845. 
Left- Romantic Era white redingote 1826
Women's hair between 1825 an 1845 was elaborate and ingenious. The most modish hair fashion was the 'Apollo Knot', a striking style tending to lean to one side. Another lesser style was the 'Madonna' coiffure with the centre parted and built up with ringlets at crown and sides. Some even thought this style too elaborate, even when it was mostly worn for evening.
Apollo Knot Hairstyle so typical of the Romantic period.
There are many fashion plates and paintings that show both these styles because they were so typical of the age.
Compared to eras where the dating of dresses can be confusing the Romantic Era has quite definite periods of style variations that make it fairly easy to date garments to within a few years.
Occasionally students confuse the period 1892-1896 fashions because of the similar fashion for leg of mutton sleeves. They are similar, but if you look really closely you will see they are not at all alike. As I have suggested elsewhere on the Fashion-Era.com site always look at the hairstyles and headwear of the wearer of the garment. Hairstyles and hair ornamentation give a very definite feel of an era.
The frizzed and curled hairstyles of the Naughty Nineties are quite different from the demure centre hair partings, coiled Apollo top knots and ringlet loops of the Romantic Era.
Mid-Late Victorian Fashion and Costume History
1860-1901

By Pauline Weston Thomas for Fashion-Era.com

 
Mid-Late Victorian Fashion and Costume History
We arrive at 1860 with four significant facts that were to seriously affect fashion of the future. Firstly the sewing machine had been invented, secondly clothes would in future become couture design led, thirdly synthetic dyes would make available intense colours.

Fourthly in 1860 the crinoline domed skirt silhouette had a flattened front and began to show a dramatic leaning toward the garment back.
Charles Worth thought the crinoline skirt unattractive.  However, he is associated with it, as he did manipulate the style, as a result the shape soon changed to a new trained, softer bustled version, which only the really rich found practical.
Right - Dress designed by Charles F. Worth for Empress Elizabeth of Austria and painted by Winterhalter in 1865.
In 1864 Worth designed an overskirt which could be lifted and buttoned up by tabs. This top skirt gave a lot of scope for added ornamentation and by 1868 it was being drawn and looped right up at the back creating drapery and fullness.
In 1866 the new Princess gown also changed the line of fashionable dress. The Princess gown was cut in one piece and consisted of a number of joined panels fitted and gored from shoulder to hem that gave the figure shape through seaming.
The Gabriel Princess gown with a small neat white collar was mainly made in grey silk and followed the fuller skirt lines of the era. This is the dress style often used to depict the constrained buttoned up repressed governess character of Jane Eyre in films. Later Princess styles were slimmer and much more form fitting. Sleeves in day dresses were often of a banana shape.

By 1867 with the fullness bunched up to the back of the skirt creating a polonaise style, crinolines and cages suddenly disappeared evolving into tournures or bustles. The bustles supported accentuated drapes on the hips. 
Left - Women in the Garden by Claude Monet 1866-7.   The Louvre Paris.


After 1868 Worth's overskirt really caught on in England and contrasting underskirts and gown linings were all revealed as the over top skirt was divided or turned back. Other top skirts were called aprons and they were also draped making the wearer look like a piece of elaborate upholstery. Rounder waistlines were fashionable and waistlines even began to rise very slightly.  On the left a tiered soft bustle ball gown of 1872.   Right - Apron style tablier top layer half skirt over bustle. 
From 1870, ball gowns always had a train. Soon by 1873 the train was seen in day dress. 
By 1875 soft polonaise bustle styles were becoming so extreme that the soft fullness began to drop down the back of the garment and form itself into a tiered, draped and frilled train.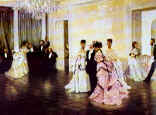 Trains were very heavily ornamented with frills, pleats, ruffles, braids and fringing. The sewing machine instead of simplifying sewing, just became a tool to add more ostentation. 
Left - Painting 'Too Early' by James Tissot 1873 - Guildhall Art Gallery UK.
The other main feature of the style change was the introduction of the cuirasse bodice which dipped front and back extending a little over the hips. By 1880 the soft bustle styles of the 1870s had totally disappeared. 
By 1878, women of the late Victorian era have a very different look about them compared to earlier Victorian women.
The soft polonaise style bustle styles were replaced by Princess sheath garments without a waist seam with bodice and skirt cut in one. The Princess line sheath had a bodice line similar to the very tight fitting cuirasse bodices which had been getting longer and longer.
Right - Slim fitting trained dress with cuirasse bodice 1876.   By 1878 the cuirasse bodice reached the thighs.
By 1878 the cuirasse bodices had reached the thighs. The cuirasse bodice was corset like and dipped even deeper both front and back extending well down the hips creating the look of a body encased in armour.

By 1880 the two ideas merged and the whole of the dress was in Princess line style with shoulder to hem panels. The silhouette was slim and elongated even more by the train. No bustle was needed for the cuirasse bodice or Princess sheath dress, but a small pad would have helped any trained fabric to fall well. 
Left - The cuirasse bodice of 1880 reached the hem actually becoming the princess panel dress.  It made an exceptionally form fitting draped sheath dress which was elongated even further by the train.
The slimline style needed good dressmaking skills to get a flattering fit. When done well it was attractive, but all too often swathes of fabric were wrapped and arranged across the garment in an effort to disguise poor dressmaking skills. It was not a very practical garment and only really suited to the very slim and those who did not have to work. As a fashion it barely lasted 3 years.
Suddenly out of nowhere in 1883 a new jutting out shelf like style of bustle appeared. It had been shown in Paris in 1880, but as a fashion took off later outside of Paris. It reappeared even larger than ever as a hard shape that gave women a silhouette like the hind legs of a horse as shown in the page heading. 
Right - The second hard bustle style 1883.
The new bustle dress had a different look. It had minimal drapery compared to the former and a slimmer more fitted severely tailored princess bodice, with a much flatter front. What drapery there was, was tidily arranged at the front of the dress as a small apron. Soon even that disappeared. For support the spring pivoted metal band Langtry bustle gave the correct foundation for the wider skirts. See Crinolines and Bustles.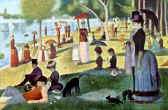 Right -La Grande Jatte by Georges Seurat 1884-6.  Art Institute Chicago.   This later bustle fashion was very moulded to the body and the heavy corsetry gave an armour like rigidity to the silhouette. The pointed bodice began to look quite tailored.
 Tailored garments had been introduced in 1874 and their influence on design was subtle, but led eventually to the tailor made suit so fashionable in the 1890s. 

In 1887 the sleeves were still slimmer, plain and close fitting. The sleeves look like quite a different style than on the bustle dress of the 1870s which had sleeves that would not have looked out of place on dresses of 1860.
By 1889 silhouette changes now couturier led were changing more rapidly and the sleeve developed a very slight leg of mutton outline which soon needed support. 
Right - Dress of 1889 showing signs of elevation at the sleeve head.

It's interesting to note how late Victorian women embraced the sharper tailored jacket fashion which gave them a different posture with a more confident air reflecting the ideals of early female emancipation. Other military and more tailor made styles of jacket were also popular. Some dresses also had a more severe air about them.
Left - Tailor made suit of 1895.
There are similarities in the period 1885 with 1985 when women also showed their strength in the corporate workplace with Power Dressing through more masculine tailored, shoulder padded clothes. A similar broad shoulder trend occurred in the Utility Clothing era of the 1940s when women did work usually thought of as men's work. 
The gowns of the 1880s were almost always made in two colours of material. Vivid colours such as deep red, peacock blue, bright apple green, royal blue, purple, mandarin, sea green were used alone, in combination, or in tartan fabrics. Some colour combinations were very strange. 
At night ladies evening dresses were in softer hues and although they were extravagantly trimmed in contrast fabrics and very décolleté, they followed the general line of fashion.

Gradually the skirt widened and flared as the fullness of the bustle began to fall into pleats down the garment back eventually disappearing to nothing.
As before the bustle foundation softened until only a small pad was left by 1893. The armour like hour glass figure soon developed into the S-Bend shape corset which set the Edwardian Corsetry silhouette until 1907-8. 
Left - Evening gown with train 1890.
The leg of mutton sleeves continued to develop and sprouted high above the shoulders, By 1895 the sleeves swelled into enormous puffs similar to those of 1833. As happened in 1830 to balance the huge shoulders the skirt widened and flared, whilst keeping the waist tight and handspan narrow.
Queen Victoria's influence over fashion was long gone. people who were in mourning still followed court guidelines on mourning dress. The real royal influence in fashion was the wife of the Prince of Wales, Princess Alexandra. Together they set the tone for society and fashion in the last decade of the century in the 1890s and into their own reign of the Edwardian era from 1901 to 1910. Read more detail about the era 1890-1914 in the section La Belle Époque 1890-1914 Fashion and The Mood of Edwardian Society.
Early Victorian Costume and Fashion History 1837-1860

By Pauline Weston Thomas for Fashion-Era.com

 
Early Victorian Costume and Fashion History 1837-1860
This is an overview of fashion history of the early Victorian era and can be read in line with other related topics. Much fuller details of petticoats styles are given in Crinolines and Bustles.
Movements like the Rational Dress Reform Society and the Aesthetic Dress Movement highlight positive and negative reactions to industrial and technical applications happening in Victorian society. In terms of Victorian fashion history this also brought changes in women's position and dress.
You'll also find other relevant information in sections like Jewellery, Make up, Shopping in the Past, Chambre Syndicale, What's in a Name as well as the social effects on Victorians, Victorian Recreations, A Woman's Place in the 19th Century, Victorian Homelife Changes, The Seaside and Fashion Dolls. 
Queen Victoria reigned from 1837 to 1901 and was succeeded by her 60 year old son Edward the Prince of Wales. At the start of the Victorian era most fashions lasted about a decade, but mass communications and mass production both improved so much that by 1901 the history of fashion was moving in a yearly cycle. 
Illustrations of Victorian clothes of the last 20 years of the C19th can be dated to within a year or two. Looking at the section on Crinolines, Bustles and S Bends Corsets would help those new to costume to understand the subtle changes in dress and hairstyles and how to spot the changes from a fashion history point of view. For theatrical and re-enactment work there are clear distinctions in dress in every Victorian decade. 
The look of demure prim gentility was emphasized by the loss of the great hats in 1835 for bonnets. Great hats had given a flirtatious air to clothes and their replacement by bonnets changed the whole character of day dresses. Lavishly trimmed bonnets stayed in fashion for half a century and weren't worn much after 1890.

In 1836 Gigot sleeves collapsed abruptly and so costume began to develop the sentimental 'early Victorian look' we associate with Queen Victoria's early rule. Prim sentimentality was emphasized by the popular ringlet hairstyle. 

Left - The early sentimental Victorian look often used to depict ladies of the era, c1838
By 1840 the collapsed sleeve was much narrower, but still retained a restrictive seam line on the dropped shoulder. The early Victorian tight fitting pointed bodice was much longer and had a very small tight fitting waist. All the boned bodice seam lines and trims were directional to emphasize the small waists. The boning also helped stop the bodice from horizontal creasing.
Right - Slimmer fitting sleeves of plainer, more streamlined early Victorian dresses of 1838.
By 1845 the boned bodice was even more elongated into a V shape and the shoulder sleeve seam line drooped even more. This meant that an early Victorian woman's arm movements were restricted. The limited range of arm movements increased the appearance of demure vulnerability and helplessness we so often associate with Victorian femme fatales. Softer more demure plain colours and small delicate dimity patterns helped to add a neat ladylike quality to gowns.
A Victorian woman could also emphasize modesty by wearing freshly laundered detachable white collars and false undersleeves called engageantes. Both were often made of delicate whitework and gave an air of refinement and daintiness.
After being absent for a decade the cashmere shawl was brought back into fashion about 1840. Because the new version was larger it acted as an outer wrap and when folded in half and draped over the shoulders would reach almost to ground level in some cases.
Cartridge pleats were used at first to draw up the skirt fabric in 1841, but after 1846 flat pleating the fabric gave more overall hemline width. To make the skirts appear wider, extra flounces were added in the early 1840s to evening dresses and by 1845, flounces and short overskirts were a regular feature of day dresses. 
As bell shaped skirts of the 1830s became wider and they began to also look dome shaped. By 1842 they needed a great deal of support from extra petticoats. The wider skirts were supported by stiffened fabrics like linen which used horsehair in the weave. 
'Crin' is French for horsehair so the word crinoline suggesting a crin lining was used for any garment area that was stiffened to give shaped foundation. Strip hem linings and a sleeve head are just two examples where crin was used. Later by 1850 the word crinoline began to mean the whole of the beehive shaped skirt. It was then only another step to call the later artificial or cage hooped support frame petticoats after 1856, crinolines.  

The cut of the low shoulder line filled in to the neckline by day followed through to evening dresses. Evening dresses totally exposed a woman's shoulders in a style called the 'bertha'. Sometimes the bertha neckline was trimmed over with a 3 to 6 inch deep lace flounce or the bodice neckline was draped with several horizontal bands of fabric pleats.

Right - Typical domed appearance of   petticoat supported Victorian crinoline dress and child's confirmation dress of 1851.
Lace bertha neckline 1856 very usual on early Victorian evening dress.
All this exposure was restricted to the upper and middle classes. Victorian working class women would never have revealed so much flesh. The décolleté style meant that the shawl became an essential feature of dresses. In the early Victorian years time corsets also lost their shoulder straps and a fashion for producing two bodices, with a closed décolletage for day and a décolleté one for evening.
Using a separate bodice to skirts meant that a tighter waist could be achieved.  This fashion for two piece costumes, but known as a dress lasted until about 1908.
Six petticoats at least were needed to hold the wide skirts out. The cotton, flannel or wool petticoats used under one skirt could weigh as much as 14 pounds, so clothes were uncomfortably hot and heavy in summer. 
The American Mrs. Amelia Bloomer denounced the style that needed so many petticoats, suggesting a bifurcated garment as a solution. You can read more about Mrs. Bloomer and emancipated dress in the section called Rational Dress Reform.
Another American W .S Thompson took out a patent on a cage frame in 1856 and then marketed a steel frame cage crinoline throughout Europe. It freed women from excessive petticoat weight, although a top petticoat give a softer foundation for the dress skirt. It let women's legs move freely beneath, but it could be unstable in gusts of wind, so it was fortunate that women had universally adopted the wearing of drawers some years before. Petticoats were always cut following the line of the top garment. Skirts among all classes began to look rounded, like gigantic domed beehives and soon they reached maximum size. Freed from excess petticoat weight women began to gain a jaunty spring in their step.
Within a few years the crinoline was improved when it became articulated and various modifications such as subtle flattening of the front created a less domed more pyramid effect by 1860.  Read more about the fashion history of the crinoline here.
To balance the effect of the cage crinoline, sleeves were like large bells too and sometimes had open splits allowing for lavish decorative sleeve hemlines and detachable false undersleeves called engageantes. Engageantes were often made from fine lace, linen, lawn, cambric or Broderie Anglaise and were easy to remove, launder and re-stitch into position.
Right - Engageantes - false detachable undersleeves.
It is these distinctively styled sleeves that help date the first softer polonaise bustle when looking at illustrations. Charles Worth was responsible for many interesting sleeve styles of the mid-Victorian era. 
In 1856  William Perkin did some experiments and discovered Mauveine an extract from  coal tar. Mauveine was a bright purple dye synthesized under laboratory conditions and it revolutionized the textile industry. Perkin made a fortune from his discovery of aniline dyes. 
Other dye colours such as magenta and brilliant blue were soon on the market and in 1856 the Frenchman Verguin discovered fuchsine. When the dyes were used on silk the colours sang with vibrancy, but could also be garish when seen next to naturally dyed fabrics. 
Brighter fashion colours were soon in use, but there were some like the Aesthetics who reacted against the brasher tones.
In 1857 the Englishman Charles Worth set up a Paris fashion house at 7 Rue de la Paix a then unfashionable Paris district. In 1858 he made a collection of clothes that were unsolicited designs. He showed the clothes on live models and when people bought his original designs he became a leading fashion design couturier of the Victorian era. Until that time fashion details and changes were suggested by the customers. The House of Worth became a leader of ideas for the next 30 years.
Haute Couture during the Victorian period was an ideal foil for conspicuous consumption. Fragile gauze dresses decorated with flowers and ribbons that were made for wealthy young women were only intended to be worn for one or two evenings and then cast aside as they soiled and crushed so easily. Silk flowers, froths of tulle and pleated gauze trims would have emphasised the innocence of virginal girls whilst signalling their availability on the marriage market. Such conspicuous waste and conspicuous consumption were hallmarks of Victorian high living.
Older, married more senior women wore statelier fabrics like heavy satins, crisp silks and plush velvet. It was thought good etiquette to dress according to one's position in society and that also meant not wearing clothes more suited to a younger woman.  
When researching fashion history it is important to remember that ordinary women were dressed in a much more subdued manner.  Many would mainly wear occupational dress or household serving uniform.  You can see images of Victorian fashion
Victorian Fashion Pictures
By Pauline Weston Thomas for Fashion-Era.com