News
Subscribe to posts

Fr. Jerry Pokorsky blesses 'The Baptism of Our Lord,' an icon created by Annandale artist Veronica Royal.
Bold blues, deep greens and delicate, precise lines drew parishioners' eyes to the new icon inside St. Michael Church in Annandale. With Christ at the center, His head encircled by a golden halo, "The Baptism of Our Lord" is the fruit of an ancient tradition given fresh life.
Father Jerry J. Pokorsky, St. Michael pastor, commissioned iconographer Veronica Royal to create the piece earlier this year, and he blessed it at the end of the noon Mass Sept. 28.
The blessing was held the day before the parish's feast day and coincided with the annual parish picnic.
"Father Pokorsky wanted a traditional icon; he wanted something that if people stood in front of it, they could understand it and be drawn into prayer," said Royal, a parishioner of St. Ambrose Church in Annandale.
"I've always thought that icons are beautiful," said Father Pokorsky, who first met Royal and her husband during his mid-1990s assignment at St. Ambrose. So when he decided St. Michael Church needed an additional work of art, he knew exactly who to ask.
The 6-by-4 1/2-foot icon hangs to the right of the altar in front of the baptismal font — a commanding piece that complements the image of Our Lady of Guadalupe on the left.
As she does before beginning any icon, Royal spent hours researching her subject and contemplating the event she was to depict.
During a visit to Rome last April, Royal was inspired by the artwork of the Eternal City, and her vision for "The Baptism of Our Lord" began to unfold.
"Using the canons of traditional iconography, I wanted to create a piece that was cohesive in a more modern space," said Royal. "Even though many want to bring iconography into the 21st century, we've got to follow traditions laid down since the beginning."
Iconography was developed in the second and third centuries, with church tradition teaching that St. Luke was the first iconographer.
Within the Byzantine and Russian traditions, icons typically are painted on wooden panels that are first prepared with gesso — a kind of primer — and painted with natural pigments and egg. Acrylic often is used in Greece, as is canvas rather than a wooden board, especially for large pieces. In present-day iconography, wall paintings usually are completed in a studio, brought to the church and glued on the walls. For "The Baptism of Our Lord," Royal used acrylic on canvas, and the work was framed.
Before the paint is applied, the drawing of the icon is called a "cartoon." Royal said the drawing is either transferred by copying it using carbon paper or by freehand. Gold leaf is added in select places, such as for halos, followed by paint, the name of the work and varnish.
Icons never are signed. "The work is offered for the glory of God — not to advance the painter but to advance the church," Royal said.
Like all icons, "The Baptism of Our Lord" is rich in meaning.
"I wanted to portray the visible and invisible," said Royal. The icon is Trinitarian, with the Holy Spirit depicted as a dove above Christ's head, and God the Father conveyed through an opening in the heavens at the top.
An iconographer for about 18 years, Royal conducts a local icon-making workshop, runs a program for the Arlington diocesan Fiat discernment group, teaches classes for Catholic Distance University, and is in the process of writing a three-day seminar on the history and theology of icons.
Many of her icons are painted for individuals and priests to mark special events like weddings and baptisms.
Royal said icons are intended to be present to the viewer in all states of life.
"If you think about Renaissance art, it evokes an emotion," she said. "Icons are not focused on emotions, just like our faith is not focused on how we feel. It is there for you in all states — when you're sad, when you're happy, when you're contemplative, when you're angry, when you're searching."
Kathryn Rizzardi, a St. Michael parishioner, said initially she felt "The Baptism of Our Lord" was a little unusual. "But then it draws you into it," she said after the blessing. "It captures the essence of the baptism."
And that's exactly what Father Pokorsky and Royal hope the piece will continue to do.
"How often do we consider the story of the baptism?" said Royal. The icon "reminds us that it's Trinitarian, it reminds us of the teachings of John the Baptist, of the real beginning of Christ's journey on earth. It reminds you that there's another sphere that we should consider."

"An icon — bright, striking colors without shadows suggesting timelessness — is the visual version of a dogma," added Father Pokorsky. "An icon is a window to eternity."

Find out more

To learn more about Veronica Royal's work, go to her website.




http://catholicherald.com/stories/Prayer-in-paint-New-icon-to-instruct-inspire,27201
Next
Sunday, Oct. 20, 5-6 p.m.
Eastern (
2-3 p.m.
Pacific), Fox Business Network will be airing a documentary on Pope Francis produced by the Knights of Columbus.
The film,
Francis: The Pope from the New World
, features interviews with Pope Francis' friends and associates in Argentina, as well as with American commentators such as Supreme Knight Carl Anderson and members of the hierarchy, including Cardinal Timothy Dolan, Cardinal Sean O'Malley, Archbishop Charles Chaput and Archbishop Jose Gomez.  
The world has been fascinated by our new Holy Father, but many people still do not fully know the man who is now our pope. This film introduces viewers to Jorge Mario Bergoglio — the man who became Pope Francis — and his life story, from his childhood and patronage of his local soccer team to his vocation and time as a priest, bishop and then cardinal archbishop of Buenos Aires.
As Knights, standing in solidarity with our Holy Father, it is not only important that we know him but that we help others to know him, and that we support him in the work of the New Evangelization. If we follow Pope Francis' charitable witness, we have the opportunity to change the world.
Please make the time to watch this inspiring film and invite others you know to also view it.
For more information on the film, visit
PopeFrancisDocumentary.com
Attention High School students.
Stay tuned for the essay contest starting soon. 
Current high school seniors in Catholic, public, and private non-Catholic high schools are encouraged to apply for college scholarships sponsored by the Knights. See
http://www.

kofc

.org/en/scholarships/index.html
to obtain scholarship application. Contact
DGK
Joseph A.
Provenzano
St. Michael Scholarship Coach
jprov51@yahoo.com
, or GK Joseph
Caporaletti
caporalettis
@
hotmail
.com.
Joe Caporaletti is the new Grand Knight. Come see the whole team under
Leadership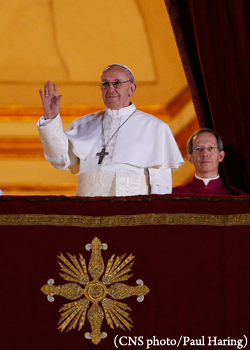 http://www.kofc.org/un/en/news/releases/detail/pope_elected.html
Supreme Knight Carl Anderson and the 1.8 million members of the Knights of Columbus extend cordial best wishes and prayers to our newly elected pope. The election of Pope Francis - the first pope from the American hemisphere - highlights the fact that America is the continent of baptized Christians, and a place of central importance to the faith today. Pope Francis is well known also for his emphasis on charity - the first principle of the Knights of Columbus. Both in our efforts for evangelization and in our charitable work, we will strive with him to bring the light of Christ to the people of our continent during his historic pontificate.
Prayer for the Church
O Lord Jesus Christ, Supreme Pastor of Your Church,
we thank you for the ministry of Pope Benedict XVI
and the selfless care with which he has led us
as Successor of Peter, and Your Vicar on earth.
Good Shepherd, who founded Your Church
on the rock of Peter's faith
and have never left Your flock untended,
look with love upon us now,
and sustain Your Church in faith, hope, and charity.
Grant, Lord Jesus, in Your boundless love for us,
a new Pope for Your Church
who will please You by his holiness
and lead us faithfully to You,
who are the same yesterday, today, and forever.
Amen
The names of those who pledged to pray will be brought to the Installation Mass for the new Pope.
sign up at http://www.prayerforthechurch.com/en/index.html