Announcements
Rent
-
a
-
Senior
 Day is coming up soon! Bidding will open next Thursday, February 7, and close the following Wednesday, February 13. 
Rent
-
a
-
Senior
 Day will occur on Friday, February 15. This is 
a
 wonderful and fun fundraiser for the 
Senior
 Class, and we look forward to all of your support! Bidding starts at $5 per student, and will occur before school, after school, and at lunch in the hallway across from room 111. Please stop by, and even if you don't know our 
seniors
 very well, your help will be very much appreciated

Do you know of a high school student interested in diversity and social justice?
Does he or she have what it takes to be a leader?

If so, please bring his or her attention to the YouthBridge-NY Leaders to Leaders Youth Summit – Register now!
 Click here to apply.

The goal of the Leaders to Leaders Youth Summit is to inspire young leaders to take charge by empowering them with knowledge of the possibilities, skills, and the training they need to turn ideas into action.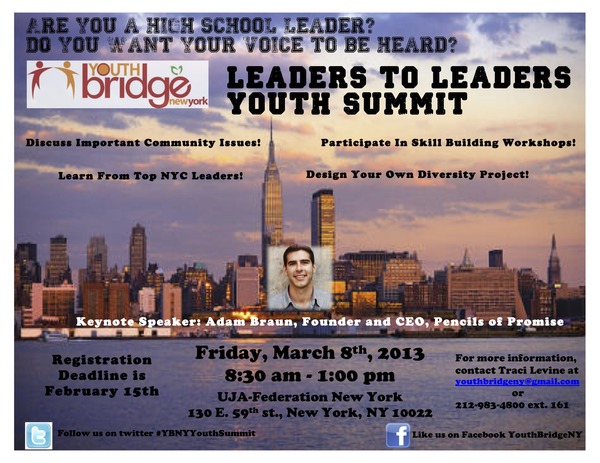 The registration DEADLINE is FRIDAY, FEBRUARY 15th, 2013.  Act NOW - space is limited!
To find out more information about our conference, please visit our website at www.youthbridgeny.org or contact us at 212-983-4800 ext. 161.
Now is your chance to be a part of our 2013 Yearbook. 
All WBAF students will be photographed.  Being photographed is mandatory and students must be in dress code. 
Please be prepared, look your best, and SMILE!
Wednesday, January 9, 2013:
8th Grade: 2nd and 3rd Period
                9th Grade: 3rd and 4th Period
Thursday, January 10, 2013:
                10th Grade: 7th and 8th Period
11th Grade: 6th and 7th Period
Photos will be taken in the basement hallway on the high school side of the building. A student helper will visit your classroom when it is your turn to be photographed.
Any students who are absent on their assigned day will be photographed the following day.
Please see Ms. Kreisberg in room 111 with any questions, and seriously. . . .SMILE!