Books:
Anthony N., Byrnes D., Foufopoulos, J., and M. Putnam. 2008. 
Biological Survey of New Britain Island, Papua New Guinea.
Falcon Art Media, Madison, Wisconsin, USA,
 216 pp.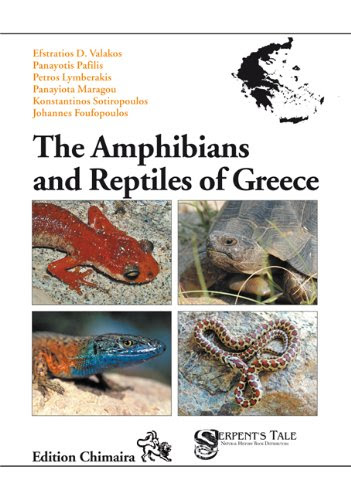 E. Valakos, Pafilis P., Sotiropoulos K., Lymberakis P., Maragou P., & J. Foufopoulos. 2008. 
The Amphibians and Reptiles of Greece
. 
Edition Chimaira, Frankfurt, Germany,
 480pp.
J. Foufopoulos (and 7 other authors) Biodiversity on Paths of Culture in the Lesser Cyclades. 2016. Mediterraneo Editions, Athens, Greece,128pp.
In the News:
Ice-Age Reptile Extinctions Provide a Glimpse of Likely Responses to Human-Caused Climate Change
- Web      - PDF


 Crazy for Critters: A Day in the Life of an RMBL scientist
- PDF


Demokratia News
- PDF


Nea Parou (in Greek)
- PDF 


Investigating Mediterranean Ecosystems: A Student Research Project on the Cycladic Islands of the Aegean Sea
- PDF


Nea Parou (in Greek)
- PDF 


Professor Johannes Foufopoulos (UM, School of Natural Resources) and Dr. Despina Margomenou (Modern Greek Program) Awarded International Institute's Experiential Learning Funding
- Web      -PDF


Study of zoonotic diseases in Africa (Stewards Magazine)


- 

PDF 


Article on Naxos research


- 

PDF 


Article on lab research that shed light on the evolution of island fearlessness (or tameness) in endemic 

island wildlife. 


-PDF
Publications:
Pafilis, P., Sagonas, K., Kapsalas, G., Foufopoulos, J., Valakos, E.D. 2017. Sex does not affect tail autotomy in lacertid lizards. Acta Herpetologica 12(1): 19-27, 2017 DOI: 10.13128/Acta_Herpetol-20245

Foufopoulos J. 2017. Papyrus - The Plant that Changed the World. Book Review in: Bulletin of the American Society of Papyrologists.  54(1): 0-000. (In press).

Santonastaso* T., Lighten J., van Oosterhout C., Jones K.L., Foufopoulos J., and Anthony, N. M. 2017. The effects of historical fragmentation on major histocompatibility complex class II β and microsatellite variation in the Aegean island reptile, Podarcis erhardii. Ecology and Evolution.1–14. DOI: 10.1002/ece3.3022

Foufopoulos, J., Roca, V., White*, K.A., Pafilis, P., and E. D. Valakos. 2017.  Effects of island characteristics on parasitism in a Mediterranean lizard (Podarcis erhardii): A role for population size and island history? Northwestern Journal of Zoology; e161508.

Belasen*, A., Brock*, K., Li*, B., Chremou, D., Valakos, E., Pafilis, P., Sinervo, B., and J. Foufopoulos. 2017.  Fine with heat, problems with water: microclimate alters water loss in a thermally adapted insular lizard. Oikos 126: 447-457 doi: 10.1111/oik.03712.

Hedman*H.D., Kapsalas G., Karameta E., Psonis, N., Poulakakis, N., Foufopoulos, J., and P. Pafilis. 2016. First record of Podarcis peloponnesiacus (BIBRON & BORY, 1833) from outside the Peloponnese. Herpetozoa 29 (3/4) 190-193.

Kapsalas, G., Gavriilidi, I., Adamopoulou, C., Foufopoulos, J., and P. Pafilis. 2016. Effective thermoregulation in a newly established population of Podarcis siculus in Greece: a possible advantage for a successful invader. Acta Herpetologica 11(2): 111-118. DOI: 10.13128/Acta_Herpetol18075 PDF

Itescu, Y.,  Jamison, S., Slavenko, A., Tamar, K., Roussos, S. A., Foufopoulos, J., Meiri, S., and P. Pafilis. 2016. The herpetofauna of Folegandros Island (Cyclades, Greece). Herpetozooa, 29 (3/4) 000-000.

Donihue*, C.M., Brock*, K.M., Foufopoulos, J., and A. Herrel. 2016. Feed or fight: testing the impact of food availability and intraspecific aggression on the functional ecology of an island lizard. 

Functional Ecology 30: 566–575.   

DOI: 10.1111/1365-2435.1255

OConnor, D., Butt, B.,  

and J. Foufopoulos. 2015. Mapping the ecological footprint of large livestock overlapping with wildlife in Kenyan pastoralist landscapes. 

African Journal of Ecology

. 

1: 115-117  DOI: 10.1111/aje.12241 . 

PDF

Laubach, Z.M., Perng, W., Lombardo, M., Murdock, C., and J. Foufopoulos. 2015. Determinants of parental care in Mountain White-crowned Sparrows (Zonotrichia leucophrys oriantha

). 

Auk

. 132: 893-902.

 

  

DOI: 10.1642/AUK-15-9.1

Donihue, C.M., Brock, K.M., Foufopoulos, J., and A. Herrel. 2015. Feed or fight: testing the impact of food availability and intraspecific aggression on the functional ecology of an island lizard. 

Functional Ecology

.

   

DOI: 10.1111/1365-2435.12550
PDF



Slavenko, A., Itescu, Y., Foufopoulos, J., Pafilis, P., and Meiri, S.  

2015. Clutch size variability in an ostensibly fix-clutched lizard: effects of insularity on a Mediterranean gecko. 

Evolutionary Biology,

 42 (2):129-136.

   

DOI 10.1007/s11692-015-9304-0
PDF



OConnor, D., Butt, B., and J. Foufopoulos. 2015. Foraging ecologies of giraffe (

Giraffa camelopardalis reticulata

) and camels (

Camelus dromedarius

) in northern Kenya: Effects of habitat structure and possibilities for competition? 

African Journal of Ecology,  53 (2): 183–193. DOI: 10.1111/aje.12204
PDF



Brock, K., Bednekoff, P., Pafilis, P., and J. Foufopoulos. 2015. Evolution of antipredator defenses in the island lizard species Podarcis erhardii (Reptilia: Lacertidae). The sum of all fears?  Evolution,  69 (1): 216-231.  DOI:10.1111/evo.12555.


Deem, V., and H. Hedman. 2014. Potential cannibalism and intraspecific tail autotomization in the Aegean wall lizard,

Podarcis erhardii. HYLA - Herpetološki bilten

2014(1):33–34. 

PDF

Massey, A., King, A., and Foufopoulos, J. 2014. Fencing protected areas: a long-term assessment of the effects of reserve establishment and fencing on African mammalian diversity. Biological Conservation 176: 162–171.
PDF


Brock, K., Belasen, A., and J. Foufopoulos. 2014. Aegean wall lizard (Podarcis erhardii): Caudal bifurcation. Herpetological Review, 45 (2): 332.
PDF


DePuy, W., Benka, V., Massey, A., Deem, S., Kinnaird, M., O'Brien, T., Wanyoike, S., Njoka, J., Butt, A., Butt, B.,Foufopoulos, J., Eisenberg, J., and R. Hardin. 2014. Q Fever risk across a dynamic heterogeneous landscape in central Kenya. EcoHealth March 2014. DOI: 10.1007/s10393-014-0924-0
PDF


Meiri, S., Kadison, A., Novosolov, M., Pafilis, P., Foufopoulos, J., Itescu, Y., Raia, P., and D. Pincheira-Donoso. 2014. The number of competitor species is unlinked to sexual dimorphism. Journal of Animal Ecology. DOI: 10.1111/1365-2656.12248
PDF


Brock, K. M., Donihue, C. M., Pafilis, P. 2014. New records of frugivory and ovophagy in Podarcis (Lacertidae) lizards from East Mediterranean Islands. North-western Journal of Zoology, 10(1): 223-225. 
PDF


Li, B., Bednekoff, P., Belasen, A., Pafilis, P. and J. Foufopoulos. 2014. Effects of feral cats on the evolution of antipredator behaviors in island reptiles: insights from an ancient introduction. Proceedings of the Royal Society of London B. 281(1788), 20140339. DOI:10.1098/rspb.2014.0339
PDF



Dietz, M.S., C.C. Murdock, L.M. Romero, A. Ozgul, and J. Foufopoulos. 2013 Distance to a road is associated with reproductive success and physiological stress response in a migratory landbird. 

Wilson Journal of Ornithology 125(1) 50-61 
PDF



Donihue, C.M., L.M. Porenksy, J. Foufopoulos, C. Riginos, and R.M. Pringle. 2013 Glade cascades: indirect legacy effects of pastoralism enhance the abundance and spatial structuring of arboreal fauna. 

Ecology 94(4) 827-837 
PDF


 Laubach, Z.M., D.T. Blumstein, L.M. Romero, G. Sampson, and J. Foufopoulos. 2013 Are white-crowned sparrow badges reliable signals? Behavioral Ecology and Sociobiology 67 481-492 
PDF 


Mayer, G.C., J.A. Coyne, J.B. Losos, J. Foufopoulos, N. Shubin, D.J. Futuyma, B.C. Campbell, and S.V. Edwards. 2013 The other revolution in the life sciences. Science 339 1148-1149 
PDF


Murdock, C.C., J. Foufopoulos, and C.P. Simon. 2013 A transmission model for the ecology of an avian blood parasite in a temperate ecosystem. PloS ONE 8(9) 1-14 
PDF


Foufopoulos, J., M. Kilpatrick, and A.R. Ives. 2011 Holocene climate change and elevated extinction rates of northern reptile species from Mediterranean islands. American Naturalist 1 119-129 
PDF      Appendix A.   Appendix B.    Appendix C.


Fuxjager, M.J., J. Foufopoulos, R. Diaz-Uriarte, and C.A. Marler 2011 Functionally opposing effects of testosterone on two different types of parasite: implications for the immunucompetence handicap hypothesis. Functional Ecology 25 132-138 
PDF



Pafilis, P., J. Foufopoulos, K. Sagonas, A. Runemark, E. Svensson, and E.D. Valakos. 2011 Reproductive biology of insular reptiles: marine subsidies modulate expression of the "Island Syndrome." 

Copeia 4 545-552 
PDF


Munoz, N.E., D.T. Blumstein, and J. Foufopoulos. 2010. Immune system activation affects song and territorial defense. Behavioral Ecology, 21: 788-793 
PDF


Murdock, C.C., K.J. Olival, and S.L. Perkins. 2010 Molecular identification of host feeding patterns of snow-melt mosquitoes (Diptera: Culicidae): Potential implications for the transmission ecology of Jamestown Canyon virus. Journal of Medical Entomology 47(2) 226-229 
PDF


Akresh, M., K. Dinse, J. Foufopoulos, S. Schubel, and T. Kowalczyk. 2009. Passerine breeding and post-fledging habitat use in riparian and upland temperate forests of the American Midwest. Condor, 111(4): 756-762. 
PDF


Hurston, H., J. Bonanno, L. Voith, J. Foufopoulos, P. Pafilis, E. Valakos, and N. Anthony. 2009. Effects of island fragmentation on genetic diversity and parasitism in the Aegean wall lizard Podarcis erhardii (Lacertidae, Reptilia). Molecular Phylogenetics & Evolution, 52: 395-405. 
PDF


Lindström, K., O. Dolnik, M. Yabsley, O. Hellgren, B. O'Connor, H. Pärn and J. Foufopoulos. 2009. Feather mites and blood parasites in small ground finches (Geospiza fuliginosa, Emberizidae) from the Galapagos islands (Equador). Journal of Parasitology, 95: 39-45. 
PDF


Pafilis P., Foufopoulos, J. Sagonas, K. Runemark, A., Svensson, E. and E. D. Valakos 2009. Cannibalism as a driver of multiple life history shifts in island endemics. Naturwissenschaften, 96(9): 1107-1113. 
PDF


Pafilis, P., J. Foufopoulos, N. Poulakakis, P. Lymberakis and E. D. Valakos. 2009. Tail shedding in island lizards: Decline of anti-predator defenses in relaxed predation environments. Evolution, 63(5): 1262-1278 
PDF


Roca V., Foufopoulos J., Valakos E.D. and P. Pafilis. 2009. Gastrointestinal helminth communities of the Aegean Wall lizard (Podarcis erhardii ruthveni, Lacertidae) from the Sporades Islands. (Northwestern Aegean Sea, Greece). Amphibia-Reptilia, 30: 493-503. 
PDF



S. Gervasi, and J. Foufopoulos. 2008. Pond desiccation rate affects immune system responsiveness in a temporary pond breeding amphibian, 

Rana sylvatica 

(Wood frog). 

Functional Ecology, 22: 100-108. 
PDF



Foufopoulos, J., and G. C. Mayer. 2007. Turnover of passerine birds on islands in the Aegean Sea (Greece). 

Journal of Biogeography, 34: 1113–1123. 
PDF



Foufopoulos, J., and S. Richards. 2007. Amphibians and reptiles of New Britain Island, Papua New Guinea: diversity and conservation status. 

Hamadryad, 31 (2): 176-201. 
PDF



Gilman, S., Blumstein, D.T, and J. Foufopoulos. 2007. The effect of haemosporidian infections on white-crowned sparrow singing behaviour.

Ethology, 113 (5): 437-445. 
PDF



Kati, V., Foufopoulos, J., Ioannidis, Y., Papaioannou H., Poirazidis, K. and P. Lebrun. 2007. Diversity, ecological structure and conservation of herpetofauna in the Dadia National Park, Greece. 

Amphibia-Reptilia, 28: 517-529. 
PDF



Pafilis, P., J. Foufopoulos, N. Poulakakis, P. Lymberakis and E. Valakos. 2007. Digestive performance in five Mediterranean lizard species: effects of temperature and insularity. 

Journal of Comparative Physiology B, 177 (1): 49-60.
PDF



Brown, R. M., Foufopoulos, J. and Richards S. 2006. New species of 

Platymantis

(Amphibia; Anura; Ranidae) from New Britain and redescription of the rare 

Platymantis nexipus

. 

Copeia, 2006 (4): 674-695. 
PDF



Brown, R. M., Richards, S., Sukumaran, J., and Foufopoulos, J. 2006. A new, morphologically cryptic species of forest frog (genus 

Platymantis

) from New Britain Island, Bismarck Archipelago. 

Zootaxa, 1334: 45-68.
PDF



Foufopoulos, J. and N. Litinas. 2005. Crows and ravens in the Mediterranean as presented in the ancient and modern proverbial literature. 

Bulletin of the American Society of Papyrologists, 42: 7-39.
PDF



MacDougall-Shackleton, E.A., E. P. Derryberry, J. Foufopoulos, A.P. Dobson, and T. P. Hahn. 2005. Parasite-mediated heterozygote advantage in an outbred songbird population. 

Biology Letters, 1: 105-107. 
PDF



O'Connor, B.M., Foufopoulos, J., Lipton, D., and K. Lindström. 2005. Mites associated with the small ground finch, 

Geospiza fuliginosa

 (Passeriformes: Emberizidae), from the Galápagos islands. 

Journal of Parasitology, 91(6): 1304-1313. 
PDF



Pafilis, P., Valakos, E.D., and J. Foufopoulos. 2005. Comparative post-autotomy tail activity in six Mediterranean lacertid lizard species. 

Physiological and Biochemical Zoology, 78(5): 828-838. 
PDF



Foufopoulos, J. and R. Brown. 2004. A new frog of the genus 

Platymantis

(Amphibia; Anura; Ranidae) from New Britain, and redescription of the poorly known 

Platymantis macrosceles

. 

Copeia, 4: 825-841. 
PDF



Lindström, K., Foufopoulos, J., Pärn, H., and M. Wikelski. 2004. Immunological investments reflect parasite abundance in island populations of Darwin's finches. 

Proceedings of the Royal Society (London), 271: 513-519. 
PDF



Patz, J.A., Daszak, P., Tabor, G.M., Aguirre, A., Pearl, M., Epstein, M., Wolfe, N.D., Foufopoulos, J., Molyneux, D. and D.J. Bradley. 2004. Unhealthy Landscapes: Policy recommendations on land use change and disease emergence. 

Environmental Health Perspectives, 112: 1092-1097. 
PDF



Wikelski, M., Foufopoulos, J., Vargas, H., and H. Snell. 2004. Galápagos birds and diseases: invasive pathogens as threats for island species. 

Ecology and Society, 9: 5. 
PDF


Foufopoulos, J, S. Altizer, and A. P. Dobson. 2003. Interactions between wildlife and domestic livestock in the Tropics,pp. 219-244 in Tropical Agroecosystems, J. Vandermeer (ed.). CRC Press, Boca Raton, USA.
PDF


Derryberry, E. P., Foufopoulos, J., Dobson, A. P., MacDougall-Shackleton, E. A. and T. P. Hahn. 2003. An investigation of the effects of two haematozoa on reproductive success in mountain white-crowned sparrows. Int. Compar. Biol., 42: 1219.



Foufopoulos, J, S. Altizer, and A. P. Dobson. 2003. Interactions between wildlife and domestic livestock in the Tropics. 

Tropical Agroecosystems, J. Vandermeer (ed.). CRC Press, Boca Raton, USA. 219-244. 
PDF


Altizer, S., J. Foufopoulos, and A. Gager. 2001. Disease and conservation. Encyclopedia of Biodiversity, S. Levin (ed.) Academic Press, 2: 109-129. 
PDF


Dobson, A. P. and J. Foufopoulos. 2001. Emerging infectious pathogens in wildlife. Philosophical Transactions of the Royal Society of London-B, 356: 1001-1012. 
PDF


Foufopoulos, J., and A. R. Ives. 1999. Reptile extinctions on land-bridge islands: life history attributes and vulnerability to extinction. American Naturalist, 153(1): 1-25. 
PDF       Suppl. Materials


Foufopoulos, J. 1997. The herpetofauna of the Northern Dodecanese (Aegean Sea, Greece). Herpetozoa, 10(1): 3-12.
PDF


Ives, A. R., J. Foufopoulos, E. Klopfer, J. Klug, and T. Palmer. 1996. Bottle or big-scale studies: How do we do ecology? Ecology, 77(3): 681-685. 
PDF