---
Welcome!

Lei received his Bachelor degree in Chemical Engineering from Guilin University of Technology and Master degree in chemistry at Nankai University in China. In 2008, he was awarded the PhD degree in chemistry at the University of Oklahoma under the guidance of Professor Robert P. Houser. Prior to joining the University of Central Arkansas in 2011, He worked as a postdoctoral associate in Professor William B. Tolman's lab at the University of Minnesota-Twin Cities.
Above: 4,4'-bpy man chalk portrait for Lei after Advanced Inorganic Chemistry class

Credit: Kyle Preston and Brandon Powers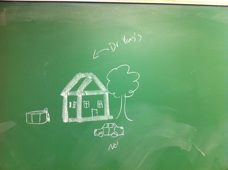 Above: This is Lei's house with tree, round pool and car. Nice!
Credit: Kyle Preston and Brandon Powers
Contact Information
Lei Yang, Assistant Professor
Department of Chemistry
Laney Hall 203B
University of Central Arkansas
Office: 501-852-0711
Fax: 501-450-3623
Email: lyang at uca.edu