** Offering rooms of our community house of TGM                  
      Homestay & Program Guide of Life & Culture
        ホームステイ・TGM国際交流+異文化体験
Joining us is one of smart options for your eco-travel in Kyoto.
  Our TGM Home Saga Arashiyama is located on south of Daikakuji Temple in Kita-saga and north of famous tourists destination of Arashiyama. It is near the corner where Marutamachi street meets route 29. This is a great location for visitors to access both Arashiyama and central part of Kyoto.  The house is a very basic style of house built in the late Showa period. The house is kept as clean as a hotel.
   Computer desk will be set on the corner of the living room. You'll have this large dining room
 The stairs on the right leads to your bedrooms on the 2nd floor
 The stairs leads you to the 2nd floor. There are 2 rooms of 4 tatami-mat space available. One is slightly blarger than the other one.

Balcony space & nice wooden ceilings.

Barthroom & Washroom   (
Photo stock on Goole+
) We steam clean and sanitize toilet and bathroom to keep these areas spotlessly clean. One of the reasons why the house has a great reputation for being so clean!
( Laundry space & Washing Machine )
 Home assistant makes frequent visit to keep the place clean and provide you with area guide and other support around the house on their free time ( open for negotiation ). Extra guest stay can be negotiated with additional utility cost.
Please make a casual contact first. Just the same as homestay your booking is based on hosting agreement between us. I'll be your host. ( Masayuki Iwasa ) Please call me " Massy ".
You can also make a direct contact through (
Facebook
)
Check-in time is ( from 12:00 to 14:30 )
Check-out time ( 10:00 a.m. ) Open for negotiation.
The check in time is from 12:00 to 15:00 although it is listed after 15:00. Please come before 14:30. I am not available from 15:00 to 18:30 so if you miss this check-in time. I will have to take some trouble coming back again or leave the door open, but not too long.
Please call at my cell before your arrival at JR Saga Arashiyama Station
" 090-2110-6146 " I'll be picking you up in 10 minutes.
 Location & Access   
 How to get to JR. Saga Arashiyama station from Kyoto station.
     ** From JR. Saga Arashiyama station to TGM Home                                
Location is just around the corner of the intersection of Marutamachi street and Kiyotaki-michi street/ ( From JR Saga Arashiyama station.  Simply come out of the exit 2 ( norths ide )  of JR. Saga Arashiyama Station and walk to the traffic light ( to the north on Marutamachi street ). Turn left and head toward west until the pedestrian bridge with traffic light. ( see the photo below ). It only takes 5 to 7 minutes on foot.
## You can download and copy the instruction in
PDF
at the bottom of this page.
 From the central part of Kyoto city : Go west along Marutamachi street until you come to this pedestrian bridge. Turn this intersection right to Kiyotaki ( to the north ).
TGM Home Saga Arashiyama is just aound the corner in the same block. Just less than 5 minutes walk from Saga Arashiyama Station.
Postal Code : 616-8421
Address : 7-5 Shakado Monzen Setogawa-cho Saga Ukyo-ku Kyoto
〒616-8421 京都府京都市右京区嵯峨釈迦堂門前瀬戸川町 7-5
  From the north gate of the station just 1 block to the north ( Marutamachi st ) and 3 blocks to west. ( On Kiyotaki michi street engo to he right.
---
See this Accessmap
Coming home from Kiyotaki Street ( Kiyotakimichi from north )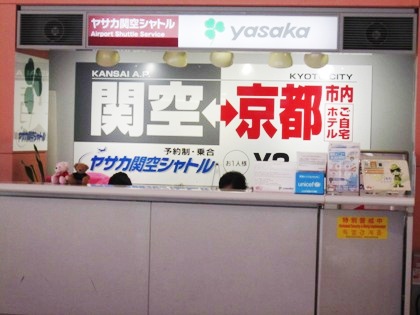 Yasaka taxi provides convenient and economical transportation service for the ones to travel between Kyoto and Kansai International Airport in Osaka.
 Other means of access to the house from the airport are listed on these pages.
---
Night life ( Arashiyama Hanatoro )

 All the guests have a special access to out TGM Central Home in Nishijin to join our home activities, English Class etc.

   TGM International Exchange Progrem Homepage