*●*●*  North part of Hanase & Hirogawara in Sakyo-ku 左京区・花背北部・広河原  *●*●*

 ** From Hanase to Hirogawara Area Guide 花背~広河原エリアガイド   
** Introduction :  Heading to the north you will reach a place where the road is split in two ways. This is a part connected to Bushoji Temple. Just keep going along the way of Route 38 from this point of Haqnase Koryu-no Mori introduced in the page below. Soon you will come to a point where the road splits in two ways. When you notice a sign saying "Bujo-ji Temple 峰定寺 " turn right.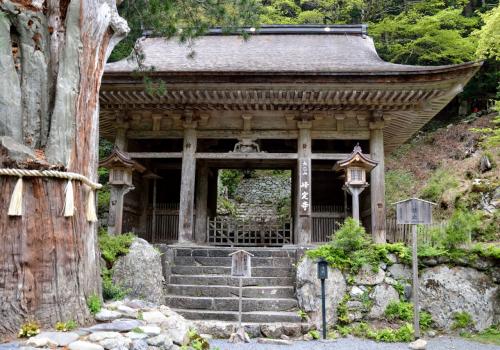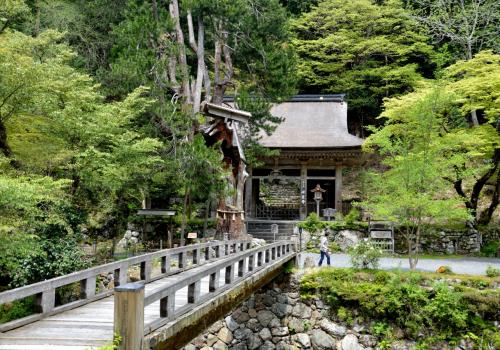 峰定寺
は、京都市左京区花背原地町にある本山修験宗の寺院。山号は大悲山。本尊は千手観音。開基は観空西念である。12世紀に開創された修験道系の山岳寺院で、創建時にさかのぼる仏像など、多くの文化財を伝える。
ウィキペディア
 Bujoji Temple is located in the north part of Hanase. The temple was established by Kanku Sainen as a training hall. The title of its mountain is Daihizan ( Mt. Daihi ). The main object of its worship is Senjyu Kannon statue ( Kannon statue with 1,000 hands ). Daihizan belongs to Myoshin branch of Rinzai sect of Buddhism. The structure of this temple is the original form of much-famed Kiyomizu Temple in Higashiyama with a large stage sticking out with a deck at the edge of a mountain. The temple was established as a training ground of moks. It was built as an imperial temple built on the request of Prince Toba in 12th century. Its large Sanmon Gate is one of the oldest in Japan. Visitors must get an entry permission to go through this gate to make a tour into the mountain to reach its main hall up on the mountain. Since it requires short hiking you must get to the office by 15:30 to make an arrangement to go inside. For this hiking you will have to leave your belongings to the office except for the valuables. You will be handed traditional sacred porch wore by monks with a wooden stick to start your hiking as a trainee. Upon your arrival to the top you can ring the bell before you get to the main hall. When you get to the main hall, you are supposed to meditate for 10 minutes to purify your soul.
Hanase Koryu-no Mori = Interactive Forest of Hanase
  ** Mt. Daihi 大悲山                                                                                        

 The mountain next to Bujoji Temple is called Daihizan. This mountain is a part of " Rindo = a mountain path for forest industry " in this area. It is advised that you make a contact with an organization in charge of this area to get permission for your entrance. This sacred mountain is also maintained by Bujoji Temple.
 In this mountain there is a lofty triple sacred cedar called " Sanbon Sugi " standing in the forest. It takes about 20 minutes hike to reach the point from the entance point next to Bujoji Temple in its east. The tree has an extremely large base trunk splits in 3 trunks. it is considered the tallest tree in Japan and one of the  oldest cedars existing in Kyoto Prefecture. The height of this tree measured 62.3 meters in 2017.

 The tree is over 1200 years old and it is hard to believe the size of this trunk which can dwarf all other cedars of its kind. According to the professionals, in most cases with tall trees it is likely that the top part of a tree gets snapped due to strong wind or a thunder strike. As a result the growth of the tree in terms of their height stops, but in case of this triple cedars, each trunk are supporting other 2 trunks in perfect balance to stimulate the growth of one another. This is the contributing factor for its miraculous growth considered to be the supernatural of divinity. The finding of its height was announced on November 21st in 2017 and the local facility of Koryuno-mori started to provide guided tour of this hiking in commemoration of winning the title of the tallest tree in Japan. Web-link :
http://www.kyoto-np.co.jp/top/article/20171121000106
  ** Hirogawara 広河原                                                                    
 After the tour to the east around Daihizan you might want to come back to the point where Route 38 splits in two ways to get back on Route 38 to the left. The road takes you to a village called Hirogawara in the north. This area of Hirogawara is also well-known for its fire festival Matsuage in summer.  Toward north the mountainous road will lead you to a village of Miyama further in the north. The area of Hirogawara is blessed with abundance of nature with river flowing around the village. You will notice some houses with thatched roof. Since this area has been resided by some artisans of indigo dying, woodcrafts, potteries, it creates a fusion of old and modern cultures by the locals. There are some lodges rented out for your accommodation.
Web-link
 The only access to the area by public transportation is by Kyoto Bus 32 bound for Hirogawara which departs from Demachiyanagi Station.
Web-link
---
  Editor ( Translation & Research ) : Masayuki Iwasa ( Massy ) & Maria Iwasa
       TGM語学研修(英語学習教材+プログラム開発)岩佐昌幸・岩佐マリア