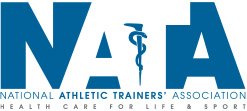 Certified Athletic Trainers are highly qualified, multi-skilled allied health care professionals and have been part of the American Medical Association's Health Professions Career and Education Directory for more than a decade. Additionally, the American Academy of Family Physicians, American Academy of Pediatrics and American Orthopaedic Society for Sports Medicine - among others - are all strong clinical and academic supporters of Certified Athletic Trainers. 
Athletic training is practiced by athletic trainers, health care professionals who collaborate with physicians to optimize activity and participation of patients and clients.  Athletic training encompasses the prevention, diagnosis, and intervention of emergency, acute, and chronic medical conditions involving impairment, functional limitations, and disabilities.
How can I find out more about Athletic Training?
The National Athletic Trainers' Association (NATA) is the professional membership association for certified athletic trainers and others who support the athletic training profession. For more information, please visit the website at
www.nata.org
How do I become an Athletic Trainer?
To become a certified athletic trainer, you must get a degree from a college or university with an accredited athletic training program, then take and pass the exam administered by the Omaha-based Board of Certification.  This is the only way to become a certified athletic trainer. Learn more at
www.nata.org/education/become_at.htm
Do Athletic Trainers need to be registered with the state of Oregon? 
According to Oregon Laws ORS 688.701 TO 688.734 and OAR 331-105 TO 135, to practice athletic training in the state of Oregon, individuals must be registered in accordance with Oregon Laws 1999, Chapter 736, Section (6).