*

*

*

*

*

THIS SITE IS CURRENTLY

    

    

    

    

    

    

  

    

    

 


    

    

    

    

    

    

    

    

    

UNDER

RE-

CONSTRUCTION!

*

*

*

*

*

 

    

 
*** PLEASE CHECK BACK SOON FOR OUR NEW SEPVA SITE! ***
Working to Put Disabled Vets Back to Work                              November 3, 2011
By Lauren Powell, Executive Producer - Fox54 News  www.wfxg.com
http://www.wfxg.com/story/15954887/working-to-put-disabled-vets-back-to-work?clienttype=printable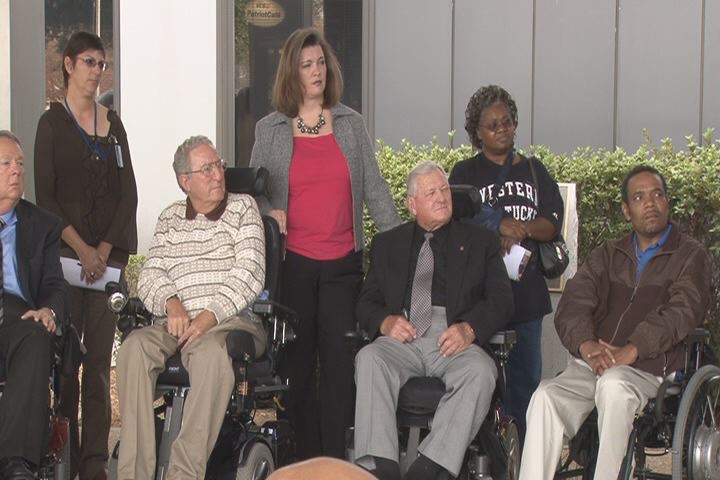 Working to get our disabled veterans back to work in the Garden City.
Paralyzed Veterans of America announced nearly $300,000 has been raised for it's vocational rehab center at the Charlie Norwood VA Medical Center.
The funds were raised at this year's Paralyzed Veterans Golf Open in May.
More than 40 local businesses made the donations to ensure our wounded warriors can receive unique training and support services to help them get back into jobs.
For more information on P.A.V.E. Visit their website: www.operationpave.org
---
SEPVA Board Members: Larry Dodson- VP, Chuck Spilman, Jennifer Windham- Executive Director, Homer Cole- President, and Lonnie Burnett were present in Augusta during the Nov. 2, 2011 donation of close to
$300,000
for its vocational rehabilitation center located at the Charlie Norwood VA Medical Center. A check was presented to Paralyzed Veterans from Agility Defense & Government Services, the lead private sector partner for the Augusta Operation PAVE (Paving Access for Veterans Employment) vocational rehabilitation office.
The Augusta Operation PAVE office, empowers veterans with disabilities by providing the services they need to reintegrate into the job market – while matching them with businesses and organizations with open career positions.
"Hiring more veterans with disabilities is a win-win for our country. Those who served are able secure good careers; employers get great employees; and, in turn, our economy becomes stronger," said Bill Lawson, national president of Paralyzed Veterans of America, who accepted the check on behalf of Paralyzed Veterans. "We thank Agility for their continued support of this important effort to get our disabled veterans back to work, and encourage other businesses to do the same."
Lawson was presented the check from Rich Brooks, vice president, Logistics and Commodity Services, Agility Defense & Government Services (photograph to left). The funds presented were raised at the 2011 Paralyzed Veterans Golf Open held in May, by over 40 businesses and other private sector supporters to ensure ongoing operations to provide unique training and support services to help unemployed wounded warriors secure careers with great employers.
"We've seen first-hand the kind of support that exists out there to help get our veterans back into good careers," said Brooks. "We challenge other companies to step forward to hire wounded veterans and help fund the expansion of Paralyzed Veterans' vocational rehabilitation program to other VA facilities around the country."
With Operation PAVE vocational rehabilitation offices in Augusta, GA; Richmond, VA; Minneapolis, MN; San Antonio, TX; Long Beach, CA; and Boston, MA, Paralyzed Veterans and its partners have helped hundreds of veterans and have developed working relationships with more than 300 employers. Of those helped, 134 have already begun new careers with a wide range of employers. To learn more about Operation PAVE, please visit www.operationpave.org.
Sixty-five years ago, Paralyzed Veterans of America was founded by a band of spinal cord injured service members who returned home from World War II to a grateful nation, but also to a world with few solutions to the challenges they faced. These veterans from the "Greatest Generation" made a decision not just to live, but to live with dignity as contributors to society. They created an organization dedicated to veterans service, medical research and civil rights for people with disabilities. And for more than six decades, Paralyzed Veterans of America and its 34 chapters have been working to create an America where all veterans, and people with disabilities, and their families, have everything they need to thrive. (www.pva.org)
SOURCE Paralyzed Veterans of America
---