Several situations compel women to abort or give up her child after delivery
When a child is in womb and known to be girl, but the family pressurizes to  delivering a boy child.
When a mother is an unwed minor girl and afraid of rejection from society.
When a mother is raped
When an unmarried mother is alone with no family or financial support.
When a mother faces the mishaps like death of husband and wants to resettle in life through marriage.
These are delicate issues that require emotional, moral and legal support. Snehalaya's team of professionals and volunteers understand and appreciate these issues and provide the necessary help to the family. Snehalaya handles the issue with confidentiality and compassion  with the sole purpose of finding a better future for the mother and the child.
Snehalaya team works with the following objectives

1. To provide guidance, counseling and information for families and women to prevent unsafe abortions and illegal transfer of children
2. To provide shelter, legal help, emotional support, vocational training and facilitating social reintegration of unwed mothers and victim women.
3. To provide excellent care, medical help and affection for relinquished children
4. To find suitable families for adoption, and place the children in good homes, providing them a bright future.
Confidential counseling
Anyone can contact us over phone, email or even postal mail.  Our team is available 24 X 7.  We maintain complete anonymity of the caller. If a raped victim lodges a complaint to the police, then Snehalaya provides legal and moral support to fight the case. With the permission of the court, Snehalaya can take legal custody of the child and the mother to help fight the legal battle.Snehalaya is equipped to take admission of the minor mothers through the Child Welfare Committee.  If the mother would like to pursue working, Snehalaya helps with education and  vocational training. These women are provided counselling and when required an opportunity to take professional employment or education.
Snehalaya addresses the complex but delicate issue of unwed mothers' insecurity by taking the issue head on. With over 20 years of working experience on the ground dealing with the issue. Our coordinators understand and empathize with the socio-economic conditions that forces mothers to give away their babies, and the associated emotional hardship. For pregnant  women, Snehalaya helps safe  delivery under the observation of medical experts. If the mother would like to pursue working, Snehalaya helps with education and  vocational training. Many women have completed bachelor degrees and have found career in the fields of fashion designing, catering technology and nursing. Snehalaya has also arranged for their marriage. Physically handicapped women have also been rehabilitated successfully.
Medical support for children
Every child at Snehalaya is given the best possible medical care till he/she is given away for adoption. All essential immunizations and vaccines are given to every child. Medical record for every illness and ailments are maintainted. Our children get free valuable medical help from well-known child specialists pediatricians in Ahmednagar like Dr. Anirudh Gite and Dr. Suchit Tamboli. In serious conditions and when admissions are required Acharya Anand Rishiji Hospitals provide the services.  Dr. Sanjay Patil's High Tech. and Dr. Shailendra Patankar Lab offer various services related at discounted rates for our institution 
Adoption, a progressive step
If a mother is without a family and financial support, Snehalaya  helps to empower the mother to take care of her child.  We always try to keep the child with the biological mother . But in those situations that prevent the mother to bring up the child herself, it is better to legally relinquish the child, than resort than late unsafe abortions or giving up the child in illegal transfers. At Snehalaya we will make required arrangements for legal process of relinquishment of the child. This ensures that the child will grow up in a loving environment with responsible parents who are looking to adopt a child to build their family. This will done through the legal process of adoption through Snehankur adoption center which is a reputed registered adoption agency in Ahemednagar, Maharashtra.
Snehankur has placed hundreds of boys and girls in good families through adoption.  About a decade ago there was a social stigma associated with adopting children. However there has been a drastic change in the last few years with positive approach of progressive parents. What is more satisfying is the fact that more parents are coming forward to adopt a female child. Snehankur has handed over children to parents of all religions and faiths.
Co-Ordination with allied systems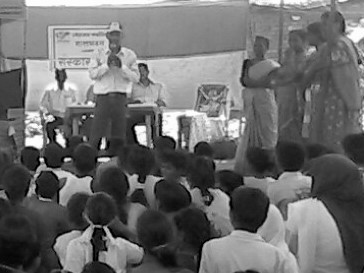 An NGO cannot function effectively by itself. Snehalaya has established links and harmonious relations with the local police stations, Child Welfare Committee, educational institutions, lawyers, first aid centers, civil hospitals, JAPU (Juvenile Aid Protection Unit) and NGOs working in remote areas. Snehalaya organizes regular workshops to boost awareness of child rights.
Recognized for our dedicated work, we get timely cooperation and collaboration from allied agencies. We get phone calls round the clock for helping the children in distress. A team of trained nurses, social workers and  dedicated vehicles with driver are available 24 hours to reach the spot and assist these children.