Research Computing News
Subscribe to posts
RSE@Sheffield,
host a seminar series for sharing practical issues relating to research software. The next talk will take place on 28th of May at 13:00 in the COM-G12-Main Lewin, Computer Science department (ground floor). 
Project Software Outlook, an EPSRC effort to support research software for today and tomorrow's needs
.
Talk Abstract:
Software Outlook is a project funded by the EPSRC as part of the Computational Science Centre for Research Communities. It aims to support the UK's Collaborative Computational Projects (CCPs) and High-End Computing (HEC) Consortia in the development and optimisation of their world-leading software. These activities include

Evaluations of new programming languages, libraries and frameworks
Investigations into timely and cost-effective exploitation of current and near-future systems
Demonstrations into how specific software technologies can be applied to existing applications
The challenges faced by CCP's and HEC consortia in modernising their codes are fed directly into Software Outlook's remit. During this talk, we will discuss these challenges and the subsequent work being done by Software Outlook.
Please Register using Eventbrite
* Tea, coffee, and cakes will be served.
The Corporate Information and Computing Services (CiCS) offers a range of free courses on a monthly basis. If you are interested in learning Linux/HPC, you may benefit from one of our courses. Please register your interest via LMS.

Introduction to Linux and HPC:

Next courses:
7 May 2019 9am, Hicks G39a
4 June 2019 9am, Hicks G39a
2 July 2019 9am, Hicks G39a

Details:
This course is a single 3-hour practical session providing a hands-on introduction to the Unix/Linux operating system. The course provides training in using and understanding how to use and access applications running on remote machines such as those provided by ShARC and National Tier 2 Facilities. Students will gain an understanding of using UNIX/LINUX, secure shell protocols (such as ssh, scp and sftp), X Windows using Exceed.

Introduction Running Software and Accessing HPC Resources

Next courses:
8 May 2019 9am, Hicks G39a
5 June 2019 9am, Hicks G39a
3 July 2019 9am, Hicks G39a

Details:
This course is a single 3-hour session providing a hands-on introduction to high-performance computing using Iceberg and the White Rose Grid. The course provides training in how jobs can be submitted to the grid in a manner that will provide a high throughput of work. Students will gain an understanding of ShARC, National tier 2 HPC facilities, scheduling jobs using Sun Grid Engine, what Applications are available and what Application development tools are available.
The course assumes that students have a working knowledge of the material covered in course "Introduction to Linux and Unix".
On 19th march 2019 we took delivery of Bessemer, this is the second phase of the Sheffield Advanced Research Computer (ShARC).
Henry Bessemer was an engineer who in 1856 announced a process for manufacturing steel. It was this invention which was instrumental in establishing Sheffield as a major industrial centre, "Steel City". There is a Bessemer at the entrance to the Kelham Island industrial museum, a magnificent piece of engineering which made a huge impact on our city and the world.
The new machine, also an excellent work of engineering, comprises 25 Dell C6420 servers.

Each server has 192GB of memory and 2xIntel Xeon Gold 6138 (Skylake) processors. The processors have 20 cores, a clock speed of 2GHz and L3 cache memory of 27MB.
The cluster includes a C4140 with 4 NVIDIA Tesla V100 GPUs with 32GB of graphical device memory. The C4140 includes 384GB memory and 2xIntel Xeon Gold 6138 processors for data science or numerical computation. All of these servers will be available for general usage. The new cluster has a lustre based filestore of around 500TB this will be used for the fastdata file store. The cluster interconnect is 25GbE Ethernet.
Over the last 2 years we have advised researchers to migrate from Iceberg to ShARC. As Bessemer comes on line we will shut down and decommission nodes on the Iceberg cluster.

There will be further updates to keep the community informed about the implementation of Bessemer and it's launch. There will also be discussion and networking at the
HPC@sheffield event on Monday 8th April 2019
. To keep up with updates check the HPC google discussion group and follow the news and events link at
http://www.shef.ac.uk/cics/research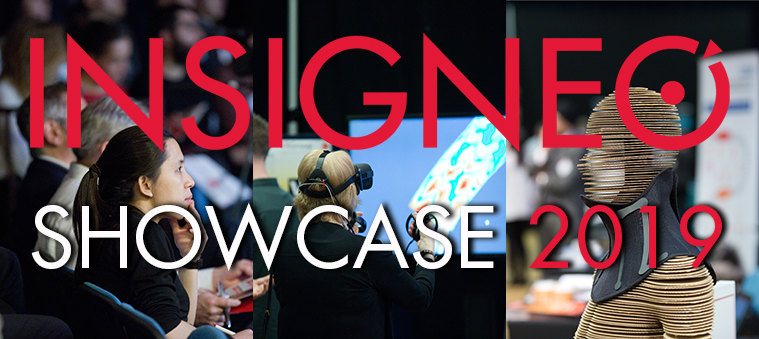 Event Invitation: Insigneo Showcase 2019
Innovations in personalised, predictive medicine
Friday, 17 May 2019, Octagon Centre, Sheffield, UK 
The event is free of charge and places are available on a first come, first served basis. We invite you to register by 17 April 2019 at https://insigneo.org/is2019/
The deadline for abstract submissions for our poster display and competition is 22 March 2019
We are delighted to invite you to join us at the Insigneo Institute for in silico Medicine's Annual Showcase event, which will be held on 17 May 2019, at the Octagon Centre, in Sheffield, UK.  This full day event is an opportunity for our members, funding agencies, regulatory agencies, industrial colleagues, and other academic groups in the UK and worldwide to meet once a year and see first-hand the latest innovations in personalised, predictive medicine produced by our Institute.
This year Professor Koen Lamberts, President and Vice-Chancellor of The University of Sheffield will open the Showcase event and introduce our plenary speaker Professor Liesbet Geris, President of the Virtual Physiological Human Institute, University of Liège. To view the full programme visit the event webpage.
The day will feature:
Early Career Researcher presentations – hear about emerging research with perspectives from the next generation of researchers;
Talks covering the full scope of our research, with sessions addressing the role of medical imaging and innovative mathematical approaches in in silico medicine applications;
An Industrial Village showcasing in silico medicine's latest commercial applications and developments from our industrial partners;
Networking opportunities and one-to-one discussions with funders, academics and clinicians.
Last year's event attracted over 250 participants across all of healthcare (read more about last year's event). 
Abstracts:
We invite you to submit an abstract for our poster display and competition by 22 March 2019. Submissions will be peer-reviewed by the Insigneo Showcase Scientific Committee and a prize awarded for the best poster. We are keen to represent a wide range of Insigneo's research areas. We also welcome abstracts from other departments and external researchers in the area of in silico medicine.
Abstract format should meet all of the following conditions:
Contains no more than one figure or table.

Up to 500 words.

The text in the figure or table does not count towards the word limit but your abstract should fit on one A4 page.

The title, the name and affiliation of each author does not count towards the word limit.

Is one of following file formats: .pdf, .doc, .docx.

Has a maximum file size of 2MB.
A few weeks after the submission deadline we will be in touch to provide feedback and at this point give information on the poster format, printing and displaying your poster on the day.
Click below to find out more and register.
Simulation in Practice: Adaptive Use of Simulation for Healthcare
This year we are excited to announce that we are co-organising a workshop with NAFEMS - the International Association for the Engineering Modelling, Analysis and Simulation Community - on 'Simulation in Practice: Adaptive Use of Simulation for Healthcare' which will take place the day before the Insigneo Showcase (Thursday 16 May 2019) at Inox Dine. 
Insigneo members can register for this workshop free of charge by emailing jo.davenport@nafems.org.  
Find out more about the NAFEMS workshop at: https://www.nafems.org/events/nafems/2019/_adaptive_use_simulation_healthcare/
Please do feel free to forward this invitation to any colleagues who would be interested in these events.
We look forward to seeing you soon!
The Insigneo Board of Directors
Claudia Mazzà, Rebecca Gosling, Andrew Narracott, Gwen Reilly, and Jim Wild
About the Insigneo Institute for in silico Medicine:
The Insigneo Institute for in silico Medicine is a research institute established as a collaborative initiative between the University of Sheffield and Sheffield Teaching Hospital NHS Foundation Trust, where we develop sophisticated computer simulations of human physiology, in health and disease, in order to improve clinical diagnosis and treatment. With a multi-disciplinary membership of over 150 academics and clinicians, Insigneo is Europe's largest centre dedicated to these activities, in the emerging discipline known as in silico medicine.
As part of RSE@Sheffield, we will be hosting a 
seminar

 series for sharing practical issues relating to research software. The next talk will take place on 

27th of March at 13:00 

in the COM-G12-Main Lewin, Computer Science department (ground floor). 


The invited speaker is 

Dr. Christopher Woods

, from the University of Bristol.



Talk Abstract: 
The cloud holds the promise of a new way to perform digital science - interactive, elastically scaling, open data, open compute, and sharing reproducible workflows to collaboratively solve global grand challenge problems. The Research Software Engineering group at Bristol work with most of the major public cloud companies (Amazon, Google, IBM, Microsoft and Oracle) on a range of projects creating everything from elastically scaling slurm clusters, through workflows for Cryo-EM image refinement, to national platforms for tracking UK greenhouse gas emissions. Through this, we've recognised that comparing the cloud to on-premise HPC is like comparing a fixed-line telephone to a smartphone. Just as an iPhone is more than just a mobile telephone, so the cloud is more than just an "on-demand cluster".
To this end, via all of our projects, we have been gradually building Acquire. Acquire provides multi-cloud identity and access management to cloud-based storage and compute services. Acquire is designed to make it easy for HPC jobs to be run interactively within Jupyter notebooks. Jupyter notebooks, deployed on top of kubernetes (k8s), are finding rapid adoption in universities and industry. While k8s can spawn new pods for each notebook session, launching high performance computing (HPC) jobs during dynamic workflows, and then managing access to the resulting output data is complicated. Acquire builds on top of the Fn serverless framework (https://fnproject.io) to deploy individual simulations as Fn functions that are called dynamically from workflows run within Jupyter notebooks. A notebook running on a lightweight k8s cluster can burst HPC workloads via Fn serverless calls to a dynamically provisioned cluster running on a bare metal or VM-based HPC/GPU cloud. Using Fn, we are constructing a distributed identity, access, and accounting layer around dynamically scaling compute resources and globally distributed object stores. This adds security and accountability, thereby making it easy for end users to manage complex multi-cloud workflows. Researchers can control costs by translating billing into units of "simulation" rather than "core hours", and will be able to publish and share the results via access-controlled DOIs. Altogether, Acquire will help us realise the potential of the cloud as a truly planetary supercomputer. Put more succinctly, Acquire is helping us build the Netflix of simulation.
Please Register using Eventbrite

If you would like to recommend a speaker then please contact Dr Paul Richmond or Dr Mozhgan Kabiri Chimeh from the RSE Group.
 RSE@Sheffield, are hosting a 
seminar

 series for sharing practical issues relating to research software. The next talk will take place on 

27th of February at 11:00 

in the COM-G12-Main Lewin, Computer Science department (ground floor). 


The invited speaker is 

Phil

Tooley

, Research Software Engineer from the University of Sheffield.

Talk Abstract:


Modern HPC infrastructure such as ShARC at the Unversity of Sheffield 

allows researchers across a broad range of fields access to resources for solving computationally complex problems. However, accessing and making best use of these resources is not always straightforward. Common problems faced by researchers wishing to use HPCs include difficulty in building the software packages that they need to use, as well as locating the documentation and information to enable them to make most efficient use of the available resources.
In this seminar I will describe some common problems faced by HPC users and demonstrate some of the available tools and techniques to overcome them. In particular I will look at how to use information gathered from previous jobs to choose the optimum parameters to submit a job with, optimising for minimum queuing time and maximum efficiency. I will also tackle the problem of installing software and dependencies, highlighting how package managers such as Conda and S-pack can be used to manage the installation of software. Using package managers can vastly reduce the complexity and time needed to manage research software as well as
increasing reliability for the user.
Please Register using Eventbrite

We are pleased to announce a brand new course that provides hands-on experience  for introducing the fundamentals of Parallel MATLAB.  This course should also be of particular interest to Sharc "HPC cluster" users as the examples provided during the second part of the course are specifically designed to run on the HPC clusters as well as the usual personal WINDOWS or MAC workstations.
 Although the examples are kept as uncomplicated as possible in order to introduce the fundamental concepts, they provide good templates for tacking real life problems.
This course/workshop is given in two 3-hours sessions: 
- The first session provides practical examples on the Windows workstations,
- The second session's examples are provided on Sharc and introduce methods of taking advantage of the 'Distributed Computing Engine'  on the HPC clusters. 
Session 1:  27th of February, 10.00 - 13.00 , Room G39a, Hicks Building
Session 2:  28th  of February,  9.00 - 12.00 , Room G39a, Hicks Building
Please register using eventbrite
The NVIDIA Deep Learning Institute (DLI) and Research Software Engineering Sheffield (RSES) are excited to deliver a hands-on deep learning workshop on the 15th of February 2019, exclusively for verifiable academic students, staff, and researchers. The workshop will be held in Computer Room 4 (Room 2.06) on the 2nd floor of the Diamond building.
In this full-day workshop, you'll learn the basics of deep learning by training and deploying neural networks. You'll learn how to:
Implement common deep learning workflows, such as image classification and object detection.

Experiment with data, training parameters, network structure, and other strategies to increase performance and capability.

Deploy your neural networks to start solving real-world problems.
Upon completion, you'll be able to start solving problems on your own with deep learning.
Content level: Beginner
Pre-Requisites: Technical background and basic understanding of deep learning concepts. Knowledge of Python is helpful but is not a requirement.
Platforms: Nvidia DIGITS and Caffe
You're invited to HPC@Sheffield 2019
Our annual Research IT event, HPC@Sheffield, returns in 2019. Join us to find out more about national, regional and local projects using Research IT facilities. Plus we'll be telling you everything you need to know about the upcoming changes to the University's HPC facilities, due to launch next year, and how our research community will benefit.
We are also launching an exciting new research software competition. We are asking you to develop a research software application which is of general benefit to the research community. Top prize is £3,000 and support will be available for projects reaching the development stage of the competition.
I hope to see you there.
Dave Petley

Vice-President for Research & Innovation

 
Attend HPC@Sheffield 2019