Problem/Challenge
Make an observation

Qualitative observation uses senses (It feels cold)
Quantitative observation uses numbers and deals with quantity (It is 10 degrees cooler today than yesterday)

Write a testable question or problem (need to be able to measure something)
Hypothesis - An educated guess as to what will happen in our experiment
If...then...because statement
EXAMPLE: If we drop 2 objects off the table then they will hit the ground at the same time because gravity causes all objects to fall at the same speed.
Procedure - Instructions on how to do the experiment
Numbered Steps 1)  2)  3)
First step should be "Gather materials and set up"
Include number of trials to be completed
Include Variables

Control - What stays the same in the experiment
Independent - What's being tested
Dependent - What's being measured
Materials/Safety
List items in order of use
Consider any safety concerns (depending on the lab there may not any)
Procedure Changes/Plan 2
Sometimes our original procedure needs to be changed or we run out of time and have to change or reduce the number of trials.
ANY changes you make to the original procedure need to be written in this section
If time allows...retest and record new data
Data
A table or chart should be used to record data, including a column/row for averages.
Tables should include detailed labels so the reader understands the information
A unit of measure should be included next to any number
Add data to the charts as you test, NOT at the end of the experiment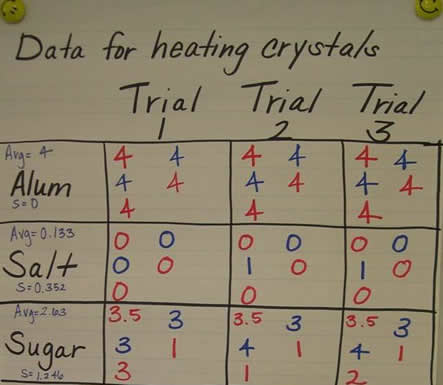 Graph
Horizontal Axis should be the independent variable, Vertical axis should be the dependent variable
Graphs should be in color, evenly spaced, and labeled
Analysis - Write & think about the data
Make sure you use units of measure next to each number

Calculate averages (SUM DIVIDED by the number of trials)

Low & High scores for each variable

Identify any unusual data with possible explanation
Conclusion - Summary of data/experiment
Write in complete sentences

Use bullets to organize information

Discuss how many trials

Explain what the results are telling us (use numbers in the explanation, average, high/low)

Restate control, independent, and dependent variables

Discuss unusual data & errors

Restate hypothesis, state accuracy of hypothesis using data to support statement.
Future Experiments
Changes you would or could make to the experiment NOT changes to your behavior

New TESTABLE questions you have after completing this lab (the new questions should be related to the original question)