Welcome to Neshobe Preschool:   We take care of some very precious people - your children.  We work hard to create a sense of community in our classrooms where children feel safe,  treat each other kindly, have fun, and are encouraged to be independent so they can learn and grow. We believe it is our responsibility to support your child's learning and development and to make sure that your child's first school experience is a positive one that inspires a lifelong love of learning.
The Three Year Old Class
Moira McMahon-Lendway
Hi, My name is Moira McMahon-Lendway, but everyone at Preschool calls me Debbie.  I teach the 3-year-old program at Neshobe and have been working for the RNESU Early Childhood Program for the past 23 years. I am also a Special Educator and do home visits and evaluations for our little ones.  Prior to Preschool I was the Migrant Teacher for the District for 3 years, an ESL Teacher and Neshobe's Special Ed. teacher for 7 years. I went to the University of Dayton in Ohio for my undergrad work and the University of Vermont for my Masters in Early Childhood/Special Education.  I have been a CDA advisor and the Brandon Free Public Library Story person forever. I am married to Julius, an organic milk truck-driver and we live in Benson.  We have 3  children, John, Courtney and Luke..  Our kids are the 5th generation to live in our family home..  We have sheep, love to canoe,  camp in the Adirondacks, and visit with extended family. I love working with this age children and their families. I am always  eager to help in any way I can. My email is dlendway @ rnesu.org.
Tammy Wilbur
I am the para-educator for the Neshobe 3 year old program and on Monday afternoon the 4 year old program.  I have been working for the Rutland Northeast Early Childhood Program in Brandon for the past 17 years. Before school each morning I am the Child Supervisor for the K-6th grades at the Whiting Elementary School. I am a Nationally certified EMT( Emergency Medical Technician), as well as a certified Vermont Public Librarian.  I  am the current librarian for the Whiting Community Library and I love being a puppeteer.   Occasionally, I teach the Neshobe/Whiting SOAR after school clubs. I have 8 children, Sara, Jesse, Bobby, Tara, Brent, Cody, Megan, and Dalton.  I have 4 grandchildren and counting and am married to Larry, a farmer, fireman and EMT!  In my spare time I like to read, garden and spend time with my family. Teaching Preschool keeps me young.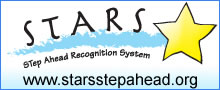 We are a 5 STAR Program!
The STep Ahead Recognition System (STARS) is Vermont's quality recognition system for child care, preschool, and after-school programs. Programs that participate in STARS are stepping ahead, going above and beyond state regulations to provide professional services that meet the needs of children and families. The more stars a program has, the more it is involved in a wide range of practices that support children, families, and professionals. STARS is used by professionals who can take the opportunity to look at their program objectively and use child care quality indicators to identify strengths and areas for improvement. The primary incentive for participating in STARS is local and statewide recognition of our program's achievements.
What do the STARS mean? Providers may apply for STARS recognition in five areas: (1) Compliance with state regulations; (2) Staff qualifications and training; (3) Interaction with and overall support of children, families and communities; (4) How thoroughly providers assess what they do and plan for improvements; and (5) The strengths of the program's operating policies and business practices.
Neshobe's Preschool Program has a five-star program rating through the STARS Program. Five-star programs are outstanding in all five areas as indicated above.
Resource: Vermont Department of Children and Families: STep Ahead Recognition System, http://dcf.vermont.gov/cdd/stars/. Accessed June 2010.