Let them stay home or make them go to school?????:  This is an early morning decision many parents are faced with.  There are those times when it is difficult to decide whether to not to send your child to school.  The following guidelines offer you some help in your decision.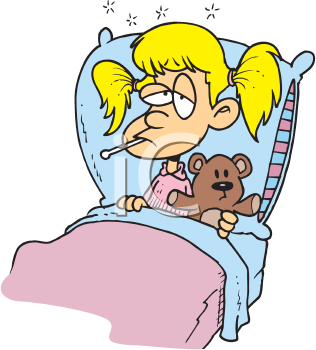 ·
  Always keep your child at home if they have an
elevated temperature
. 
Temperatures should be normal for 24 hours (without Tylenol) before he/she returns to school. 
Children with a temperature of 100 or above cannot stay in school, and parents will be notified to pick them up.
 ·  If your child has vomited or had diarrhea, please keep him/her home until 24 hours after the last episode. Make sure they have tolerated at lest 2 meals with no symptoms
 ·  If your child has any rash that may be disease related or you do not know the cause, check with your family doctor before sending the child to school.
 ·  If your child has eye drainage and the whites of their eyes are pink or red, please take your child to the doctor.  Your child should not be rubbing his eyes if they are infected.  If the cause is from bacteria, your child may return to school 24 hours after they have been started on antibiotics with a note from the doctor.
 ·  Strep Throat:  Children need to stay at home for 24 hours after antibiotic treatment begins and they are without a fever.
 ·  Please notify the school if your child develops a communicable disease (strep throat, chicken pox, head lice, impetigo, scarlet fever, pink eye, etc.)
 ·  If your child becomes ill or is injured during the school day, you will be notified so arrangements can be made for your child to be taken home.              Please notify the school if your phone number changes so we can contact you.
If your child was sent home by the nurse the previous day with any of the above and does not have a doctors note allowing them to return to school they may not be allowed back yet as it has not been over 24 hours.
 ·  Please read the letters that are sent home by the school nurse.  If there is a communicable disease in your child's classroom, you will be notified.
 ·  Children should be dressed appropriately for the season and specific weather. 
 ·  To prevent the spread of infection:
o  Use good hand washing
o  Cover the cough
o  Keep your child home if they are sick