7.8.09
Forging science's new frontiers.

In 1959 and 1960, Air Force Captain Joseph William Kittinger II participated in
Project Excelsior.
The aim of
Project Excelsior
was to research high altitude bailouts. Kittinger made three jumps from a platform lifted into the heavens by large helium balloons.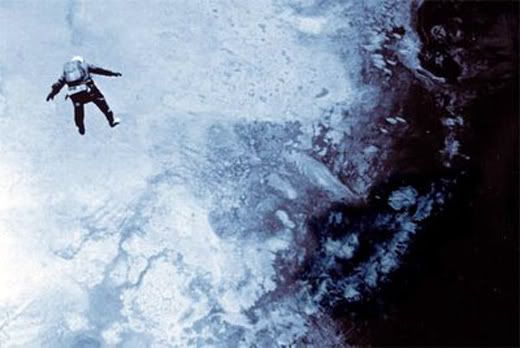 On November 16, 1959, Kittinger's first foray into the heights of our atmosphere almost ended in disaster. A equipment malfunction caused him to lose consciousness just as he left the platform at a height of 76,400 feet (23,300 meters). He tumbled into a flat spin at 120 rpm which exterted record-setting forces of over 22 g's on his limbs. The automatic parachute opener saved his life and brought him back to earth safely.
Kittinger's second jump on December 11, 1959 from an altitude of 74,700 feet (22,760 meters) led him to be awarded the "Leo Stevens Parachute Medal".
The third and final test of
Project Excelsior
took place on August 16, 1960. Kittinger was carried upward by the
Excelsior III
and left the platform at an altitude of 102,800 feet (31,300 m). Starting over 19 miles up, Kittinger rocketed towards the earth at a maximum speed of 614 mph for a time of 4 minutes and 36 seconds. A faulty seal in the wrist of his suit caused his hand to swell to twice its size during the fall. This achievement set many USAF records that still stand today.
Hats off to this man who was simply asked to perform a few tests and rode huge balloons into one of the great then-unknowns. Watch the video to experience one of mankinds most phenomenal expeditions.
---
3.9.09

The Kiwi that was John Britten

Cut from the same cloth as was Burt Munro, John Britten turned motorcycling upside down with his revolutionary two-wheeled creation. A true savant, Britten's capabilities permeated every aspect of his life. Home, work and play were molded around his proficiency.
The following link is a  50-minute documentary on Britten and his two-wheeled quest to create the best bike in racing. Go to
http://www.nzonscreen.com/title/britten-backyard-visionary-1993
and catch a glimpse into one of the modern world's greatest minds.
---
3.5.09

da Vinci's Seven Principals
Curiositá - An insatiably curious approach to life and an unrelenting quest for continuous learning.
Dimostrazione - A commitment to test knowledge through experience, persistence, and a willingness to learn from mistakes.
Sensazione - The continual refinement of the senses, especially sight, as the means to enliven experience.
Sfumato - A willingness to embrace ambiguity, paradox, and uncertainty.
Arte/Scienza - The development of the balance between science and art, logic and imagination. "Whole-Brain" thinking.
Corporalita - The cultivation of grace, ambidexterity, fitness, and poise.
Connessione - A recognition of and appreciation for the interconnectedness of all things and phenomena. Systems thinking.