Pulitzer Prize-winning author, storyteller, and my teacher at Stuy, Frank McCourt, passes on
The author of Angela's Ashes, 'Tis, and Teacher Man, Frank McCourt, passed away yesterday at the age of 78. Long-time Blenders know that Frank McCourt was one of my teachers my teachers at Stuyvesant High School in NYC (class of 1981). These photos were taken at my 10th high school reunion.
There is a fitting piece in the NYT about Frank.
His former students will tell you that Frank McCourt, who died Sunday, was too attuned to the false note to ever declare, once he had become a huge success as an author, that he missed teaching high school. Even so, he spent three decades as a teacher of English and creative writing in New York City's public schools. And he was the first to say that those years, while depriving him of the time to actually write, were what made a writer out of him. He had long been retired by 1996, when his first book, "Angela's Ashes," was published.

...Mr. McCourt began teaching in 1958, when he was 28, at Ralph R. McKee Vocational High School in Staten Island and from 1972 to 1987 taught at Stuyvesant High School, a highly selective school then on East 15th Street in Manhattan. His students learned from him that literature was nothing more — and nothing less — than the telling of stories. Of course, he made his students dip into the canon; they learned to write from reading Swift, Joyce, Hawthorne, Hemingway and Flannery O'Connor. But, as many of them have said, the most inspired and inspiring hours spent in his classroom were devoted to listening to him share experiences from his own life.

"A lot of the class was him telling tales and telling them over and over," said Alissa Quart, an author and a 2009 Neiman Fellow at Harvard who had Mr. McCourt during her freshman year at Stuyvesant, in 1985-86. "He used to sort of recite from memory the stories that became 'Angela's Ashes.' "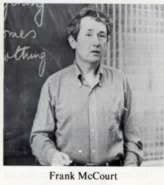 And that was all true. From time to time Frank's brother Malachy McCourt (a character actor who appeared on many NY-based soaps) would come to class and we would learn and be entertained by their stories (photos from my yearbook follow). After hours, he and Frank would appear at local clubs in a show they wrote, A Couple of Blaguards. It was wonderful to listen to him talk about "the glories" of Catholicism (and sin in particular). Here's a video of him discussing his teaching years.
I last saw Frank McCourt in January 2000. He was in Durham, NC for a local fundraiser while on his 'Tis tour. I was asked by a local bookstore to introduce him before a crowd of 2,500 people at the School of the Arts for his reading and talk. Here is the introduction I gave that evening:
Good evening. Frank McCourt was one of the most popular teachers at Stuyvesant. Everyone I knew hoped that they would see his name on their program card at some point during our four years there. By the luck of the draw, in the fall of 1980 I had the pleasure of being in his Creative Writing class. Why was he popular? Aside from his charm, ability to spin a good yarn (and sing), he engaged us in feisty discussion. He encouraged us to read (oh, Hamlet!), to write and to share those written experiences, dreams and flights of fancy.

We had to keep a journal, and on each Friday, a few of us would be called to read journal entries aloud. What I most remember, as I look back now, was the loving, constructive criticism he gave our work, and the open, unstructured environment he created for us to excel in. By the way, I received a 93 in his class, so I guess I was actually paying attention.

When Angela's Ashes came out to much acclaim, some of my classmates and I discussed Frank's amazing journey into the limelight and we all thought how success must embarrass and dismay this humble man, and how he must think he doesn't deserve any of it. But of course he's bonkers. We're glad you decided not to stick that manuscript in a drawer, because you saved your most truly amazing yarns for publication to share with the world. And now Frank McCourt...
It was great to see him; I went backstage before he went on, and of course he didn't recognize me from the last reunion, but I brought my trusty '81 Indicator yearbook (he recognized me in that context), and my copies of Angela's Ashes and 'Tis for him to sign. He was mobbed like a true celebrity after the event, but he was mobbed as a popular teacher back in the day. Everyone wanted to be in Frank's class. 
Goodbye, Frank. 
***
He discusses his teaching years, religion, politics, and life in Ireland in this video. It captures his storytelling style.


McCourt records the trials, triumphs, and surprises he faced during his thirty-year teaching career in public high schools in New York City. "Doggedness," he says, is "not as glamorous as ambition or talent or intellect or charm, but still the one thing that got me through the days and nights." Frank McCourt describes his struggle to find his way in the classroom and create a lasting impression on his students. Frank McCourt was born in 1930 in Brooklyn, New York, to Irish immigrant parents, grew up in Limerick, Ireland, and returned to America in 1949. His first book, Angela's Ashes, won the Pulitzer Prize, the National Book Critics Circle Award, and the LA Times Book Award. An introduction to the forum is provided by Kathleen McCartney, Dean and Gerald S. Lesser Professor in Early Childhood Development.