Announcements
Subscribe to posts
WHO           Pack 180 (and family members)
WHAT         Overnight Camp Out!!!
WHERE       JB Williams Park - Glastonbury  
WHEN         October 13-14 (rain or shine)
WHY           Because Scouts is ALL About Great Memories
Lake Tadma fishing Derby Registration
Description:
Lake Tadma fishing Derby
Date/Time:
4/16/2011  
Registration Ends:
4/12/2011
Contact E-mail:
to be posted
Details:

The Annual Lake Tadma Fishing Derby

Saturday April 16th

Derby competition for Youth only- 7am to 9:30am
Open fishing after 9:30m

Cabin Camping or Tent camping Friday night is available
Friday registration begins at 6pm

Saturday morning registration begins at 6am

unit can also camp for the weekend.

 


Fishing Derby Plan selection:


7am-9:30am- The Fishing Derby is for Youth Only,
9:45 am- Dining Hall- Trophies will be awarded for: Longest fish of different spices
9:30am- Open Fishing for all after the Derby
Fishing Poles and Kits will be available at Trader Jacks Trading Post

Breakfast is from 6am – 8am
Lunch is from 11am -1pm

*Please register by entering one plan per participant, Youth, Adult:

Plan A- $25.00- Friday night Cabin Lodging, Breakfast, Fishing Derby-(Youth Only)

Plan B- $15.00- Friday night Cabin Lodging, Breakfast

Plan C- $15.00- Friday night Camping, Breakfast, Fishing Derby- (Youth Only)

Plan D- $15.00- Fishing Derby, Breakfast- (Youth Only)

Plan E- $10.00- Friday night Camping, Breakfast

Plan F- $10.00- Fishing Derby Only- (Youth Only)

Plan G- $5.00- Breakfast Only

Plan H- $5.00- Lunch Only

 
Pack 180 Pinewood Derby Race 2011
When
Weigh In:
Friday Feb 11, 6:30 to 8:30pm (Race rules are available at <.....>)         Please see Rules Below
Race:
Saturday Feb 12,  Show up at 8:00 AM for final roll call.  Actual races will be from 9:00am to Noon
Where
Nayaug School Cafeteria, Old Maids Lane, South Glastonbury
Race Day Activities
Cub Scout races: Start with Webelos and end with Tiger Dens
Sibling Races
Sponsor Races
Big Rigs
Activities for younger kids/siblings (crafts, games etc)
Refreshments
Child Identification Program by Free Masons
Silent auction for gifts from sponsors
Trophies
Overall 1,2 and 3rd position in the pack starting with 26" trophy for the 1st position.

1, 2 and 3rd position in each den
Other categories like best paint job, best non-car etc in each den
Trophies for siblings

Thank you, Citizens of Glastonbury, for supporting our Scouting for food program.  Together we collected over 2,000 lbs. of food for the Manna Food program. 
During our first
Pack Meeting
on Monday September 20th, we will welcome our new Scouts and leaders into Pack 180.  They will each receive new
Neckerchiefs
and slides for their uniforms.  At this meeting we will also be concentrating on the Cub Scout Core Value of COOPERATION. 
The Pack Meeting is also a great place for boys between 1st and 5th grade to join Scouting.  It is not too late to be placed in a Den, so feel free to drop in for the fun.
We will be discussing the upcoming events, and how we can achieve through cooperation.
Hope to see you there!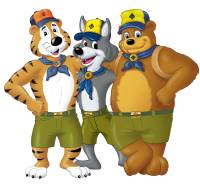 We welcome all area familes who are interested in learning more about Cub Scouts to join us at Hopewell School on Wednesday September 8th at 7:00PM.  It is a great opportunity to more about our Scouting program, and learn why Scouting has been around for 100 years.  We will have a short presentation as well as Q&A on our program.  If you are unable to make this meeting please feel free to contact me at 860-250-2785 or
cubmaster@pack180CT.org
so we can reserve a spot in a Den for your boy.
Thank you,
Art Byram
Cubmaster Pack 180
This a test Announcement.  By adding an Announcement to the Announcement section (see link to the left), it will automatically show up on the Home Page!
Do not update the Home page directly.