Dr. Peter Dynoodt 
Dr Dynoodt graduated from University College Ghent, Belgium, with a master's in Applied Bioengineering in 2004. He achieved an additional master's degree with honours in Molecular Biotechnology from the University of Ghent, Belgium, in 2005. He took on a position at BayerBioscience and returned to academia to commence a Ph.D. in Medical Sciences, within the Dermatology Research Unit of the University Hospital of Ghent in 2008. During his PhD he mainly focused on identifying miRNAs interfering with the pigmentary process, assessing their functional role. In collaboration with Professor Jo Vandesompele at the Center for Medical Genetics, he successfully performed miRNA profiling studies on pigmented cells and was able to establish a miRNA signature associated with an experimental pigmentation model. Follow-up studies into the potential role of these miRNAs during the progression of metastatic melanoma were performed.

He joined OncoMark in November 2013, on a Marie Curie fellowship to kick start the new Industry-Academia Partnerships and Pathway (IAPP) project, SYS-MEL. This SYS-MEL Consortium is a follow-up on the successful TargetMelanoma project that was completed in June 2013. The central objective of this IAPP project is to develop next generation prognostic/predictive biomarker assays for the clinical management of melanoma.



Ciaran de Chaumont MSc MBA
Ciaran received a BSc in Chemical Sciences from Dublin Institute of Technology (DIT) in 2003. After a brief stint in a pharmaceutical QC lab he began working in the Marine Institute, an environmental science lab where his main responsibilities were monitoring and reporting of environmental contaminants in fish and shellfish and the monitoring of safe levels of veterinary drugs in farmed fish. This role involved working under strict European regulations to deliver an annual report for the European commission on Irish fish health.  In 2006 Ciaran was recruited to the Royal College of Surgeons in Ireland to work on a project in proteomics. He remained in the RCSI for the next 7 years working on various projects in Cardiovascular Biology, Neuro-degeneration, Immunology and Cancer biology. During this time he gained experience in project research and management including looking after project financing. In 2011 Ciaran returned to college to complete an MBA with the intent to move into a more developmental role within the research environment particularly the commercialisation of research. During this time he also completed an MSc in Immunology.
Ciaran joined Oncomark on secondment from RCSI in January 2014 to work on the SYS-MEL project. His main objective is to help develop into clinical use, a systems biology model developed in the RCSI which is used to predict patient response to chemotherapy.  He is particularly interested in the commercial applications of basic research and hopes to apply what he has learnt over the last 3 years to this task.  
Dr. Jasper Wouters
Dr. Jasper Wouters is a Marie Curie-funded, post-doctoral scientist currently working on the Industry-Academia Partnerships and Pathway (IAPP) project SYS-MEL, with the ultimate goal of developing next generation prognostic and/or predictive biomarker assays for the clinical management of melanoma.
Dr. Wouters graduated from the University of Leuven (Belgium) in 2008, with a master's degree with honours in Bio-engineering in Cellular & Genetic Biotechnology. During the final year of his master's, he analysed the level of gene-specific DNA methylation in various types of (stem) cells and consequently investigated the possibility to alter the expression of these genes by demethylating agents (in the Stem Cell Institute of Professor Catherine Verfaillie in Leuven). During his PhD in Medical Sciences, from 2008 until the end of 2012, he examined the potential involvement of cancer stem cells in cutaneous melanoma within a collaboration between the Labs of Translational Cell & Tissue Research (of Professor Joost van den Oord) and of Tissue Plasticity (of Professor Hugo Vankelecom). From 2013, he continued his research on melanoma at the Lab of Translational Cell & Tissue Research with a special focus on the identification of novel biomarkers for melanoma's therapy-resistant nature and processes of tumour progression.
He joined OncoMark in August 2014.
Dr Sungyoung Shin
He majored in Systems Biology and have received Ph.D degree at University of Ulsan, South Korea, in August 2007. From September 2007 to March 2009 he was a postdoc researcher and from April 2009 to March 2013, a research associate professor in Department of Bio and Brain Engineering at Korea Advanced Institute of Science and Technology (KAIST), South Korea. Since May 2013 he was working as a research scientist in Systems Biology Ireland, University College Dublin. During his Ph.D. program, he was involved in researches relating to development of a mathematical modeling of signaling pathways based on ordinary differential equations (ODEs). Over the last 7 years of his research carrier, he has led several research project teams and developed mathematical models of signal transduction systems including the RTK signaling pathway (cancer cell), the calcineurin-NFAT signaling pathway (cardiac cell), ICER-CREB signaling pathway (cardiac cell). Currently, he is studying the regulatory mechanism of the cell cycle entry and developing a novel mathematical model of the cell cycle entry signaling network based on ODEs. He is skilled in development of a mathematical model of signaling pathways and kinetic parameter estimation as well as dynamics analysis using Matlab and related softwares. His research interest has been focused on systems biology and systems medicine including:
§

 
Mathematical modeling of signal transduction system 
§

 
Functional analysis of hidden bio-dynamics
§

 
Applications for cancer, cardiac and immune systems biology
§

 
Multiscale modeling of intra-&inter-cellular dynamics
§

 
Application of artificial intelligence for combination cancer therapies and medical expert system.
He is a recruited fellow to UCD and works under WP3 of SYS-MEL since spring 2014.
Dr Mona Foth
Dr.Mona Foth graduated from the University of Glasgow in 2014. Her PhD studies focused on the role of FGFR3 mutation in tumour initiation, progression and invasion of urothelial cell carcinoma in mice. She worked jointly with Prof Owen Sansom's group at the Beatson Institute for Cancer Research (Cancer Research UK) and Dr Tomoko Iwatas's group at the University of Glasgow (School of Medicine) during this time. Before commencing her PhD, Mona pursued research in Prof Lin He's laboratory at the University of California, Berkeley, USA, focusing on the role of microRNAs in cancer, and completed her studies with a German Diploma degree from the University of Hamburg in 2010.
Mona joined OncoMark in October 2014 as a Marie Curie-funded  SYS-MEL secondee.  She is working on the characterisation of the components and dynamic interactions within the mTORC2/PREX1/RAC signalling axis as well as on the discovery of prognostic and predictive biomarkers in melanoma. 
Dr. Emilie Charles
Emilie has a biology background with a focus on biochemistry (Bachelor's degree) and on structural biology (Master's degree). For her PhD (2009-2013, Bordeaux, France), Emilie studied the toxic effects of the antidepressant fluoxetine (Prozac) on leukemia and lymphoma cells with a cell signalling approach. To keep working on cancer cell death, Emilie then joined Dr. Markus Rehm's team as a postdoctoral researcher in the Royal College of Surgeons in Ireland (from 2014, Dublin, Ireland). She started a project on melanoma aiming at the identification of prognostic/predictive biomarkers for patients suffering from metastatic melanoma. In this project, Emilie combines her bench lab skills with more clinical aspects of research such as the collection of samples from patients with melanoma, in order to obtain more physiologically relevant results for the prediction of patient response to drugs used for melanoma treatment. Emilie has now joined Pathology Diagnostics Ltd (from June 2015, Cambridge, UK) for a secondment of 4 months, under the direction of Dr. Madhuri Warren. Pathology Diagnostics Ltd is one of the two industry partners in the SYS-MEL Marie Curie IAPP project, a company where Emilie will participate in the manual scoring of immunohistochemistry (IHC)-stained tissue micro-arrays (TMAs) gathering samples from melanoma patients, thereby widening her skills to a more pathological profile.


Elodie Hirschenhahn, MSc
Elodie Hirschenhahn is currently working at the Royal College of Surgeons In Ireland as a Horizon 2020 Marie Curie-funded PhD Student as part of MEL-PLEX, a European Training Network in the fields of Cancer Cell Biology, Translational Cancer Research and applied Systems Biology/Systems Medicine.
Elodie graduated from Telecom Physics Strasbourg, France, with a specialisation in biomedical engineering, in September 2013. She continued her studies with a Master in Systems Biology at the Royal College of Surgeons in Ireland, which was completed in November 2014. This Master Project, which involved a strong collaboration with General Electric Global Research Center, Niskayuna, NY, focused on the development of a systems medicine platform to predict therapy responsiveness of colorectal cancer patients from histopathological immunofluorescence data.
Elodie joined Pathology Diagnostics Ltd in December 2014 as a Marie Curie-funded SYS-MEL secondee. She worked under WP2 of SYS-MEL on a study aiming at quantifying immunohistochemistry stained human cell lines for protein biomarkers by manual pathologist review. These staining analyses were used to calibrate tissue microarrays of tumour cores, against quantitative protein concentration allowing a systems-based data analysis.
Dr Jesuchristopher Joseph
Dr Jesuchristopher Joseph obtained his PhD in 2008 from Anna University, Chennai, India in the field of Medical Image Processing. He joined as a postdoctoral fellow in MRC/UCT Medical Imaging Research Unit, University of Cape Town, South Africa, and developed a novel 3D surface deformation-based shape analysis method to assess the shape variations of subcortical structures in Fetal Alcohol Spectrum Children. He also developed various applications for medical image segmentation and quantification in the area of medical microscopic image processing in Optra Systems Pvt. Ltd., India. He has over six years of experience in the fields of medical image processing and Analysis. The projects he has worked on so far include: Estimation of Nuclear Protein Expression in prostate cancer tissues. Estimation of Cytoplasm expression in colorectal tumour samples using IHC-MARK. Automated segmentation of lumen in prostate cancer using pattern recognition approach; Computerised analysis of structural and functional evaluation of spermatozoa; Content based image retrieval system for medical images and facial recognition system using a neural network based technique. Dr Joseph joined OncoMark in December 2012 as part of the
FAST-PATH
team and brings to the company his technical expertise in image analysis, namely, in developing the image processing applications for medical images (segmentation, registration, pattern recognition), machine vision (target detection, motion tracking) and advanced graphical user interfaces. In 2014 he worked in APO-DECIDE project and developed an improved version of In-house patented software IHC-MARK Cytoplasm to analyse the protein expression of the IHC stained tumour samples. Recently he was seconded to RCSI, Dublin, Ireland on SYS-MEL project to learn System based Modelling Approach.
Dr Claudia Aura
Dr.Claudia Aura graduated from the University of La Plata, Buenos Aires, Argentina in 2000 and she carried out the Specialist Training in Pathological Anatomy at the Hospital de Agudos San Martín de la Plata, Buenos Aires, Argentina. She obtained the Official Recognition of Doctor of Medicine Certificate and Anatomy Pathology Specialist in 2006 from the Ministry of education and science, Madrid, Spain. Claudia has 8 years of research experience working as a Molecular Pathologist in Vall d'Hebron Institut d'Oncologia, Hospital Vall d'Hebron, Barcelona, Spain. In this hospital, she has focused on the discovery and validation of novel biomarkers using tissue-based technologies, on the evaluation of biomarkers in human tumour tissues within the prescreening program in clinical trials, and on use of the tissue microarray approach for novel biomarker characterization, among other topics. Claudia joined Pathology Diagnostics Ltd in April 2015 as a Molecular Pathologist. Under the direction of Dr. Madhuri Warren, she assesses the manual scoring of immunohistochemistry (IHC)-stained cell pellet arrays (CPAs) and tissue micro-arrays (TMAs) gathered from melanoma patient samples.
Dr Dana Koludrovic
Dr Dana Koludrovic is a Marie Curie-funded, postdoctoral researcher working at the Beatson Institute for Cancer Research. 
Dr. Koludrovic obtained a master's degree in molecular biology from the University of Zagreb, Croatia in 2010. The master's degree project she performed was concentrated on deciphering the role of the Mediator complex subunit Srb10 in transcriptional regulation in yeast Saccharomyces cerevisiae (in the Rudjer Boskovic Institute in Zagreb). She then went on to do a PhD in Strasbourg, France, from 2010 to 2014, concentrating on the transcriptional role of the transcription factor MITF and the chromatin remodelling complex NURF in the development, proliferation and survival of human melanoma and melanocyte cells in vitro and the melanocyte linage in vivo using the conditional knock-out mouse model (in the IGBMC institute - Institut de Génétique et de Biologie Moléculaire et Cellulaire, Institute for genetics and molecular and cellular biology, in Strasbourg under the supervision of Dr. Irwin Davidson), obtaining her PhD degree in September of 2014. In February 2015, she joined the lab of Prof. Owen Sansom (the Beatson Institute for Cancer Research, Glasgow, UK) as a SYS-MEL funded fellow to investigate the impact of PREX1, PREX2 and mTORC2 signalling in the context of the wild-type melanocytes and both NRAS and BRAF mutated melanoma.

Dr Arman Rahman
Dr Arman Rahman is a MD and obtained his PhD in the field of Immunology from Umea University, Sweden. His primary research area was mucosal immunology specially the adaptive and innate immune involvement in inflammatory bowel diseases. Dr Rahman joined Dublin City University in 2008 as a senior post-doctoral fellow and worked extensively in the field of protein transport machineries and later on antibody engineering. He spent almost two years working with Dr John McCafferty in Cambridge University, UK on a collaborative project developing antibodies against therapeutic target. Arman has extensive experience in tissue-based detection techniques such as Immunohistochemistry or in situ hybridization.
Arman joined OncoMark as a senior scientist in November 2012 to work on protein biomarker validation for the APO-DECIDE project focusing on colorectal cancer. His role in APO-DECIDE included antibody validation, TMA staining, digital image analysis using in-house and commercial software. Later he worked extensively on ANGIOPREDICT to establishing an in situ hybridization platform for mRNA biomarker validation in large cohort of patient samples using the RNAScope® technologies. Both of these projects required high level of project managements, periodic reporting to funding agencies and presentation of updates to participating partners. Also he trained and supervised several junior lab members for key technologies during these projects. 
Arman is seconded to UCD Conway institute from February 2016 for one year on a SYS-MEL fellowship. During this period Arman will focus primarily on the protein biomarker validation for the SYS-MEL project.
Dr Bruce Moran 
Dr Bruce Moran is a core bioinformatician for Prof. William Gallagher in UCD, supporting the Irish Cancer Society collaborative research centre BREAST-PREDICT. Previously he worked on the FP7 funded ANGIOPREDICT consortium focusing on metastatic colorectal cancer. His broad research interest is the application of next generation sequencing data to the study of cancer development and progression. This involves but is not limited to RNAseq, exome and methylation data types. He has also collaborated on projects involving medullary carcinoma and cardiomyopathy.
Bruce is seconded to OncoMark from January 2017 for 5.5 months on a SYS-MEL fellowship. During this period, Bruce will perform bioinformatics analysis of the SYS-MEL project data, created and collected during the project and via public databases. This includes data for various genes in melanoma cell lines and clinical tissue.
Dr. Debra Higgins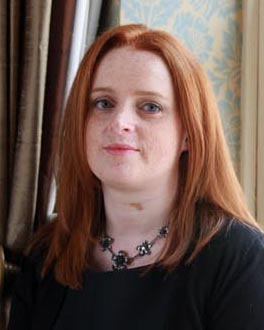 Dr. Debra Higgins graduated from UCD in 1995 with a first class joint honours degree in Botany and Molecular Genetics, and in 2001 completed her PhD in Prof Matthew Harmey's laboratory studying differential gene expression techniques. Debra was one of the original twelve Conway Post-doctoral Fellows to be recruited and studied molecular mechanisms of kidney disease with Profs Hugh Brady, Catherine Godson, William Watson and John Fitzpatrick at the Mater Misericordiae Hospital prior to the opening of the Conway Institute. She was awarded the first Conway Post-doctoral Fellows prize for Best Oral Presentation at the Conway Festival of Research in 2001.
In 2002, Debra moved to the University of Pennsylvania to work with Dr. Volker Haase, and studied the role of hypoxia and HIF in the progression of kidney disease. During her time in the US, she was awarded  American Heart Association post-doctoral fellowship.  In 2009, Debra returned as a Research Fellow to the Diabetes Complications Research Centre based in the Conway Institute to further her research into acute and chronic kidney disease, and was lead investigator on industry sponsored projects by Boehringer Ingelheim and Roche. 
In 2011, Debra was awarded a HRB Fellowship in Translational Medicine to investigate the potential of hypoxia-responsive proteins as diagnostic biomarkers for early detection of renal disease and as therapeutic targets for treatment of kidney injury. 
Debra has a total of 37 publications, of which 14 are senior author papers, in journals such as the prestigious Journal of Clinical Investigation (IF 15.43, >550 citations), Journal of American Society of Nephrology (IF 9.66), Kidney International (IF 8.56), Development (IF 6.46), Molecular and Cellular Biology (IF 5.76), FASEB Journal (5.72), and the American Journal of Physiology- Renal (IF 3.79).
Debra is seconded from UCD 
to OncoMark from August 2017 for 2.5 months on a SYS-MEL fellowship. During this period, Debra will 
review the current market landscape for melanoma diagnostics, 
investigating the commercialisation potential of the outputs associated with the SYS-MEL project.
Dr. Vytautas Leoncikas
Dr. Vytautas Leoncikas is a trained biochemist (PhD) and has over 5 years experience in molecular and computational research. His areas of knowledge include breast and skin cancers. Additionally, he has knowledge and training in regulatory toxicology, risk assessment, and clinical trials. He has also been exposed to patent law and the business side of pharmaceutical companies.  He carried out a BSc in Biochemistry in the University of Surrey. He also carried out his PhD in the University of Surrey in the areas of Systems Biology, Oncology and Toxicology. He was a research Associate at Certara. 
Dr Leoncikas is recruited to the University of Stuttgart for 13 months on a SYS-MEL fellowship.