Graduation photo retakes information
Edge Imaging is hosting local graduation and milestone portrait session days for students who missed all opportunities to have a portrait taken at their school earlier in the year. This appointment does not guarantee that photos will be in the school yearbook or on the graduation composite.

Please feel free to share these details with interested students:
Ottawa West Studio Day:
Monday, April 23, 2018
Location:
Minto Recreation Complex – Barrhaven "Cambrian Room"
3500 Cambrian Rd, Nepean, ON K2J 0V1
Ottawa East Studio Day:
Wednesday, April 25, 2018

Location: 
St. Laurent Centre "Solarium Room"
525 Côté Street, Ottawa, ON K1K 0Z8
Students may book their location and time by calling Edge Customer Care at
1-888-416-3343 (EDGE) or by emailing customercare@edgeimaging.ca. 
Thank you,
The Edge Team 
Edge Imaging
940 Gateway Drive, Burlington, Ontario L7L 5K7
edgeimaging.ca 
March 20th, 2018 
Montreal Day trip is June 26th, 2018
I will have paper copies of this form in class for students to bring home if need be.
March 1st to 31st, 2018:
•
Le 1er gagnant se mérite un séjour pour 2 adultes et 2 enfants de moins de 18 ans dans la ville de Québec, d'une valeur d'environ 1500$ 
• Le 2e gagnant se mérite un IPAD et des jeux Gladius, d'une valeur totale de 700$ 
• Le 3e gagnant se mérite des jeux Gladius, un abonnement à l'un de nos magazines jeunesse (valeur entre 42.95 et 79.00$), des produits Bayard jeunesse et des livres Bayard Canada. Valeur total approximative de 300$.
February 21st, 2018
Important dates coming up
February 27th is Toonie Tuesday
February 28th is Pink Shirt Day to raise awareness for Cyberbullying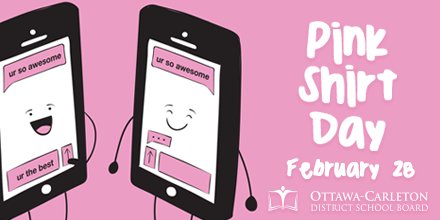 March 1st is Grade 8 graduation picture!
January 23rd, 2018: Update
Skills Competition at Longfield-Davidson Heights
January 30th
24 of our intermediate students have been invited to come represent our school at the Preliminary Skills Competition at Longfield-Davidson Heights in Barrhaven.  We are in need of parent drivers as there are no buses available for the times we need.  Forms have been sent home if your child has been selected.
High School Registration (January 24th)
Tomorrow, we will be selecting the courses for high school.  Once that is done we will send home a copy for parents to sign and return to school as soon as possible.  We will then send them to each high school.  Changes can be made to these choices up until the first week of school in September.
January 19th to February 2nd
Pizza and Subway orders for the second half of the year.
December 5th: Important information for students and parents.
November 6th:
School book fair will be held from November 22nd to 24th.  
Here are the links for the Book Fair flyers: 
If you are interested in volunteering, please contact Mais Kiryakos at 613-265-6455 or maiskiryakos@gmail.com.
Thank you for helping out School Council with the Book Fair.
Please note that I handout the Scholastic Flyers at the beginning of each month for students to take home.  
October 25th:  
NOW YOU CAN SHOP HOLIDAY ITEMS, MAGAZINES, FALL BULBS, ETC to be delivered directly to your home & STILL HELP OUR SCHOOL BY CLICKING ON THE QSP PRODUCTS MENU ONLINE at WWW.QSP.CA using OUR GROUP's ID: 3727773
Return online orders before Friday, November 3.
******************************************************
Dear parents, 
I am very happy to be teaching your children this year and I think we will have a good time learning about a ton of different things.
On this site you will find most of the things we do in class, including videos and handouts.  You will also find the due dates for assignments in the calendar as well as expectations and Rubrics in the Assignment tab.  Take a look often as we will update it as we go.  Some links will no longer be active and they will be replaced, or deleted, as we go. 
School supplies needed for your child:
12 pencils, 2 erasers (preferably white), 1 metric ruler, 1 pair of scissors, 2 glue sticks, a roll of scotch tape, 10 ballpoint pens (mix of blue, black and red), 1 package of coloured pencils, 2 packages of 3-hole lined refill paper, 1 package of coloured markers, 1 calculator, 1 geometry set, 5 highlighters (at least 3 different colors), 2 binders (English subjects in one and French subjects in the other) and binder dividers for each.
http://www.ocdsb.ca/cms/One.aspx?portalId=55478&pageId=237679 
Homework:  
FRENCH LISTENING ACTIVITIES: The one thing you can always have your child do is watch television in French.  Ideally, I would like them to watch things which are a little challenging to increase their vocabulary and take them outside their comfort zone.  You can check the Useful Links tab on this website for ideas. TV5 Monde has a section with interactive activities that students can do on their own.  It is perfect for students who find listening to French difficult or want to reach a higher level in that skill.  In grade 8, students should be able to do most activities at the B1 level. (http://apprendre.tv5monde.com/fr/niveaux/b1-intermediaire)
FRENCH READING ACTIVITIES: If you have an iPad at home you can download LaPresse which is a French newspaper from Montreal.  They have very interesting articles as well as special sections on currents affairs, sports, the arts and many more.  It is a good way to read in French in a very interactive way and it is FREE!
Important dates:
September 25th: School Picture Day    **N.B: Do NOT wear Green
September 28th: Meet the Teacher and School BBQ
Literacy and Numeracy Tutoring after school:
Announcements:
https://docs.google.com/document/d/1d4cWCrwgBxN7nl-3ohSsMmj3leXbvcdSLs_OYD1BA1s/edit
Things coming up or in progress

French: Reading a novel of our choice.  

QSP Fundraiser (codes to come)

You will find French Magazines on pages 44 and 45 of QSP.  It is always a good idea to subscribe to a magazine in order to have varied French texts to read at home.  I have a classroom subscritpion to Curium which is the older kids' Les Debrouillard. It is a great science magazine.