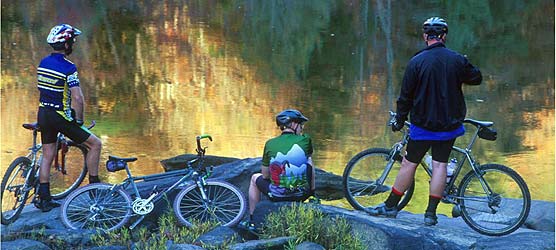 CHUCK SUMMERS
Mountain bikers rest along the banks of North White Oak Creek.
Mountain bike riding has become one of the more popular recreational activities enjoyed by visitors to Big South Fork.
Currently at Big South Fork there are several trails which have been designed, built and are maintained by the Big South Fork Mountain Bike Club. In addition to bike only trails, mountain bikes are allowed on highway edges, backcountry roads and horse trails. This combination provides bikers of all skill levels with miles of trail options.
In addition, the National Park Service, as approved in it's General Management Plan has initiated a "time-sharing" use of mountain bikes on the Grand Gap Loop hiking trail. On weekdays the Grand Gap Loop Trail will be open to both hikers and cyclists.