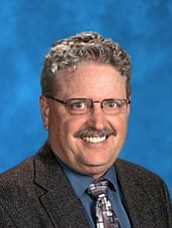 Project Director, Paul McCarty
970.879.0391 x302
paul.mccarty@nwboces.org

Paul has been the Executive Director for NW Colorado BOCES since July 2015. He was previously the Hanover School District #28's Superintendent and President of the Pikes Peak BOCES Superintendents' Advisory Council. He brings many years of leadership experience including Principal, Vice Principal, Program Specialist, Teacher, and Department Chair in Colorado and California School Districts. He has a Masters in Curriculum and Instruction with a Special Education Director Licensure as well.
SEED Project Manager, 
Julie Dalke 

970.879.0391 x308
julie.dalke@nwboces.org

Julie is managing the i3 SEED Project.  She also coordinates Professional Development and Technology Integration for NW BOCES.  In addition, Julie is the NW BOCES grant-writer and Model UN coordinator.  She has her Masters in education and experience in teaching Environmental Science as well as managing the NW BOCES website and media center.  She has worked for NW BOCES since 2008 and has two elementary-aged children.     
Lead Innovation Coach/Coordinator, Beth Melton 
970.879.0931 x309
beth.melton@nwboces.org

Beth is leading the innovation coach team in developing and providing high-quality professional development for our district teachers as well as supporting the project manager and project director in coordinating logistical aspects of the i3 grant and the SEED project. Prior to coming to NW BOCES, Beth was a classroom teacher, interventionist, and RTI coordinator as well as a mentor for at-risk girls. She has degrees and/or certification in psychology, early childhood and elementary education, ELL, special education, and educational leadership and policy studies.





Innovation Coach, Maggie Bruski
970.879.0391 x310
maggie.bruski@nwboces.org
Maggie is an Innovation Coach on the i3 SEED project and is looking forward to helping teachers meet their professional goals through dynamic, blended learning experiences. Before joining the i3 SEED team, Maggie taught mathematics at the high/middle school level for 13 years, and after earning her Masters in Educational Leadership took on the role of Dean of Students and Assessment Coordinator for the South Routt School District. She has her BS in Mathematics with a concentration in mathematics education, which may explain why one of her hobbies is Calculus. Maggie enjoys spending time with her two school aged daughters and her husband at their home in Steamboat Springs.
Innovation Coach, 
Raylene Olinger
Raylene is an Innovation Coach on the i3 SEED Team. She looks forward to assisting principals and teachers in growing as professionals in order to provide the best opportunities possible for students.  Raylene's previous experience includes over twenty years as an educator both as a classroom teacher and an administrator.  She holds a B.S. in biology as well as graduate degrees and licensure coursework in education, specifically ESL curriculum/instruction and educational leadership.   Endorsement and experience include secondary science, ESL, health, elementary education, and licensure as a principal.  A South Routt native, Raylene lives near Yampa with her husband and two high school-aged daughters.
---



McREL International, Katie Andersen

RANDA Solutions, Leslie Kendall

eNet Learning, Dan Morris & Teresa Yohon

Clarity Innovations, John Cromett




District Representatives


NW BOCES PD Committee Representatives 

East Grand School District: James Chamberlin

Hayden School District: Rhonda Sweetser & Gina Zabel

Moffat County School District: Zack Allen

North Park School District: Jack Daly

South Routt School District: 

Steamboat Springs School District: Marty Lamansky 

West Grand School District: Jess Buller




Superintendents Advisory Council 

all NW BOCES Superintendents 


Principal Roundtable