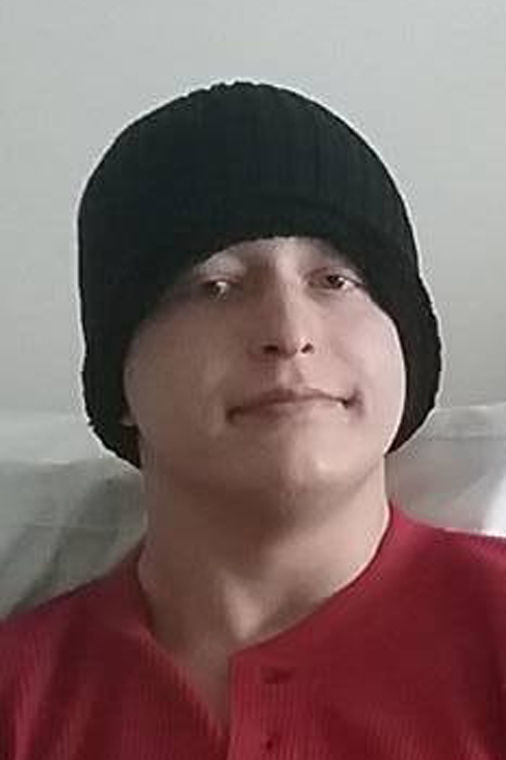 Courtesy of Nelson County Times
For nearly two decades, the Nelson County High School Future Farmers of America group has hosted an annual fundraiser that benefits local organizations and individuals in the county. This year, the NCHS FFA students chose to give the results of their generosity to someone within the NCHS community.
In December, FFA members handed over $2,100 — raised by NCHS students over the course of only a couple weeks — to Cody Morris, a 17-year-old senior at NCHS and avid football and basketball fan who has been undergoing treatments for bone cancer.   
"I was flabbergasted," said Rebecca Wilkerson Morris, Cody's mom. "I was so moved. I was speechless. I didn't know what to say. It was pretty amazing that they unanimously wanted to do this for my son. … It was such a blessing. I can't even tell you in words."  
She said she was especially touched the students remembered and chose to benefit Cody, who they had not seen much because he was going through chemotherapy treatments since around August.   
Ed McCann, the now-retired NCHS Future Farmers of America adviser who helped organize the annual fundraiser, said the FFA members started working on it in October. When they started, they had about half a dozen recipients in mind, but his classes voted unanimously to give the money to Cody's family.   
"It just made him feel so special," Wilkerson Morris said of her son's reaction to the FFA fundraiser. "They could've chosen anybody in the community. He was just moved at what the school did for us. ... I really want those kids to know that they are amazing."  
Wilkerson Morris said while she was expecting to receive a couple hundred dollars as a result of the fundraiser, she was "amazed" at the final tally. She added the fundraiser came at the perfect time for her family, as they were in "kind of a rut" financially. Wilkerson Morris said her family had to pay for Cody's medications out-of-pocket at the time.   
According to Wilkerson Morris, Cody first began to feel pain in his leg this summer. Doctors originally diagnosed the bump in his leg as a hernia, but later tests revealed Cody had a type of cancerous tumor. Within three hours, Cody had learned the bump in his leg was actually a cantaloupe-sized sarcoma.   
"I'd go to sleep and feel like I was in a nightmare," Wilkerson Morris said, "and then I realized it was real."  
Since the summer, Cody has undergone about 10 chemotherapy treatments, and after consulting with other doctors from around the country, Cody's doctors have decided the best course of action is to remove the remaining cancer in his leg and hip.   
Chemotherapy has shrunk the tumor significantly — Wilkerson Morris said it is almost completely gone — but the cancer has eaten most of Cody's femur and is "intertwined like ribbons in his knee and hip." Doctors will replace the femur with a rod and will remove his hip socket during a four-hour surgery Jan. 11 at the University of Virginia Medical Center.   
Though Cody will have to be in a wheelchair for at least three months following the surgery, Wilkerson Morris said "he's got this strong will," describing his ability to keep pressing on through treatments and the road ahead as "amazing."  
"He says, 'I don't care what the doctors say. I'm going to walk. I'm going to walk without a limp. I'm going to play basketball. I'm going to play football,'" Wilkerson Morris said of Cody's response.   
Like the students who donated their change to Cody and his family, staff and others in the school division are also concerned with Cody's cancer journey.   
"I was so impressed with his attitude," said Nelson Schools' Superintendent Jeff Comer, reflecting on a conversation he had with Cody in December. "He's very positive, and I think he's looking at it the right way. I'm confident with his attitude that's going to make a difference in his recovery."   
Comer said while he is impressed with the NCHS students' willingness to help one of their classmates, he knows students and staff throughout the division constantly show their compassion for each other.   
"I think this is fairly common in our school division for teachers, students, clubs to pitch in and help when there's someone in need," Comer said. "... It makes us, in my opinion, a really neat school division that we do try to look out for our fellow students and teachers."  
A second aspect of the fundraiser asked students to bring in cans and non-perishable food items, which were then donated to the Nelson County Food Pantry. According to McCann, the school donated a total of 800 pounds of food.